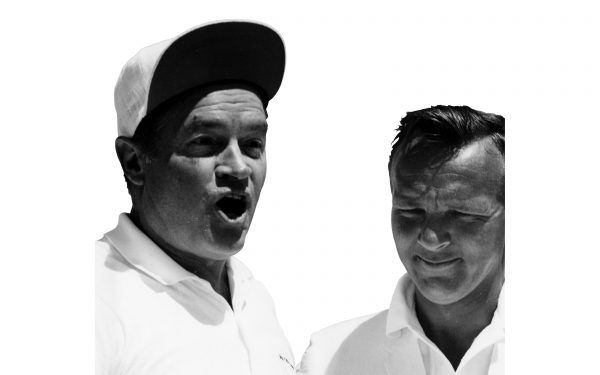 Arnie & Bob
Arnold Palmer and Bob Hope shared a love of golf, but their friendship endured because of genuine camaraderie, whether they were on course, filming a movie together or talking to President Nixon about the war in Viet Nam. Bob Harig takes a quick look at the relationship between the two icons…
It is important to keep in mind that in 1954 Arnold Palmer was not yet Arnold Palmer. In name, sure. But the 25-year-old who'd just won the U.S. Amateur had yet to pocket a penny from the game, and he was far from being the icon he is today.
And yet there he was in New York City, invited by huge star and avid golfer Bob Hope for an appearance on the monthly "Bob Hope Show."
If Palmer had any notion what television would later do for him—and what he would do for television—he wasn't feeling it that night.
"I was in awe of Bob Hope and the situation," Palmer recalled. "And, of course, back then television wasn't quite what it is today. There were a lot of things I didn't know. And I didn't really know them after I was on the show with him, either. He was great. He made me feel like I had known him for years from that first show.
And I was surprised at how casual he was about it, he made some off-hand comments about how to play golf, and how good he was."
That was the first time Palmer and Hope met, and it began a friendship that lasted nearly 50 years. In that time, the two played countless rounds of casual golf together and, of course, managed to get in a round or two at the Bob Hope Desert Classic. Palmer appeared in one movie—a Bob Hope film. And the two (along with their wives) even visited President Nixon together to discuss—of all things—the Vietnam War.
This year, Palmer handled the introduction for the Bob Hope exhibit currently at the World Golf Hall of Fame in St. Augustine, Fla. And in January, nearly 55 years after first appearing on The Bob Hope Show, Palmer will serve as host for the 50th edition of the Bob Hope Chrysler Classic in Palm Desert, Calif., where the friendship really grew.
"It wasn't the type of thing where daily or weekly or monthly they'd be on the phone talking to each other,'' said Doc Giffin, Palmer's longtime associate who vividly remembers Hope serving as the emcee for a function at which Palmer's 60th birthday was celebrated. "But whenever Arnold was in Palm Springs or there were times when Hope would be doing charitable golf appearances, they'd be together. That was usually what it was. I know Arnold had been to Hope's house and was with him during the Palm Springs tournament. And they played together at least once during the tournament as they were always invariably paired, Arnold with Hope.
Palmer's association with the event goes back to 1960, when he won the Palm Springs Desert Golf Classic. (He also won the Thunderbird Classic in 1959, which-predated the Palm Springs tournament but was played in the same area.) It became the Bob Hope Desert Classic in 1965 and Palmer won it five times, the last of which happened to be his 62nd and final PGA Tour title in 1973.
"I was with Bob numerous times between when I first met him and when he took over what was the Desert Classic and called it the Bob Hope Desert Classic,'' Palmer said. "I played at a club there in Palm Springs that he was always playing at and we played a casual round from time to time. And I saw him occasionally through those years when his tournament came to reality.
"Of course, we saw a lot of more of each other after that, and it wasn't just casual golf, but playing in his tournament and often with him.''
Palmer described Hope as a "fair to midland player," and remembered playing with him one time in a pro-am in which Hope shot 35 on his own ball for nine holes.
While the comedian, who was born Leslie Townes Hope in London, often used golf as part of his routine—many times at his own expense—he did become a fine player, getting down to a 4–handicap at one point. And he had no problem poking fun at others' games, including that of U.S. presidents. Gerald Ford was a constant source of his good-natured ridicule as was Dwight Eisenhower, with Hope saying that the former WWII general had given up the game for painting. "Fewer strokes, you know,'' quipped Hope.
By the early 1960s, Palmer and Hope had known each other for nearly 10 years and were friendly enough that the golfer accepted an offer to appear as himself in a Hope film.
The 1963 movie "Call Me Bwana" was set in Africa, although it was filmed in London. And it was the only movie in which Palmer ever appeared.
"We did it in a studio,'' Palmer recalled. "There were a couple of outstanding things that you can't put into what you are writing, but I had fun with Bob doing that movie. And I spent a few days of enjoyment in London with him. It was fun.''
In the cameo, Palmer suddenly walks through a tent flap looking for a stray ball, which Hope's character, having breakfast, mistakes for an egg.
While that was Palmer's only movie role, he did appear with Hope on his television show on numerous occasions and said in his book, A Golfer's Life, that doing so was not as easy as the movie. Palmer preferred to ad–lib as opposed to memorizing lines, but the routine was usually the same: Poking fun at Hope.
Hope: My short game is good.
Palmer: That's right. Unfortunately, your short
game is good off the tee, Bob.
Or:
Hope: How come you never invited me to appear
on Challenge Golf?
Palmer: We don't do comedy, Bob.
Hope: I mean to play golf, Arnie.
Palmer: We don't do comedy, Bob.
And so it went.
But there was a much more serious tone to the proceedings when Palmer and Hope were summoned to Nixon's San Clemente home in the early 1970s. Palmer had been playing in the Bob Hope tournament, and he was surprised at the request. Hope and his wife, Dolores, joined Palmer and his wife, Winnie, for the meeting with Nixon, which also included Secretary of State Henry Kissinger, Vice President Ford and several other national security people.
Basically, it seemed that Nixon wanted to pick their brains about how to end the war in Vietnam.
"It was quite an interesting day, let's call it that,'' Palmer said. "Everyone had their opinions. The fact that he wanted to get together with a bunch of amateurs and hear their opinions was quite interesting. And it was never given to the media."
Who knows if Hope had a joke for the president that day, but when it came to golf, there is no denying his impact.
He received several honors from the golf world, including the Bob Jones Award and the Old Tom Morris Award. He was a supporter of the Western Golf Association and its Evans Scholars caddie program. And he was a big promoter of the game, apparently playing more than 2,000 courses around the world.
Many of these aspects are highlighted in the exhibit at the World Golf Hall of Fame, which is called "Bob Hope: Shanks for the Memories.''
"Dad found in golf the ability to relate to all kinds of people, people that are everything from presidents to presidents of corporations to caddies on their days off,'' said Hope's daughter, Linda, at the exhibit's opening. "Anybody that loved the game of golf, dad was an instant friend of.''
And that includes Palmer, who carries a long list of friends in the celebrity golf world.
"But Bob was at the top of that list,'' Palmer said.