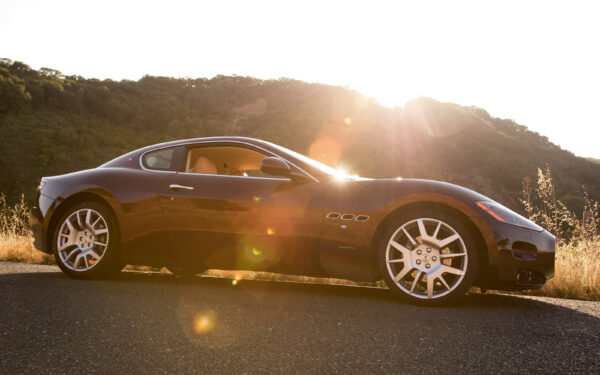 Bella Macchina
After a beautiful day driving it around Northern California, Kingdom's editor has a tough time relinquishing the Maserati GranTurismo.
Sun cutting through the tall, gnarled oaks of California's Carmel Valley and falling on the dark blue asphalt, the deep hills covered in the state's storied golden grasses and the rich, full engine note of 405 horses growling in my ears, windows down, carving through turns at roller-coaster speeds… Forgive the clichés, but driving a red 2009 Maserati GranTurismo in Northern California is a lot of fun. In fact, no matter what color it is and no matter where you're driving it, the Maserati GT is a blast.
As beautiful as it is powerful, the 2009 Maserati GranTurismo is another member of the long line of "GT" cars to come from top auto manufacturers. What differentiates the Maserati from the other GTs is its elegant combination of sex appeal and performance. There is nothing as beautiful on the road, and nothing as sporty that looks this good.
This is not the Batman-esque racer you drew in crayon as a young child, and it's not the muscled, drag-strip-inclined beast you lusted after as a student. The Maserati GT is the car you've earned as a man who knows how to wear a suit, knows how to order wine, and who knows a good car. You know your Pamela Andersons from your Ava Gardners, and you're ready for a little substance with your speed and handling.
Exterior
The first thing you and everyone else will notice about the 2009 GranTurismo is that it's beautiful. Not just attractive, but downright sensual with any amount of light getting captured in and setting off the rich curves that make the car a heart-melter from any angle. At once classic and contemporary, the Pininfarina design suggests the best part of Maserati's racing heritage while also resurrecting urban elegance to a modern standard; less "look at me," more "I have arrived."
At a hair longer than 16 feet and weighing in at 4,144 pounds, the GT is no weekend toy for bombing around canyons (though the 49/51 percent front-to-rear weight distribution does make for excellent handling). Rather, this is a beautiful land cruise missile of sorts, meant to get you from A to B quickly and in as much comfort as possible.
Interior
Regarding comfort, the seats strike a nice balance between supportive and plush. While they're not the hard-shell racing buckets of an early 1970s Camaro, neither do they make the mistake of being the La-Z-Boy-inspired pillow loungers common to many "luxury sport" vehicles. Ten colors of leather, thirteen for stitching, five for carpets, three types of wood and five lacquer finishes plus a host of accessory options means that there are approximately 8 million possible interior configurations available for the GT.
Our test model was elegantly straightforward, with a classic camel-colored Poltrona Frau® leather complementing the deep metallic red exterior. Dash finish was exquisite while instrumentation was good. The onboard navigation system is much improved from previous years and the rest of the GT's fittings are superb, including an excellent Bose Surround Sound® audio system (with 11 acoustically tuned speakers), numerous finished storage compartments and other attentions to detail in the handcrafted cabin. (An example of the detail: Check out the Alcantara used on the back of the gearshift paddles.) With room for four, your friends can sit enviously in the back while you whip around corners smiling on the way to the club.
When the weekend rolls around, throw two golf bags in the trunk and hit the course or load up the available custom-designed five-piece Ferragamo GranTurismo luggage set and grab a fast and fun weekend away.
Driving
Seriously: Any time on the road in the GT is a good time. The 4.2 liter V8 engine is built in the Ferrari factory and makes 405hp at 7,100 rpm, hitting 0–60 in 5.2 seconds and racing up to a top speed of 178mph with ease. To look at, the engine is beautiful. To hear, its deep note is a symphony for engine-lovers. With a cabin as well insulated and quiet as the GT's, I spent the whole day driving with the windows down just to enjoy the roar. For an even louder roar and (unbelievably) an even more sensually aggressive look, the available GT-S trim adds 40hp with a 4.7L engine and increases a number of performance figures, including knocking almost half a second off the 0–60 time.
Despite being sufficiently pushed back in the seat during hard acceleration, at no time did the GT feel out of control. The transmission, as with all recent Maseratis, is fantastic and certainly a huge improvement over the last generation, delivering lightning quick response from the paddle shifters in "Manual" mode and surprisingly intuitive performance in the "automatic" modes. Shifts can be made up to 7,200 rpm—unthinkable with most other automatic transmissions. Likewise, performance can be affected by selection of four different modes: Auto Normal, Auto Sport, Auto ICE and Manual. Auto Normal is acceptable for most driving conditions while Auto Sport adds a bit of pep with extended shifts and a racier feel overall. Auto ICE handles low-traction situations and Manual leaves it all up to the driver via the paddle shifters.
The wishbone suspension features "anti-dive" and "anti-squat" geometry that helps maintain stability during hard acceleration and braking. An optional Skyhook suspension adds a continually damping system of shock absorbers that work with the gearbox and the onboard stability system, ultimately resulting in performance tuned to the individual characteristics of each driver. Furthermore, the Skyhook's "Sport" setting tightens things considerably, creating a stiffer ride with less roll, more contained load transfer, greater agility, stability and grip and increased performance overall. Working with the gearbox, which realizes a 40 percent reduction in gear shifts, the Skyhook's "Sport" mode pushes the GT to maximize its performance potential, essentially offering a full-on elegant monster of a ride within a supremely classy luxury sport coupe.
Summary
There are a number of GT cars on the road today, but if you're looking for a perfect combination of class, beauty and performance, you should be looking at the Maserati GranTurismo. To our mind, the Maserati GT sets a new standard for balancing the thrills of performance driving with the high comfort of a supremely apportioned daily ride. Packaged in a Pininfarina design that matches integrity and sensuality to create a vehicle that we're as happy to look at as we are to drive, we believe the GT to be a winner. Only one word of advice: Drive with the windows down. You really don't want to miss that engine's sound.
Visit www.maserati.us for more information.