Bo Jackson Knows Golf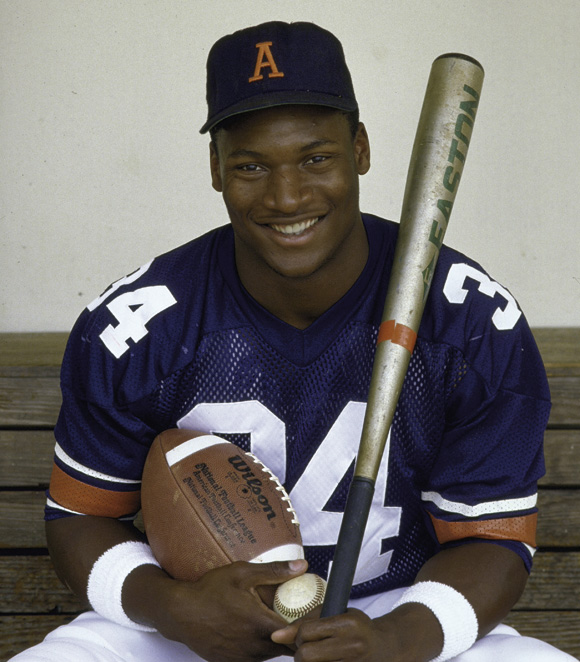 It's 22 degrees in Chicago and Bo Jackson tells me there's snow in his yard. He hasn't played golf in a while and the "winter rust," as he calls it, needs to be knocked off. Jackson is in La Quinta, California, for the 2009 Bob Hope Chrysler Classic, and the rust is apparently still on. A problem with his short game, apparently—though his definition of "short game problem" is one we'd all love to have.
The driver he's using "isn't my longest driver," he says. When a friend at the table remarks that Jackson hit one at least 310 yards, Bo looks at him and exclaims: "That's my short driver! That is my short driver!"
For the former LA Raider who set a Monday Night Football record in 1987 by rushing for 221 yards just 29 days after his NFL debut—after hitting 22 home runs in his first 116 games as a Kansas City Royal—a little competitive frustration is understandable. As the iconic Nike ad campaign had it, Bo Knows. And if Bo knows anything it's that he's exceptional at sports; anything in the way of his success better look out. Considering this is a man who used to snap bats over his knee in frustration, I can only imagine the fate of the offending "short" driver.
Beginnings
No. 8 of Florence Jackson Bond's 10 children, Vincent Edward Jackson was born November 30, 1962, in Bessemer, Alabama. Jackson's family said that as a boy he was as wild as a "boarhog"—earning a nickname that stuck and eventually became "Bo."
Jackson claimed two high school state decathlon championships and had an amazing senior year, running 1,173 yards on 108 carries with 17 touchdowns in football, and hitting 20 home runs in 25 games in baseball. The New York Yankees noticed, and offered him a contract in 1982. But Jackson took a football scholarship from Auburn and went on to run for 4,303 yards and score 43 touchdowns, rushing for triple-digit gains 21 times. In 1985 he won the Heisman Trophy after running for 1,786 yards—with four 200-yard rushing games.
Bo turned down a five-year multimillion dollar NFL contract from the Tampa Bay Buccaneers and instead headed for the Kansas City Royals' ballpark in 1986 as a fourth-round draft pick. He made his major league debut Sept. 2 of that year with an infield single off future Hall of Fame pitcher Steve Carlton. The next year the Raiders picked him in the seventh round of the NFL draft, with team owner Al Davis fully embracing the baseball career and offering what has been described as "full-time money for a part-time player" (Bo played football only after the baseball season ended).

Professional Sports
From 1987 to 1991, Jackson was an awe-inspiring professional athlete, sending up dominating performances in both baseball and football and stunning everyone who saw him—and who played against him. When a hip injury ended his NFL career at the end of the 1990 season, he worked through a hip replacement and stayed in baseball, turning in a career-high .279 batting average for the Angels in 1994 with 13 home runs and 43 RBIs in 201 at-bats.
"I considered golf back then a lazy man's game," he says flatly, relaxing in the PGA West clubhouse. "Now, it kicks my butt."
One of the greatest athletes ever born (many would argue the greatest), Jackson says he came to golf in the late 1990s after a friend kept bugging him to learn the game.
"One day I said 'OK,' and I hit a bucket of balls. Out of hitting 150 balls, the last ball I hit (with a 7-iron) hit the flag that I was aiming it at 150 yards away, and I've been hooked ever since."
Jackson used to split his year between the ballpark and the gridiron, amazing everyone with legendary performances on both. Today he spends whatever free time he has regularly crushing the ball 300-plus yards off the tee and at the age of 46 describes himself as a "golf hog."
In eight seasons with the Kansas City Royals, Chicago White Sox and Angels, the designated hitter and outfielder had a batting average of .250 with 141 home runs and 415 runs batted in.
When the baseball season ended, Jackson would move over to play football with the Raiders, where he was equally successful. From 1987 until the injury (in January of 1991 against the Cincinnati Bengals), he ran for 2,782 yards on 515 carries and scored 18 rushing and receiving touchdowns. His speed on the field was unmatchable, and footage of him is still thrilling to watch.
Game Differences
In the past, Jackson has said that baseball is more mentally challenging than football. Today, sitting at PGA West, he considers how golf stacks up.
"I said baseball is tougher because you have to go out there and do it every day, you have to perform every day. You play a game sometimes seven or eight times a week and football you only play on Sunday.
"Golf is a whole other planet compared to baseball or football because just when you think you've mastered a certain part of it, it jumps up and bites you in the butt."
Another difference, he says, is the venue—or venues, in the case of golf. As a member of MLB's 1989 All Star team, Jackson stepped to the plate for his first All Star at-bat and hit a staggering home run that's estimated to have landed almost 450 feet from home plate. Just another game, he says, at least from one perspective.
"All baseball parks are alike, with the same dimensions. Golf courses don't have that. Stepping out on a baseball field is easy because you have to keep it between the foul lines. Here [in golf] you've got to keep it between lines that could be 10 yards wide or 40 yards wide. You've got to keep it out of the water on the left, you've got to keep it out of the crap on the right, and so forth and so on."
To the extent that equipment can help, Jackson says it's key.
"Golf equipment for a guy… it's like a woman matching her shoes and her purse: It's very important—and that's not a bad thing."
When I ask if he sticks to one brand or buys and tries an array of gear, he laughs and reminds me that I'm not (arguably) the greatest athlete ever to have lived: "Buy? I don't buy, man. I call stuff in."
Fair enough. And Jackson isn't just some celeb who casually hits the latest bag of whatever he's sent. He's actively involved with his clubs—to the point of sometimes destroying them.
"I'm always tweaking, always doing things down in my little shop in my basement," he says. "Changing grips, re-grooving my wedges… I've ruined a lot of wedges, I just grind them up."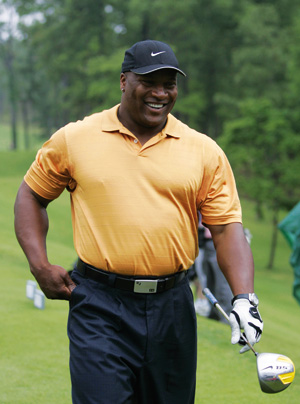 Off Course
Golf's myriad challenges have Jackson impressed with the golfers of the PGA Tour—all of them, even if they're not as fit or as fearsome a group as the players he used to face as a Raider.
"I look at all of the guys that are playing golf right now and I say 'Wow, those guys are good,'" he says. "It's not just one particular player. You have to be able to strike the ball consistently, damn near perfect every time you hit it, if you're going to play on the Tour with this caliber of guys playing. You can't just come out and be a mediocre weekend warrior and say 'Oh, I'm going to go out and play.' You can't play with these guys."
This week, whatever his opinion of his game, Jackson is doing just that here at the Bob Hope. When he's back in Chicago next week, he could be doing any number of things. Bo knows golf, but he also enjoys hunting (as both a shooter and as an archer). He recently told the Los Angeles Times that he's a gourmet cook, and was quoted as saying, "That's the one thing that I do better than sports. Being from the South, of course I specialize in Southern cooking, but I also dibble and dabble in Italian, Asian and a little French cuisine."
He spends as much time as he can with his family, and somehow manages to find it in his schedule to run Bo Jackson's Elite Sports, an indoor practice facility in Lockport, Illinois, that accommodates summer athletes and allows them to practice in winter. With facilities for numerous sports, the center also has a computer center and tutors from a nearby junior college so young athletes can work on homework and keep their minds as sharp as their games—important to Jackson, who fulfilled a promise made to his mother before her death and returned to Auburn in 1995 to finish his bachelor of science degree. The center also hosts the "Give Me A Chance Foundation," which offers tremendous coaching and practice opportunities to inner city kids.
"I'm always trying to give back," he says, and he's not kidding.
For a guy who's done so much over the years and excelled to such a great degree, it's tough to imagine today's practice round went as poorly as he says.
"Really," he assures me. "This afternoon my driving and my putting, which are the two most important things, just ate me alive. If the driver goes away like it did today, I'm teeing off with my 3-wood tomorrow."
I bet he still gets it over 300.