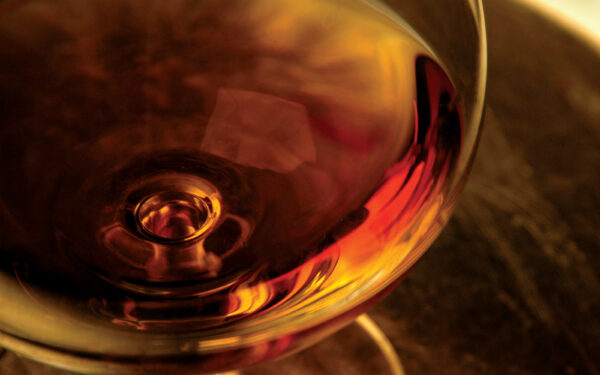 Exotic woods, fine tobacco, tropical flowers and no excuse needed; cognac is the perfect expression of elegance in a glass, whatever the occasion.
The best cost upwards of $6,000 per bottle, and if it's authentic there really isn't a "worst." Cognacs may vary in price, but if it's the real deal—that is, if it's produced in the small region of France known by the same name—the cognac in your glass is likely an elegant, beautiful way to celebrate appreciation, no matter the cost.
Cognac is the best-known variety of brandy, and is named for the southwestern region of France in which it's grown. Strict legal criteria exist for the drink officially named cognac, which must be produced according to a three-centuries-old process, which involves two distillations in copper pot stills and at least two years of aging in French oak. Nearly all modern cognac is made from the Ugni Blanc grape, though Folle Blanche and Colombard grapes are also permitted. The wines made from these grapes are known as "eaux de vie," which means "waters of life." By itself, the wines aren't great—dry, acidic and thin, first discovered as the product of grape waste and meant as wine for the poor. But what makes for poor drinking turns out to be excellent for distilling. The necessary two distillations result in an eau de vie without color and near 70 percent alcohol. These are aged in French oak for at least two years and eventually blended to create cognac. The duration of aging will determine the eventual quality rating, which is calculated as the youngest eau de vie used in the blend. (Eaux de vie from different periods are often blended, with the goal being a consistency of taste among an estate's offerings, no matter the year of production.)
Whatever one's personal taste, better cognacs are often complex affairs, incorporating woods, flowers, tobacco and other soil characteristics into their flavors. Offerings from Hennessy, Remy Martin and other well-known marques remain fine options, but the following boutique cognacs are great for special occasions, even if they require a bit more effort to find. Congratulations to you should you pour one of these, even if the occasion is nothing more than the end of the day. (Prices are per bottle.)
Frapin
Established in 1270 as wine growers, the Frapin family has maintained its position as premier distillers for more than 20 generations. Including at least one famous Renaissance humanist in the family tree, the Frapins are best known for their excellent cognacs, which come from the crumbly, chalky soil on the estate. The "Cuvée 15 ans d'age" is relatively young but offers a startlingly light and pure essence. Likewise, the traditional V.I.P. X.O. is a floral example of the genre. For a true taste of the family's genius, Frapin's 1888 Vintage is a rare treat; only 1,888 bottles were created, sold in a wooden box with a block of perfume and gilded gold fob watch included. Presented in an exceptional hand-made crystal carafe, some cognacs in this blend pre-date the 1888 on the label. The elixir came about as a tribute to Pierre Frapin and the gold medal he won for his cognac at the 1888 Universal Exhibition in Paris, for which Gustave Eiffel had just completed his tower. Hard to find, this complex mix of subtleties is well worth the search.
Frapin cuvee 1888
As the family describes it: "Dried fruits, nuts, raisins, prunes, candied oranges and cacao, tonka beans and coffee… vineyard flowers, a flash of scents of the lime tree, pepper, soft spices, white honey, vanilla, leather and tropical woods." More than a mouthful at near $5,400 when it was first available, expect higher prices from collectors that snapped up the original 1,888 bottles.
cognac-frapin.com
Ragnaud-Sabourin
The Ragnaud-Sabourin family owns approximately 123 acres of vineyards in the Grande Champagne region, which they've put to good use for more than a century producing their beautiful cognacs. Notably, the estate is today managed by the family's female descendants: Denise, Annie and Patricia Ragnaud-Sabourin. The family's mission has been the same since 1850: only produce the best quality, in limited quantities. They do so in the family cellars with a substantial stock of eau-de-vie and excruciating patience. Among the estate's best offerings, L'Heritage Ragnaud and Le Paradis both comprise brandies dating from the turn of the last century, the latter blended with pre-1870 distillations (preserved before a plague of aphids wiped out nearly 40 percent of France's grape vines).
Heritage Ragnaud
Wood and spice in perfect balance at near $900.
Le Paradis
Complex, rich and rare; near $970.
ragnaud-sabourin.com
Léopold Gourmel
Most cognacs have histories, some dating back to the 13th century. Léopold Gourmel is a bit different. Created in 1972 by two Frenchmen, Pierre Voisin and Olivier Blanc, this house was named for Pierre's grandfather. Gourmel's care for his garden, his healthy lifestyle and regard for nature fit the pair's vision of a natural cognac and an environmentally responsible house. No chemicals or pesticides of any kind are used to tend the vines on this first-growth vineyard, which features roots going down more than 100 feet. Non-toasted barrels made from old French oak are used, no additives or caramel colorations are added, vintages are not mixed, and filtering and bottling are done with minimum temperature change. Léopold Gourmel thus stands apart from other cognacs. While all of the house's offerings are worth exploring, we like the Cognac Age des Éspices. Contemporary and elegant packaging complement the flavor, which is round, leathery and worthy of a cold evening in a deep forest lodge.
Cognac Age des Epices
Woody sweetness with pepper, coriander, ginger and butterscotch lingering in a complex finish for near $525.
leopold-gourmel.com
Kelt Cognac
While most cognacs are happy to age quietly in barrels tucked away in caves, Kelt Cognac is not. Perhaps the best-traveled spirit sold today, it spends three months at sea before it's even ready to go to market. After a Kelt master blender combines cognacs from the estate's cellar, some of which date back to 1842, the blend is returned to the oak cask in which it has been aging—then it's put to sea. All Kelt Cognac circumnavigates the globe on a three-month voyage, the "Tour du Monde" allowing for what Kelt calls a vital "ocean maturation" step in the aging process. The idea comes from the notion that the voyage from Europe to the New World was a crucial step in the aging process for 18th century cognacs. The constant rolling motion of the ship combined with temperature extremes and changes in air pressure compel the wood to impart unique aspects of its character into the flavor and cause the blend to bond in a way not otherwise possible. Following the tour du monde, the cognacs rest in stone structures called chais before being bottled. Kelt claims the resulting character makes it appear the spirits have aged additional years, "or even a decade." Whatever credence you lend to the cruise, there's no denying Kelt Cognacs are superb. Their best is the Petra, a mahogany-colored gem that maintains a pleasant flavor on the palate.
Kelt Petra
Jasmine and honeysuckle meet vanilla and cedar with a bit of tobacco and tropical wood. Stunning at roughly $1,000.
keltcognac.com