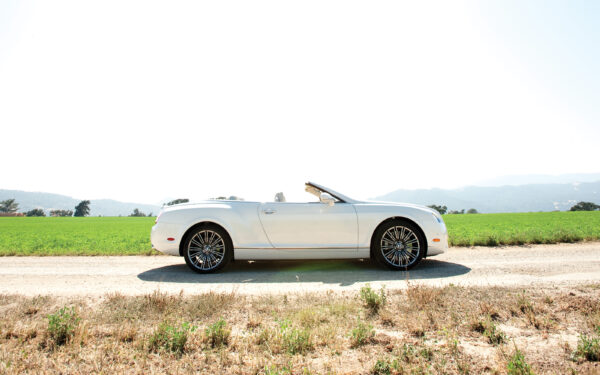 From the Top Down
In broad terms, 1919 was a good year for England. The Great War was over, a British dirigible crossed the Atlantic—becoming the first airship to do so—and the British House of Commons welcomed its first female MP, the American-born Lady Astor. In October of that year, in a small garage on London's New Street Mews, the man who'd built the motor for the Sopwith Camel fired up a newly designed 3.0-liter engine, heard it roar, and fulfilled a dream he'd put on hold for the war. Bentley Motors, as they say, was born.
The cars Bentley builds today may not look much like the company's first effort, which was sold to a sporting playboy named Noel van Raalte in 1921, but they still hold to W.O. Bentley's original standard of being fast and beautiful.
There are a handful of Bentley models to choose from, all of them as known for their price tags as for their quality. Among the offerings, the Bentley Continental is the company's sports car. And among Continentals, the 2010 Continental GTC Speed is the most powerful convertible the company has ever built. If you're after wind-in-your-hair excitement, this is the car for you.
As Kingdom's editor i'm fortunate indeed to work with a pool of great writers, which occasionally leaves me with a dilemma over who should receive one assignment or another. But when the Bentley piece came along, I had the perfect writer in mind immediately: ME.
Early this fall, thanks to the generosity of Bentley Motors, I was able to spend a few days with the new GTC Speed, rolling around California wine country in high style and learning to appreciate what a six-figure price tag gets you. Turns out it gets you quite a lot—a lot of luxury, a lot of engine and a lot of turned heads.
Performance
Bentleys are big, no question about it. The GTC Speed is almost an inch longer than a Range Rover Sport, a hair over seven feet wide and weighs in just under 5,500 pounds (kerb). The weight is moved—quickly—via a 600hp 6.0-liter twin turbo, a W12 that's been refined for the 2010 GTC Speed with a few lower-weight components, a new crankcase design and a substantial increase in airflow thanks to a redesigned front grille.
Handling is improved as well, due to a redesigned suspension that offers a variety of settings tuned to cover jaunts to the local market as well as spirited adventures on canyon roads. A rear spoiler helps hold things down, a gingerly tuned power steering system makes it easy to stay on course and Bentley's Continuous Damping Control does an amazing job of controlling body roll through the turns. When it's time to stop, huge disc brakes work with almost alarming efficiency.
We don't understand the genius mix of components and computer madness that ties it together, but when all's said and done Bentley has managed to make a beast of a car that's positively agile. It flies through turns confidently and stays balanced and firm over undulations and through S-turns. Under acceleration, the car feels more solid than heavy, the power waiting on the other side of the pedal eager and endless. You'll get from 0–60 in 4.5 seconds and from 80 to 100+ in a blink (not that we did that, of course). Bentley claims a top speed of 200mph, and we believe them. But it's the handling that can't be over-emphasized. Simply astonishing.
Looks
In my current home of Los Angeles, Bentley Continentals are a relatively regular sight, and I have to confess I've become rather accustomed to the design. That said, I hadn't spent much time studying a GTC up close, and I'd certainly not spent much time appreciating the interior. I walked away from my few days in the car with a new appreciation for Bentley's subtleties—but it doesn't take a discerning eye to ascertain that the car is beautiful, inside and out. Long lines and sloped curves don't completely soften an imposingly elegant overall effect that has a bit of bulldog in it, though it's certainly pedigree. The paint (ours was Ghost White Pearlescent) is deep and lovely, the flying "B" badge on the tip and tail as elegant and inspiring as ever.
When it comes to the interior, the GTC's heritage becomes even more apparent. Premium leather abounds, covering the excellent seats, tonneau and top roll, hand-stitched around the multi-function steering wheel and elegantly worked around the shifter. Pedals are surfaced with stainless steel, the dash and doors with stunning wood trim. The attention to detail is fantastic, evoking an old world essence from this decidedly modern machine.
A sizeable screen in the dash displays an array of information, while an efficient selection of knobs makes adjustments easy: radio and sound settings, GPS navigation, ride settings (including ride height), a built-in iPod interface and other vehicle data are all displayed and controllable via this system.
Many of the aesthetic components on the GTC Speed can be tailored to suit a customer's taste, making the experience of owning a Bentley that much more personal.
Finally
If you didn't know it already, California's Central Coast has beautiful weather. Morning fog usually burns off by noon to reveal sun-splashed vines, verdant fields and bronze, rolling hills. Getting the GTC's top down was quick and easy—a flip of a single switch on the center console set off a sufficiently impressive amount of automated goings-ons, and the top was neatly stowed beneath the leather-trimmed tonneau in no time at all. The girls managed to squeeze into the rear seats, which truthfully can't be meant for long-distance travel (unless you're carrying small children) while a friend and I sat up front and kicked on the seat heaters to help with a bit of late-morning chill. No way we were keeping the top up. Carving down small, twisty roads among vineyards and farms, I considered how effortless it was driving the GTC Speed. Smooth, substantial and surprisingly responsive. I didn't expect this from such a big car, but considering the marque's heritage I suppose it makes sense. Bentley's early creations, which dominated racing through the early 20th century, weren't exactly small but were renown for their handling. Likewise, his clients were among the wealthiest anywhere, so the attention to luxury has been there from the beginning. In fact, New Street Mews held more than a few luxury garages and automakers and Bentley set out to best them all. Things change: Volkswagen owns Bentley, New Street Mews is now a wealthy residential area called Chagford Street (there's still a Lancia garage on the block) and modern electronics invite the occasional quirk. But if the GTC Speed is any indication, Bentley is still committed to the founder's vision of building "a good car, a fast car, the best in class," as W.O. is reported to have said.
Whatever the particulars, I have to believe the man who fired up his 3.0-liter engine so many years ago would be happy with the cars rolling off the line at the factory in Crewe today.