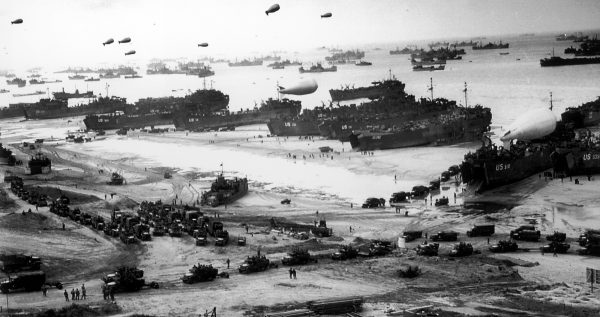 Heroes in the Sand
It is now 70 years since the decisive action of brave American and Allied troops triggered the final course of World War II. But, as Steve Killick discovers, the Normandy invasions on D-Day went anything but to plan and led to a catastrophic loss of life, especially on a beach called Omaha.
The long, gently curving stretch of Normandy coastline is quiet now. Gulls cry, a few walkers stroll peacefully with their dogs and small children run, laughing, along the sands. Behind them are gently sloping, grassy hillsides that are slowly eroding and sliding down toward the shore as the wind and rain batter them during winter months.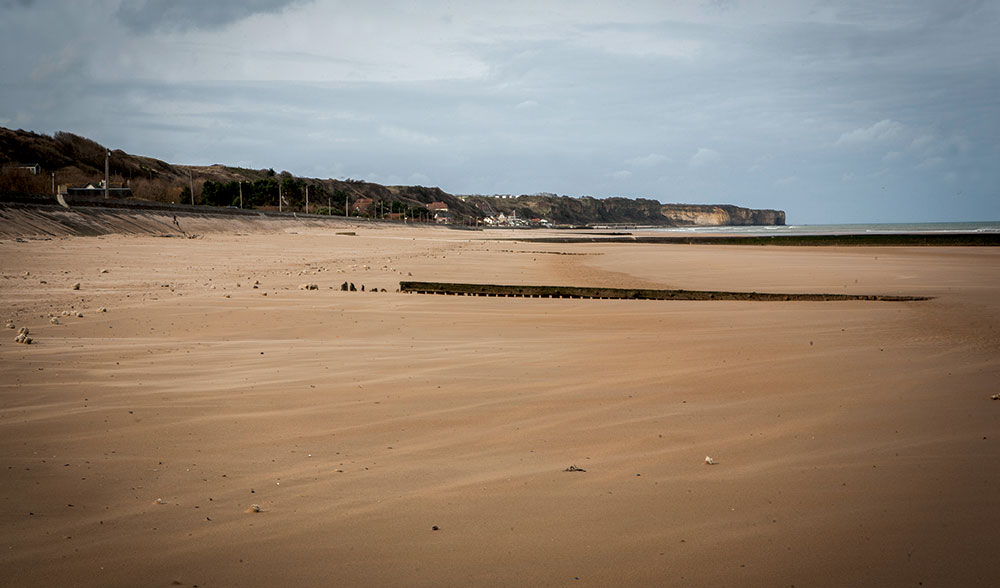 But these golden sands are what became known as "Bloody Omaha." Here, 70 years ago on the morning of June 6th, 2,400 men lay dead, dying or wounded and the sea ran black with blood.
As we stand here, facing the four and a half miles of golden sand, we are flanked by two rocky, limestone outcrops on our far left and right. The Allied Commanders chose the beach they called "Omaha" because it linked with beaches to the east, which British forces were attacking. Tanks and all the rest of the landing craft would be able to take the four roads, between the outcrops, that run from the track along the top of the sea wall to link up with the rest of the massive task force before moving inland to release France from German occupation.
Operations on the five landing beaches of Normandy were tightly synchronized. D-Day would commence at 06:30 hours thus providing the liberating army with the maximum hours of daylight and a high tide so that vehicles did not get bogged down. Tragically, on Omaha, things did not go at all according to plan.

On the morning of June 6th the weather was appalling, with high seas and gale-force winds. Some 34,000 men were approaching Omaha Beach, with heavily laden engineers set to be first in. They were supposed to clear the mines and blast their way through the huge number of obstacles the occupying troops had been planting since General Rommel was put in charge of coastal fortifications in 1943.
Once the engineers had done their work and marked navigation corridors, they would be supported by amphibious tanks to blast away at the pillboxes that lay hidden on top of the crumbling hillsides.
The plan was to first take out German defenses by a heavy aerial bombardment on the hilltops thus allowing a clear path through. However, due to poor visibility, most of the bombs landed behind the enemy lines and even managed to kill a local bakery employee and the baker's baby in the village of Vierville-sur-Mer. But far worse was to come.
The beach was divided into four alphabetical sections: Charlie, Dog, Easy and Fox. The first wave of 1,500 men was to overpower what intelligence had reliably said was a weak and thinly-manned German defense.
Commanders of the landing craft carrying the tanks opened the gates while still nearly two miles from the beach in "force four" gales. Of the 29 Sherman tanks, all but two were swamped. Once they started to sink there was nothing that could be done to save them or their crews. But it also meant that the men already on the beach had no supporting fire as they tried to cross 400 yards of sand from the water's edge to the cover of the seawall, all the while under assault from machine-guns and a strong German unit, which had been strengthened by 1,200 battle-hardened infantrymen who had been posted onto coastal defense duties some three months earlier. Allied intelligence apparently had blundered catastrophically.
By 09:30 the scenes on the beach and offshore had hardly improved. Bodies were washing up in the surf; overloaded men spilling from rolling, overcrowded landing craft were trying to get through the swell, soaking rifles and radio equipment alike. Many were so heavily laden that they simply sunk and drowned. And those few who did make it to the hillsides encountered numerous un-cleared mines. There was still no way to the four roads out.
General George Taylor, trying to rally his troops, made his famous remark: "There are two kinds of people who are staying on this beach: those who are dead and those who are going to die. Now let's get the hell out of here."
U.S. Naval destroyers moved closer and closer to the shore—closer than any of the amphibious landing craft had done and used their guns to annihilate the nests of enemy fire. The surviving engineers forgot the roads and blew paths in the hillsides instead while creating corridors through the minefields. By the time night fell, well over 12 hours later, U.S. troops were on top of the hillside and the Germans had lost the battle. And while 2,400 soldiers had died, over 30,000 finally landed and "Bloody Omaha" had become an American legend.

And so we 21st century visitors must turn away from the quiet beach and head inland, like those brave survivors of 70 years ago, for there are many more scenes of heroic sacrifice and courage where we should pay our respects. We first take a short drive to the huge American cemetery that is the final resting place for the many farm boys, laborers, mechanics and city slickers who never made it home.
Of the many other outstanding sights that will be celebrated and remembered equally this June 6th, we should move north and seek out another scene of immense skill, daring and bravery at Pegasus Bridge, like Omaha Beach, a place that once had no name but is now immortalized for the winged horse insignia sported in the red berets of the Airborne Regiment.
Their task: To land on the night of June 5th, on the left flank and most easterly end of the five beaches, south of Ouistreham, and undertake a number of key roles. Critically, they had to take and hold the bridges at the Caen canal at Benouville and at Ranville across the River Orne as the British and Canadian forces arriving from Sword Beach would need to be able to cross the waterways.
Landing in darkness by gliders, and led by Major John Howard, both bridges fell within a matter of minutes despite being guarded by German machine-gun positions.
Having secured their foothold, Howard and his men were instructed to hold until relieved, a scene made famous in the classic war film, The Longest Day. In the film, Lord Lovat's 1st Special Services Brigade battled their way through to Ranville and were serenaded across the bridge by Lovat's personal piper, Billy Millin, playing Blue Bonnets over the Border.
Piper Millin later admitted to running across the bridge with his bagpipes tucked under his arm
The reality is somewhat different. While Lovat, with his great sense of occasion, did shake hands with Howard and state that they had made history that day, Howard and his men had been relieved somewhat earlier by the curiously named Colonel Geoffrey Pine-Coffin's parachute regiment. And Piper Millin later admitted to running across the bridge with his bagpipes tucked firmly under his arm. [Note: The Colonel's surname came from the 18th century union of the Pine and Coffin families in England. The original version of the name was Pine-Bennett-Coffin, but the Bennett disappeared, prompting his men to nickname him "Wooden Box"—not optimistic, as the Pine-Coffin family had a long and distinguished history of military service, to which Col. Geoffrey certainly added.]

There is now a splendid museum to enjoy with a replica of the gliders that landed so that we can marvel at the skill of the two pilots that managed to get their craft down that night by the canal side—the equivalent, almost, of landing on a handkerchief. Ranville also goes down in history as the first French town to be liberated during World War II.
Visiting these sights is fascinating but can also be emotionally draining. So as a diversion from the scenes of battle we should rejoice, not only in the heroism of all those who landed in Normandy 70 years ago, but also the present joys of fine old towns, beautiful countryside and wonderful cuisine. We should raise a glass of Calvados, that splendid apple brandy of the region, and toast the men whose sacrifices made it possible for us to be free to enjoy ourselves today.
Bunker Retreats
Not all of the bunkers on the Normandy coast are former strategic placements occupied by Germans. Along with the emotionally moving sites of the D-Day landings, there are some terrific golf courses in the area to enjoy as well.
"The problem for many overseas visitors," says Nicholas Montreuil, director of Golf at Omaha Beach Golf Club, just a five-minute drive east of the historic landing area, "is that often they are travelling in large organized groups and rarely have time to set aside three hours for a round of golf, even though so many tell me that they would have loved to play here had they only known about it."
This is particularly true for members of Arnold Palmer Golf Management's portfolio of clubs where their Palmer Advantage Platinum members receive a 50 percent reduction in greens fees at the club (and even complimentary green fees at some other courses in Europe) through an affiliation of French clubs known as Le Club Golf.
Mr. Palmer and his late wife, Winnie, both have suites named after them in the clubhouse here, following their visit in 1999, and there's a letter from the King framed on the wall marking how much he enjoyed his time here.
Architect Guy Dupont built the original course on former farmland in 1986, with two nines looping back to the clubhouse. The front nine was called "La Mer," as it swept down to the coast, and the back nine "Les Bocages," after the dense hedgerows that once surrounded the fields—and which had to be cleared of snipers as the liberating Allied Forces fought their way inland on the way to Paris and beyond.
Now, the scene is one of lush-green tranquility on what has become a golf course. Each hole is named after a famous Second World War hero

Now the scene is one of lush-green tranquility on what has become a 36-hole course, with an additional 18 known as Le Manoir. Each hole on today's 18, known simply as La Mer, is named after a famous Second World War hero. The signature hole is the 6th, and it's named for General Omar Bradley, the U.S. Army field commander in North Africa and Europe who had command of all the American ground forces invading Germany from the West—some 43 divisions and 1.3 million men. And what a hole it is: a sweeping, left-to-right dogleg of 445 yards with two big bunkers at the elbow and a green protected by no fewer than eight traps. Behind the green, looking down over the charming little harbor of Port-en-Bessin, lies a monument to British Commandos who scaled the cliff face here on D-Day to silence the enemy guns.

La Mer's front nine is a precipitous climb, with probably the most dramatic and challenging holes on the course, although the back nine flattens out and allows us to get our breath back before we return for some excellent Normandy cuisine prepared in the spacious clubhouse overlooking the 9th green.
A spectacular test of both golf and stamina would be to combine the front nine of La Mer with the front nine of Le Manoir, which has two hugely testing holes, 8 and 9, where water runs the entire length of both fairways on the left. If you hook, prepare to get wet!
Heading north along the coast after our tour of the battlefields, two more Normandy courses are well worth our attention. The first being Etratat on the chalky clifftops over Dieppe, scene of a daring Allied attack in 1942 that went disastrously wrong and taught many lessons for the 1944 invasion. A regular on "Top-25" golf lists in France, this is a terrific test of seaside golf that can be nigh unplayable when the wind blows hard.
The other is in the historic resort of Deauville, and designed in 1929 by an Englishman, Tom Simpson, who created Sunningdale along with many other fine European courses. Deauville is similar to the delightful St. Pierre course near Chepstow in South Wales, in that it is not remarkably long and sweeps gently around a hillside. It also requires consummate precision to plot out a respectable score.
Offering sweeping views across Deauville and the English Channel, golfers of the quality of Fred Couples, Craig Stadler, Corey Pavin and Ian Baker-Finch have all played here, and their photographs hang on the walls of the warm and friendly clubhouse where club manager David Raguet and his staff all seem determined to ensure visitors leave happy, regardless of how badly their round has gone.
Again, both Etratat and Deauville are members of Le Club Golf, so a half-price green fee is there for the taking for those that qualify. Clubs can be hired at all three courses, so all we need to remember is to pack our golf shoes, and bring an umbrella!