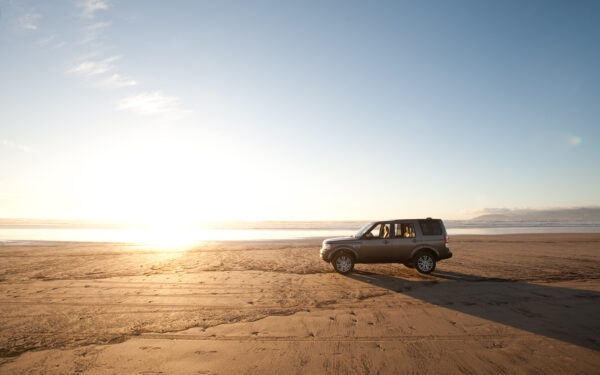 Home & Away
Land Rover's new LR4 provides the perfect escape for Kingdom's editor. Four days on the most beautiful road in America makes the case.
Pulling north onto Hwy 1 out of Santa Monica with the clock tickling the chin of 5pm, the first thing that occurs to me is that Land Rover's 2010 LR4 is a comfortable ride. Good thing, because we're averaging 15 mph in stop-and-go traffic, and with a late January sun already eyeing the horizon it's going to be dark before I've cleared LA city limits. It's during the next two hours that I start to really appreciate what Land Rover has accomplished with its latest creation.
I've done the company's off-road driving course and am completely in touch with how good the vehicles are at fording streams, dominating fallen trees and nimbly finding their ways around mountain goats while rolling in a computer-controlled creep down roller-coaster-steep inclines in complete comfort (the Hill Descent Control feature is unreal) but—quite the opposite of many Land Rover owners, I suspect—I'd never driven one of the storied vehicles on a paved road.
In addition to the off-road cred of these vehicles—and if you're not a believer, visit a Land Rover Experience Driving School and be prepared to shut your mouth—the on-road performance of the new LR4 was a revelation to me and to my traveling companion. Our test vehicle was well-appointed and, because we couldn't exactly drive it at first (due to traffic), the initial few hours were spent marveling at the comfort of the elegant, electronically controlled leather seats (loved the arm rests), the intuitiveness of the capable on-board navigation system, the excellent harman/kardon audio system, substantial overhead glass and myriad other little comforts, including the center console cooler box that kept our bottled water pleasantly drinkable despite the sea of heated engines around us.
In Motion
As any LA driver knows, if you wait long enough the traffic will eventually disperse. When ours did, the cooler box and stereo suddenly became less interesting because—wow—the engine came into play. The all-new direct-injection V8 is a monster. The product of an in-house Jaguar/Land Rover effort, the beast makes 375 hp with 375 lb-ft of torque and is managed via a 6-speed automatic transmission with manual select capability. You notice it the second you press the accelerator because, unlike Land Rovers of yore, a satisfying roar from under the hood is followed almost instantly by a tremendous surge of power that launches you forward in a smooth, controlled burst. Within its class, I would even use the word "quick," which is fair considering its 0-60 time is 6.5 seconds (the new Audi A4 does it in 6.4 seconds despite being a sedan and near 2,000 lbs lighter). When it comes to Los Angeles, quick is good— and much more important than top speed, actually, because switching lanes, slipping into tight spaces between other moving cars and carving daring paths toward last-second exits are all part of every motoring Angeleno's arsenal. Amazingly, the almost 6,000-lb LR4 handled these moves well. That's because along with the power comes improved steering, excellent brakes and a sincerely refined suspension. Body roll, a common problem in any vehicle approaching these dimensions (at its lowest height the LR4 rides a hair over 76 inches) isn't completely non-existent but it's mild enough to not be an issue. No kidding: when the road started to open up, cutting through the quick-moving LA traffic felt effortless and caused no rise in blood pressure at all—quite a trick.
Automatically Good
We lost the sun just north of Malibu, but a quick flick of the intuitively located switch on the left side of the dash positively bathed the road in light (thank you for the manual switch, by the way). An optional high beam assist will make sure you don't blind oncoming drivers by automatically switching between high and low beams as sensors decide, but I was content to work the beams myself. That said, I don't mind a bit of automation now and then, and the LR4 doesn't disappoint. Bits I loved: When you press "unlock" on the key as you approach the LR4 in a parking lot, it "kneels" to make entrance a bit easier, then rises once you push the start button on the dash. The automated temperature control system worked perfectly—and quietly. A rearview camera turns on the second you put the LR4 into reverse and is surprisingly useful. Likewise, the proximity alarms aren't as arresting or annoying as some others I've experienced. iPods are completely integrated into the LR4's audio system via a cable in the center console, mobile phones sync with the vehicle via Bluetooth and can be controlled from a button on the excellently designed steering wheel, and the touch-screen navigation system (as mentioned before) is easy to operate, easy to read and tremendously capable, offering topographical information along with more standard map services. There's even an off-road navigation mode, complete with compass. Interior lighting is, to my taste, quite modern, elegant and useful while exterior lighting is in line with contemporary offerings from other luxury manufacturers, namely making obvious use of LEDs. Whether or not you like the dotted circles of "Christmas lights" for tail lights and exterior lighting, there's no arguing that LEDs are effective, and that's certainly true on the LR4.
Behind the Wheel
After a good night's sleep along California's Central Coast, we jumped on Hwy 1 (also called the Pacific Coast Highway or "PCH," in case you didn't know) and headed north. Free of yesterday's urban congestion, awareness of the automatic features, fancy onboard computers and modern lighting gave way to amazement at the LR4's driving performance. The scenery along "The 1," as Californians call it, is stunning, no question. The road has been featured in numerous movies, commercials and the like. But the dramatic views are matched by dramatic twists and turns that can, in some places, prove rather narrow going—complete with detritus from the occasional mudslide, rock spills, fallen branches or tourist stopped along the way, camera in hand, standing right on the dotted line. Good handling is essential to really enjoying the PCH, and the LR4 was a solid performer. Just as it did in the fracturing LA traffic, the Land Rover accelerated smoothly and carved neatly through the road's sweeping curves, thanks in part to the integrated Dynamic Stability Control and the Electronic Air Suspension. This allowed both me and my passenger to take in the natural beauty around us, made more accessible by the formidable windshield and numerous overhead windows. The experience was akin to riding in one of those glass-topped coaches offered by some railways. We carried only luggage in the back, but had passengers been sitting in either the second row or optional third row (concealed beneath the generous cargo area), I'm sure they would have been wowed by the ride.
A highlight of the brand, Land Rover's Terrain Response system helps drivers deal with urban driving, grass, gravel, snow, rocks and sand—all with the turn of an easy-to-manage dial on the center console. This and a new feature, Sand Launch Control, came in particularly handy when we pulled onto the beach at Pismo for a drive alongside the waves. Sliding sideways during forward motion along a dune, the LR4 advanced confidently with no loss of control whatsoever. And after parking for a while to enjoy the sunset, we pulled away and left without incident. A quick turn of the dial later, we were back on the PCH and racing toward Morro Bay.
Finally
As a writer who loves cars—and as kingdom's editor—I'm fortunate enough to test drive quite a few vehicles. It's rare that one stands out to the point where I can imagine owning it, but I can easily picture one of these in my garage. In fact, I had no interest in this class of vehicle at all until I drove the LR4. Now I'm a bit smitten. The list of convenience features is long and perfectly in line with what one would expect at this price point (ours was nicely equipped near $55,000), and the off-road capabilities are unquestionable. But where the LR4 really surprised me was with its around-town behavior. More than "friendly," as some like to describe SUVs that bumble around city streets then adequately get the boat to the lake on weekends, the LR4 behaves like a performance vehicle—and it is. I expected it to manage well in the mountains and dunes of the Central Coast, but when we were done sliding around in the sand and negotiating dirt roads in wine country, it was the excellent handling on Hwy 1, the quick cuts in LA traffic, easy parallel parking in crowded Santa Monica and ultimately pleasant drive through the morning rush on the way to return the LR4 that really shocked me. It was genuinely tough to hand over the keys.
While the majority of Land Rovers in Hollywood may face the same squandering of talents that many of the city's artists endure, the fact is that a dirt-free LR4 isn't a complete case of wasted ability. Liken it to a capable mountain man who's fashionably and ably at home in the big city. On road or off, I'd say the LR4 is a star.