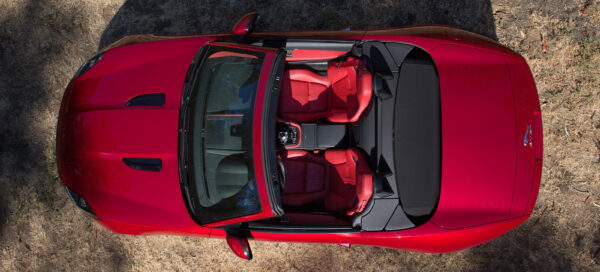 Jaguar F-Type
The new F-Type won't be carrying a generation through a sexual revolution, but no one's asking it to. Modern in every sense, Jag's new two-seater is scary-fast and beautiful. Moreover, it's fun—and hasn't that always been the point?
In case you didn't know it, the 60s are over. Now that we have that out of the way, we can talk about Jaguar's new F-Type, the company's first proper two-seat sports car in 40 years. Beautiful, powerful, rich with technology and well priced (we believe), the car is an absolute blast to drive. No matter who you are, it makes you feel like a celebrity. "But wait," you say. "You must be talking about the E-Type, the Goldfinger car, the one used in Austin Powers, the car that no other Jaguar will ever come close to replacing!"
Sigh. It seems we need to revisit the 60s after all.
For those who would compare Fs and Es—which many are doing recently, including Jaguar itself—know that there will never be another E-Type. The car that Enzo Ferrari called "the most beautiful car ever made" wasn't just a vehicle, it was part of a movement. It debuted in 1961, one week before The Beatles played their first gig at the Cavern Club. That same year saw John F. Kennedy move into the White House, the first man launched into space and the United States land in Vietnam. Things were happening, baby, and the E-Type was the vehicle that carried the day's sexually charged heroes from their movie sets to the Playboy Mansion and then out to dinner with royalty. The car made a rock star out of anyone who drove one, and many did. But then the 60s ended. Jimi Hendrix died. The Beatles broke up. Fashion—which the E-Type certainly was, as much as it was a car—changed. And in 1974, with the Swinging 60s just a speck in the rearview mirror, the last E-Type rolled out of the factory at Browns Lane.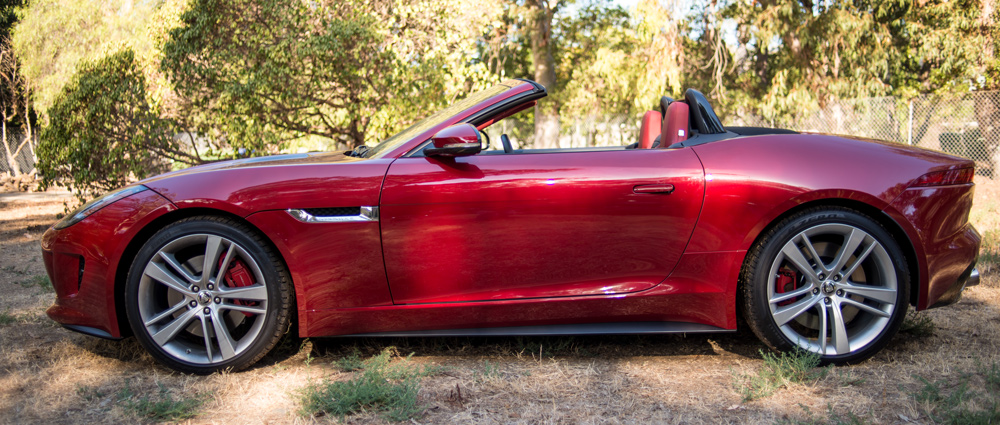 Since then the E has become a sacred cat, if you will, something much larger than four wheels and an engine. It is the sports car—the Jaguar, anyway—by which others are judged, including the new F-Type. But smartphones are the new generational icons, we're not on the cusp of a social revolution, and comparisons to the past almost always come up short. And so it was practically inevitable that the F-Type wouldn't measure up to its predecessor. Except that it does.
First off, it's a car. And that's important to remember. It probably won't appear in the Museum of Modern Art's permanent collection (like its older sibling), but that's not its purpose. Next, the F-Type is more than sufficiently powered at all trims, and the E was as well.
They're both great fun to drive, with the obvious differences you'd expect after nearly half a century of improved engineering. There are a few styling cues as well: the F's rear end, for one, evokes the E-Type, and there are the covered headlamps (which, sadly, lasted only until 1967 on the E due to U.S. safety regulations).
But if you strip away the gloss and Austin Powers and all the rest of it, there's a more substantial comparison to be made between old and new, and it sits at the essence of Jaguar itself.
In 1961, gasoline cost 27 cents per gallon and the minimum wage was $1.15 an hour. Though it was a premium car, the E-Type went on sale in the States for $5,595, just $200 more than the average American's yearly income.
This meant that, for the first time, the middle class could go 150mph—and look good doing it. This point, for many, is what Jaguar is all about: speed, performance and sex appeal at a not-impossible price. As far as we're concerned, in this regard the F-Type is absolutely a return to form for the brand.
Zero-to-60 in 4.2 seconds. A top speed of 186mph. A Supercharged V8 that makes 495hp. These are big numbers, and yet the top-of-the-line F-Type V8S comes in at $92,000—hardly chump change, but quite a bit less than cars we'd consider comparable. The base trim gets you into an F-Type for a reasonable $69,000, while a mid-trim F-Type S is slightly more and slightly faster.
Both of those use a Supercharged V6 that comes highly recommended from top reviewers, including Top Gear's Jeremy Clarkson, who said it was more than enough engine: "At no point while I've been driving this have I thought, 'yeah but I wish it was a bit more exciting,'" he opined while screaming through the English countryside in an F-Type S.
We tested the V8S heavily optioned at $104,620, and found it to be positively exhilarating—an experience that began when we first saw the car.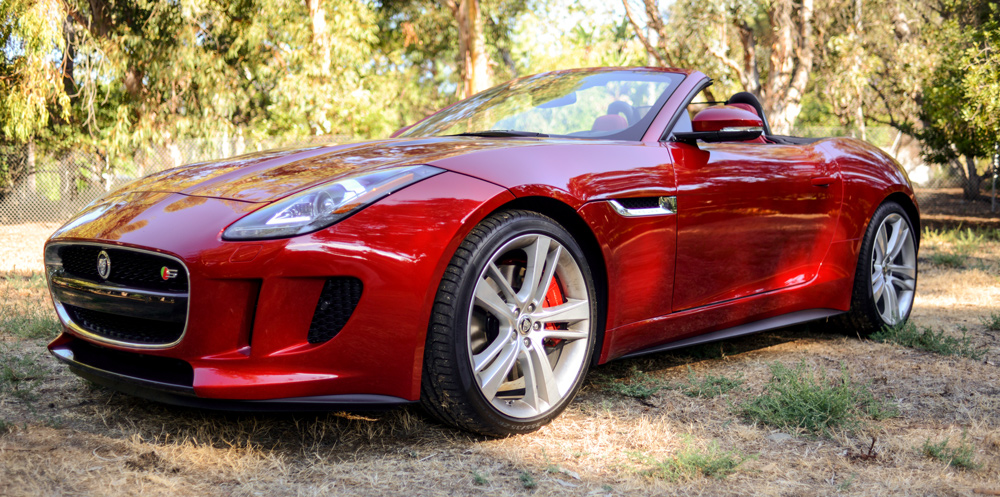 Skin Deep
It might not make it into a museum, but only a jealous German designer would call the F-Type anything but "stunning." The aforementioned E-Type nods are tastefully drawn into a body shaped by two distinct "heartlines." One begins at the bold "shark grill" openings of the front bumper and runs through the headlights and over the front fenders before disappearing into the doors.
The second begins at the rear edges of the doors, then sweeps upwards to create ready-to-pounce haunches over the rear fenders. This simplicity is mirrored in the driving experience: despite being a technology-laden feat of modern engineering, it never feels anything other than a superb racer with a big engine at the front. It has seemingly flawless transmission that puts power to the rear, precise steering and an accelerator pedal that begs to be pressed down. It's brilliantly straightforward, if not exactly simple.
The interior is clearly race-inspired: tightly fitted leather seating that's as comfortable or supportive as you like. We had the 14-way adjustable seats, which were nice but nothing we were too bothered about (though the incredibly quick bolstering was useful, quickly firming up side support for performance driving). Likewise: being able to adjust the interior ambient lighting to any number of shades and colors; automatic dual-function climate control; door handles, a rear spoiler and air vents that all remain hidden until needed, then automatically pop up; a convertible top that raises and lowers quickly—and can do its thing even while you're traveling at speeds up to 30mph; a superb navigation system; easy-to-manage Bluetooth phone hookup; a trunk that will hold two overnight bags (or a set of clubs and one small bag); an innovative stereo from Meridian that makes the cabin seem bigger… All of these are great touches and functioned flawlessly for us, but they're not really the point of the F-Type. The car's purpose is found once you're settled in. You press the ignition button, fold your hands around the firm steering wheel and hit the gas—and the exhaust note cracks the sky like a sonic boom.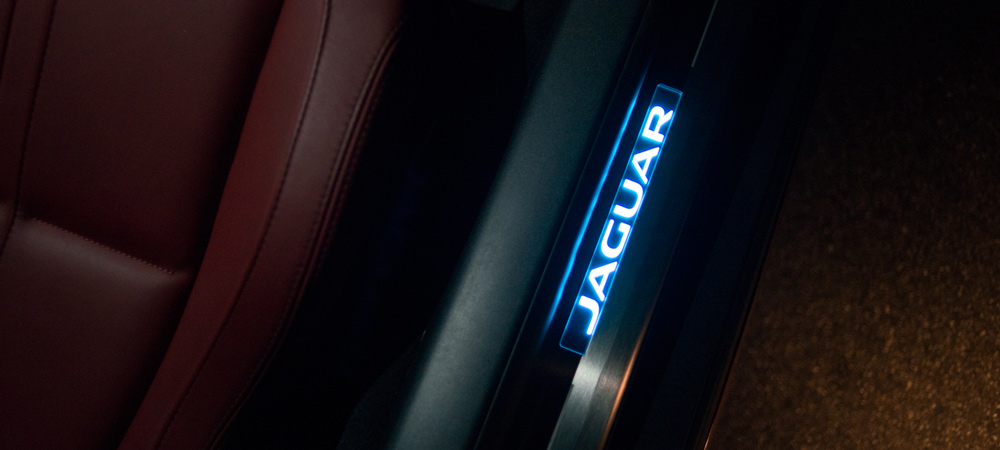 Boom!
"Rude." That's the word my mother would have used. But as far as we're concerned, the exhaust note of Jaguar's new F-Type is sublime: Thick and throaty, it's like devilish laughter erupting over a chorus of screams. The sound can actually be made louder by pressing a valve-opening console button that features an almost cartoonish illustration of twin exhaust pipes.
Ridiculous? It made us giddy—and so did everything else about driving this car. We think the best sports cars feel just a touch scary (maybe a better word is "intimidating"), like they could suddenly rocket you over the horizon without warning. Jumping onto California's Hwy1 just north of Los Angeles, we underestimated the F-Type's power and almost lost the back end—but the tremendously precise steering allowed us to flick things back into shape immediately. Fantastic!
In fact, the 14.6:1 steering ratio is the quickest on a modern Jaguar and it's just one more reason this is the best sports car we've driven in some time. It's beyond refreshing to drive a 495hp car that feels like a 495hp car. So many of today's rides tend to have more bark than bite, tying their power down with an array of experience-softening and corner-killing computer algorithms that, while they no doubt save a lot of money on body work, dull the thrill—and isn't "thrill" rather the point of a sports car? Wind in the hair, passenger hanging on for dear life, slammed back in the seat laughing like a maniac as you roar down the highway? There are no thrills lost in this Jag; it's a blast, especially in Dynamic mode, which allows for "a more spirited drive," as Jaguar understates.
The F-Type's bulletproof ZF 8-speed "QuickShift" automatic transmission (with manual mode) deserves a round of applause for its straightforward power delivery and blink-quick shifts, and another goes to the epic all-aluminum chassis and low center of gravity, which help with the car's cat-like handling despite a curb weight just over 3,600lbs. The large and effective brakes, too, deserve a pat on the back. Way down under the hood, an adaptive damping system makes the most of the suspension and controls pitch and roll, while a host of stability and brake-control systems do their jobs without getting in the way.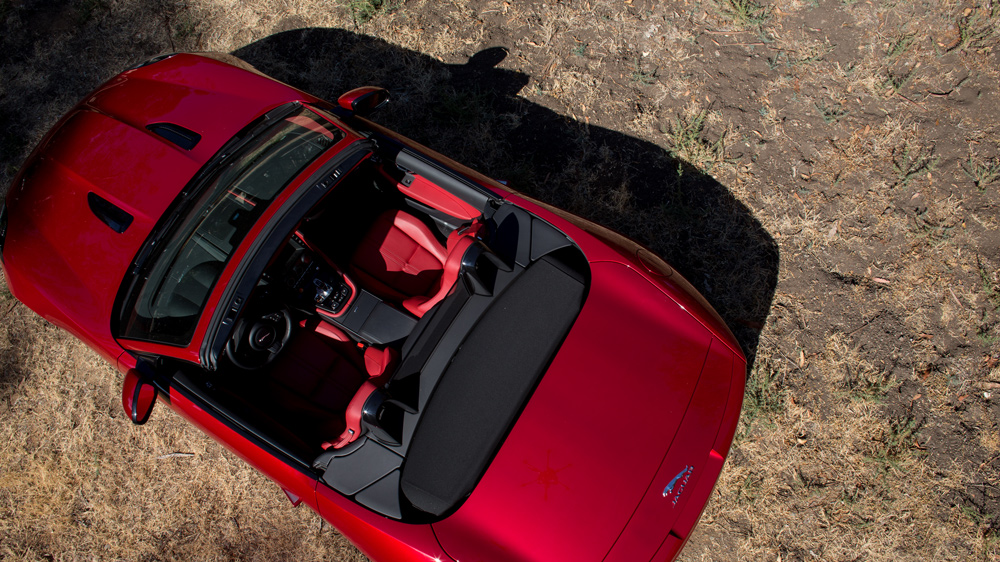 Good Bells
While we're not gadget-mad, there are a few innovations on the F-Type we enjoy. What Jaguar calls "Intelligent Stop/Start" is basically a system that shuts the engine down when the car is at a complete stop, like at a red light, but which maintains power to all electrical systems. Upon releasing the brake, the engine is re-started in as little as 300 milliseconds by a dedicated starter motor, meaning the car is ready to go by the time your foot's back on the gas. It took a few blocks in city traffic to get used to this—the car goes nearly silent at red lights and it feels strange to sense the car shutting down—but we ended up liking it and the improved fuel economy it offers.
Additionally, if we actually owned one of these and lived with it every day, we would have a blast diving into the "Configurable Dynamic Mode," which allows you to manually customize engine, steering, gearshift and suspension settings via the touch screen (if you can't find a setting you like among the numerous pre-programmed modes). This all sounds like a lot of blinking lights and computers, but in fact most of the geek bits are quite well hidden and only come out if you need them.
At it's heart, the F-Type is a beautiful sports car with a big engine and race-worthy performance. Put the top down, keep your eyes on the road ahead, press down on the gas and prepare to have your world rocked. Jimi Hendrix CD optional.