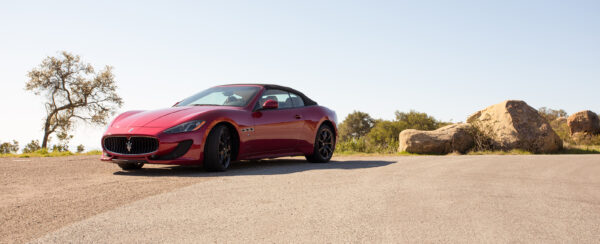 Maserati GranTurismo – Red Hot
It's beautiful, of course—it's a Maserati, after all. But beyond the molten body and whip-sexy leather interior, the new GranTurismo Convertible Sport is also solid and well-considered, making for a relationship that easily can go the distance.
If Italian automotive design has traditionally presented sensual hips, full lips and performance in the bedroom, it's fair to say that less has been offered in the way of morning-after conversation. But should a fit of passion see you taking the new Maserati GT Convertible Sport home one night, and you wake to find yourself standing in the shower contemplating what you've just done, relax. It won't be long before you smell coffee and breakfast being made in the kitchen. Beyond lust, this car was built for love.
Not Just For Show
The convertible version of Maserati's 2013 GranTurismo Sport has as much going for it under the hood as it does in the body. The brand optimism instilled in Maserati fans by the marque's 2003 quality upshift, evidenced in the debut of the Quattroporte (which just enjoyed a redesign), finds more sustenance here in a well-considered sports exotic properly designed to share the fun, and what a lot of fun it is.
Zero-60 in 5 seconds, a hair-messing top speed of 177mph and an engine note that puts tickles in your tummy all come from a re-tuned 4.7-liter V8, assembled by Ferrari and used in all trims of the GT. Eschewing the now seemingly ubiquitous push-button start, the Maserati invites you to turn a key, which we rather prefer. Startup produces a head-turning roar from the engine's 444 horses, which sound that much better with the top down. (The car looks great either way, and with the sky in view buffeting is minimal and conversation is easy.) Wrap your hands around the redesigned, race-inspired steering wheel, press down on the brilliantly styled aluminum accelerator pedal and prepare to have your day improved, no matter how well it was already going.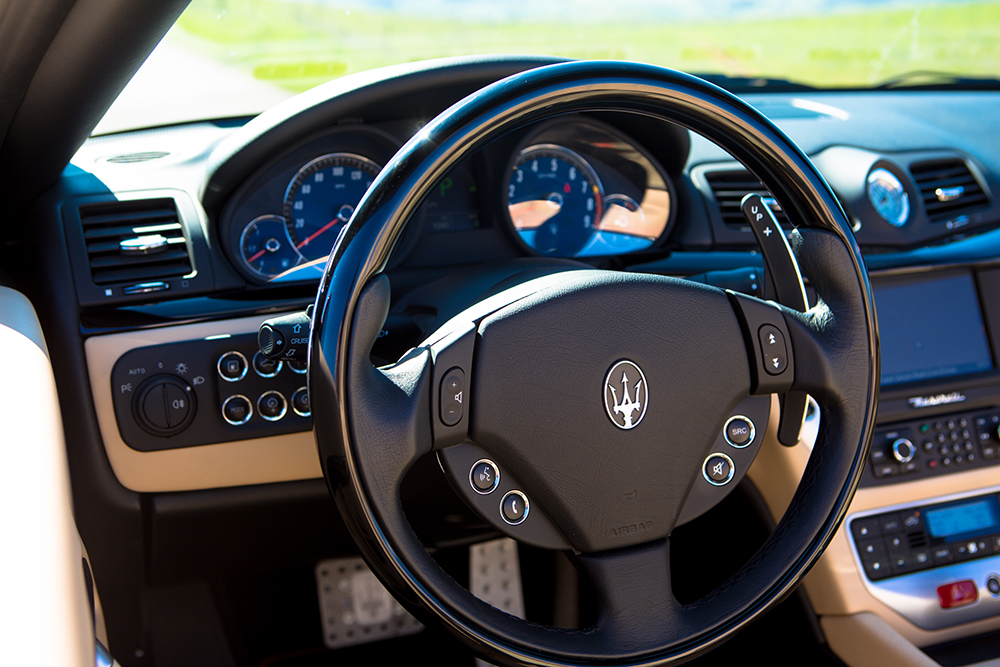 A sophisticated six-speed ZF-built transmission gets the power to the wheels in one of five available modes: Normal, Auto Sport, Manual Normal, Manual Sport or Ice. (Being in California's wine country for our test drive, we didn't try the last, which is meant to effectively deal with the slippery cold stuff.) Using the column-mounted paddle shifters (we found them a touch big, though they are reachable at any wheel position), manual shifts are sublimely precise and smooth, while either automatic mode is amazing, thanks to the company's "MC Auto Shift," which includes satisfying throttle blips and double de-clutching during downshifts. The actual sound produced by all of this is incredible coming into turns, and even better flying out of them.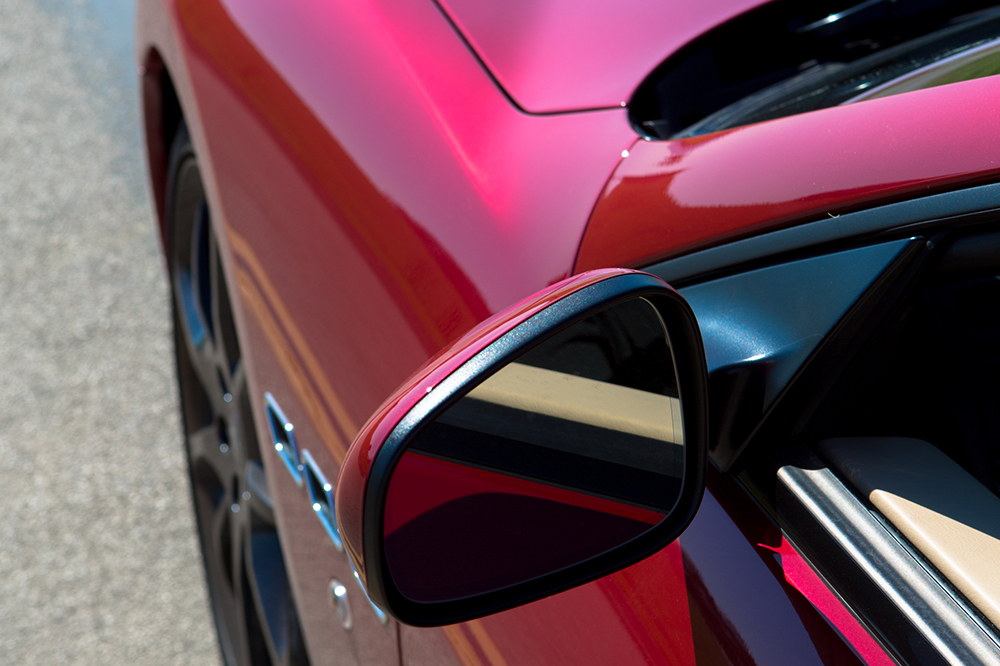 Keeping the 4,400-lb GT from literally flying, the "MSP" (Maserati Stability Program) intelligently controls potentially expensive shenanigans and holds the tires where they belong; we found it rather transparent, and anyway it can be switched off. Along with the MSP, the Sport Skyhook suspension does an amazing job of keeping things stable and comfortable in its default mode, while Sport mode sees it stiffen by roughly 10 percent to more directly translate driver input. Steering in either mode is well balanced, crisp enough and offering plenty of feedback. Between the wheel and the pedals, the car kept us well informed. And when you're tired of moving or just want to pull over and admire the GT, slotted disc Brembos bring everything to a stop in a smooth, controlled fashion.
Share the Love
There's the usual array of electronics and amenities you'd expect at this price point (heated seats, electronic lumbar support, headlights that track the steering wheel up to 15 degrees, full-service climate controls, custom wheels and the like) and all of it looked great and functioned flawlessly on our test car. The navigation system remains basic compared to some and we could have used a rear-view camera, but you don't—or you shouldn't—buy a car like this for electronic geegaws and cup holders (though the cup holders on the GT are quite functional). As beautiful as Maseratis are, they're ultimately about performance, and proper drivers will absolutely appreciate the GranTurismo Convertible Sport. More than that, they'll enjoy being able to share the experience of the car with friends.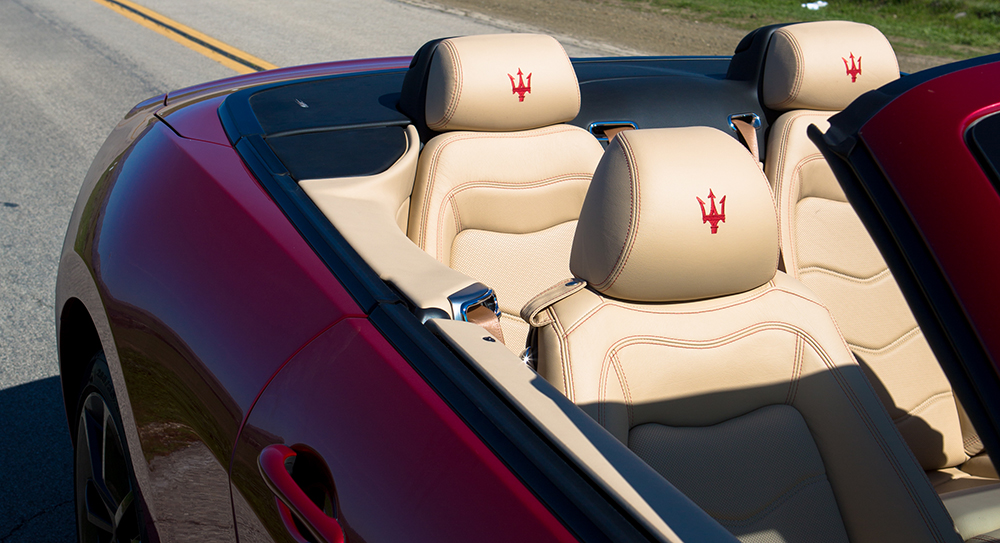 Behind the rich and supportive front seats, there are two actual, real, adult-sized rear seats with functional headrests and enough room for people with calves on the backs of their lower legs. We're not talking a Rolls Royce-sized back cabin—this is a sports car, after all, not a sedan—but we found the rear seats honestly usable, and that's better than most so-called four-seaters near this class. Even with the extra room, weight distribution stays at a performance-friendly 49/51 and overall length is somewhat surprisingly trim at just a hair over 192 inches.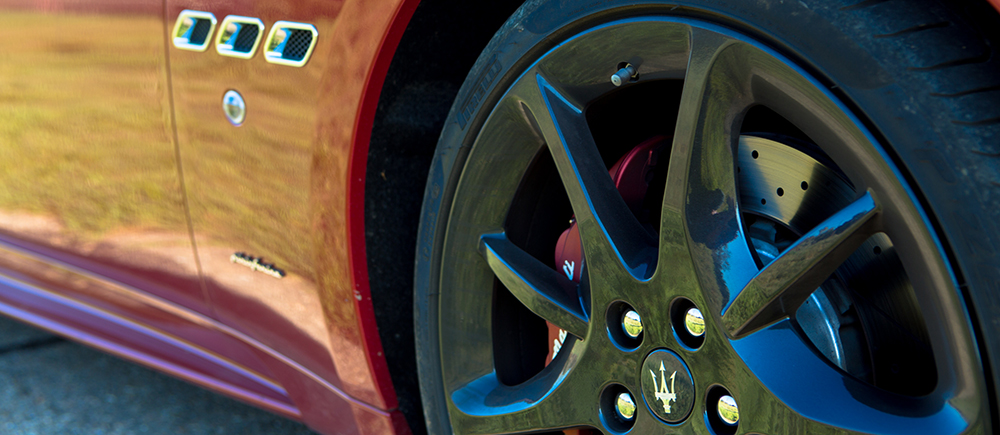 There is a consequence to the GT's usable cabin, and you'll find it in the trunk, further impinged upon by storage for the automatic top and ultimately measuring a shallow 6.1 cubic feet.
But who cares. The GranTurismo Convertible Sport isn't for hauling boxes, it's for driving. And part of the fun of a car like this is showing it off and sharing the experience. Now, instead of taking people for rides one at a time, you can put another couple in the back and have a proper sports experience, racing out of town on a quick day trip or just bombing through turns en route to lunch. Overnights with friends are basically out unless you ship your luggage ahead, but as a quick escape vehicle for two the GT is ideal. We found that a couple of weekend bags and a bottle of wine fit just fine, and there's always the custom luggage option.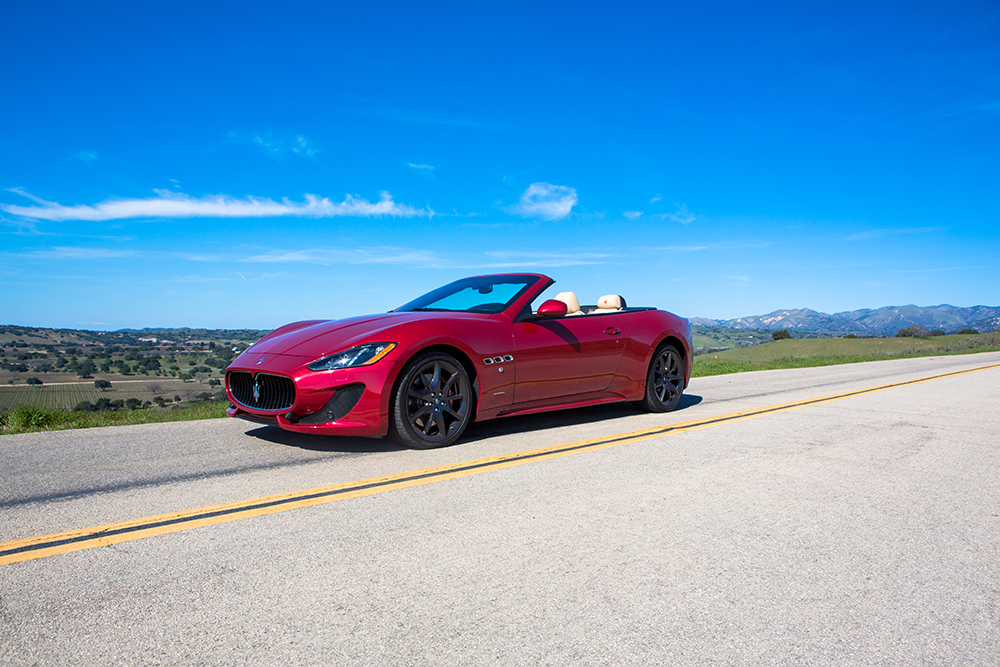 Like all Maseratis, the GT Convertible is customizable, ensuring owners get a car that's truly theirs. On the interior, the colors of the fine leather upholstery, the carpets and edge trims can all be selected, as can the colors of the stitching and seat belts. Mouldings can be ordered in an array of fine woods or varnished finishes, and the craftsmen who hand-work on the cars will do everything they can to accommodate customer requests. Likewise, just about everything you can see on the car's exterior can be custom selected, including the body paint, the color of the fabric top (interior and exterior colors) and even the internal finish of the front light assemblies. Also, chrome trim can be chosen to add a bit of bright elegance, or an MC Sport package can be selected, increasing both the sportiness of the car's look and the actual performance. Like a fine suit or pair of top shoes, this car will be tailored by Maserati to fit you like a glove and to make you look—and feel—your best.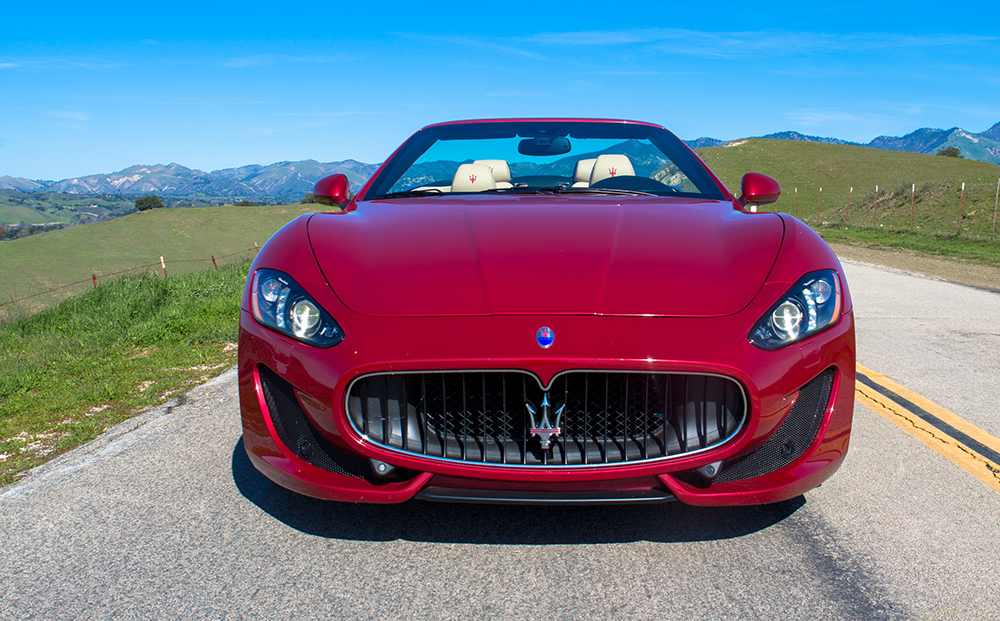 Finally
It should be obvious from this article that we loved the 2013 Maserati GranTurismo Convertible Sport. We drove it around California's Central Coast wine country for a few days, took another couple out for a joy ride or two and otherwise enjoyed alternating between roaring down twisty mountain highways and cruising pleasantly past vineyards. There are faster, stiffer cars with higher performance numbers, and there are cars that are more plush with steamer-trunk sized storage, but in terms of striking an ideal balance between a thrilling driving experience and a comfortable, usable machine in which you'd happily spend an awful lot of time, the GT Convertible Sport nails it for us. Add in Maserati's heritage and culture, the kind of looks that make you weak in the knees and the fact that you can take your friends with you, and we're not sure this isn't one of the company's best offerings ever.