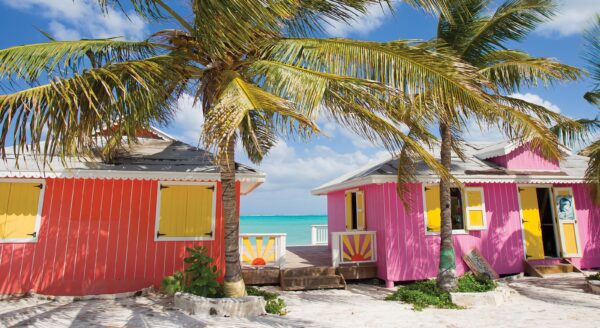 Pilots of the Caribbean
The calypso islands of the West Indies are emerging as a major destination for traveling golfers in search of sun, sea and sand (beaches rather than bunkers). Paul Trow island-hops to sample some of the courses on offer while Mary Novakovich puts her feet up and relishes the lifestyle.
Anguilla
It's only 16 miles by three miles, but this tiny [Leeward] island manages to pack 33 of the world's most beautiful beaches along its white-sand coast. It is also home to some of the smartest resorts in the Caribbean, including Sandy Ground and West End. Nature lovers come to Anguilla's bays to be captivated by the sight of sea turtles nesting in the sands from April to November. Every July, the whole island buzzes as the summer festival takes over with dancing, parades, boat races and one of the Caribbean's biggest beach parties. A former British colony (apart from a brief period during the 17th century when it was ruled by the French), Anguilla declared its independence in 1967 only to revert to British rule four years later. To this day it remains a dependency of the United Kingdom.
The main golf entertainment on Anguilla is provided by the CuisinArt Resort & Spa at Temenos on the island's southwest coast, an 18-hole Greg Norman design that originally opened in 2009. Billed somewhat immodestly but not totally inaccurately as the Caribbean's answer to Pebble Beach, this beautiful course offers dramatic changes in elevation and water features on 13 holes. Scrubland, ponds, dunes, marshes and mangrove are used as natural defenses, and the up-and-down nature of the terrain places a premium on careful club selection as well as accuracy.
Aruba
This hospitable island, barely 20 miles off the coast of South America, is a beguiling mix of cultures and landscapes. About 80 different nationalities live harmoniously in this former Dutch colony, where the Atlantic trade winds protect the island from extreme temperatures. The cuisine combines Aruban creole spices with the succulent flavors of freshly caught lobster and giant shrimps. There are even Dutch favorites such as creamy Gouda and Edam cheese. Inviting beaches of shimmering white sand are found along the coast, but head inland to explore the desert-like lands of the Arikok National Park and its unusual flora and fauna.
Aruba's first proper golf course, Tierra del Sol, was designed by Robert Trent Jones, Jr. and opened in 1995. Located near San Nicolas on the northwest tip, just a 5-10-minute taxi ride from the major resorts, it is the island's only 18-hole course. You will need your long-iron game, though, as the wind is often blowing despite the predominantly sunny, dry weather.
Bahamas
People haven't stopped coming to the Bahamas since Christopher Columbus reportedly landed in San Salvador in 1492. This archipelago of some 2,000 islands near the Florida coast played a major part in the development of the slave trade and plantation economy. Nowadays there's the pull of pink sandy beaches, kiteboarding, diving and some of the biggest resorts in the region. Laidback islands such as Eleuthera invite lazy days on pristine beaches, while the chic boutiques of Harbour Island can give your credit cards a horrendous bashing. Paradise Island is the setting for Atlantis, an enormous and spectacular resort that really is from another world.
Our Lucaya on Grand Bahama has two courses, originally designed by Dick Wilson but contemporized by Trent Jones, Jr. At Our Lucaya, the 18-hole Reef Course became part of Grand Bahama's landscape in December 2000 when the links-style redesign kicked in. A good short game goes a long way on this breathtaking course. The wide fairways may be a little forgiving but the huge bunkers protecting the greens are not. The large, level greens may please the eye but their speed will harm your scorecard. Add that to an unpredictable ocean wind, water in play on 13 holes and you have a formidable opponent. Meanwhile, Wilson's Lucayan Course tests your precision rather than distance, with doglegs, elevated greens and thick tropical foliage. Bring plenty of balls, even though the tall trees provide protection from other players on the course as well as shade.
Barbados
Centuries of British rule have left many marks on this bustling island in the eastern Caribbean. So along with brightly painted colonial plantation houses you'll find people playing cricket and driving their cars on the left side of the road. But much of Barbados is strictly Caribbean: 70 miles of sweeping beaches, colorful carnivals and tours of rum factories. Seafood connoisseurs head to Oistins for the Friday fish fry, where the catch of the day is barbequed in a party atmosphere. Harrison's Cave is one of the island's natural wonders, where you can tour the dramatic limestone caverns, underground rivers and waterfalls.
The island has three main golf courses. Apes Hill, with generous fairways, strategically placed bunkers and spectacular views of the Caribbean, requires accuracy with its moderately-sized, contoured greens and multiple tees that allow for shorter carries and different routes around the hazards. Sandy Lane, an extraordinary place owned by Irish multi-millionaire investors Dermot Desmond and J.P. McManus, has two Tom Fazio-designed courses—the Country Club and the highly exclusive Green Monkey that zigzags across a tabletop landscape and charges a green fee of $500. Then, a few miles south, there's Royal Westmoreland, a great track that meanders naturally, and pleasingly, through a disused quarry.
Cayman Islands
Divers have plenty to entice them to these three low-lying islands south of Cuba. While pine trees and mangroves give Grand Cayman, Cayman Brac and Little Cayman a luxuriant look, underwater corals, canyons and shipwrecks make the islands one of the world's top diving destinations. The marine life is spectacular, especially the tame stingrays that swim alongside snorkelers and divers at Stingray City. Boatswain's Beach in Grand Cayman is a unique marine theme park with a turtle farm and inviting saltwater lagoons. Life in this British overseas territory is agreeably slow and relaxed, particularly in Little Cayman and Cayman Brac.
The two top courses in Grand Cayman are Hyatt Britannia and North Sound. Hyatt Britannia consists of a nine-hole championship course and an 18-hole executive layout. North Sound (previously the Links at Safehaven), a 6,605-yard course designed in 1994 by Florida-based Roy Case, is close to the famous Seven-Mile Beach waters and set against the North Sound, making for both interesting play and panoramic views of the Caribbean. A combination of the natural Caymanian terrain and prevailing ocean breezes mean that North Sound's narrow fairways and abundant water and sand make for a tough golfing challenge.
Dominican Republic
Home to the Caribbean's highest mountain and the New World's oldest cathedral, the Dominican Republic is much more than a collection of all-inclusive resorts. Hikers and mountain bikers make the trek to the 10,164ft peak of Pico Duarte, while wildlife lovers and birdwatchers head to the salt-water Lake Enriquillo, the Caribbean's lowest point and largest lake. Five centuries of Spanish history echo throughout the colonial buildings, shaded plazas and cobblestone streets of the buzzing capital, Santo Domingo. But sun worshippers aren't left out: beautiful sandy beaches are strung along the palm-lined Costa del Coco, including the luxurious resort at Punta Cana.
The Dominican Republic is by far the Caribbean's busiest golf destination with more than 20 courses. Starting at Punta Cana, water is the dominant aspect of the P.B. Dye-designed La Cana course with ocean views on 14 holes while the other four are all positioned next to the beach. Meanwhile, Dye's father, Pete, designed all three layouts at the 5-star Casa de Campo resort, including the evocatively named and hauntingly beautiful Teeth of the Dog, which has more than its fair share of devilish doglegs, elevated greens and trick-of-the-eye trees. Also recommended are Guavaberry, a 7,156-yard, par-72 that borders a tropical forest and nature preserve at the Coral Costa Caribe Resort & Casino, and Punta Espada, a 7,396-yard monster perched on a limestone cliff at Cap Cana.
Jamaica
Jamaica is abundant in natural beauty: the majestic Blue Mountains, the cascading Reach Falls and YS Falls, the quiet fishing villages along Treasure Beach, the deep waters of the Blue Lagoon. The capital, Kingston, hums with bustle and the sounds of reggae, and has a museum devoted to the island's favorite son, Bob Marley. Lush hills cradle the coastline of Montego Bay, the site of some of the island's most popular beaches. Hedonists head west to Negril, where white sandy beaches are backed by imposing limestone cliffs. Cruise ships dock at Ocho Rios, giving passengers a taste of sweeping beaches and luxuriant botanical gardens.
Montego Bay is as near to a golfing Mecca as the Caribbean gets, with four superb courses separated by an hour's drive strung out on the northwest coastline. Leading the way is the classical Robert Trent Jones, Sr. design at Half Moon, one-time home of James Bond creator Ian Fleming, that dates back to 1961. Next door is a 5-star Wyndham hotel and Cinnamon Hill, a course formerly named Three Palms, after the trees under which local legend Annee Palmer is supposed to have buried the three husbands she murdered. Play this course if only to take on the 8th hole, a glorious par-3 with tee and green on promontories and nothing but the Caribbean in between. Across the road, and a major feat of engineering, is White Witch. No expense was spared to blast this beautiful course, where 16 of the 18 holes offer a sea view, out of rugged hillside with no topsoil. The other side of Montego Bay is the wind-exposed Tryall, carved in 1958 from an old sugar plantation by designer Ralph Plummer and surrounded by a gated community that was originally the brainchild of the film actor Errol Flynn.
Puerto Rico
This small American territory still manages to retain centuries of Spanish colonial history. It's a fascinating mixture of old and new, which you can see in the island's capital, San Juan. Cobblestone streets are lined with restored 17th and 18th-century buildings painted in vivid colors, with Modernist and Art Deco structures in the modern urban center. Lush tropical rainforests cover the mountainous interior, but the coasts are fringed with glorious beaches in shades of sand ranging from bright white to volcanic black. Some of the most beautiful beaches can be found on two tiny pretty offshore islands, Culebra and Vieques.
Hyatt Dorado Beach, built as a millionaires' playground in the 1950s by the Rockefeller family and home to two Trent Jones, Sr. courses, East and West, staged the 1994 World Cup of Golf. Westin Rio Mar Beach also has two courses—the River and the Ocean—as does Trump International, located at Rio Grande, a half-hour drive from San Juan. The International and Championship courses at Trump International, designed by former U.S. Open champion Tom Kite, are spread across more than 1,000 acres of fertile Atlantic coastline.
St. Kitts & Nevis
Compared to other parts of the Caribbean, tourism is taking its time coming to St. Kitts and Nevis. St. Kitts is the larger of these two small islands in the eastern Caribbean, and much of it is taken up with wild volcanic peaks and dense tropical forests. The most developed area on St. Kitts is Frigate Bay, a sliver of land in the south of the island with major hotel chains and lively beach bars. Cone-shaped Nevis is only two miles away across the Narrows Channel, but it's more laid back. Many of the old sugar plantation houses have been turned into low-key yet luxurious accommodation.
The Trent Jones, Jr. course at the Four Seasons Nevis resort, dating from 1991, offers splendid views of St. Kitts. Across the water, Royal St. Kitts, designed by Thomas McBroom, is about to be joined by two important new cliff-top courses later this year—Tom Fazio's creation at Christophe Harbour and Ian Woosnam's layout at Kittitian Hill.
Trinidad
Trinidad is one of the most vibrant islands in the Caribbean, where the cuisine and music—especially calypso—have a far wider influence than would be expected of such a small country. A cosmopolitan population mixes African with East Indian, Chinese, European and even Syrian. Its winter carnival is legendary in an area renowned for colorful festivals. The capital, Port of Spain, buzzes with lively and exuberant nightlife and excellent restaurants. Yet many of its beaches are unspoiled and pristine, with numerous quiet coves and bays to explore. Most of the tourism development has been taking place on Trinidad's smaller sister island, Tobago.
St. Andrew's Golf Club (also known as Moka) is Trinidad's main course and was once home to Stephen Ames, the best golfer from the West Indies since the emergence of the colorful Chi Chi Rodriguez from Puerto Rico back in the early 1960s. One of the bastions of Caribbean golf, though, is Mount Irvine Bay in Tobago, laid out in 1968 by Commander John D. Harris in the grounds of an old coconut plantation with a view of the sea from every hole.
Turks & Caicos Islands
Much of the focus on this archipelago south of the Bahamas is below sea level. The underwater coral gardens and shipwrecks attract divers and snorkelers, not to mention teeming marine life that is protected by the West Caicos Marine National Park. Dolphins and whales make an enchanting spectacle as they migrate through the Turks Passage in the wake of boats. Many of the hotels in this British territory cluster beside the 12 miles of white sands along Grace Bay on the isle of Providenciales. The islands' capital, Cockburn Town, is tucked away on sleepy Grand Turk, where the historic streets take visitors right back to the 19th century.
Providenciales, better known as Provo, is home to the Turks & Caicos Islands' main airport, the world's only conch farm and, perhaps most importantly, the main golf course. Provo Golf & Country Club, an 18-hole Karl Litten design, wends its way through limestone outcrops and even though it has a total of just 16 bunkers, they are all big and deep, and strung out in a 'desert' style setting. More worryingly for golfers with a nervous disposition are the 15 lakes and more than 3,500 palm trees, but the wide selection of native birds, like white egrets and pink flamingoes, should at least provide some welcome distraction.
U.S. Virgin Islands
The United States of America bought the Virgin Islands from their former colonial masters Denmark in 1916, but there are still many echoes of the islands' colorful Danish past. Distinctive pastel-colored houses with red roofs are to be found in the charming historic towns on the islands of St. Thomas, St. John and St. Croix, as well as numerous Danish street names. About two-thirds of St. John is taken up with the Virgin Islands National Park, where the mountain trails are a great favorite with hikers of all levels of fitness. White sandy beaches fringe all three islands, where turquoise bays are backed by rainforest-covered hills.
Mahogany Run, constructed by George and Tom Fazio in 1979 on the north coast of St. Thomas, is considered one of the Caribbean's most beautiful layouts. Despite its friendly length of just over 6,000 yards, it's a cunning challenge that rises and falls over a gentle valley between 80 and 200 feet above sea level. On most days, a steady Caribbean trade wind prevails, playing into the claws of the "Devil" lying in wait at holes 13, 14 and 15—the infamous Devil's Triangle, populated largely by pelicans and iguanas. Meanwhile, the Trent Jones, Sr. design dating from 1966 at Carambola, the centerpiece of a luxury resort on the northwest side of St. Croix, winds enchantingly through a lush, tropical valley.