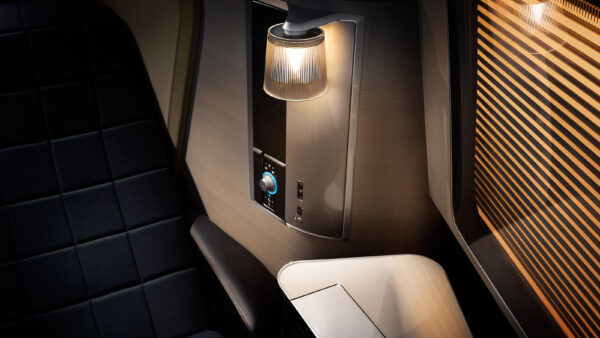 Red, White & Blue Sky
Finding a wine that travels well, at altitude, is an intensely complicated exercise, one that requires considerable skills on the part of those entrusted with the task by the world's leading airlines. Steve Killick talks to some of the industry's expert viticulturists about what to serve, especially in business- and first-class, and how best to serve it.
How fitting it is that the winner of the world's oldest golf championship is rewarded for his efforts by being presented with a claret jug. With golf being such a companionable sport, at amateur levels at least, an agreeable glass of wine has long played an integral part in post-match deliberation, celebration and relaxation.
For the many thousands heading toward windswept Lancastrian shores to enjoy the 141st [British] Open Championship at Royal Lytham & St. Annes Golf Club, many thousands more glasses will be enjoyed along the way. And many of these will be taken at altitude by golf lovers flying in from all parts of the globe.
Providing top-flight wines to airlines is almost as challenging a business as staging a golf championship to the satisfaction of everyone concerned; and to make matters even more potentially problematic, when it comes to selecting a decent wine to be enjoyed as part of the in-flight entertainment, altitude can play strange tricks on one's taste buds. Sometimes the consumption of food and drink 30,000 feet up is like dining while suffering from a thumping head cold—everything tastes bland and uninteresting.
Research has shown that altitude can dull our taste buds by as much as a third, and the longer the flight the more the palate is likely to become jaded. Ironically, the longer a bottle is open in the air the more uninteresting it will probably become. This has nothing to do with the innate quality of the wine, and everything to do with us.
So wine merchants dealing with airlines require a huge amount of skill, especially when stocking premium cabins, to ensure that what they supply delivers not only value for money as far as the airlines are concerned but also a satisfying taste to the customer particularly when he or she is paying 'top dollar' for the flight.
The wine may be free but what all the airlines want is a well-to-do client coming back for more, and afterwards telling their business colleagues and friends what a great flight experience they had.
Many airlines contract their wine operations out of house in order to minimize operational costs and also to employ some of the leading names when it comes to suppliers. Andy Sparrow spent 30 years at British Airways (BA), starting out as part of the cabin crew team. This is where his interest in wine began, as he enjoyed a glass or two of something different in far-flung destinations.
He ended up as menu development manager before joining Bibendum Wine in London when BA contracted out its wine buying. Now, as Bibendum's national account manager, he supplies BA first-class cabins with all its wines and Champagnes.
"It was great to get back to my favorite subject," he says. "And dealing with wines for the first-class cabin you get to taste some sensational bottles." Sadly for Sparrow and his tasting colleagues, they have to spit the wine out given the volumes they are sampling.
At any given time, BA will have eight wines available and try to provide a mixed selection that will strike a chord with first-class passengers. "When you are flying people to and from the United States, it would be crazy not to offer a really classy indigenous U.S. wine," says Sparrow. "So, when it comes to the reds, I will typically be looking for a big Zinfandel from California or Oregon, or a stylish pinot noir."
The wine list for May first-class flights to the U.S. includes a Laurent-Perrier Grande Siecle, retailing at more than $110 a bottle—"I want the passengers to have a Champagne that is both delicious and a well-known name," Sparrow explains—and a Mary Edwards River Sauvignon Blanc, 2010, from California.
There is a classic 2005 red Bordeaux from Chateau Larrivet Haut-Brion and a Freestone pinot noir from the Sonoma Valley in northern California. "This gives passengers a taste of something really recognizable—I always look for a top quality red Bordeaux and also a classy regional alternative," Sparrow adds. "Balance has got to be there in the wine style to make it taste just as good at altitude as it does on the ground, not something that you can say about all wines."
Despite being a fan of Italian wine, Sparrow says that a big, chewy Barolo, regarded as the king of Italian reds, simply does not work at altitude. "The old vintages just don't have the right structure to work at 35,000 feet."
Sparrow often operates an ABC policy when considering wine, with ABC standing for "anything but Cabernet" in the red selection and "anything but Chardonnay" amongst the whites. "I am looking for acidity in the whites that will ensure customers' taste buds will experience the citrus zest of a really good sauvignon blanc. Too many of the new-world Chardonnays are fruit-driven and buttery, which just won't cut it at altitude. In contrast, a high-quality Sancerre works really well in the air."
Mark Parsloe, a master of wine at Berry Bros. & Rudd, of London's St. James, supplies wines and Champagne to Virgin Atlantic Airways. He says: "What Virgin was looking for when it employed us was a name its customers could feel safe with, and that is pretty much the case when providing wines—you need to have a number of familiar bottles that people recognize, trust and like."
However, that does not mean that Parsloe is simply there to deliver big-name Champagnes along with wines from Burgundy and Bordeaux. Far from it, as alongside a French pinot noir from the Languedoc and a California Zinfandel, he recently presented Virgin's Upper Class flyers with a red from Crete based on an indigenous Cretan grape blended with a Syrah.
"You obviously can't do things like this when you're dealing with economy customers because there is simply not enough of the wine available," he says. Another reason Pardoe will always include an unusual, slightly off-beat wine variety is because it suits Virgin's image. "They want to be seen as slightly quirky and a bit daring," he explains.
It also gives him the opportunity to negotiate favorable deals with the wine merchants whose wines he selects. "I don't want a 'cheap as chips' Burgundy, which is why I will buy a really first-rate pinot noir from southern France. The fact that we don't have to have a Chablis or a famous Bordeaux gives me a chance to deliver real value for money."
Upper Class passengers on Virgin Atlantic get three reds and three whites. The wines available to passengers travelling to the [British] Open in July will include a crisp and flinty Italian Gavi Aurora from Liguria, a fruity and flavorsome Chilean Chardonnay Claya white, and a Peachy Canyon Zinfandel from California, known as "Incredible Red" and supplied by a small family winery from Big Sur.
Virgin runs its wines on a three-month cycle with Berry Bros. evaluating consumption at the end of each period and taking back anything that is not drunk. "We can tell exactly what has proved most popular, although that does not change our philosophy when it comes to providing Virgin wines," says Parsloe. "We are simply looking for quality, harmony and balance." And (although he doesn't say it) at a price Virgin is prepared to pay.
American Airlines, like many carriers, custom-fits its wines for its routes. Montreal-born Ken Chase, a classically trained wine maker and viticulturist in his own right, is American's wine consultant. Taking time out from writing his first book on wine, he reveals: "What we aim to do is fit the diversity of the culture, cuisine and season for the particular market being served. It is important for our selection to have a grape variety that expresses its geographic origin and which can tie in to different routes. For example, a New Zealand Marlborough Valley sauvignon blanc should be very different from a Napa Valley sauvignon blanc."
At any one time, American has more than 60 wines in service and maintains more than 25 different wine lists. During 2011, the company bought a staggering 3m bottles of wine. Given how tastes buds differ at altitude, Chase selects different wines for different times of the day with pinot grigio popular on afternoon flights and other Italian white varieties, such as Vermentino and Cortese, also favorite selections. Cabernet Sauvignon is American's most consistently selected red wine.
Chase says that at 35,000 feet subtle flavors are almost impossible to detect so he will go for full-bodied, well-balanced wines. His personal favorites when flying from the U.S. to London are Gosset Grande Reserve Champagne, a Domaine de Rochers Pouilly Fuisse, and a "fourth growth" Bordeaux, Chateau Lafon-Rochet. Definitely not a selection that will be found in coach!
But even back in the cheap seats there is stiff competition to become a supplier, and the ability to deliver sufficient volume is crucial. Wine producers selected to provide the quarter bottles of wine, typically 187ml, selling at between $5 and $7, are usually on long-term contracts which enable them to produce sufficient volume.
But almost as important as the contents for the economy market are labeling and packaging. In fact, there have been complaints from wine writers that many wineries regard airline economy cabins as something of a dumping ground for excess stock.
Storage also plays a big part, so don't expect to drink anything special whilst on an internal short-haul flight where the reds and whites, and even the quarter bottles of Champagne occasionally carried, will be of a uniform temperature, usually settling at around cool to middling. Sad to say, it is far from unusual on some carriers to be offered ice with one's Champagne.
However, turning left when boarding the aircraft should see you in far safer territory although there is never a cast-iron guarantee. Robin Padgett is vice-president of aircraft catering at Emirates and handles both food and beverage on board. As Emirates is based in Dubai it has to deal with a diversity of palates—from Asia, Australia and Africa as well as Europe.
Emirates plays it safe with a wine selection that is generally very classical and focuses, albeit not exclusively, on the most famous wine regions. "Red Bordeaux features on every first- and business-class list without fail," Padgett says. "Emirates invests millions of euros every year forward-purchasing these wines and laying them down in the cellar for future enjoyment.
"For example, Château Batailley 2000 from Pauillac was served in business-class recently. This is perfect to drink now but would no longer be available to purchase. Without exception, the Bordeaux red is the most popular on any flight. Another classic region we focus on is Burgundy, especially for whites. We have recently experimented with German Rieslings as these wines are superb."
Having recently opened a route to Buenos Aires in Argentina, Emirates currently has a pouring which, according to Padgett, is getting "great feedback from our customers." Given that it retails at around $65 a bottle, it should certainly slip down smoothly.
So the next time you sit back and relax over your glass of wine at 35,000 feet, maybe just spend a moment or two to think of all the work that has been undertaken in order to deliver something with a delicious taste in an effort to persuade you to travel with the same airline again.