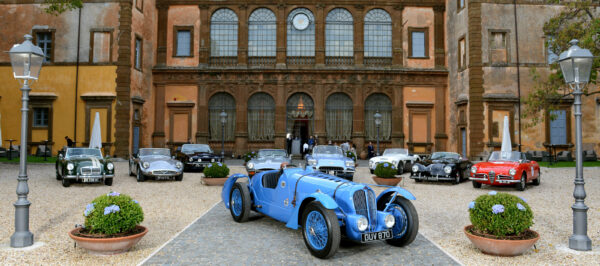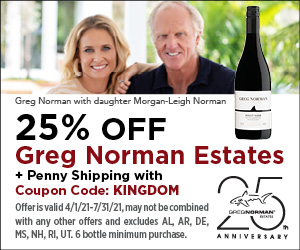 In 1939, Rob Walker's Delahaye 135s was crowned the fastest racing car in Great Britain. A descendent of the Johnnie Walker whisky family, Walker raced his beloved Delahaye at Le Mans and today, 76 years later, Johnnie Walker has revived the roar of this historic car
Most mothers would shudder at the thought of their son motor racing, but the Walkers were not like most families. Rob Walker, an heir to the Johnnie Walker whisky dynasty, was 10 years old in 1927 when he persuaded his widowed mother Mary to buy him his first car, a Bullnose Morris. At least the Walkers had a driveway at home in Rickmansworth, northwest of London, that gave the aspiring speedster ample room to indulge his passion.
"We had a long drive at home of a mile or so, and my mother gave me the old Bullnose Morris for Christmas to keep me quiet," said the late Rob Walker in a television interview in the 1980s. "From that moment on, my life was dedicated to trying to break my record on the one-mile drive."
He had a pit manager too, in the form of the family's "second chauffeur," whose responsibilities largely revolved around teaching Walker how to drive and maintain cars, and to try and keep the spirited boy from doing himself a mischief.
As Walker grew up, so the cars became faster, and his studies at Cambridge University­—where students are not permitted to have cars—were of secondary importance to a flourishing amateur racing career. Walker's prorities were cemented once he had purchased—on a whim—what would become recognized as Britain's fastest racing car, a 1936 Delahaye 135s in French racing blue.
"I was walking down the road when I saw through a window the most beautiful Delahaye I had ever seen," Walker recalls of his fateful stroll down London's Park Lane. "This was the Competition Type-35. At the time the car held the lap record in the TT and it had lapped Brooklands at 119 mph, which was not bad. Within hours I owned the car [on finance]. Of course my mother knew nothing about this, and the next thing, I had entered it into Brooklands. In my first race I was winning until the last corner and then I went and spun the thing. I did win in it later that year and I would take it to Le Mans."
On his passport, Walker entered his occupation as "Gentleman." A friend once described him as "self-unemployed." Self-unemployed Walker may have been, but idle he was not.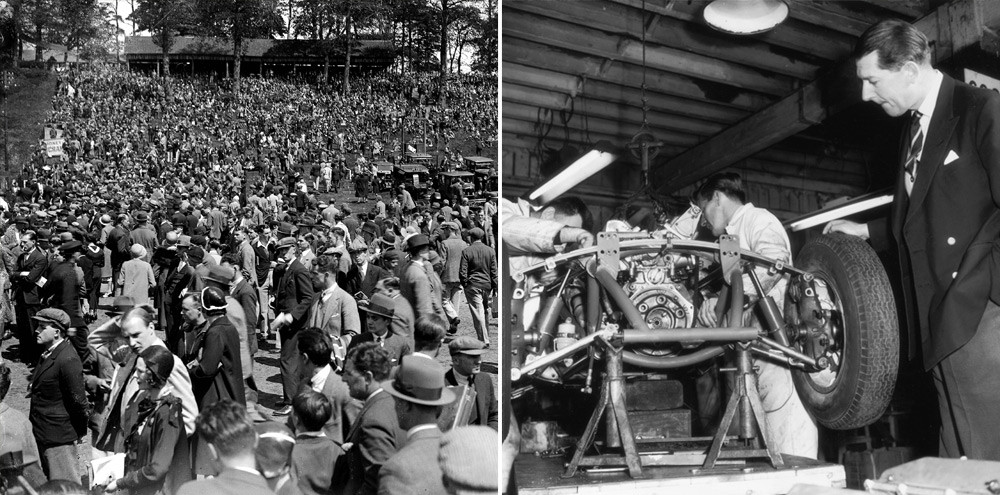 Feeling the heat: Le Mans
The Le Mans 24-Hour race, or the Grand Prix d'Endurance as the French race was known in the 1930s, is the world's original 24-hour motor race, having begun in 1923. While popular Grand Prix racing tested the speed, agility and daring of cars and drivers, Le Mans added endurance to the challenge.
Walker's formidable Delahaye was ideal for the test of motoring stamina posed by Le Mans. The French-made, 3.6-litre, six cylinder Delahaye was built not just for exceptional speed, but it was built to last. Appropriately, the "s" stands for Speciale, and TV presenter Jay Leno, who has assembled one of the world's most extensive vintage car collections, owns a 1935 Delahaye 135s that is almost identical to Walker's model that raced at Le Mans.
"It is essentially built with a truck engine," says Leno in a Jay Leno's Garage recording. "Unlike a Bugatti it is not particularly sophisticated… but it is robust and sturdy and it was meant to run reliably. It's a good old workhorse."
Leno's description is truthful yet does the 135s a disservice. Delahaye brought to racing a heritage of engineering heavy-duty truck engines, but the 135s was more thoroughbred than workhorse; beauty in relative simplicity under the hood, and with the right driver at the wheel it could leave the more "sophisticated" Bugattis choking on its dust.
Walker proved it when his Delahaye—licence plate DUV 870—won the Fastest Road Car Challenge at Brooklands' annual Whitsun Meeting in May 1939. Brooklands, in the town of Weybridge, to London's southwest, was the home of British motor racing, and over two races in one day the Delahaye won by 10.4 seconds and with a fastest lap speed average of 73.13mph, while on the straights the Delahaye comfortably outstripped 110mph. An Alfa Romeo had started faster at Brooklands, but emphasizing the reliability of the Delahaye, the Alfa's gearbox failed and it did not finish.
Weeks after the Brooklands Challenge, Walker and fellow amateur Ian Connell headed across the English Channel to Le Mans, to compete in what would be the final Le Mans race before the outbreak of the Second World World War.
Within the oil-stained pit lanes of European racetracks in the 1930s, racing helmets were the sole preserve of professional drivers, but as was the case in golf, the pros competed directly with amateurs—the generally wealthy, aristocratic thrill-seekers like Walker who pioneered motor racing. Amateurs would race spoke by spoke alongside this emerging breed of pro drivers with nothing more than a pair of goggles around their head. Some of them would wear rope-soled shoes too, but more on that in a moment.
The Delahaye did not win at Le Mans, but it finished eighth overall and third in its category, after a heroic effort by Walker and Connell. Today in the 24-Hour at Le Mans, teams of at least three drivers must be assigned to each car, but there were precious few rules or precautions in 1939, and Walker and Connell, free of helmets and dressed in pin-stripe suits, split the driving between them and took alternating four-hour stints behind the wheel. That was the master plan anyway.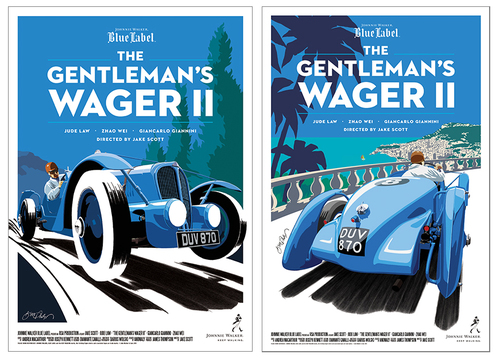 The Delahaye held its own for 11 hours—three hours into Connell's second stint—until an exhaust gasket blew and Connell suffered burns to one foot. The car still drove, but the cockpit had become a six-cylinder sauna. The injured Connell bravely persevered to complete his second four-hour turn, but having handed over to Walker after 12 hours of the race—the halfway stage—Connell was forced to concede his burns were too severe for him to continue.
That left Walker with the task of driving the second 12 hours singlehandedly, from the middle of the night through to the following afternoon, in a car with a blown gasket, pumping scorching exhaust fumes into the cockpit. To Walker, inheritor of those indomitable Johnnie Walker genes, the thought of dropping out of the race was inconceivable. There was no turning back. He simply had to keep driving.
"It was the middle of the night, and I was driving with this terrific heat coming through," said Walker. "Fortunately I was wearing rope-soled shoes, and I would come in every now and again and jump into a bucket of water to wet my shoes and trousers to cool off and then I would get back in the thing again."
Eighth place—with an average speed of 78.1mph over 24 hours and a blown exhaust gasket—was a courageous result against a field of genuine world class competitors. It was arguably the highlight of Walker's career as a driver, and with the onset of war in Europe, it saw DUV 870 perform at its prime, albeit with a costly malfunction.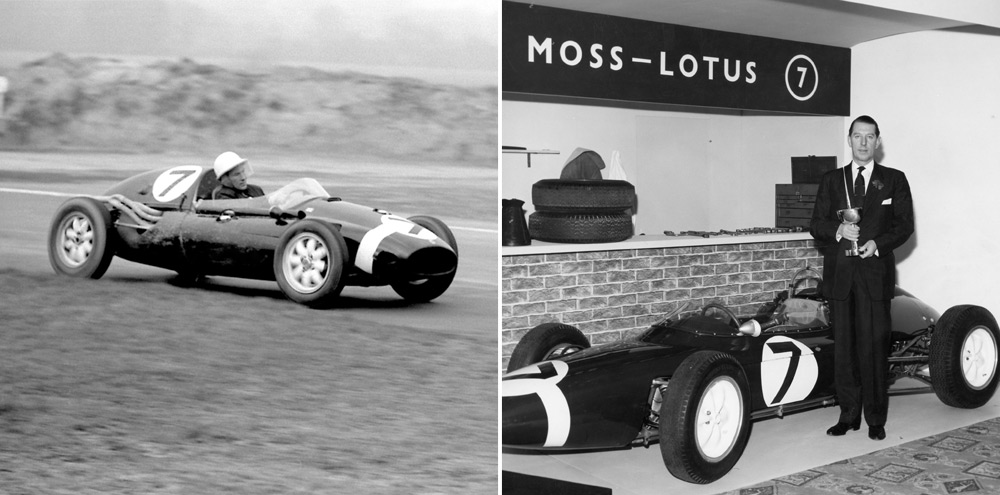 Having flown for the Fleet Air Arm during the war, Walker returned to motor racing to become the first private team owner to secure victory in a Formula One World Championship Grand Prix, at the 1958 Argentine. British racing legend Stirling Moss was at the wheel of a Cooper-Climax car that day, with an engine of far lass capacity than its rival Ferraris. Walker was universally liked and admired in motor racing for his energy and integrity, and throughout four years of racing together Walker and superstar Moss never signed a contract. Their collaboration was sealed by handshakes alone, and fuelled by a mutual desire to overturn the odds against the dominant "works teams" of Formula 1.