Rioja: a tour of Spain's iconic vineyards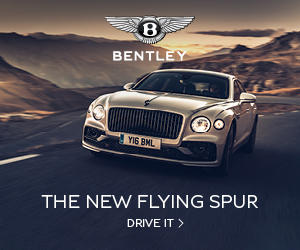 Kingdom's John Halnan toured Spain's premier wine region to mix memories and sample its wares, old school and new
To my shame I can't remember his name. I had just turned 20 when I first crossed the threshold of the bodega on the corner of Santa Catalina market. The shopkeeper, without expression but with late-middle age spreading ever so gently over his belt, scratched the half-crown of his remaining hair with one hand as the other, with an instructive sideways wave, beckoned me to look around.
So invited, I gazed across the breadth of metallic shelves stocked deep with bottles and tried to comprehend the stylised labels all proclaiming noble heritage, impeccable provenance and assurances of magical quality. But these product statements were in a code I couldn't crack. In a square room, I was lost. Eventually, not wishing to appear catatonic as well, I simply picked a bottle—not from knowledge, but because it was a Rioja from 1978 and it was under 400 pesetas.
Previously taciturn, the shopkeeper seemed quietly pleased with my near-random selection and suggested I let the wine air for a while as it was still young. That night my Catalan roommates and I enjoyed the bottle so much over dinner that they asked where I'd got it, but when I mentioned the bodega they reacted with scorn saying how the shopkeeper there is so rude, hates young people and that they never buy beer or wine there.
It was with a slight sense of trepidation, then, that I ventured back to the bodega a week later, yet my nerves softened to pleasure as the shopkeeper not only remembered me but warmly asked how the wine the previous week was and what had I enjoyed about it. He then came out from behind the counter and recommended a different wine. It was well priced and again rich, oaky and vibrant. Over the next two years—when I wasn't wandering elsewhere or utterly penniless—I went into the store most weeks and excitedly chatted wine with the shopkeeper-turned-codebreaker as he gradually extended my palette and knowledge, so that after a while I knew my wineries, my Gran Reservas from my Crianzas, the different sub-regions of Rioja and which years were good and which were excellent.
Fast-forward 30 years and Spain has grown exponentially as a wine producing country, with high-quality modern wines emerging from new regions such as Ribera del Duero, Priorat, Bierzo and Galicia to name just a few, though Rioja is still the name synonymous with Spain's best.
I don't know what has become of the shopkeeper, the shop is no longer there, in fact half of Santa Catalina market is gone, too, as the Roman remains discovered beneath it have become a site of archaeological interest, but my passion for Rioja, ignited as youngster, endures. So it was with great excitement that my photographer wife and I exited Madrid's airport this summer, pressed the ignition of our Hertz rental and headed North in search of great wine, a little golf, and the magic of Rioja.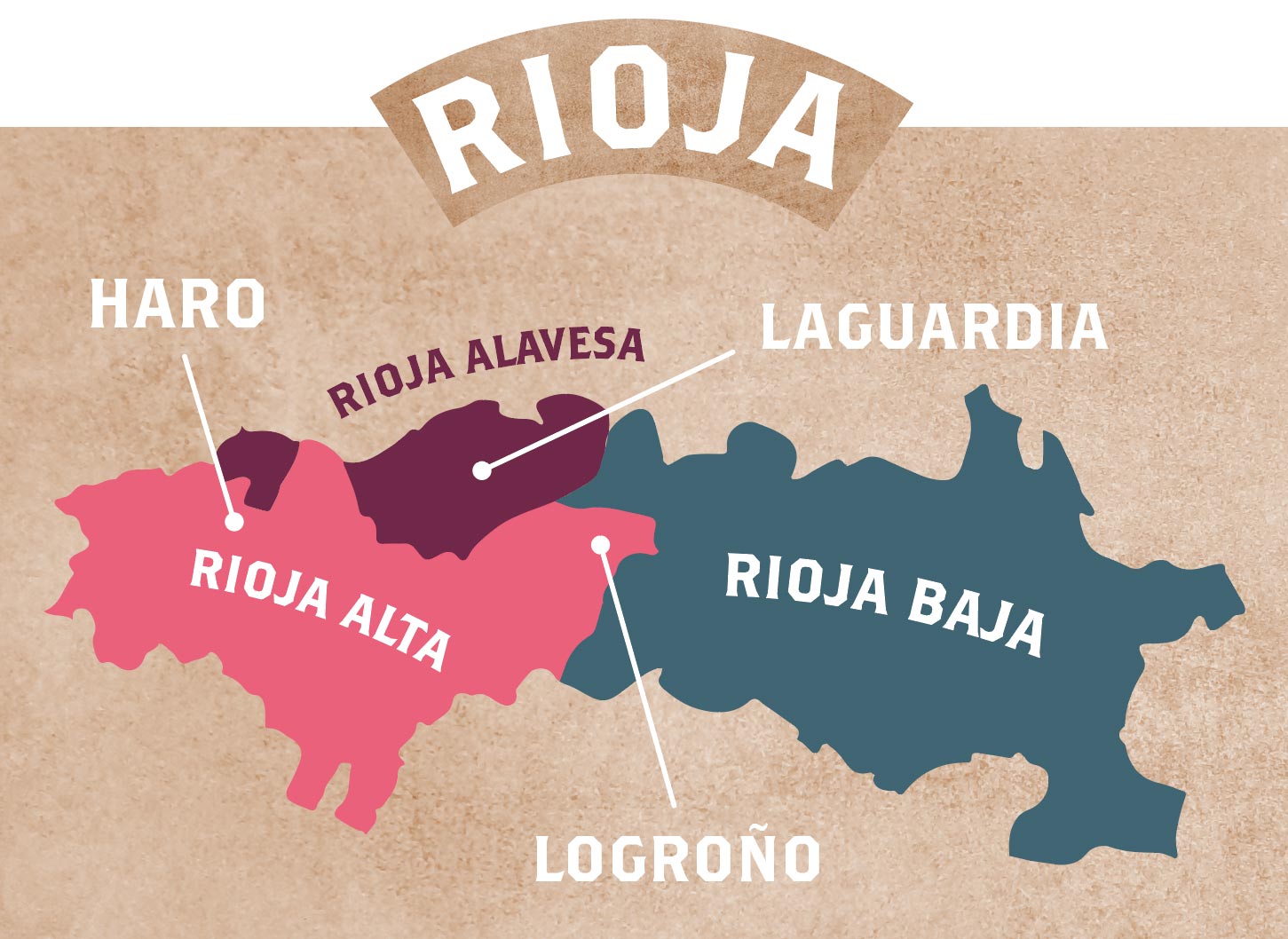 Rioja DOC
The official Rioja Denomination (DOC) is split into three sub regions: Rioja Baja to the east (also known as Rioja Orientale) Rioja Alta to the west, and the confusingly split region of Rioja Alavesa, which sits in two pockets in the North of the Rioja Alta. For a wine to be certified a Rioja it has to be produced in one of these three regions and follow the rules of the DOC. As well as quality control, harvest density and other production regulations, Rioja DOC has strict rules on barrel and bottle ageing. Designed to give a clear indication of quality and drinkability, Crianzas have to spend a minimum of 12 months in the barrel and 12 months in the bottle, Reservas 12 months in barrel and 24 months in bottle, and Gran Reservas 24 months in barrel and three years in bottle before being released for sale. Given these guidelines most wineries will only make Gran Reservas in special years where the intensity of fruit is such that it is complemented rather than overcome by the oak influence from such a long period in barrel.
Standing guard over the North of Rioja is the Sierra Cantabria mountain range, to which fields of vines in orderly lines slope up. Not just providing altitude and cool temperatures, the mountain range plays a further critical role in developing grape intensity by catching and emptying the rain clouds coming in from the Atlantic, leaving Rioja relatively dry. The region's soil is predominantly clay and limestone and the dry conditions mean roots have to dig deep and vines be hardy to survive. The predominant grape variety is Tempranillo. It is an early fruiting grape ("temprano" means "early" in Spanish) that, when grown in Rioja's cooler, drier climate and altitude, conversely ripens slowly, delivering power, intensity and depth of flavour.
Flowing through the entire region from north-west to south-east is the Ebro river, eventually exiting Spain into the Mediterranean. In ancient times the river played an important strategic role, with the Romans using it as a passageway to ferry troops into the region and also as a way of transporting wine out and then across the Mediterranean back home to Rome. To this day there still exists amphorae (terracotta flagons) stamped Tricio (a Riojan pottery) in Rome, although sadly their contents are long imbibed.
Logroño
After leaving the sprawl of Madrid's suburbs, and taking in the arched Roman Aqueduct at Segovia along with a few droplets of wine en route in Ribera del Duero, we headed for Logroño. It is located slap bang in the middle of Rioja and makes a good base from where you can explore the region.
Logroño's center is medieval and contains an impressive cathedral, but most visitors head for the narrow backstreets­—Calle San Juan in particular—to sample wine after wine and tapas dish after dish late into the night. A warning for earlybirds: most places don't open until 8:30pm.
On our first morning, after a needlessly circuitous route thanks to our navigation system, we arrived at the stone gate of Marques de Murrieta. The haze from the night before cleared as the view of the stunning winery came into focus. Its story is the beginning of the modern day history of Rioja, and it's a good tale.


The winery was founded in 1852 by Luciano de Murrieta, a Spanish nationalist born not in Rioja, but in Peru. Stranger still, the seed of his inspiration to make Riojan wine was planted in London, a city to which he moved as a young man and a city, he was shocked to discover, which viewed Spanish wine as a bit of a joke. Determined to change that, Murrieta moved to Spain and eventually went to work in the wine industry. Although based in Rioja, he frequently traveled to Bordeaux to learn from the best, and it wasn't long before he'd established himself as a quality wine maker.
In 1872 he purchased the Ygay estate that now bears his name and released his first premium wine, Chateau Ygay, modeled on (and named for) the great Chateaux of Bordeaux. Arguably this was Rioja's first "brand," and it was with this wine that Murrieta eventually realised his dream of exporting (at a premium) to London. The French, being French, objected to Luciano's success and demanded he drop the "Chateau" from his label and thus Chateau Ygay became Castillo Ygay, to this day one of Rioja's best wines. Towards the end of Murrieta's life, a more favorable name change occured, when in recognition of his work, he was awarded the title Marques de Murrieta.
The present owners of the Ygay estate, the Cebrian Sagarriga family, have maintained the Marques' exacting standards and invested millions in the estate, which today houses the winery, a museum, a high-quality restaurant and shop. If you visit but one winery in Rioja this might be the most all-encompassing experience.
Even closer to Logroño is the convivial Ontañón winery. Despite its location, its heritage is from Quel, an old Moorish fortress in Rioja Baja. Locals had long profited from the vines, set deep in the Quel region's rocky slopes, but the wines were local affairs, sold in leather flagons not bottles. In the 1970s, Ontañón's founder, Gabriel Perez Cuevas, who came from generations of grape growers, was determined to put "Quel" wines on the map and so created his Rioja winery, today called El Templo del Vino.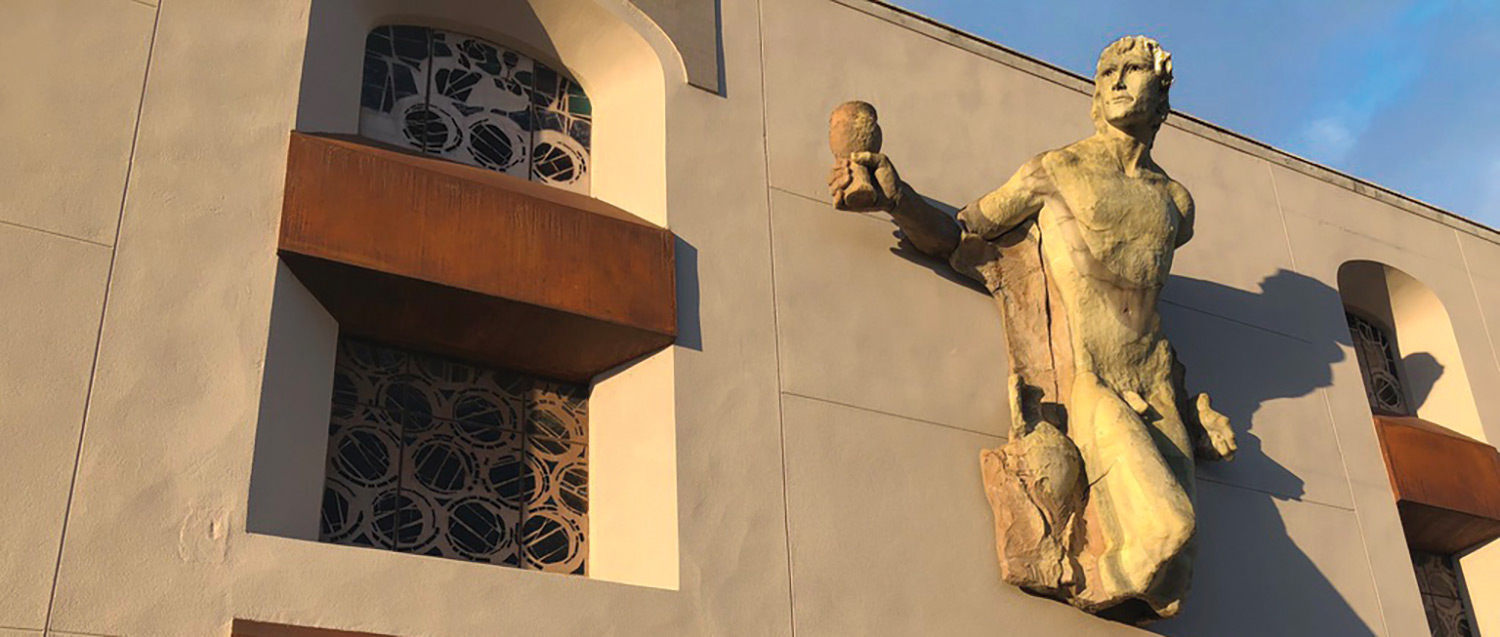 Despite arriving on the edge of siesta-time I was afforded a leisurely tour and tasting with Jesus Arechavaleta, Ontañón's director of wine tourism. Ontañón produces a range of wines steeped in heritage but eminently modern, including Ontañón Ecologico, a 100% organic tempranillo. Its Gran Reserva 2010 could easile be mistaken for a high-end Napa blend, which perhaps underlines the winery's modern touch. This touch was complemented by a Reserva from 1994, which my host graciously offered. We popped, poured, aerated, and drank. Not only was it in fantastic condition but transported me back to my youth. Sadly the time-travel effect came without an accompanying weight loss, further emphasising how styles have changed.
Nostalgic and happy, if not lighter exactly, we headed for our last Logroño winery: Viña Real. Located atop the Cerra de la Mesa, 15 minutes from town, this sophisticated and modern winery reflects the innovative aesthetic of Bordeaux-based architect Phillipe Mazieras. Larger and more industrial than some, its wines nonetheless represent the terroir of Rioja, and if you spot a Viña Real on a menu, it's a safe choice that should satisfy both taste and budget.
Laguardia
In the heart of Rioja Alta, close to the Sierra Cantabria and classified as one of Spain's most beautiful villages, the hilltop Laguardia offers bucolic views of vineyards all around. Small and peaceful, its medieval stone streets are easily explored on foot with plenty of fine bars and restaurants. Atmospheric, it's also practical, with a number of hotels and a host of top wineries within a 15-minute drive. The famous Marques de Riscal and Muriel wineries are 10 minutes south in the aptly named hamlet of Ciego ("ciego" means "blind" in Spanish—as in blind drunk) and just west is the ultra-modern Macán, a joint venture between two wine giants: France's Rothschild and Spain's Vega Sicilia.
Our first call was at Artadi, a mere two-minute stroll down the hill from Laguardia. We were driven to Artadi's local vineyards by the delightful Cristina Amutio in the winery's white Hackney Carriage, so familiar to anyone who's ridden a London taxi. If Rioja is about tradition then Artadi is about innovation. Eschewing the rules of the DOC, legally Artadi can not be classified a Rioja. What it can be classified as is a damn fine wine.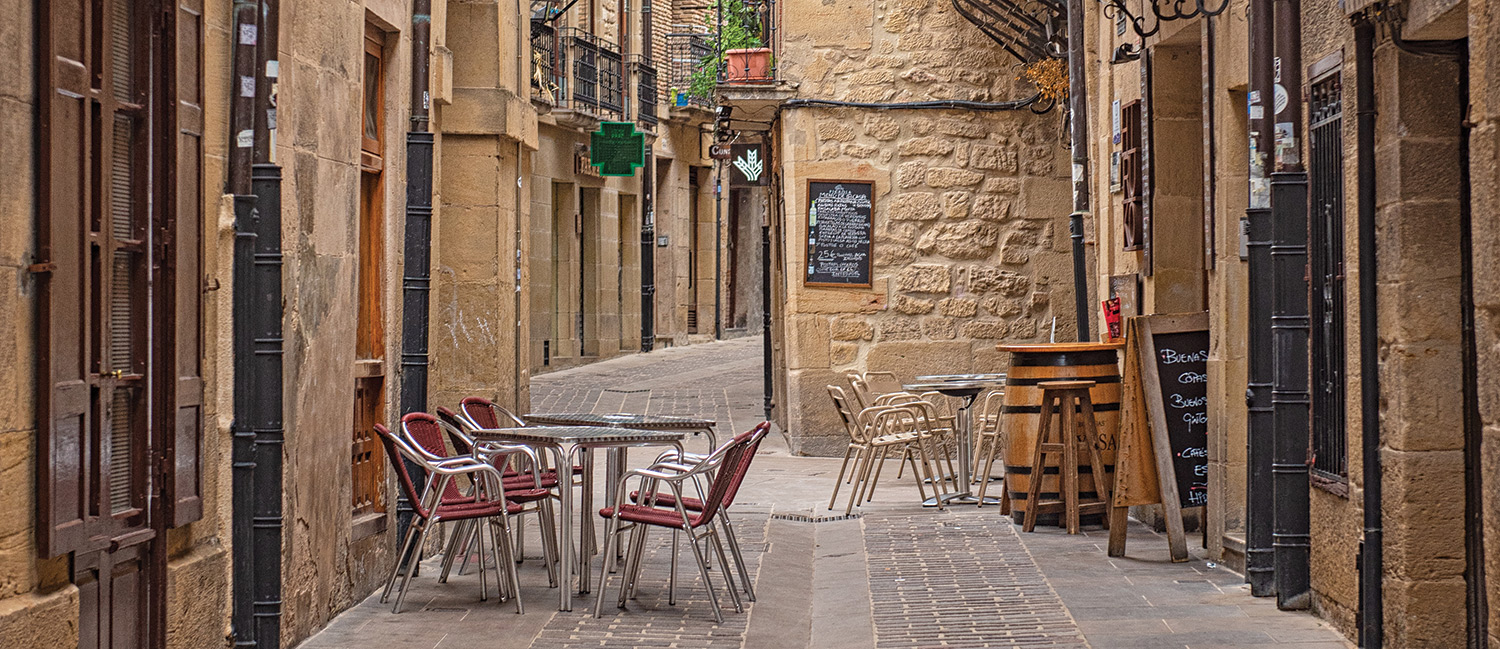 The winery dates to 1985 when 12 local co-operative grape growers decided to become winemakers. From those 12 in the early 90s one man took control, Juan Carlos Lopez de Lacalle. Not one for standing still, Juan Carlos has broken all the DOC rules in terms of barrel ageing and storage, and broken all the marketing conventions in terms of consistency of brand and product.


The winery ages its wines in barrel for as long or little as it thinks required, it employs as many natural techniques as possible, including a devotion to the organic and using horses in the vineyards. One of my favorite Artadi wines is Pagos Viejos, a creation from three of their best vineyards. I was looking forward to tasting recent vintages but was told it's no longer made. Instead Artadi now concentrates solely on six single-vineyard wines, "Vinos de Parcela," aiming to create authentic expressions of the land, and three "Village" wines reflecting their heritage. Top of the production tree is Artadi's single estate collectable cult wine, El Pison, sourced entirely from one tiny walled vineyard behind the winery. The vineyard originally belonged to Juan Carlos' grandfather, who would no doubt be astonished to learn that his modest plot now has collectors competing to pay over $300 per bottle for the wine produced from there. If you get the chance to buy, do, but wait at least 10 years to open.


Another winery within walking distance of Laguardia is Sierra Cantabria, which is currently building a second winery 20 miles away near San Vicente, opposite another Rioja rock star, Bodega Contador. Steeped in tradition, Sierra Cantabria is a five-generation family success story with a range of brands, starting with the well-priced Sierra Cantabria, through to their single estate legends El Puntido and La Nieta. The latter is outstanding. Made to age, the 2009 is only now entering its drinking window, which should stay open another 15 years. A decadent wine, it gives good reason to linger just a little longer in Laguardia.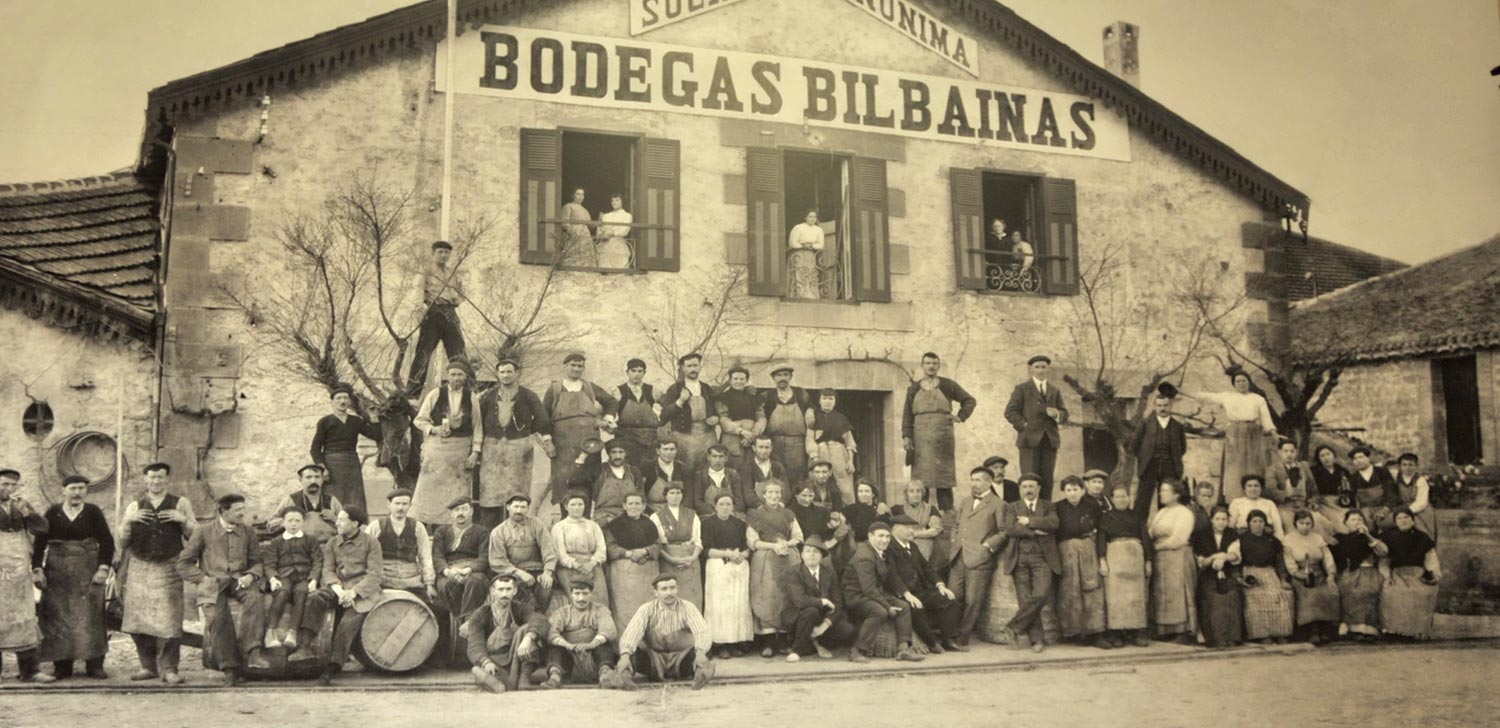 Haro
After the local embrace of Laguardia, Haro feels like a big city, so much so that we diverted to the nearby village of Briñas. We stayed in the recently restored Palacio Tondon, a hotel that sits serenely on the banks of the Elber. If you book a room here, be sure to get one facing the river.
Like with so many towns and industries around the world, the railway was key to Rioja's development. In Haro's case it linked the town with the port of Bilbao and thus with the outside world. With transport by mule over the Sierra no longer neccessary, new markets opportunities arose and both local and French wine producers were quick to capitalize.
Today there are seven wineries that surround the train station, five of them founded over a century ago. Each is open to visitors, but perhaps they're best enjoyed all at once in June, when the group combines to hold La Cata festival.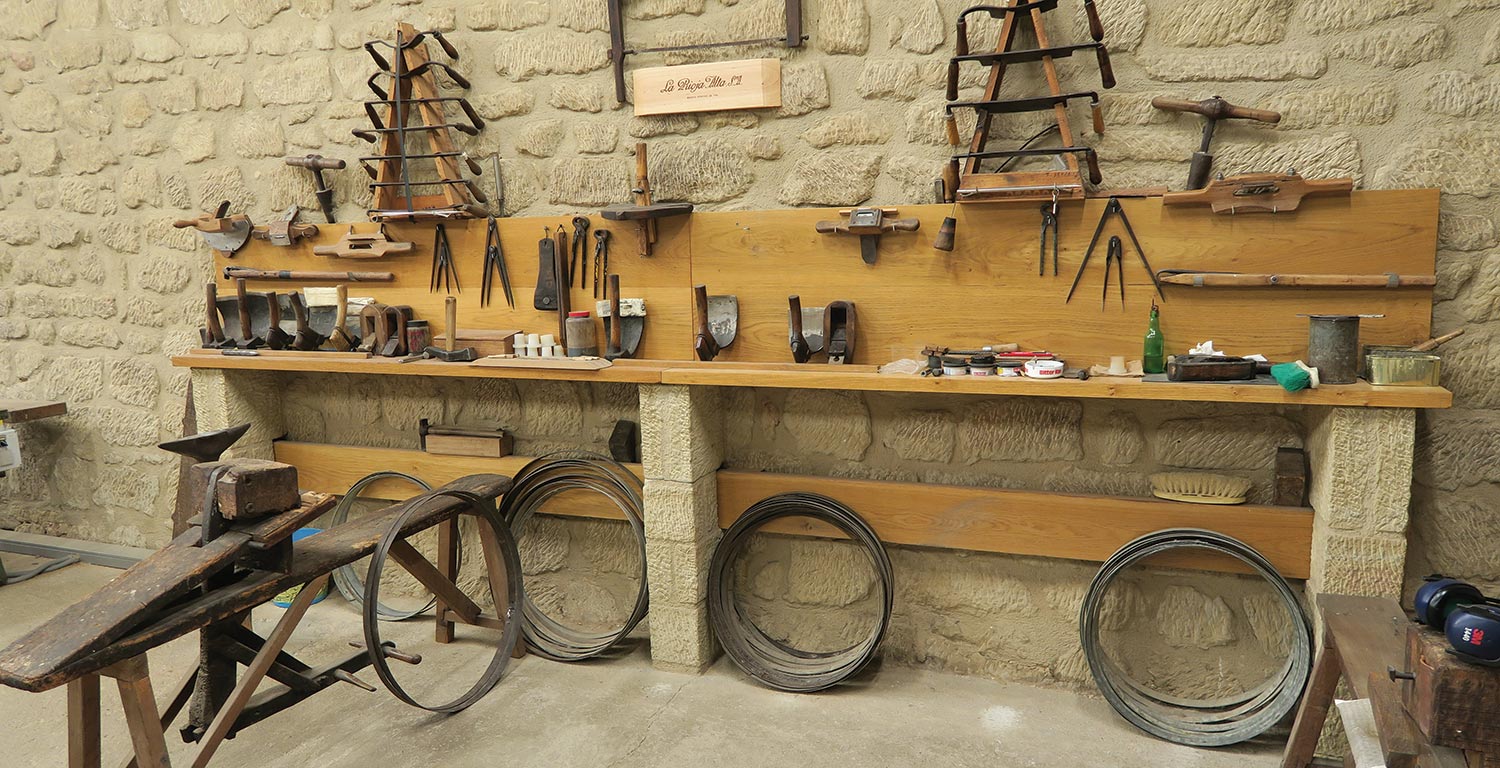 From the oldest of the "Station 7," I am a big fan of Tondonia, from Lopez de Heredia (1877). Its Tondonia 2004 Reserva is a solid representative of the historic flavor profiles of Rioja, with a wonderful balance of leather, subdued fruit, white pepper and acidity. Also, Muga and its upmarket brand, Prado Enea, are great, the latter a perfumed, ephemeral wine. My only gripe is that 10 years ago these were a bargain but today they're properly priced—a shame for this decades-long fan.
At Bodegas Bilbainas to sample Vina Pomal, we were greeted by the charming Mabel Oyono Fernandez with what I presumed to be a glass of Champagne, but which I soon learned was a locally produced 2014 Pomal Reserva. Made in the "methode Champagnoise" from Grenache grapes, I have yet to find it for sale outside of Spain; but if you see it, buy it. Otherwise, Vina Pomal has long been known as one of Rioja's leading red wines, and the winery is more than worth a visit. Come on a summer Sunday afternoon and there might be an orchestra playing in the gardens.
After days of wine, at the dawn of our last full day in Rioja Suchada refused to open her eyes (or the shutters on the windows), leaving me to venture alone to Rioja Alta. She may not have missed me but she certainly missed out. Founded by five families in 1890, the original Rioja Alta winery still exists and to tour it is to walk through Haro wine history. The house's two leading traditional reds are the 890 and 904, named for the year the winery was formed and the year the Senor Ardanza joined the company, respectively. Both are sublime, but despite its history Rioja Alta doesn't only offer traditional reds. Its brands such as Martelo and Ariana present superb value for money, while Ardanza is a superbly balanced bridge between old world and new. The 2010, while not a Gran Reserva, was nonetheless crafted like one, and it has been marked a "Selección Especial," a label issued only four times: in 1964, 1973, 2001, and now 2010.


So many wonderful wines were discovered during our trip, but it wasn't until I returned home that Rioja's magic was truly revealed. In London or anywhere else in the world, I can pull the cork on one of the wines listed above and suddenly I'm back in Spain, back in a lively café late at night, back in sun-drenched vineyards with an expert wine maker, back by the Santa Catalina market, staring at the shelves in a bodega with a man who's name I can't remember. Not wanting to linger, I reach out and select a bottle almost at random, knowing my life is forever enriched.