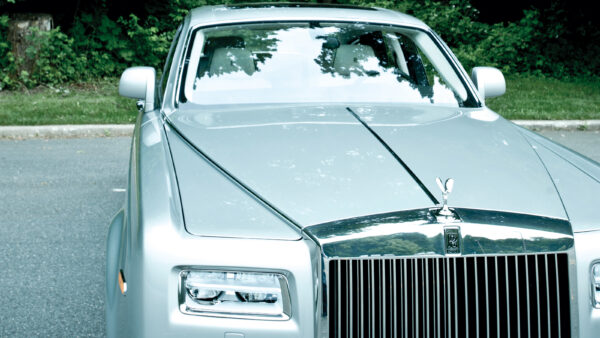 Rolls-Royce: Living Large
Of the iconic brands that define our world, few so immediately inspire a sense of respect as Rolls-Royce. The very mention of the premiere name in motoring has men sitting up a bit straighter, standing a bit taller, and adjusting themselves as if they had somewhere important to be. And if one does, in fact, have somewhere to get to, one could hardly do better than arriving in the new Phantom Series II, an epic manifestation of the supreme quality that is Rolls-Royce.
The new Phantom Series II, a subtle if significant update to the vehicle we first saw nearly ten years ago, hasn't changed so much as to be mistaken for anything but a Rolls-Royce. It is unmistakably awe-inspiring, unmistakably luxurious and unmistakably a member of motoring's royal family. It fits within the brand's long-established design proportions and features all of the trademark bits we've come to expect: the formidable stance, large wheels with the constantly upright "RR" logo and, of course, Charles Robinson Sykes' Spirit of Ecstasy in all of her billowing glory, face pushed proudly into the wind, pointing the way forward from her spot atop the massive grille.
Because I think it's a fun feature, the first thing I looked for when I climbed inside the new Phantom—in the front seats, which many Rolls-Royce owners may never visit—was the switch to raise and lower "Emily," as she's sometimes called (also "Flying Lady" and "Silver Lady"). On past models, the hood ornament could be hidden (or revealed) via an option hidden within the vehicle's "infotainment" system, which also managed climate, audio, navigation and other functions. The control center still manages all of those functions, but on the Phantom Emily is raised and lowered with a button hidden inside the upper glove box, which on our test model also featured a luxuruious built-in cigar case. After happily watching her disappear and reappear a few times, I used the multi-point seat-adjust system to get comfy (not difficult in a Rolls-Royce) and pushed the large button on the dash to fire up the mighty V12 engine. I was expecting a roar but instead I barely heard a thing; the Phantom is incredibly quiet. Putting the car into gear is as simple as lightly adjusting the shifter on the steering column. I did just that and nudged the prow—I mean "the nose"—of the Phantom into traffic.
Plush Innovation
If one can get past the initial sense of awe at the Phantom's sheer size (which is fairly massive for a car at just over 19 feet long, 6.5 feet wide and 5.4 feet high), the updated Rolls-Royce proves that sometimes bigger is indeed better. Starting from the front bumper, which has had a slight redesign, there's a new directional LED headlight system that turns when you do, illuminating your way around corners. The directional aspect isn't exactly new (something similar appeared on the 1948 Tucker and has reappeared on other cars more recently) but the Phantom's entire LED cluster's intensity and coverage area adjusts for vehicle speed and for weather, making it one of the most sophisticated systems going.
I didn't need the lights during my daytime trip, but I made ample use of the navigation system, which is better than most. Displayed on a large 8.8" screen (which rolls back into the dash to hide when one tires of the electronics) and controlled, like all of the functions on the infotainment system, by a large wheel and button assembly that hides in the center armrest, the system is both easy to program and easy to follow. Additionally, it offers 3D topographic maps, which are great to look at along with being useful. It took no time at all to enter my intended destination, and with just a few adjustments I was on my way.
I should mention that heating and cooling are also controllable via the computer system, though Rolls-Royce also left the standard analog controls, an inclusion for which we're thankful (no sense navigating numerous menus when one simply wants to cool down a bit). Likewise, an excellent array of parking assist cameras give a 360-degree "top down" view when navigating the car in reverse. The infotainment system and Rotary knob also control numerous smartphone options, points of vehicle information, the DVD player (please watch movies only when parked somewhere, unless you're in the back seat) and the music. The last sounds incredible, as one would expect in a spacious interior with a top quality surround sound audio system.
It almost goes without writing that the interior is awash in the highest quality leather, fabrics and wood (grain-matched across the dash), that the control layout is intelligent and ergonomic, and that spending time in the Phantom Series II is nicer than spending time in most of my friends' apartments. The plush floor mats alone invite you to kick off your shoes and relax, and with the sophisticated entertainment system, available two-bottle wine fridge under the rear seat, RR logo glasses and carafes in the door and storage for whatever elixir tickles your palate, you might think it would be tough to find a reason to ever make the car move—but of course there's that gorgeous engine under the hood, and so a drive is absolutely worthwhile.
Performance
If the interior of the Phantom is lush, the car's performance provides the majesty to match. A new eight-speed gearbox serenely handles power distribution from the tried-and-true direct-injection Rolls-Royce V12, which makes approximately 453 hp and 531 lb-ft of torque, driving the 5,644-lb monster (curb weight) from zero to 60mph in 5.7 seconds—that's within a tenth of a second of BMW's base-level Z4, a two-seat sports roadster that's half the weight of the Phantom. In a burst of what I have to believe was a bit of playfulness, Rolls-Royce's team included a Power in Reserve gauge next to the speedo. At 70mph, the company claims that more than 90 percent of the engine's power is still available in reserve, and watching the needle kick as you put down the accelerator from speed is great fun indeed. Thanks in part to the new transmission, that speed is achieved in a composed (and substantial) power curve that excites without offending; there's the thrill of acceleration, but it's not jarring. Rolls-Royce says you'll feel like you're in an infinite first gear, and they're not wrong. Eight speeds also means slightly better fuel economy, which may or may not be important to customers who park the base-price $398,035 jewel in their garages (somewhat more as tested).
I've driven Rolls-Royces before (most recently, the excellent Ghost) and their "magic carpet ride" experience, as the company has it, always baffles me, offering inspired handling for the driver while remaining beyond comfortable for his precious cargo. The sophisticated air suspension adjusts quickly, making the ride stiff enough to allow enthusiastic attacks on corners but plush enough to avoid upsetting the glasses of champagne being clinked by rear-seat passengers. Ditto the huge brakes, which bring the formidable auto to a stop in a dignified manner. Magic carpet ride indeed, and as thrilling as anything Aladdin ever took for a spin.
Final Impression
There are the umbrellas in the rear "coach" doors, as RR calls them (convention prefers a more dire adjective), a trunk you could use to sneak a whole football team into a drive-in movie, plenty of storage for all of her ladyship's luggage and enough rear-seat legroom and amenities to keep passengers comfortable and entertained on an around-the-world trip, much less a drive across town. There are few better ways to view the world than from the back seat of a Rolls-Royce, but the new Phantom Series II gives the people in the back reason enough to give the chauffeur a day off, climb up front and grab the wheel themselves. More than "just" a beautiful expression of refined, luxury motoring, the new Phantom is also something unexpected: it's an awful lot of fun to drive.