Salt Fly
A River Runs Through It, this is not. Forget pastoral scenes of men in waders fishing in the cool shadows of tall trees in a stream that gently meanders through verdant green hills. Saltwater fly fishing is exposed, stark and seriously challenging.
It might also be the most satisfying fishing you'll ever attempt. The rods are longer, the drag on the reels is stronger, the line is longer, the flies are often bigger and, not surprisingly, so are the fish. Huge, in fact, if that's what you want. But even a smallish 15-lb dorado would put many river fish to shame, meaning saltwater fly fishermen need to be fighters, because these fish don't spend all day resting under logs—and they don't like to be caught.
"Saltwater fly fishing really is the pinnacle of the fly-fishing game," says Capt. Scott Swartz, who operates the Florida Fly Fishing School in St. James, not far from Fort Myers. A certified master casting instructor and a man who's caught world records "on the salt," Swartz knows his stuff. Like many saltwater fly fishermen, Swartz started in fresh water but said that the additional challenges of salt made it irresistible.
"Inland waters usually have a sea breeze, which makes casting a little more difficult. Also, saltwater fish are usually on the move; they don't just sit still in a pocket. And many times you're fishing from a flats boat, which is often being moved around by tides and wind. So you're moving, and you're trying to hit a moving target in the wind."
The cast is similar to freshwater casting but demands more focus and skill because, unlike trying to coax a rather stationary trout out from under a log, you're trying to anticipate the location of a fast-moving fish and cast in front of it.
"When you're fishing mountain trout," says Swartz, "you get in a lie, you don't have to make long, heroic casts."
There are other differences: a stronger drag on the reel to handle the increased size of the fish, longer line to account for longer runs and different knots to account for the sometimes larger and different flies, making it more of a "next step" from freshwater fly fishing rather than a completely different game. And the flies themselves are different, naturally.
"It's so much more simple [in salt water]," explains Swartz. "In freshwater fishing you'll turn rocks over and look at what kind of larvae, mayflies, stone flies, whatever, and you're trying to match the hatch. It's all so complex. In saltwater fly fishing it's going to be a baitfish, shrimp or crab imitation… If you have something that looks crabby or shrimpy or fishy, you're in the game." (See sidebar: "Flies")
Of course, the challenge wouldn't be worth it if the prizes weren't as good.
"Without a doubt, the biggest difference and greatest attraction is the fish," Swartz says. "They're stronger and faster than freshwater fish. There are very few stocking programs, so they haven't been raised in concrete troughs and driven by a truck. They've learned the 'fight or flight' mechanism to survive, and so they're generally more of a battle in the catch."
Fish from river restocking programs, which were raised in captivity, are often easier to catch than wild fish as they lack the "wildness" of their naturally bred counterparts. Additionally, many river trout, for example, will spend their entire lives in a single area, meaning any number of fly fishermen can target them, catch them and then release them for another angler to pursue. Not so in salt water, where fish are constantly on the move and nearly always wild. As for the targets, there are many.
"The 'glamour' species, when they think of saltwater fly fishing and warmer waters, would be bonefish, tarpon and permit—it's the big money fish that cause most people to jump on an airplane," says Swartz. "But truly, inshore fishing around so much of the southern coastal U.S. is great and includes redfish, spotted sea trout and snook, for example."
In the northeast, he says, people go for striped bass, bluefish and the like, but the truth of it is that the most popular saltwater fly fishing comes with a lot of sun and sand—and the stakes are only getting bigger.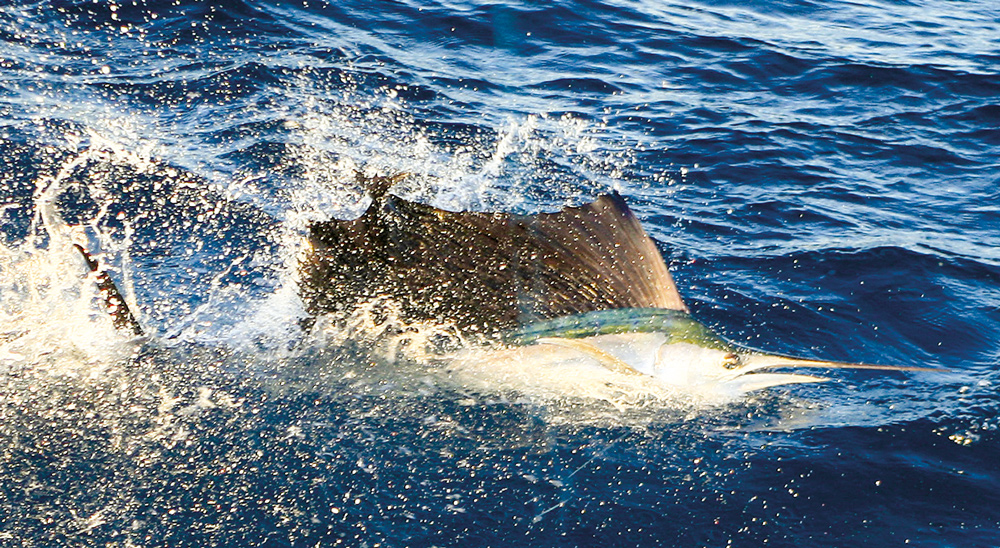 "Fishermen are starting to venture into blue water and chase sailfish and marlin, and there's an operation in California going after mako sharks. It's starting to become a bit of an extreme sport.
"I've been down to Guatemala and caught sailfish over 100lbs, and here in Southwest Florida we're chasing monster tarpon, 150lb on a fly rod. I think right now the world record [tarpon] on a fly is 202lbs."
As compelling as the big catches might be, Swartz says the deepwater game is not his favorite saltwater fly fishing.
"The real ideal is to be in a shallow water environment wading or being pulled along on a flat skiff, scanning and searching to spot the fish and then make the cast to it. That really is the height of the game.
"At the end of the day when you're back at the lodge, there's a lot of 'woulda, coulda, shoulda' stories, but that is what makes the sport so great. If it always worked out it wouldn't be as much fun."
Scott Swartz runs fly fishing schools in Florida and Atlanta, and provides guide services for locations all over the world. For more info, visit floridaflyfishingschools.com
Find the Fish
Marls of Abaco Bahamas
Located approximately 165 miles due east of West Palm Beach, Florida, the Abacos offer some of the best boating and fishing in the Bahamas. Among the many great local fishing spots, a 300-square-mile area of shallow, swampy wetlands known as "The Marls" provides a labyrinth of twisted mangroves, small creeks, random cuts and seemingly endless flats—perfect bonefish habitat.
Stay: Abaco Lodge. It sits right on the flats, meaning all you have to do is step into a skiff with your guide and you're five minutes from the action. Featured on ESPN, it's hosted the likes of Tom Brokaw and Michael Keaton, among others. Abacolodge.com
Christmas Island Kiribati
Noted by the Spanish in 1537 and visited by Captain James Cook on Christmas Eve, 1777, the island, known locally as Kiritimati ("ti" is pronounced like "s" in the local Gilbertese language), sits in the world's farthest-forward time zone (GMT+14), making it one of the first places on Earth to celebrate New Year. Approximately 300 miles south of Java, it's been used variously as a shipping stop, a battleground and a nuclear test base. Today the island's roughly 250 square miles of prime bonefish and trevally flats provide an ideal (if exotic) year-round fishing getaway.
Stay: Captain Cook Hotel. The original and oldest lodge on the island, it's also the best. Great accommodations and food, and plenty of room for you to tell fish stories in the evening. Kiribatitourism.gov.ki
Dry Tortugas Florida
Ponce de Leon named the salt flats 65 miles west of Key West Las Tortugas, "The Turtles," likely due to sea turtles in the area. Not long after, the "Dry" was added to let mariners know there wasn't a drop of fresh water to be had here. It's stark and hot—crazy hot—but the array of fish swimming among the four-foot depths of this 100-square-mile national park is unbelievable. Black and red grouper, mutton snapper, yellowtail, tarpon and what's now called a "goliath grouper" (formerly a "jewfish," which can reach more than 700 lbs) are all to be had, along with numerous others. The fish here are big, serious and clever, and coral along the sandy bottom gives them plenty of line-snapping opportunities, but if you're sharp and you bring your game, it's tough to beat the fishing here. Also: enjoy a quick visit to historic Fort Jefferson.
Stay: On your charter fishing boat. The distance from Key West is such that you'll want to overnight it on the water to maximize your fishing. Before embarking, we like the Marquesa in Key West. It's historic, nicely restored, clean, serves great food and like most of Key West, isn't far from a cold drink. Marquesa.com
East Cape Baja California
Inshore, offshore, doesn't matter. There are so many fish here the only decision you'll have to make is which kind you want to target. Roosterfish, tuna, bonita, amberjack, dorado, wahoo and cabrilla are just a few of the serious fighters you'll find. Roughly two hours from Cabo San Lucas, and there's easy access from San Jose Del Cabo airport.
Stay: Hotel Buena Vista. Rooms have an old world rustic look to them, beach cabanas and a beautiful pool make for a nice scene outside, and there are hammocks strung between palms all over the property, making this a proper place to siesta. Hotelbuenavista.com
Turneffe Atoll Belize
Fly fishermen come here because it's beautiful and because it's one of the rare places where you have a real shot at what the local tourism group bills as a "Flats Grand Slam," which basically means catching permit, tarpon and bonefish in one day. The atoll is stunning, with waves breaking over a reef for miles in all directions, the fishing is great, and Belize itself is a wonderful place to escape for a while. For a quick getaway with great fishing, Belize could be your answer.
Stay: Turneffe Flats. Billed as an "eco lodge" but offering air conditioned cabanas on the beach, this place is right on top of the action. Other bonus: it promotes itself as fly-fishing focused. Tflats.com
Los Roques Venezuela
In 1987, the first licensed anglers fly fished Los Roques National Park 85 miles offshore from Venezuela, and it's been a popular spot ever since. One of the best places to wade for bonefish, there are more than 350 cays in the area to explore, all of them collectively creating a watery labyrinth that fish love. Commercial fishing here is prohibited and access is limited, so it'll just be you and your guide and plenty of fish.
Stay: Accommodations are limited but nice, with both the Posada Malibu and Posada Caracol offering clean and modern comfort. To learn about available options,
visit flyfishinglosroques.com