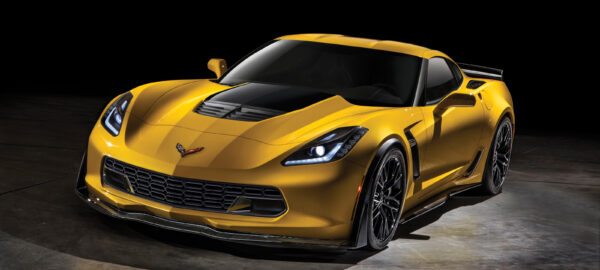 The 2015 Corvette Z06
Zero to 60 in 2.95 seconds. Any questions?
You would've heard the car a mile away, the sound of its race-tuned motor cracking through the otherwise quiet morning, echoing down Berlin's streets, off closed cabaret doors and large signs advertising art exhibitions. What you couldn't have heard then, in the Germany of the late 1920s, before Hitler and the war and everything else, was the sound of the greatest American sports car ever to be built—but it was there, buried in the roar of a young man's car in Berlin. Somewhere deep in that noise and rumble was a soul looking for its match—a match that it found years later, in 1953, when Zora Arkus-Duntov walked into New York's Waldorf Astoria hotel and first laid eyes on a Corvette.
The car he saw bore almost no resemblance to the Corvettes he'd later build for GM as an engineer and then as chief of the Corvette program. The new car on display at GM's "Motorama" was a pretty little runabout; his cars were monsters, performance-driven street terrors that were as tough as they were sexy, and as fast as he could make them.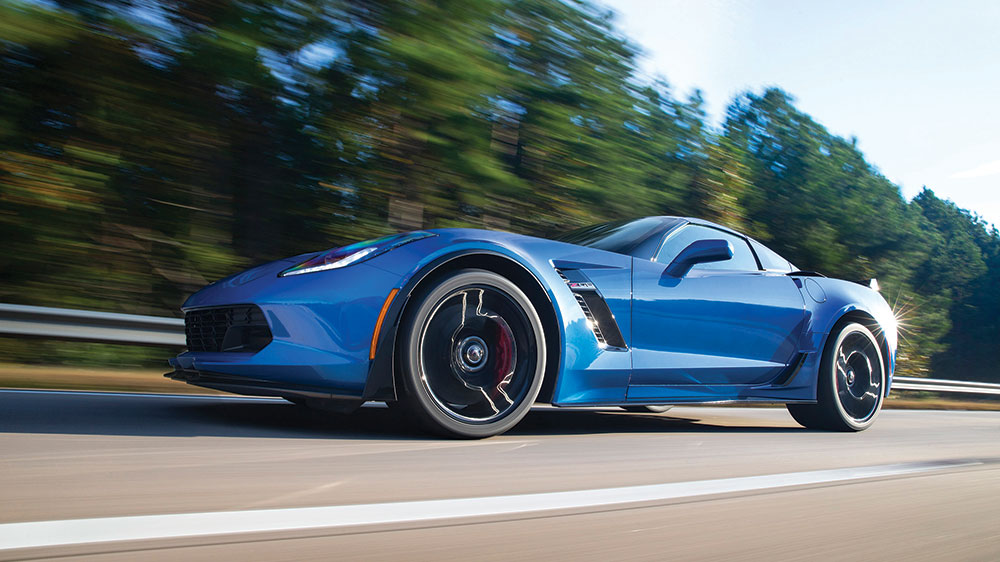 Zora, who was also a record-setting race driver, died in 1996, but were he alive today he'd likely be thrilled at what's about to drive out of GM's garage. In true Zora fashion, the top end 2015 Corvette Z06 is frighteningly impressive: 650 horsepower with 650 lb-ft of torque. Zero-60 in 2.95 seconds. The quarter mile in 10.95 seconds at 127mph. Braking from 60-zero in 99.6 feet. Lateral acceleration of 1.20g. And we could go on, but do we really need to? If your head's spinning from all the numbers, here's how they add up: The 2015 Corvette Z06 is the most powerful performance car that General Motors has ever built, and it costs less than $80,000.
Eighty grand isn't cheap for a car, but it's not $182,000, which is roughly the cost of an equivalent Porsche, the Turbo S. And it's not $300,000, which gets you a numbers-comparable Ferrari. There are others: the Dodge Viper SRT, the Nissan GT-R, a higher performance Audi R8 and a few more, but they all check out at more than $100,000, some at much more.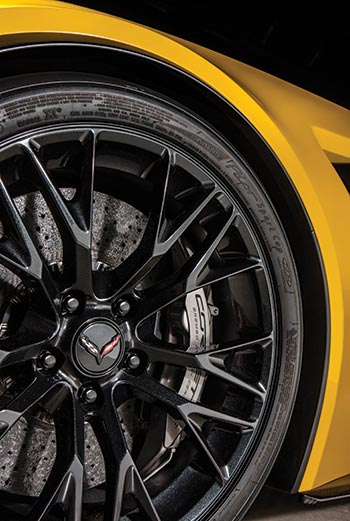 GM achieved the performance/cost balance by sharing a number of components with its other performance vehicles, including the lower-spec'd (but still formidable) Corvette Stingray. As GM's Corvette spokesman Monte Doran told Autoblog.com, "Chevrolet has developed a successful model for sharing components with Corvette and other models in the portfolio. For example, the eight-speed transmission was designed for Z06, and will also be used in full-size trucks with the 6.2L; the carbon-ceramic brakes are shared between the Camaro Z/28 and Corvette Z06. This enables Chevrolet to offer stratospheric-levels of performance without stratospheric prices."
About those brakes: At the top spec of the new Corvette, the Z07 Performance Package adds carbon fiber rocker panels, larger end plates on the front splitter and an adjustable, transparent wickerbill (or "Gurney Flap") on the rear spoiler to increase downforce for track use, and it also includes rather large Michelin Pilot Sport Cup 2ZP summer-only tires and some significant Brembo carbon ceramic brakes (394mm front discs and 390mm rear discs), which Brembo designed specially to work with the new car. Getting the car to 0 in less than 100 feet is remarkable, especially as the new Corvette is shaping up to be a bit on the weighty side.
The final numbers hadn't been released at press time, but it looks as if the Z06 will be one of the heavier Corvettes to come along in recent times, certainly due in part to the now-standard Magnetic Selective Ride Control system, which was optional in the past and only came with the Z07 package. Corvette's top engineer Tadge Juechter told Car and Driver that a single suspension option means more time to fine tune and to get it right, as opposed to having engineers fiddle with trying to match two systems (the Magnetic and the formerly standard past option).
The suspension is just part of a larger system that changes in response to drivers selecting their driving experience via a Driver Mode Selector dial. Five modes are available—Weather, Eco, Tour, Sport and Track—and each automatically adjusts the suspension, traction management and electronic limited-slip differential performance accordingly.
Even with the standard carbon-fibre roof panel removed, the Z06 is 20 percent stiffer than the previous Corvette hard-top
Also contributing to the weight, a stiffer new design that, despite all the carbon fiber, will still add pounds—though from the numbers it hardly seems they'll be noticed. The surprises go both ways with this car, however, as it will feature a removable [carbon fiber] roof panel as standard. Even with the panel out the new Z06 is 20 percent stiffer than the previous full hard-top.
The transmission is another innovation. In addition to a 7-speed manual that features "Rev Match," which GM claims enhances the driving experience by helping to match shifts (though the manual offers lower performance figures), the top performance numbers are achieved with a paddle-shifting 8-speed automatic of GM's own design. Again, Juechter told Car and Driver that they couldn't fit an existing dual-clutch design in the rear of the Z06, and so they designed their own system that managed to match a dual-clutch transmission's performance.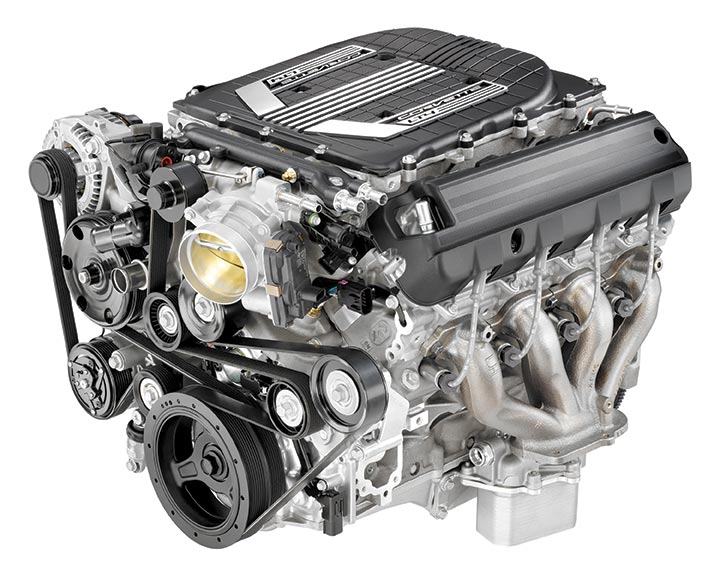 The engine driving the whole thing is a supercharged 6.2-liter LT4 V8 that puts out the aforementioned 650hp and 650lb-ft of torque. The engine is based on the naturally aspirated 6.2-liter 455hp LT1 V8 in the Stingray, which makes 460lb-ft of torque, but the base engine was significantly tweaked both in terms of materials and design to achieve the higher numbers, adding just an inch in height to the rear of the engine and a bit of length. In the end, it's incredibly compact for its power.
So many of the Z06's components and design ideas were borrowed from (or at least inspired by) Corvette's C7.R race car: the carbon fiber roof and hood, a dry sump oil system, titanium intake valves and connecting rods, composite floor panels, the hydroformed aluminum frame and more. That's fine and dandy for a track car, but how is the Z06 as a daily driver? We won't know until the car is released next year, but in the meantime GM have let loose a few indicators that they've not forgotten about the streets.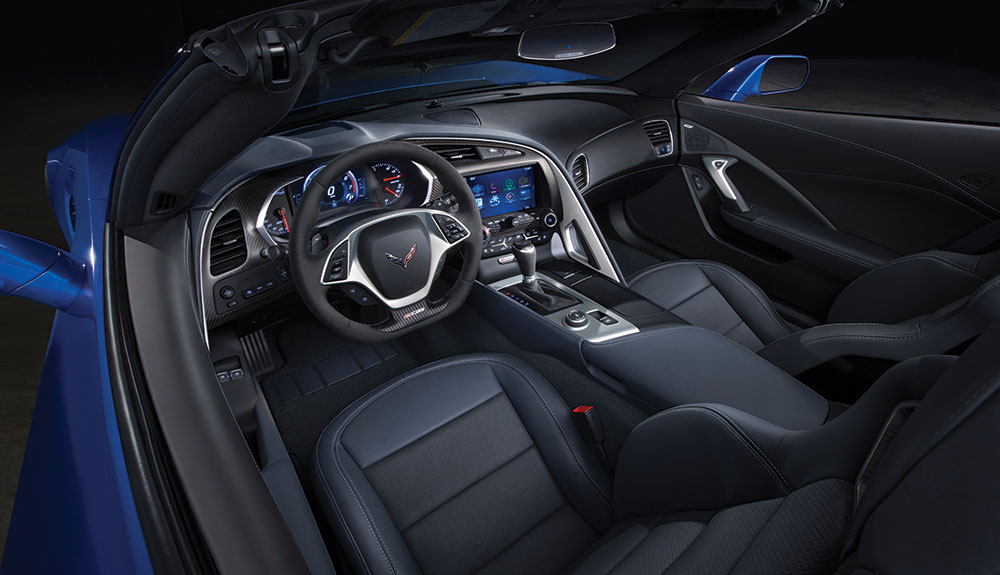 The Z06 is available as a convertible—which was designed as such, which the performance numbers should bear out—and the Stingray's GT seats will be available (i.e., they're not limiting buyers to the Competition Sport seats, which, while supportive during performance driving, aren't as forgiving to posteriors stuck in traffic).
Likewise, GM is promising a fully comprehensive navigation and entertainment MyLink system with an 8-inch diagonal HD touch screen, satellite radio and all the electronic amenities one expects in top cars these days.
We suggest Corvette's official driving school, which could save your paint—among other things
A fun option that might even prove useful to track-day enthusiasts is a Performance Data Recorder, which will log video of drives along with real-time performance data, all stored on an SD card in the glove box. A windshield-mounted HD camera will record video and audio while a performance processor, internal accelerometers and a GPS system will track other data, all of which can be played back later and analyzed with Cosworth Toolbox software similar to that used by the Corvette Racing team.
Still, of all the available options, we're thinking the most useful might be a trip to Pahrump, Nevada, and the Ron Fellows Performance Driving School at Spring Mountain Motorsports Ranch, which hosts Corvette's official driving school. A special, discounted two-day program is available only to purchasers of a new Corvette, and we have to believe it's worth it. Of course it will help you get the most out of your car, but more than that, with 650hp under your foot, it might just save your paint—and then some.