Spirit of The Open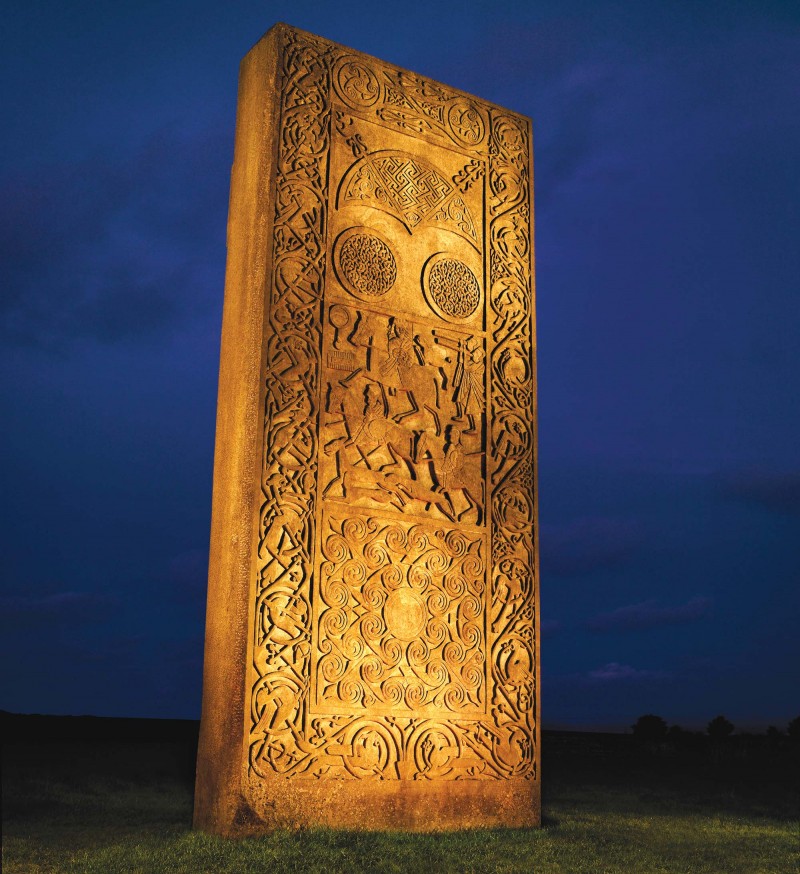 They say it's impossible to have too much of a good thing, but our cups were perilously close to running over during a visit to the historic Glenmorangie distillery in the Scottish Highlands. Over two days, both excellent whiskey and excellent golf were sampled in great abundance—and here it's worth noting that a similar experience is currently possible for you at no cost, for Glenmorangie have sorted out something rather spectacular for 2015: Simply visit glenmorangie.com/golf and vote for your favorite hole in golf. It could be any hole in the world that you feel is "unnecessarily well made," in the spirit of Glenmorangie. There are a number of prizes available, but the grand prize—The Ultimate Prize in Golf, in fact—will have one lucky individual and a guest flying return to Scotland, staying at Glenmorangie House and enjoying a private tour of the Glenmorangie Distillery. Furthermore, the two of you will enjoy Glenmorangie's VIP hospitality at the 2015 Open Championship at St Andrews—which is set to host Tom Watson's last professional stroll across the Swilcan Burn, along with epic golf. If that wasn't enough, the winners will play the Alisa Course at Turnberry, Royal Dornoch and—incredibly—the Old Course at St Andrews in its final day Championship setup on the Monday following the Open. We like to think of this as an unnecessarily well crafted prize, and oh do we wish we were eligible. Of course we shouldn't complain, for our visit was immensely wonderful and it's not every day that visiting a landmark distillery which produces the world's finest whiskies qualifies as 'work,' after all.
The Glenmorangie distillery was founded in 1843 by William Matheson in Tain, a millennium-old royal burgh on the south shores of Dornoch Firth. However, the role played in its gradual yet inexorable evolution into Scotland's leading malt whisky name by countries like Spain, Portugal, France and the United States cannot be overstated.
Today, Glenmorangie, Gaelic for Valley of Tranquility and rhyming with 'orangey,' offers its discerning customers more than a dozen different whiskies with approximately 140 different aromas. Now the official spirit of the Open Championship, it is not surprising that awareness of this ethereal spirit is spreading amongst golfers. To the previously uninitiated, the information gleaned from a morning spent at the Glenmorangie distillery is on a par with a whole year of high-school chemistry studies. And an evening spent sampling its stellar products—matured in a variety of casks that originally nurtured Bourbon, Sherry, Port, Sauternes or Burgundy—eclipses several lifetimes spent in the company of inferior tinctures.
Glenmorangie House earned the coveted 'Red House' symbol from Michelin
Naturally, we were in our element when we resided for two nights at the exclusive, six-bedroom Glenmorangie House beside the hamlet of Cadboll overlooking the Moray Firth (about five miles south of the distillery). This secluded retreat, proud possessor of the prestigious Michelin Hotel Guide single 'Red House' symbol (one of only nine in Scotland), offered us a warm welcome, superbly-appointed accommodation, sumptuous local cuisine and, most importantly, a shrine dedicated to that most spiritual of drinks—Glenmorangie whisky in all its hallowed variety of flavors, and prices.
Around 1,500 years ago, the Picts—swarthy, painted folk who famously thwarted the Romans and, legend suggests, might have originated from Egypt (certainly not Ireland whence the red-headed Scots came)—started growing barley, the crop used to make malt for whisky. Ever since, it seems, the area has been devoted to this one purpose above all others.
Glenmorangie House is a mid-17th-century property, though its current incarnation—a tastefully restored country home abutted by two walled gardens and a private beach—dates from around 200 years later. Among the activities it was born to host are fishing in the well-stocked local lochs and rivers, clay-pigeon shooting in the adjoining field, and chess on a giant outdoor board beside the entrance with pieces bigger than traffic cones. A couple of miles south on the Tarbat Peninsula in Easter Ross is a replica (floodlit at night) of an 8th century Pictish slab known as the Hilton of Cadboll Stone and created by local sculptor Barry Grove. Parts of the original, shamefully vandalized during the 19th century, have been reconstructed and are on display at the Museum of Scotland in Edinburgh. Appropriately, the kaleidoscopic pattern on the lower panel of the Stone—a network of interlocking spirals and twirls—has been adopted as its official emblem by Glenmorangie, to the extent that it informs the recently-installed main window in the distillery's still room.
Our Glenmorangie whisky trail began in earnest with an introduction to the '18 Years Old' single malt. This honey-gold-colored confection is matured for 15 years in former Bourbon casks made of American white oak from the Ozark Mountains in southern Missouri before being transferred into Oloroso sherry barrels from Spain for its final three years of maturation. Once it celebrates its 18th birthday and is introduced to the market, this whisky has a rich bouquet and full, rounded flavor that combines the raisin-like, sherry sweetness with a complex floral fragrance, oaky nuttiness and a hint of woody smoke.
Our next Glenmorangie encounter was with the delightful Signet blend. Its melting sweetness and explosive spiciness derives from roasted 'chocolate' barley malt, again matured in American white-oak casks, this time for 30 years. Its aromas range from chocolate orange and coffee to pecan pie and plum pudding, with a dash of mint and lemony-green citrus thrown in for good measure.
As our tasting commenced, we were enjoined to add water to our glasses of Signet and, to our amazement, the resultant change of taste, and eruption of smoothness at the back of the tongue, took place at precisely the moment our hosts said it would. Andy MacDonald, the distillery manager, told us that the effect of adding water to Glenmorangie's whiskies was known locally as "releasing the serpent." There's no doubt that a smoother sensation was indeed released, but as for a serpent—well, to me, it seemed a lot less diabolical than that.
During the tasting, we were reminded of the original men of Tain who were always the backbone of the business and the only people allowed to take the distillery, and its warehouses, forward from generation to generation. "Throughout our history we have only ever entrusted a select group of local craftsmen with the secret of our distillery," says the Glenmorangie website (glenmorangie.com).
It all started back in the 19th century with 16 Men of Tain (the initial workforce—and to this day only local people work in the distillery), the local Tarlogie springs from which Glenmorangie draws its supply, and a couple of gin stills (far taller than the usual whisky stills) that Matheson brought from London to kick things off back in 1843. The gin stills, a pronounced success according to every connoisseur we encountered, remain in operation. The rest of the distillery, where all stages of the whisky-making process, from mashing and fermenting to distilling and maturing, can be viewed, has been built around them. The distillery is open to the public all year and expert guides are available seven days a week apart from over the Christmas period, though it is advisable to pre-book your tour.
As well as the '18 Years Old' and 'Signet,' the other Glenmorangie whiskies on the market are all matured for a minimum of 10 years in the American white oak ex-Bourbon casks at a temperature of between 7-9 degrees Celsius. The 'Original,' the Glenmorangie brand most commonly available in a regular bar, is the only 10-year-old while the 12-year-olds—'Lasanta,' 'Quinta Rubin,' 'Sonnalta PX' and 'Nectar D'Or'—are topped off by a further two years of maturation in, respectively, Oloroso (sherry), ruby port, Pedro Ximenez (sherry) and Sauternes (white wine) casks. Another sherry-matured whisky, the 'Finealta,' might spend more or less than two years in the casks, depending on how well this blends with the light touch of peatiness with which it's prepared. And as for the 'Astar,' which weighs in at a mighty 57.1% proof without losing its velvety flavor, suffice to say that the process of maturation seems to be a closely guarded secret, apart from the admission that at some stage it is chill-filtered (cooled to between -10 and 4 degrees Celsius to remove the cloudiness that neater alcohol always seems to induce).
The Ultimate Prize in Golf
Win the golf experience of a lifetime for you and a guest in 2015 at glenmorangie.com
Return airfares from nearest capital city
Play the Ailsa Course, Turnberry
Play at Royal Dornoch
Stay at Glenmorangie House and enjoy a private tour of the Glenmorangie Distillery
Attend The Open Championship at The Home of Golf, St Andrews and experience Glenmorangie's VIP hospitality
Play The Old Course, St Andrews in its final day Championship set up on the Monday following The Open
Accommodation throughout prize winning trip
Ground transfers to and from prize activities
The 'Quarter Century' is matured in a range of casks, including Oloroso and Burgundy, and then there's the 'Pride 1981.' This deep-gold, limited-edition malt—only 1,000 bottles, each costing more than $4,000, have been produced—is the culmination of 28 years of passion, patience and artistry. As its name implies, the original liquid for the 'Pride 1981'was distilled and laid down for maturation 30 years ago. After 18 years, it was transferred for a further decade to a limited number of Sauternes barriques from the fabled vineyards of Chateau d'Yquem.
Following on from the success of the '1981' collectors should look out for the imminent release of the 'Pride 1978' which, with only 700 bottles available worldwide, will no doubt be snapped up equally quickly. At the end of a guided tour of the distillery in 2011, a Chinese nightclub owner from Shanghai asked if he could buy two bottles of 'Pride 1981' but he was only allowed to take away one as Glenmorangie carefully monitors the number of bottles that enter each geographical region around the world. On this particular trip we didn't get to taste Glenmorangie's 'Pride' and joy. Mind you, given its alcoholic strength—56.7%—it could have given a new twist to the words: Pride comes before a fall.