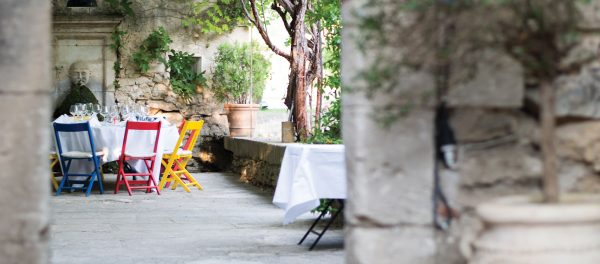 Provence
Don't ask how, just enjoy the fact that things are better here.
Reine Sammut—the Michelin-starred chef twice voted "Best Woman Chef in France"—is a delight. Her kitchen seems always to be in full, exuberant swing, and it certainly was on the day my wife attended one of Reine's cooking classes. Without so much as a bonjour my wife was handed an apron and ushered to a spot between two other women. Heads down, they soon were engaged in filleting sardines—something that seemed impossible to my spectating eyes. To make the task even more difficult, Reine was giving instructions in French, which my wife does not speak.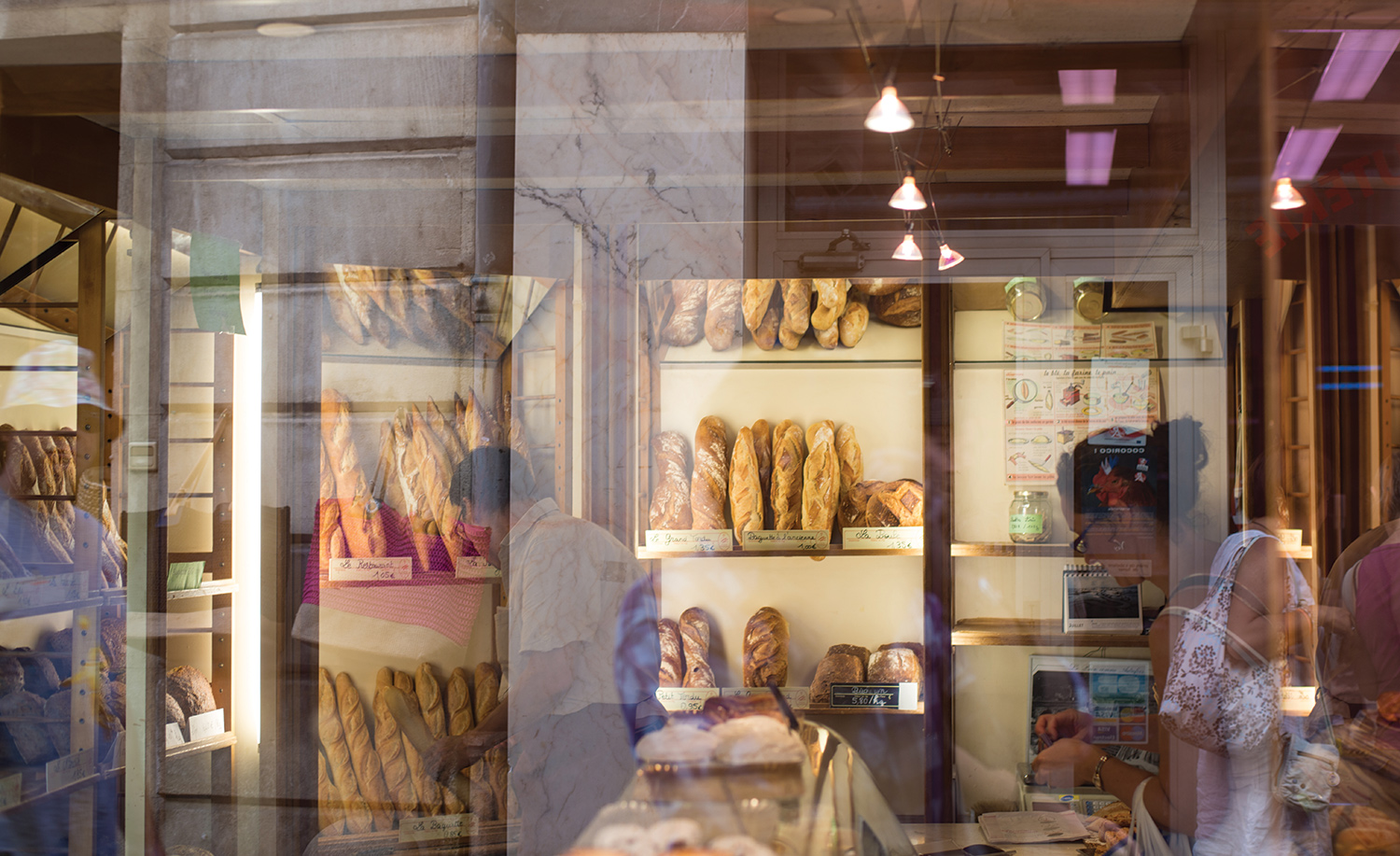 And yet somehow it worked. My wife, a very good cook but never a deft butcher of pin-sized fish (that I know of) suddenly mastered the task under Reine's smiling guidance. And Provence is like that. You're troubled? The task seems impossible? Have another glass of wine, another bite to eat.
And now tout va bien, oui? Yes Provence, truly, somehow, now it's all good.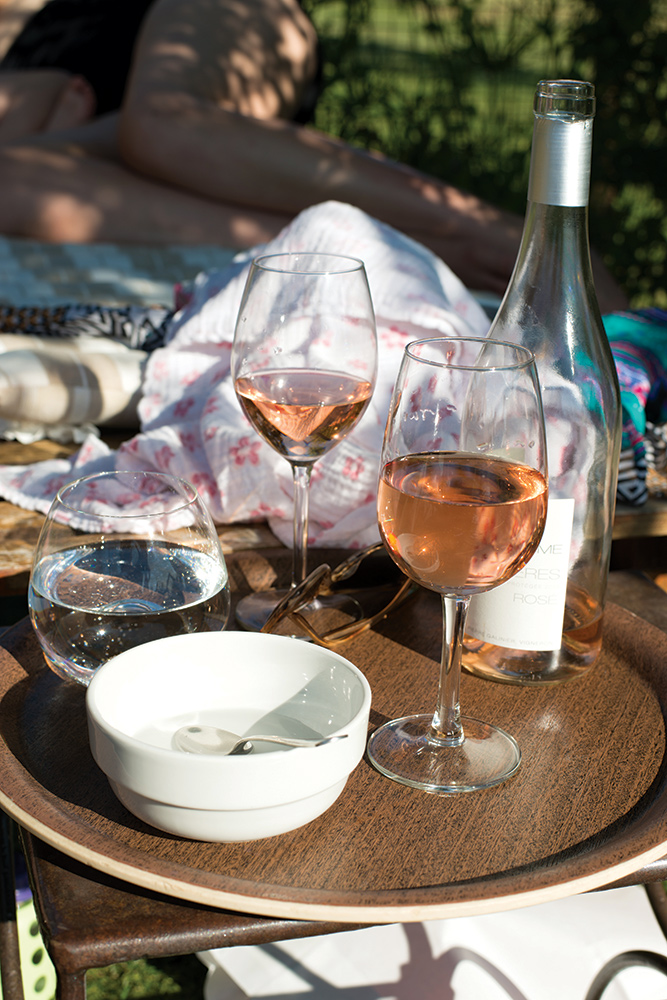 Provence is a far cry from Paris, with that city's glittering lights, bold culinary and arts scenes and frenetic pace that often seems bent on separating tourists from their cash or ignoring them completely. In contrast, much of Provence seems calmly frozen in time. A medieval village here likely must be approached as it was 1,000 years ago, via a narrow single-lane road up a hill. And when one gets to the town, invariably there will be older men at tables by a fountain in the town center drinking wine and glaring at tourists. But a few glasses of wine later and somehow you're communicating with them, no matter how good or bad your French, somehow you're all laughing and telling grand stories. In Provence, life just works.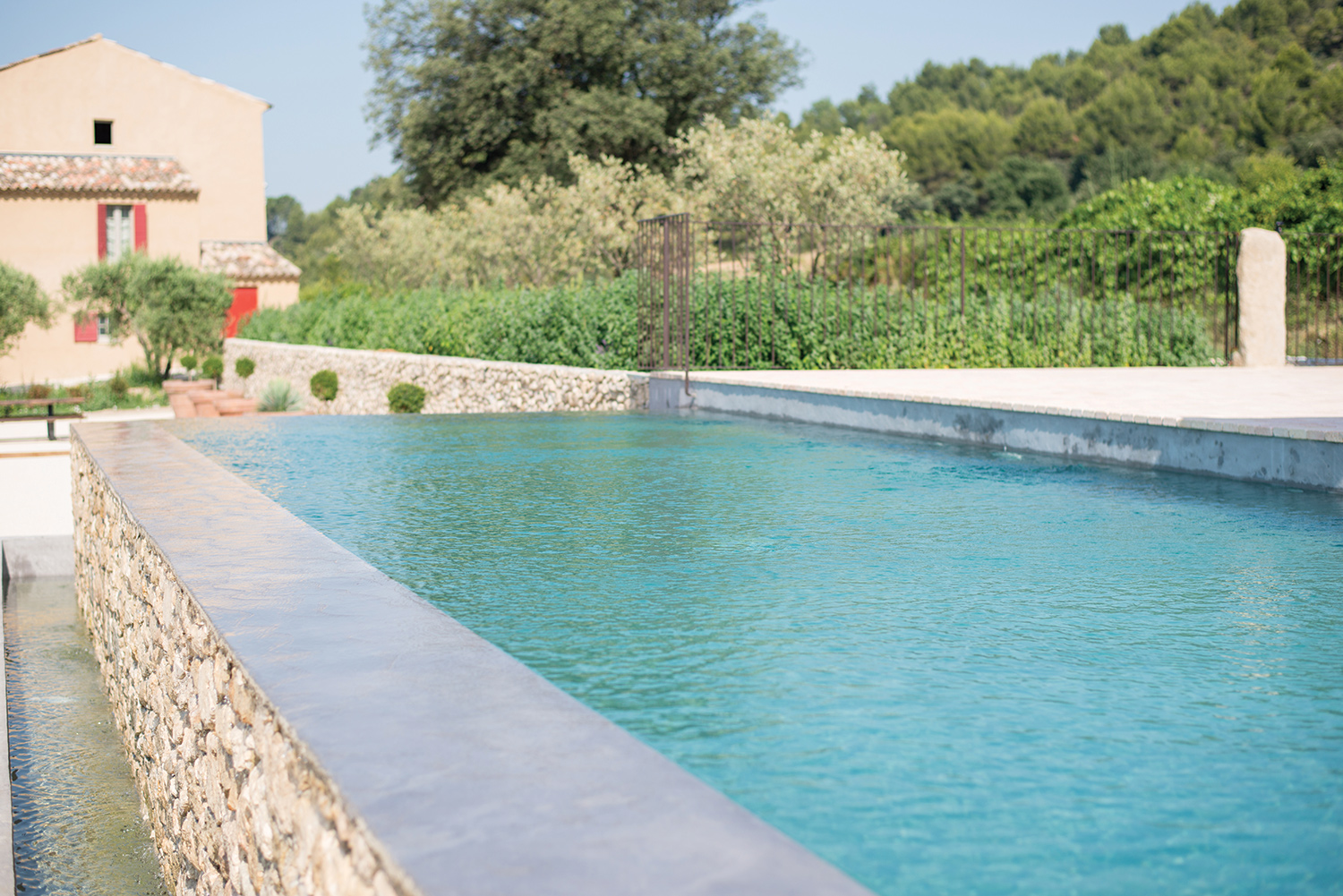 Arriving in Avignon from London via train, we rented a quirky little Renault and drove to our first destination: the beautiful Domaine Des Peyre. A vineyard, winery, art gallery and collection of gites (apartments) set in a meticulously renovated 18th century farmstead, its long driveway leads past Italian artist Stefano Bombardieri's sculpture of five mouths pronouncing the Italian word Torno, which translates to "I'll return"—and so most visitors do after discovering the area.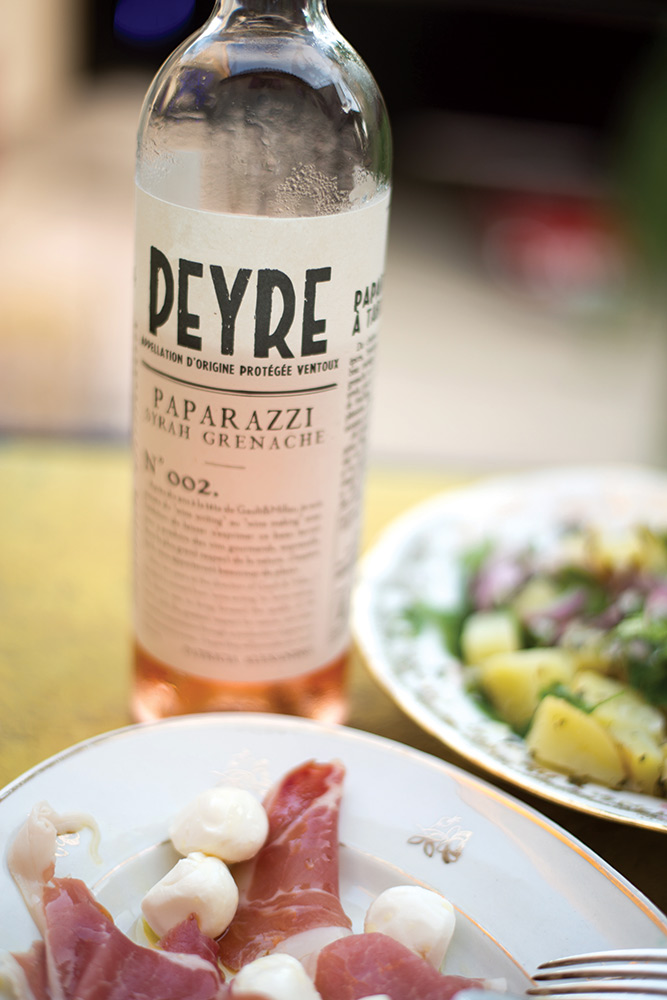 Following a career as director of the renowned guide Gault & Millau, proprietor Patricia Alexandre enlisted her partner, hotelier and entrepreneur Georges Antoun, to create the property. He loves classic cars, so there's his collection on display in front of the maison. They both love art, so there are works by top artists here and a full gallery on site. They both love wine, so there's a vineyard that produces phenomenal rosé. It all came together, and it all works. Here, entering the ancient courtyard and hearing the gentle dripping of a fountain behind the long strands of a weeping willow, one is sure to succumb to Provence's charms, and it's a great place to begin a visit. We made our way up a grand old staircase, past paintings and statuary, to our gite. We opened the shutters, threw open the windows and looked out to the hills and rows of vines along the remnants of a Roman road. Recent archeological excavation actually shows that the Domaine des Peyre is built on what was once a Roman villa. People have been living on this little piece of earth, looking at these hills, for a very long time, and you can feel it.

When we weren't tasting the property's excellent wine or lounging in its infinity pool, we explored local villages and found a fabulous dinner at L'auberge de Carriers in nearby Robion—in spite of the Renault's navigation system. Though the car spoke English, its directions were more like poorly translated suggestions than useful navigation, and so we mostly found our own way. We picked up a few staples at the Super U, France's equivalent of a Target but stocked with obscure cheeses, organic produce, artisan meats, local wine and farm-fresh dairy. We cooked in our little kitchen and ate on our terrace. Our daughter ran free and loved it. We took a day trip to Chateauneuf-du-Pape where we tasted at the legendary Chateau La Nerthe and posed for pictures in the ruins of a 14th century castle frequented by Pope John XXII. Every second of it was engaging without being exhausting, but before we knew it we were moving on.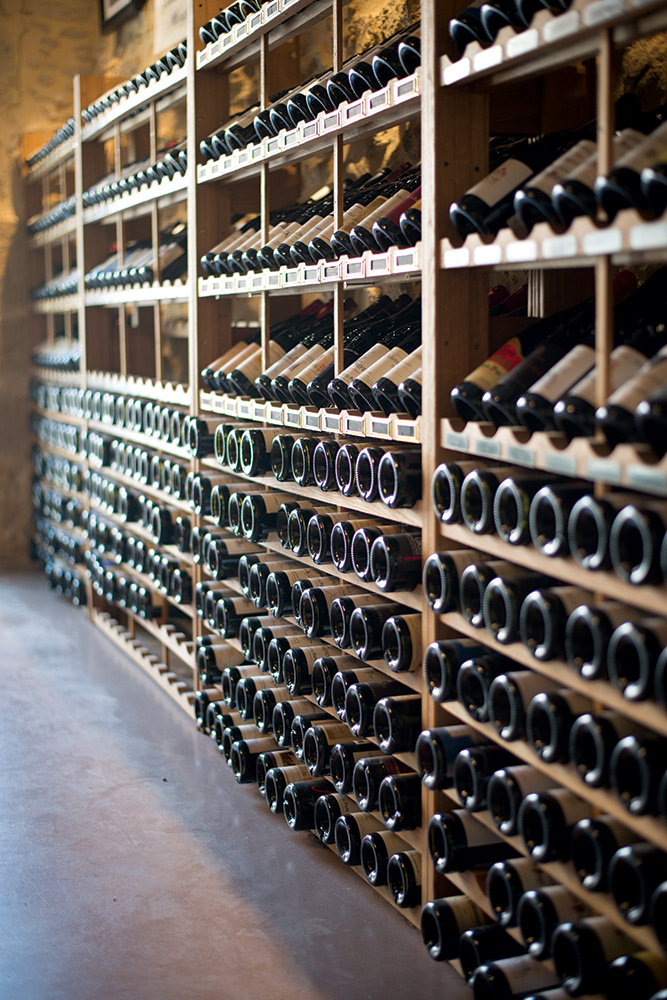 Rolling past fields of sunflowers we made our way to Lourmarin, passing the castle where the Marquis de Sade lived and wondering how someone so dark could come from a place so full of sun. We drove on through the idyllic hillside village of Bonnieux and eventually arrived at our next stop: Auberge La Fenière.
Relaxed and unpretentious, this is Reine's place, and here, sitting in chipped metal chairs under hanging vines by candlelight, listening to the cicadas sing and sharing perfect dish after perfect dish (some of which my wife helped to prepare), it occurred to me that life couldn't get much better.
Our last stop was Gordes. Perched on the side of a mountain, this medieval town is dramatically charming. Stone pathways wind among ancient buildings covered in flowering vines. There's the proverbial cat on the windowsill, lace curtains shifting in the breeze, open-air cafés by the fountain… A postcard picture.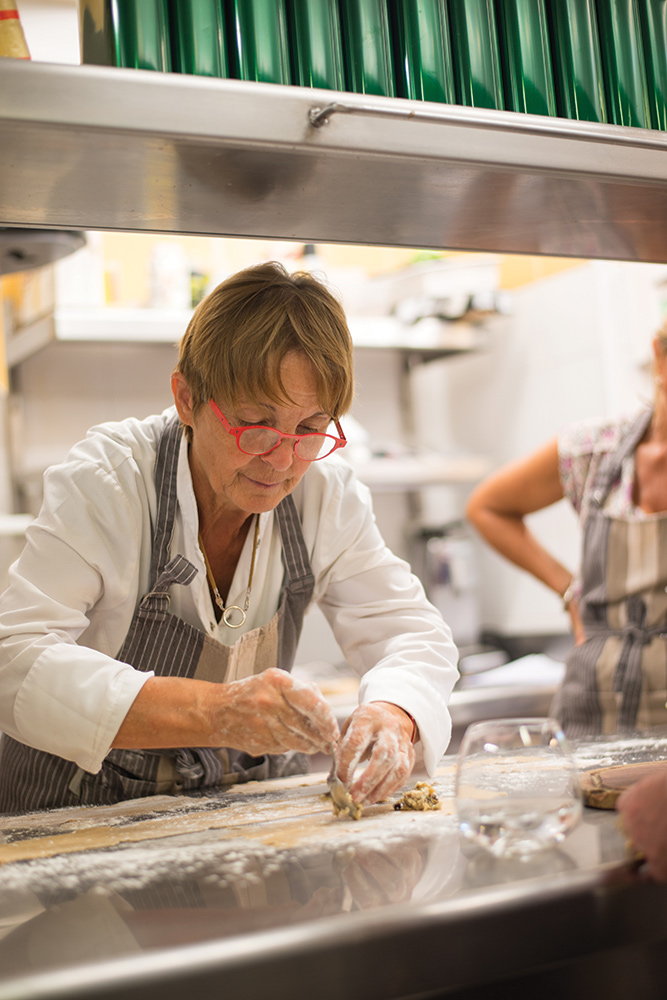 Just outside the main village, up a hill and down again into a verdant glen, we found Villa Hautvallon. This is the house you imagine when you conjure up French fantasies. An ancient stone mansion with terraced gardens, lavish rooms, a regal pool and a private chef; compared to any hotel it makes a great accommodation. On our last night we enjoyed a dinner the chef prepared for us from ingredients bought that day at the local farmers' market. Paired with Champagne from the owner's private cellar, it was heavenly.
The next day was Sunday, which meant the antiques market was on in L'Isle-sur-la-Sorgue. The town is like a collection of little islands spread out over the many tributaries of the river Sorgue. Stone bridges span the clear water and connect the islands to one another. There are water wheels and waterfalls and on Sunday the streets are packed with antique vendors and shoppers. Amazingly, pushing through the throng, we ran into Patricia from Domaine des Peyre—it made Provence feel more like home than ever.
From there we left the markets and continued up the road to Fontaine-de-Vaucluse. It's a quiet little town with a river of the clearest water you've ever seen, like liquid crystal, fed by France's deepest and largest spring. We ate at Restaurant Philip, right near the source. The rush of the water here was almost deafening and the food superb—even the kids' menu, which offered chicken breast with vegetables and mashed potatoes presented so beautifully and prepared so perfectly that our picky daughter ate every bite.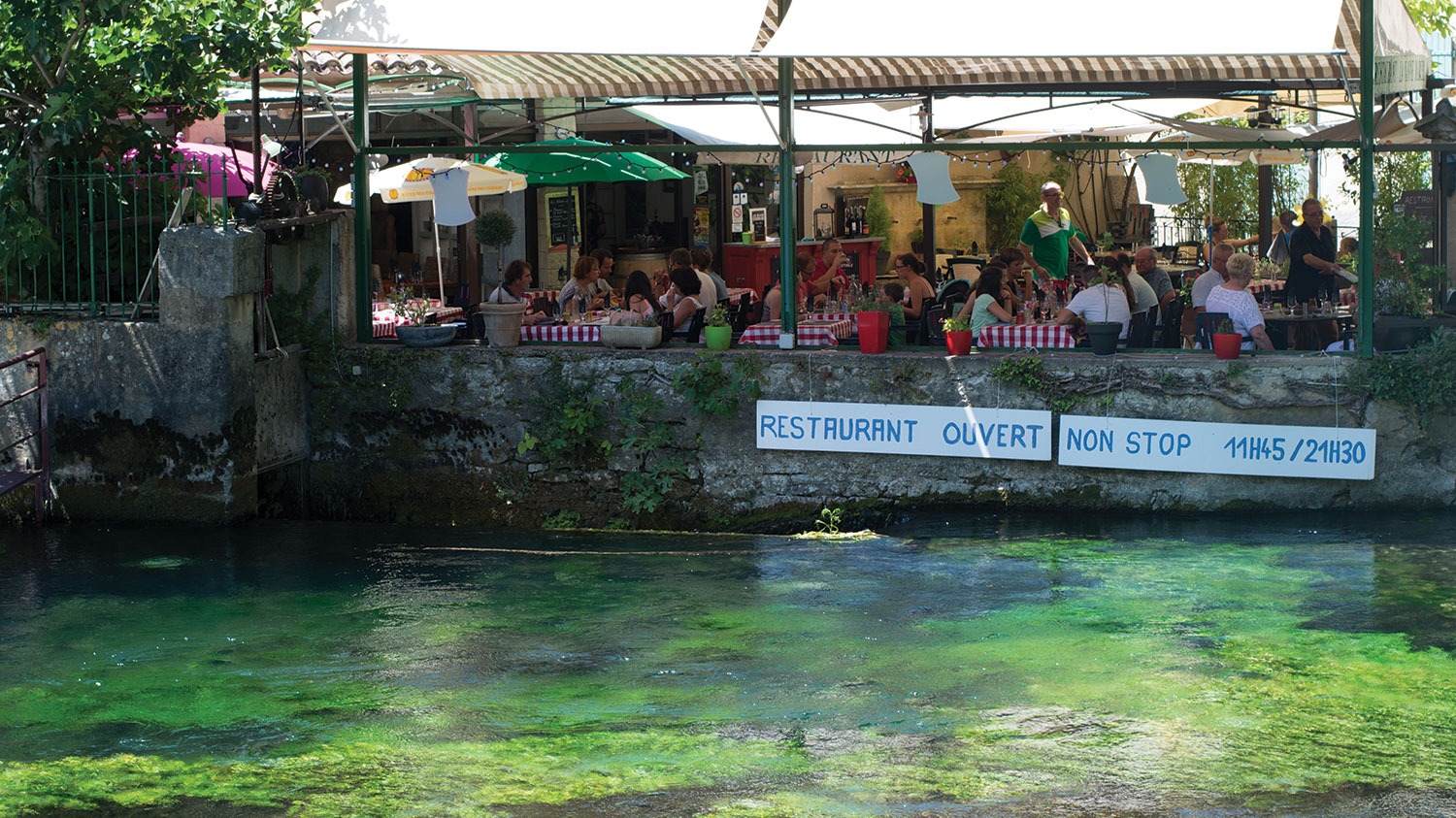 The day was infernally hot, and with the water everywhere we decided to cool off. We found a spot by the river in a park where others had gathered, but even with the heat no one was swimming. We were puzzled—until we put our feet in. The water was painfully, alarmingly cold. Bone-hurting cold. After just a few minutes, laughing but barely able to walk on our numb feet, we piled back into the Renault and returned to Gordes.
We had an extravagant snack at La Bastide De Gordes and a beautiful late lunch at La Trinquette, to which we returned a few days later for dinner. It is tiny and divine and the owners are lovely.
On the day of our departure we almost missed our train, and so our car had its last laugh. The calm woman's voice coming from the Renault's navigation system hid a completely insane sadist. Trusting her to get us back to a highway, she instead led us on a wild route, at one point directing us to drive up a staircase not three feet wide. We had to reverse out of that situation (and others) and wound up on a seemingly endless road that took us deeper into the mountains and further from the train. And yet somehow we made it. But then bien sûr, of course we did. This is Provence, after all, and here, life just works. We'll be back.
Terre Blanche Resort & Spa
A Kingdom staffer and his wife enjoy one of the best golf resorts he's ever visited:
The food had been sublime, Provençal cuisine at its best, and the cognac "on le maison" after the fine bottle of burgundy had taken us from relaxed to ebullient. Feeling confident of finding our way back to the room, I turned down the offer of a ride from one of the stretch-carts that taxi guests up and down the hill from the spa to the main hotel building down past guest villas and suites before reaching the clubhouse, opening holes and practice facilities at the bottom of the valley. We'd arrived in late afternoon and it was our first night. The sky was full of stars, we held hands, and I promptly got us lost in the dark. Thirty minutes later we found our villa, where my wife, who'd been trekking around in heels, forgot to (or decided not to) chastise my navigational skills, so beset was she by the grand evening.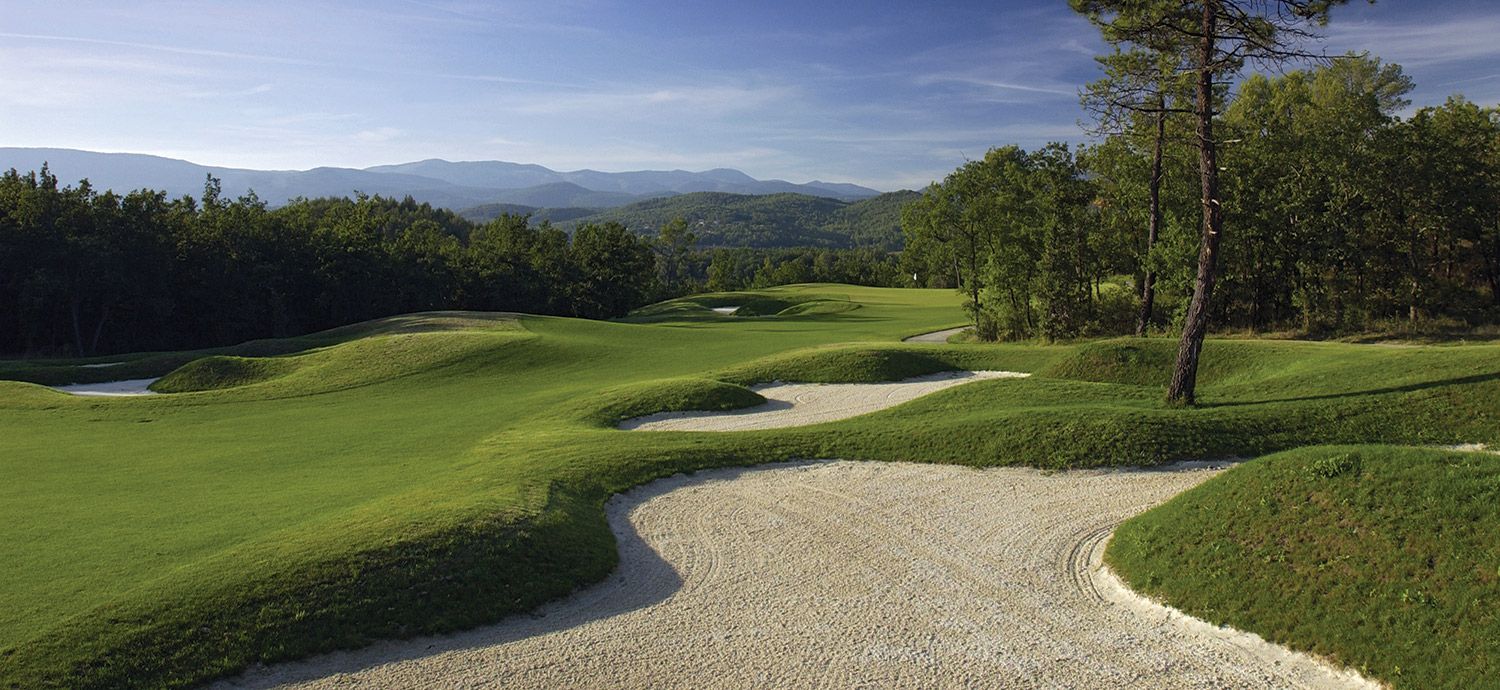 The next morning we had a wonderful breakfast on our terrace overlooking the golf course some 200 feet below—and ended up being a good 10 minutes late for our tee time. Embarrassed, I paid little attention to the starter before rushing off to the first tee. There was no one in sight on the tee, let alone anyone waiting, and essentially alone we both hit great drives. Checking the distance from the cart I took a 5 iron for my second and ended up 20 yards short of the green. "Odd," I thought. "I hit that quite well." And so it went: for the next four holes I was consistently 10 percent short with every shot—not necessarily a bad thing, given my inaccuracy!
Finally I remarked upon this shortness to my wife and was about to speculate on the ball flight altering due to weather conditions or because of the rich food when she interjected with, "You are remembering that all the distances are in meters, not yards, like the starter said, aren't you?"  "Uh… Of course!" And so it was that for the next 13 holes my shots went a full 10 percent further into the woods, rough and water, and occasionally onto a green.
The two 18-hole courses here, an hour's drive inland from Nice on the Côte d'Azur, are incredible. The Chateau and Riou tracks were both laid out by former Ryder Cup player Dave Thomas in the rolling hills of Provence's wine country. Valleys, waterfalls, ravines and white-sand bunkers abound across the wonderful 750-acre location, so it's no surprise that the courses play host to two professional European tournaments: the French Riviera Masters and the Terre Blanche Ladies Open. The resort also has the highest professional seal of approval for its Albatross golf performance center, being the first to be certified a "European Tour Performance Institute." It features a 64-tee, two-tier driving range, an indoor putting green, two outdoor greens, practice bunker and chipping facilities, and a teaching academy.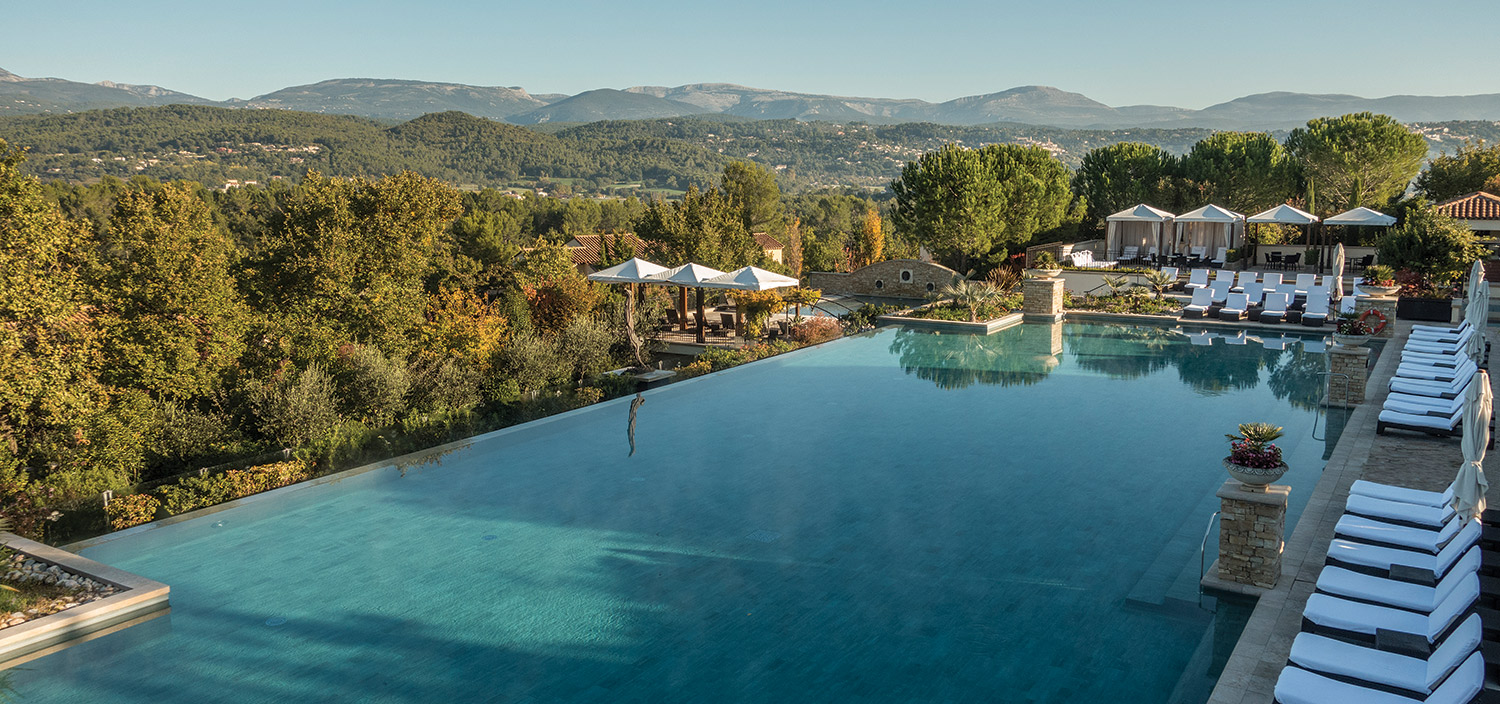 After an enjoyable round, visitors can relax in the pleasing ambience of a tastefully appointed clubhouse and perhaps indulge in some fine dining in the Restaurant Les Caroubiers or in any of the other four on-site eateries. In addition to golfers, Terre Blanche appeals to a multitude of visitors, be they couples in search of a romantic hideaway, gastronomes or families with children. The hotel has a total of 115 independent rooms, a mixture of suites and villas, and plenty of activities on offer beyond the course.
The centerpiece of the fabulously appointed resort is an indoor/outdoor pool that I can only describe as something out of the set of Roman Villa scene as imagined by a 1960s Hollywood producer on an unlimited budget. My wife loved the spa, proclaimed that she received the best massage of her life there and said she would return to Terre Blanche anytime. It is a resort that manages to combine the range of amenities, space and quality golf of the very top American properties with the superior cuisine and style of Provence at its finest—truly a winning combination. I would return in a measured shot too, even in meters.
Terre-Blanche.com