30 Days of Scotland
A bleary-eyed journey around an obvious golf destination reveals some not-so-obvious golfing gems—helped by plenty of good whisky. As Steve Killick learns, the occasional massage doesn't hurt either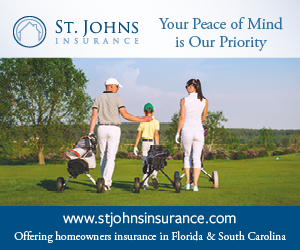 I blame Doctor Baz. For those of you who have not met Dr. Baz, he is an old school friend of mine obsessive about fine wines, malt whiskies and golf. He is now a naturalized U.S. citizen, having a mother from Florida, and has amassed a small fortune on the West Coast peering into the darker recesses of his patients' anatomy, for Dr. Baz is a colon and rectal surgeon.
Anyway, it was Dr. Baz that called long distance in an excited manner telling me that he and I were going on a grand adventure in Scotland and that I would need to take an entire month off and bring my golf clubs. He then added, in something of a rush, that we would play 30 great Scottish courses in 30 days and it would be "A riot."
I suggested that it would more likely be the death of us both but he was having none of it, adding only that he was arriving in Edinburgh airport a week from Sunday and that I should meet him there at an absurdly early hour.
Having filed some hurried copy to various long-suffering editors and having explained to my wife that I needed leave of absence for 30 days, I was headed for Edinburgh airport. Far from the most popular man in my household, I nonetheless was ready to meet my golfing chum, although I had no idea where we were going to stay or play as Dr. Baz had made the arrangements and all I was meant to do was to drive us from one destination to the next.
"My dear fellow," he cried upon seeing me (for although a naturalized American, Dr. Baz still maintains the image of the perpetual English public schoolboy as he insists his patients consider this approach reassuringly expensive), "Take me directly to Turnberry!"
As the good Doctor is a gold member we got a free upgrade from Hertz and headed west in automotive style to Ayrshire and what is without a doubt the most beautiful of all Open Championship venues. The Turnberry Resort is stunning, with fabulous facilities for visitors and sensational views out to sea and the Isle of Arran—and there's a truly great golf course thrown in for good measure!
Dr. Baz had booked us a deluxe room with a sea view, although we had barely time to check in to our spacious and extremely comfortable accommodation when it was time to pull the clubs out of the car and head for the first tee on the Ailsa course, host to so many famous Open Championships.
The golfing gods were certainly with us as the grey clouds began to lift before we were halfway up the first fairway and the sun started to pour though. The scenery was far more breathtaking than our golf, but to play that stretch of holes that takes us to the honey and white lighthouse standing on the rocky ruins of Robert the Bruce's castle is pure golfing joy. There is not one weak hole on the Ailsa, and playing from three through 10 is one of the great course sections in world golf.
After a couple of beers gazing from the windows of this most welcoming and well-equipped clubhouse down the 18th hole reminiscing on our round, we walked slowly back up the hill to the great white hotel with its red-tiled roof for some fine dining and one or more of the wonderful selection of single malt whiskies to be found at the hotel's Ailsa bar.
The following morning we tucked into a hearty Scottish breakfast and then took time out to enjoy that most vital of pick-me ups for the more mature golfer: a therapeutic massage in the fabulous hotel spa. We had allowed ourselves enough time to enjoy a trip on the scenic coast road north before arriving at our second venue at Prestwick, scene of the very first Open Championship in 1860.
Prestwick is wild and wonderful; a living monument to the derring-do days of Victorian golf, where one drives over giant sand dunes into firm, fiendishly well protected greens. Here we can relive the great days of Young Tom Morris, the Tiger Woods of his day who swept all before him. Young Tom scored the first recorded "eagle" three here in the 1870 Open, just a year after he had scored the first recorded hole-in-one.
Sadly we cannot stay long in the historic and warm old clubhouse because the good doctor has arranged a diverting boat trip from Ardrossan that will take us first across the Firth of Clyde over to the Isle of Arran and then onto Campbeltown on the Kintyre peninsula.
We were staying at the small and extremely friendly Lochranza Hotel and taking in both a nine-hole and a quirky 12-hole course that Dr. Baz thought would give us a chance not only for a break but to undertake the first of our whisky tastings at the Isle of Arran Distillery.
First up was Lochranza, a straightforward, flat nine but in glorious surroundings with steep mountain slopes on three sides and the Kilbrane Sound in the opening on the fourth side. This was truly relaxing holiday golf that allowed us to regain some confidence after our previous round at Prestwick in a strong wind.
From Lochranza we drove south to Blackwaterfoot and Shiskine Golf and Tennis Club. Shiskine links has achieved cult status amongst canny Scottish golfers. A links has been here since 1896 although it has remained just the 12 holes since the end of World War One when six fell into disrepair. Seven holes are par-threes although all remarkable, none more so than the third which is blind and nearly vertical. With green fees at £22 this is a must-play course.
Leaving behind the scenic wonders of Arran we get back on the ferry at Brodick and head for Campbeltown on the long finger of land sticking out into the Irish Sea known as the Kintyre peninsula to take on three courses, two tough and one straightforward but all three wildly beautiful.


 A U.S. property company, Southworth, has revitalised Kintyre since it opened its wonderful Machrihanish Dunes golf course, designed by David McLay Kidd who created the Bandon Dunes resort in Oregon. Southworth has lovingly restored the formerly derelict Ugadale hotel immediately opposite the famous old Machrihanish Golf Club, where one tees off on the first across the beach and the crashing waves of the Atlantic, and has also breathed life back into the Royal Hotel in Campbeltown.
We took caddies at the Dunes course, as it is almost as easy to get lost on your way around, as it is to lose your ball when driving blind over towering sand dunes.
All the staff involved with the Southworth project are first class and, for those without their own vehicle, will happily arrange transport down to Southend to play the short yet delightful Dunaverty where the good doctor and I looked back across to Arran and Turnberry on the Scottish mainland before heading into town for a most informative and enjoyable whisky tasting at Springbank's historic distillery.
Then it was time to get back on the road and a glorious drive north up the coast on the A83 to Tarbert, where we stopped to pick off nine holes at the local course, another beauty on the shores of Loch Fyne. From there we swept around to Loch Lomond and an overnight stop at The Carrick Club at Cameron House, where we again took a massage in the hotel spa. A tall and elegant masseuse named Jai cracked and crunched my ageing neck and back into golfing shape in time for me to tee off happily the following morning and enjoy the challenge and beauty of this undulating and scenic course.
We then headed north to the western Highlands and Fort William on the A82, where the good doctor had discovered that at the base of Ben Nevis, Britain's highest mountain, lay Fort William Golf Club.
"Madness not to play it whilst we are here, dear boy. Sheer madness!" he exclaimed.
So play it we did, and I must say, having walked under the railway bridge to the first tee and caught sight of Ben Nevis soaring in the distance, much against my first instincts, I was extremely glad that we did. And at £25 for the round was left again to marvel at just what terrific value some of the lesser-known Scottish courses offer.
We then drove east from Fort William heading for the Cairngorms National Park and one of the most beautiful courses in the world.


The Boat of Garten is named after a long-closed ferry, and opens with a deceptive and unprepossessing par 3.
But don't be put off: from here on in this James Braid-designed beauty is jaw-droppingly magnificent with the quality of the holes equally matching that of the surroundings. This may only be a short 5,876 yards off the tips, but no one takes the Boat to bits, and it only costs £45 to play!
One James Braid masterpiece wasn't enough, and so Dr. Baz had arranged for our next round to be even more northerly and at the home of the James Braid Golfing Society at Brora. Having played the wild, windswept links in the far west at Machrihanish we faced an equal challenge on this far-flung outpost of the eastern side.
We played off the yellows, rather than the competition tees, which cuts the length to 5,951 yards but which still represents a stern test, especially if the wind blows (which it usually does). Sheep roam the fairways and Arctic Terns sweep along the shoreline, and both kept us company on our way round before we teed up at the 190-yard par three 18th with its well protected green sitting slap in front of the clubhouse window. Invariably, this seems to be full of members casting critical gazes.
Checking out of the Royal Marine Hotel, Dr. Baz showed me his list of east coast courses and what beauties we had in store. A mere 25 minutes away is Royal Dornoch, a Royal club since 1906 and one of the very finest links in British golf.
A quiet start over the first two holes gives no idea of the challenges and beauty to come, but both come aplenty against a backdrop of the white, crescent beach of Dornoch Firth. Donald Ross was the greenkeeper at Dornoch and it was from here that he left to find design fame and bring golf fortune to America. Tom Morris helped extend the course to 18 holes and created the raised, well-protected greens that still provide such a great test of golf today.
The doctor had booked us into the wonderful Glenmorangie House and had arranged our tee-time not only at Dornoch but also at our next two ports of call: Tain and Nairn.
After 12 days and 12 courses my feet were seriously starting to ache so we didn't get to Tain, on the other side of the Dornoch Firth, until around lunchtime after a lazy morning and a hot, recuperative bath. Tain is another Old Tom Morris course where much of the great man's handiwork remains to this day and the club is as welcoming as it is affordable. We had more business to do in Tain as we were to embark on a serious tasting at Glenmorangie distillery, that famous old malt that is "The Spirit of the Open Championship," but more of that and Glenmorangie house later.
We drove past Fortrose & Rosemarkie golf club, which is another stunning little James Braid course on the Moray Firth on our way to Nairn. Dr. Baz had started to panic because our tee time at Nairn was on ladies' day and we were due out behind them. Yet I can honestly say that I have never seen lady golfers anywhere move at the speed of those at Nairn. After two holes we simply ate their dust as they disappeared off into the distance of this fine old links.
Afterwards we dragged ourselves out of our deep armchairs in the clubhouse and drove east towards Castle Stuart, scene of Phil Mickelson's 2013 Scottish Open victory. Founded in 2009 this is a new kid on the block in terms of Highland golf and the first round for both of us, but what a beauty it is. The following morning we were not sure whether it was our golfing exertions, the clubhouse bar or the cottage on site that was responsible for one of our best nights of sleep of the entire trip.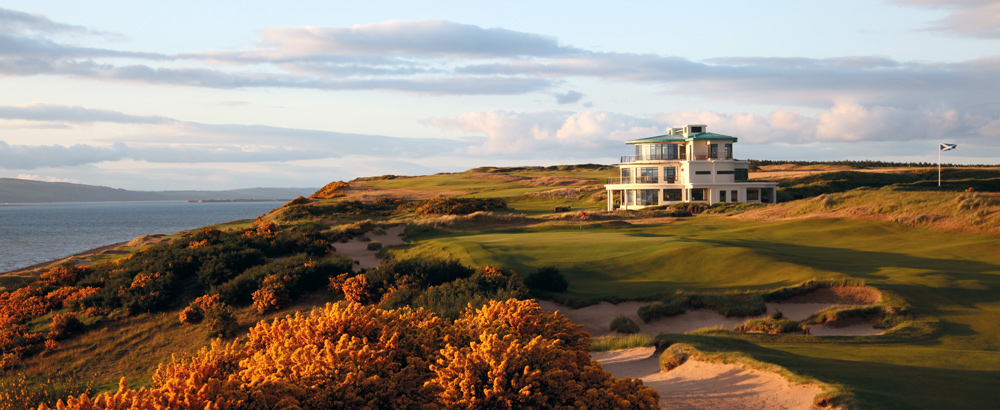 We then took in Moray, very much the St Andrew's of the Highlands with an Old and New course that start and finish in the town of Lossiemouth in front of a grey stone clubhouse. The Old is another of Tom Morris' inspired creations.
We could have played eight more courses along the Morayshire coastline but we were heading south to Aberdeenshire and a quartet of wonderful tracks that can be played around the old granite city. The first is very much the Turnberry of the east coast, although now sadly lacking the grand hotel that closed during World War II.
Cruden Bay is as beautiful a links as can be found anywhere and should be on the list of all golfing visitors to Scotland. It also has the great virtue of being easier than the remaining three, although still a terrific test. Trump National at Balmedie, south down the A90, has bedded in remarkably for such a new track although it is a ferocious test when the rough is long and the wind gets up.
Murcar Links on the outskirts of Aberdeen is another classic Scottish track with narrow fairways that needs a carefully plotted round to score well whilst the back nine at Royal Aberdeen can be well nigh unplayable when the wind blows, but what a course it is.
We stayed inland from Aberdeen at the sumptuous country hotel of Meldrum House, which also has a beautiful parkland course, great practice facilities as well as a terrific dining room and wine cellar plus a resident ghost. We saw no sight of the "green lady" but loved everything else!
By now the pressure was on with only nine courses left to go in our marathon. My game was decidedly ropey when we played Montrose with its lightning fast greens, and I approached the prospect of Carnoustie, without doubt Scotland's toughest Open venue, with something approaching dread. The wind got up, too, as we battled our way round. Dr. Baz's seven handicap had vanished by the time we reached the turn. Suffice to say, off my 13 handicap, on this course I was simply relieved to get round in under 100.
We were on the closing stretch with Dr. Baz refusing to play Gleneagles, saying that it was over-rated and far too over-priced, so we headed for the auld grey toon and the home of golf: St. Andrews. It was time to visit the Jigger Inn for restorative Glenmorangies before checking into the Old Course Hotel for equally restorative massages.
Everything that can be said about the Old Course at St Andrews almost certainly has been so there is little for me to add other than make sure that you play the New Course as well whenever you visit and enjoy the best curry in town at Jahangirs.


We had two more tracks to see in the Royal Kingdom of Fife before we left, the first being the fabulous Kyle Phillips design at Kingsbarns, which may be expensive compared to some of the courses we have played but which is still money well spent. The second was Balcomie links at Crail, considerably cheaper than Kingsbarns, the seventh oldest golf club in the world and offering some classic seaside shots to be played into high greens over seemingly acres of gorse.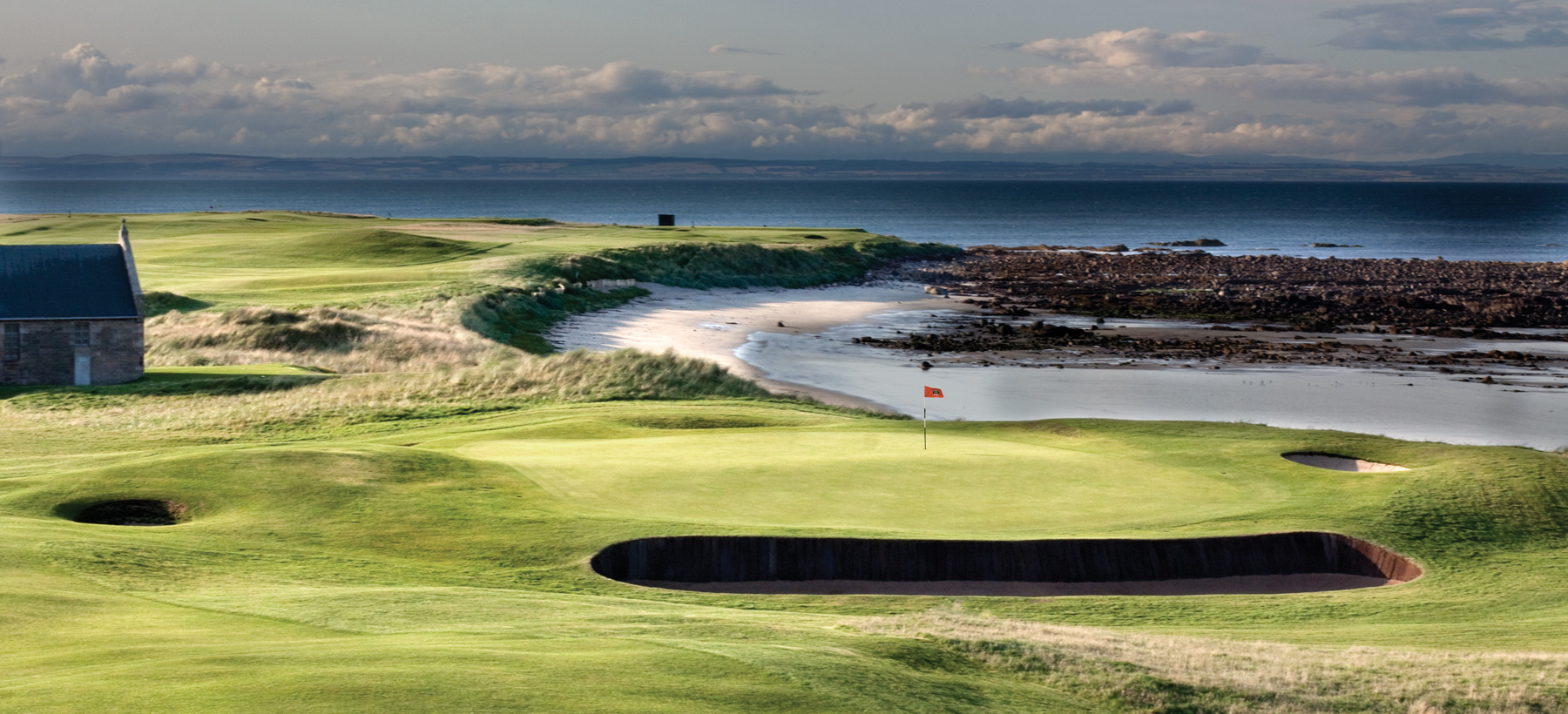 Crossing the Firth of Forth, there was not much of me that did not ache, but Dr. Baz reached into his bag for some painkillers and insisted that with only three more courses to go we should sign off in style.
Our first stop was Muirfield where the doctor had hired a caddy for himself. We were told that we must play off the championship tees for the front nine and I was thrilled to nail an absolute cracking drive on the first.
"That's a great shot," the caddy remarked. "You're almost on the fairway!"
Muirfield is brutal but brilliant and serves a sensational roast lunch as well.
Sandwiched between Muirfield and North Berwick is the high-end Archerfield estate, home to three 18-hole layouts, one of which is totally independent of the other two.
We played The Renaissance Club, a Tom Doak design, whose American owner, Jerry Savardi, is confident that his course soon will be playing host to the Scottish Open.
As neither of us had played here before one of the highlights was the inspirationally photogenic par-4 tenth, which sits among dunes, atop a cliff overlooking the Firth of Forth. Big-hitting Dr. Baz aimed his tee shot across the rocks and sea below, but for me (and I suspect for most of us) the route is more of a sweeping dogleg from right to left, to a green set hard against the cliff edge.
This led us to our last port of call, at North Berwick. Thankfully, with me barely able to swing a club I was so stiff, the wind abated and I was able to slowly get round the historic West Links whose rough is mercifully kept short.
Apart from a hideous five putt on the par-four 16th hole, where there is a three-foot gulley in the centre of the green and the flag was on the far side, coupled with my innate exhaustion this is always a course well worth playing. As lovely as it was, I just rather wish it had not been my 30th round in 30 days!