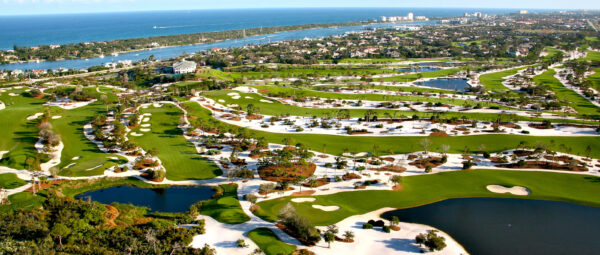 A Place in the Sun
Welcome to The Sunshine State, America's very own Magic Kingdom where the living is spectacularly easy. For good food, endless fun and spectacular golf, nowhere does it better.
The Spacecoast, the Everglades, Cigar City and Gator Country can all be found here, along with some of the best fishing in the world (and the best seafood as well). The sun shines nearly all the time—and when it doesn't, storms from both the Atlantic Ocean and the Gulf of Mexico take turns cooling things down and watering the oranges for which the state is also known. With pirate treasures sunk just offshore, race cars roaring near the beach, the Magic Kingdom and enough golf to last a lifetime, it's tough to imagine a better place to live than Florida—which is why the options of retiring here or owning a second home in the state are so attractive.
Like many others born in places that know a real winter, Arnold Palmer spends the cooler months in The Sunshine State. With average winter daytime temperatures in the low 70s, it just makes sense. Likewise, there are a number of benefits to owning a home down here in "North Bahamas," as some die-hard Southerners call it, including tax breaks, a reasonable cost of living, and the healthy and comfortable lifestyle that's attracted millions over the years. There are a few things to consider, of course, among them location, financial planning and lifestyle expectations. Despite the somewhat singular portrait painted by postcards featuring the likes of orange groves, alligators and Disney characters, the state is an incredibly diverse mix of various ethnicities and cultures, each of which contributes to carving out a number of distinctly different communities as one moves from relatively conservative farm towns along the Georgia border to the "anything goes" lifestyle of the Florida Keys.
Whether you're inland or along the coast, one should be aware of the state's various weather challenges, including occasional severe storms or even hurricanes. Here, a quality home will stand you in good stead, as will a comprehensive and solid insurance policy. St. Johns Insurance Company, for example, specializes in the "difficult" States of Florida and South Carolina, as they put it, so they understand a thing or two about the needs of residents there stjohnsinsurance.com. Additionally, their 1,800 insurance agents in Florida operate from a place of solid integrity and personal relationships, meaning St. Johns Insurance Company is a good firm to seek-out should you be considering a home purchase in the state.
Lastly, with so many different communities in Florida, it makes sense to identify your expectations first. Frequent travelers should locate themselves near a city with a major airport. Art lovers might consider cities like Sarasota or Naples, both of which feature good museums and arts communities. Those in search of the quiet life might look at Gulf Coast's numerous options, while people who want a little spice in their evenings might want to be within quick reach of Miami. Golfers are fortunate as the game can be found nearly everywhere. In fact, as long as you enjoy the sun, Florida really does have something for everyone. Here are a few of our favorite places in the state. Who knows: Perhaps you'll like one of them enough to call it home.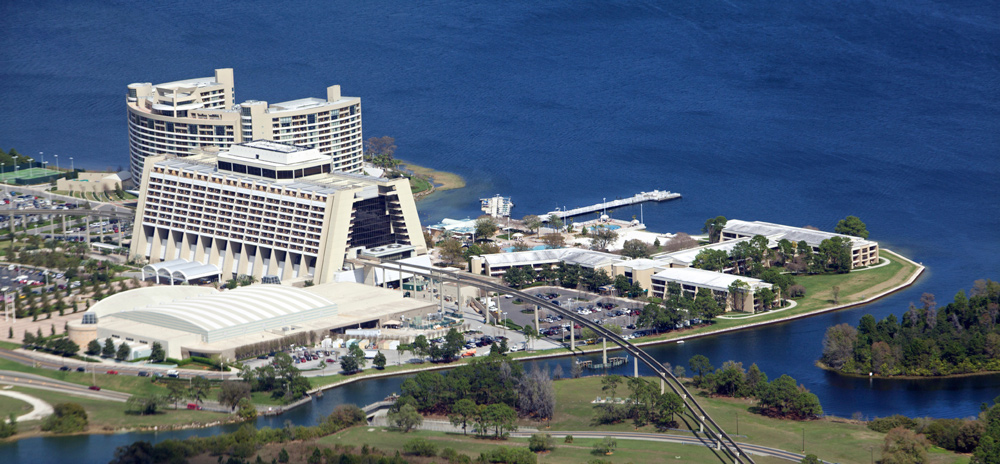 Central 
ORLANDO
For some people, Orlando IS Florida; they never visit any other part of the state—and why would you? Arnold Palmer has been living in the area at his Bay Hill Club & Lodge for more than 40 years and loving the inland weather, local landscape and great golf. Add to those the obvious attractions and entertainment, and the city is a great place to live (even if the traffic can be annoying at times). Naturally, as one of the state's premiere cities—offering numerous dining and entertainment options, along with top hospitals, an international airport and plenty of other amenities—you'll pay more for good real estate here than you might in a smaller, more remote community. But you get what you pay for, and in Orlando you get a lot. As for communities, there are numerous options, but we'll opt for Bay Hill, with its iconic lodge, courses—and residents. Anyway, it never hurts to live near the boss.
Golf: In addition to its more famous attractions, Disney owns a few golf courses—five in the area, in fact, including Disney's Lake Buena Vista Golf Course and Magnolia Golf Course disneyworld.disney.go.com. Those, Bay Hill and many other area courses mean that Orlando is a golf-strong city.
Dining: With so many visitors, it's no surprise that there's something for everyone. Thai, Mexican, Indian, Italian and most other culinary traditions are well represented in the city. For solid American fare we like The Ravenous Pig  theravenouspig.com, in the flourishing Winter Park neighborhood. Enjoy rich dishes like "Lamb Shank with black olive-honey caramel, moussaka, balsamic tomato and pine mushrooms" from chef-owners James and Julie Petrakis before finishing with a specialty dessert like "Zellwood Corn Crepes with Florida Blueberry Compote" or "Plant City Strawberry-Rhubarb Crisp." Plenty of great craft beers available as well. For lighter fare, deep blu seafood grille deepbluorlando.com at the Wyndham Grand Resort Orlando serves up top sustainable and local seafood, including Atlantic Mahi Mahi and Ponce Inlet Black Grouper. Close to Bay Hill, health-conscious Seasons 52 seasons52.com offers great food with no guilt, while Cask & Larder caskandlarder.com, back in Winter Park, encourages you to indulge with formidable Southern-sourced seasonal dishes, beers brewed on-site and fresh-shucked oysters.
Entertainment: Orlando has opera, theater, music of all sorts and plenty of visiting talent from New York and Europe. There's nearly always something on at one of the area theaters, not to mention the shows brought in by Disney. If you can't find something to occupy your time here, you're impossible.
Shopping: Saks, Barney's, Bloomingdales and the best of the best can all be found here—along with their heavily discounted outlets.


Atlantic Coast
JUPITER HILLS
The stretch of Atlantic Coast between Miami and Vero Beach holds some of the most attractive cities in the state, including Ft. Lauderdale and Palm Beach. Just north of the latter, the fantastic community of Jupiter Hills Village occupies a picturesque spot just 20 miles from Palm Beach International Airport jupiterhillsvillage.org. Bordered by the Intracoastal Waterway to the east and by a state park to the north, the property occupies the highest natural point in the state—no sand was pushed around to make the hills and contours on the grounds, they're the real deal. The property was discovered and developed in the late 1960s by the team of Bob Hope, William Clay Ford, Sr., and George Fazio, who designed both of the property's courses. Today, it's considered to be one of the finest golf experiences anywhere, and the neighborhood is among the region's most desirable. There are only 200 homes in the gated community, which puts a strong emphasis on golf and quality living.
Golf: One of the best golf experiences anywhere. There are only 400 members for the community's 36 holes, and a laid-back atmosphere all around. No tee times, beautiful practice facilities, a great clubhouse with a new fitness and wellness center currently under development, and a fantastic group of fellow golfers with which to enjoy the game. What more could you want?
Dining: There's a host of well-known (and easily findable) fine dining options in Palm Beach and in the other nearby communities, but for a meal close to Jupiter we'll drop by Guanabanas guanabanas.com, a laid-back tiki-hut type of place that a couple of surfers opened in 2004 as a sandwich shop. Following a $2.5 million renovation in 2008, the restaurant emerged as a top option with "Fresh From Florida" unpretentious offerings of local seafood, open-air dining and live music from the likes of reggae legend Pato Banton. Good fun.
Entertainment: Local live music at area restaurants, area food and wine festivals and a smattering of top artists who come through Palm Beach make this a vibrant area, even if it doesn't have the draw of Miami or Orlando in terms of consistent big-name headliners.
Shopping: There are plenty of ways to spend money in the area; the fastest lie to the south in Palm Beach, where the world's biggest brands maintain a strong presence.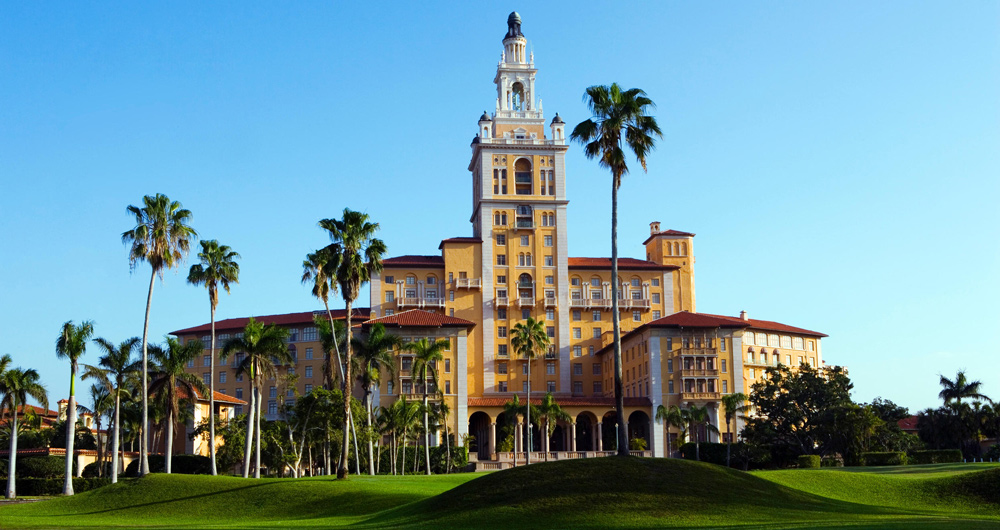 South
MIAMI
TV shows, movies, countless songs and a billion or so postcards over the years still don't quite do justice to the southernmost major metropolitan city in the mainland U.S. Those who love Miami love it dearly; those who don't know what to think are often overwhelmed by the energy, the traffic, the somewhat convoluted road system and the foreign-ness of the city, which bridges the cultural divide between Latin America and the United States. Parts of Miami resemble a city you might find in Central or South America, with vibrant, beautiful locals chatting in Spanish soothed by soft Cuban or Puerto Rican accents over strong coffee and Caribbean street food. Other parts alternately resemble Beverly Hills, Wall Street, parts of Europe and even historic, small Florida towns. International, alive and beautiful, Miami is one of America's cultural treasures and contributes as much to our country's overall personality as New York City and Los Angeles.
Golf: Seemingly endless opportunities abound here, most of them well-known: The Blue Monster at Trump National at The Doral Resort and Spa is set to re-open in December as, essentially, a completely new course and venue trumphotelcollection.com. The Donald Ross design at the Biltmore Hotel Golf & Spa in Coral Gables has been charming celebs since 1925 biltmorehotel.com. And the Fairmont Turnberry Isle Resort & Club is benefitting from a $150 million renovation fairmont.com/turnberryisle.com. These are only three of many, many area courses.
Dining: Where do we begin? Pick up fried plantains, sushi, burgers or anything else you want along the pedestrian mall on Lincoln Road lincolnroadmall.com; spend your money in Hakkasan at the South Beach Fontainebleu Resort hakkasan.com; explore modern Spanish cuisine at The Bazaar by José Andrés thebazaar.com; or dive into new Cuban at De Rodriguez Cuba drodriguezcuba.com. We could eat three meals a day in Miami for the rest of our lives and there'd still be more fantastic options to try—this city is a feast.
Entertainment: Too much to itemize. A-list entertainers from all over the world regularly stop by, and there are a million local clubs featuring every type of music, theater and dance you could ever hope to see.
Shopping: The shopping in Miami is on par with any great city in the world.
Gulf Coast
FT. MYERS
Florida's Gulf Coast showcases broad beaches with powdered-sugar sand, lazy palms blowing in soft breezes and a relaxed lifestyle that harkens to a slower-paced world. Gulf Coast residents get the beautiful sunsets while East Coasters get the sunrise, perhaps that's why people on the Gulf usually stop to smell the gardenias while their fellow Floridians to the East wake up early to go surfing and running. Accordingly, the Gulf waters are usually warm and calm in contrast to the chilly, choppy Atlantic. Ft. Myers has recently been establishing itself as a move-to destination. Always popular, the city has worked hard to reinvigorate its historic district, harbor and beach areas. The city likes its history and showcases it in a host of museums and a well-preserved part of town that contains the former estates of Thomas Edison and Henry Ford. The fishing and beachcombing opportunities on nearby Sanibel Island are mouth-watering, while fans of the Boston Red Sox will enjoy watching them train each spring at the local Lee County Sports Complex. Think laid-back lifestyle with a bit of modern-vintage flair.
Golf: The near century-old Donald Ross-designed Ft. Myers Country Club is a standout, as are offerings from Arnold Palmer (Wildcat Run), Tom Fazio (Gateway Golf and Country Club), Jack Nicklaus (Old Corkscrew), Raymond Floyd (Raptor Bay) and others. There's enough golf here to keep you near home for a long, long time.
Dining: You're near the beach, so seafood is the obvious choice. Blue Pointe Oyster Bar & Seafood Grill does it well mainstreetventuresinc.com. We'd opt for the fresh-caught Black Grouper or Yellowfin Tuna. If you feel like stepping it up a bit, head for great fusion at Il Cielo on Sanibel Island ilcielosanibel.com for Wagyu Beef Sliders, Lobster Ravioli with Oven-dried Tomato Sage Butter or Furikake Seared Tuna.
Entertainment: Big acts from Miami and Orlando trek here on occasion, but mostly you'll find local theater and music.
Shopping: Like Palm Beach, the big brands are well represented. Like Orlando, they also have quite a few outlets in town. Ft. Myers is also a great place to find antiques.