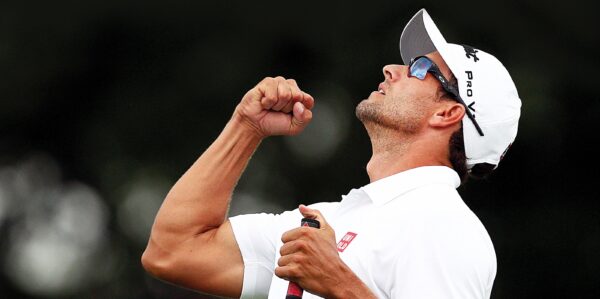 Reaching Number One: Adam Scott
Adam Scott reached a world ranking of No.1 for the first time in May, 2014, and did his best to stick to instructions from Greg Norman to "run with it." Scott spoke exclusively to Robin Barwick at the time
Being ranked number one in the Official World Golf Ranking comes with increasing kudos, as the heritage of the World Ranking slowly evolves. When Bernhard Langer, Seve Ballesteros and Fred Couples were growing up, the World Ranking did not exist and they dreamt of winning majors. Langer became the first official world number one in 1986, and ever since then, young golfers have grown up with their eyes on both the majors and the number one ranking.
The number one ranking does not match the glory or stature of a major triumph, but its significance among the laurels of golfing achievement grows.
When Adam Scott, now aged 34, was a golfing protégé growing up on Australia's Gold Coast in the 1990s, his childhood hero Greg Norman was number one for most of that era.
"Greg was my idol and everything he did was what I wanted to do," recalls Scott, who has enjoyed unstinting support from Norman as Scott's own professional career has flourished. "I wanted to win tournaments and major championships. I wanted to be like him, play like him and be number one like him.
"When I got to number one I spoke to my Dad, and he said it was 20 years ago that I told him I was going to be the number one player in the world, back when I was 13.
I don't remember that, but I must have had some confidence going at the time!"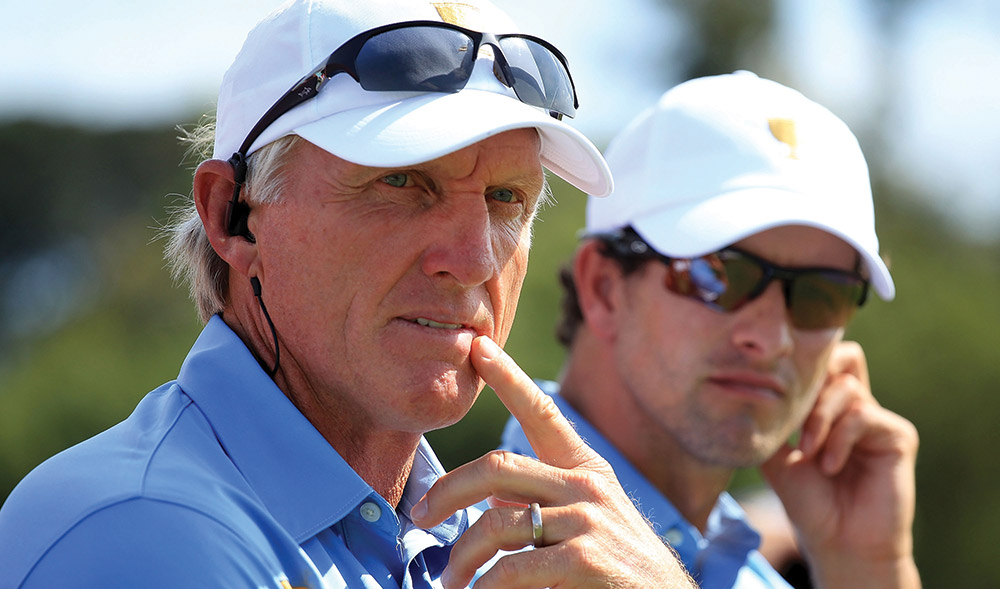 Other than from his dad Phil, himself a PGA professional, one of the first messages of congratulation Scott received on reaching number one was from Norman, who has twice captained Scott in the International team for the Presidents Cup, in 2009 and 2011.
"Greg encouraged me to take that position and run with it," says Scott, "a lot like he did. Greg said, 'To reach number one is a huge accomplishment, now stay there for the next 10 years!' I took it one week at a time.
"I try to downplay most things, but having reached number one, I definitely did not want to give it up after just one week. It took a few years of hard work to reach that position, and giving it up after one week would not satisfy me. I only had that feeling once the number one ranking had arrived. The workload to stay at number one might be even more than the workload that got me there in the first place."
Scott's arrival at the top of the world game—ousting the injured Tiger Woods—was confirmed on May 19, 2014, and after popping open a bottle of Dom Perignon with friends to celebrate at home in the Bahamas, the 2013 Masters champion hot-footed to Colonial CC in Texas for the Crowne Plaza Invitational to make sure his tenure as number one did last more than that one week, with Sweden's Henrik Stenson and 2014 Masters champ Bubba Watson in close contention for the coveted top spot.
After a scrappy opening round of 71, one over par, Scott clicked into gear with immaculate rounds of 68-66-66, before defeating Jason Dufner with a birdie at the third hole of a sudden-death play-off. More than a tour win, that victory provided undisputable validation, along with a bit of breathing room at the top of the world.
"Reaching number one in the world was a pretty incredible feeling"
"Reaching number one in the world was a pretty incredible feeling," adds Scott, "and then to win that week was just so special. That was a week I will never forget.
"Then I tried to embrace it, and tried to enjoy being world number one. I didn't know how long it would last and so you need to enjoy it while you are there. My performances over the previous two years, which got me to number one, only bring good memories and good feelings."
The reign would last 11 weeks, until Rory McIlroy played the best month's golf of his life to win the [British] Open, WGC Bridgestone Invitational and PGA Championship in the space of just four weeks last summer.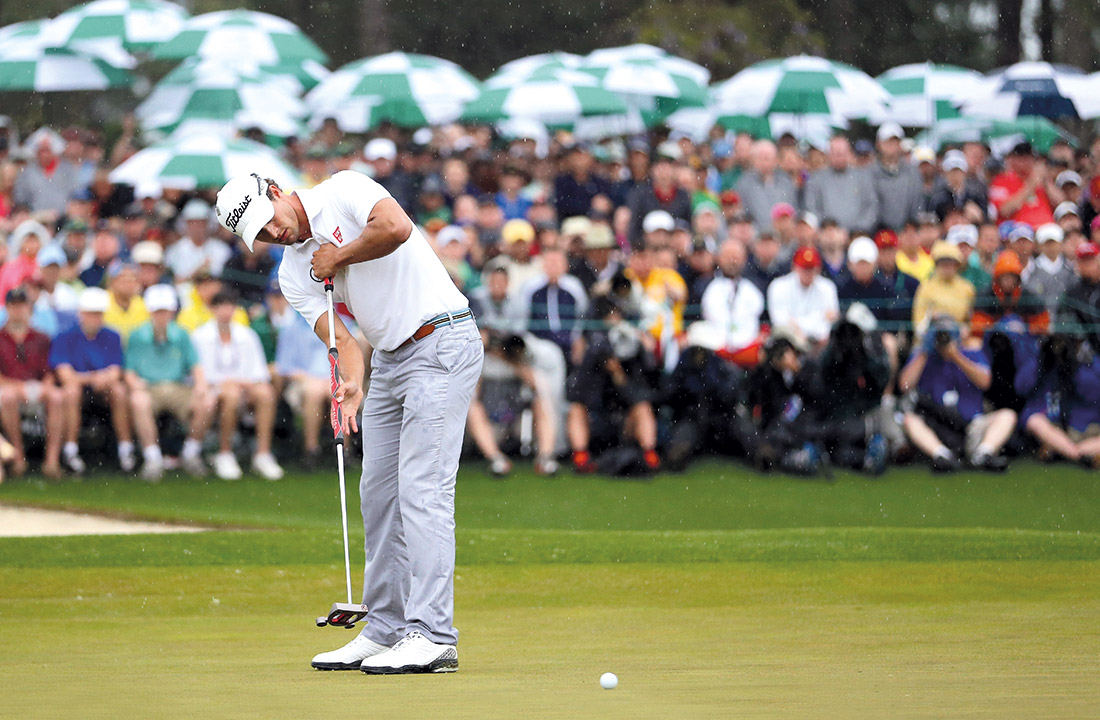 A spring to remember
Victory at Colonial capped a hectic and unforgettable spring for Scott. Within the space of six weeks he returned to Augusta in April for the Masters as defending champion, got married in secret the week after, was then crowned world number one and capped it all by winning at Colonial.
It is not easy to concentrate on your game when you are defending champion at the Masters. The defending champ takes on the role of a club ambassador, having to fit in extra media demands, hosting the famous Tuesday night Champions' Dinner, and staying at the club until the Sunday evening no matter what, to present the Green Jacket to the new champion. Measured and thorough, Scott enlisted the help of a professional chef to create the menu for the Champions' Dinner. In an upgrade from the grilled chicken, mashed potato and macaroni cheese served by Bubba Watson in 2013, Scott served artichoke & arugula salad with grilled calamari to start, followed by Australian Wagyu New York strip with Moreton Bay bugs (similar to shrimp), and then to finish, strawberry & passion fruit Pavlova (his mother's recipe). The wine was Penfolds 2009 Chardonnay and Penfolds Grange 2005 Shiraz, from South Australia—wines which are not stocked in your typical supermarket.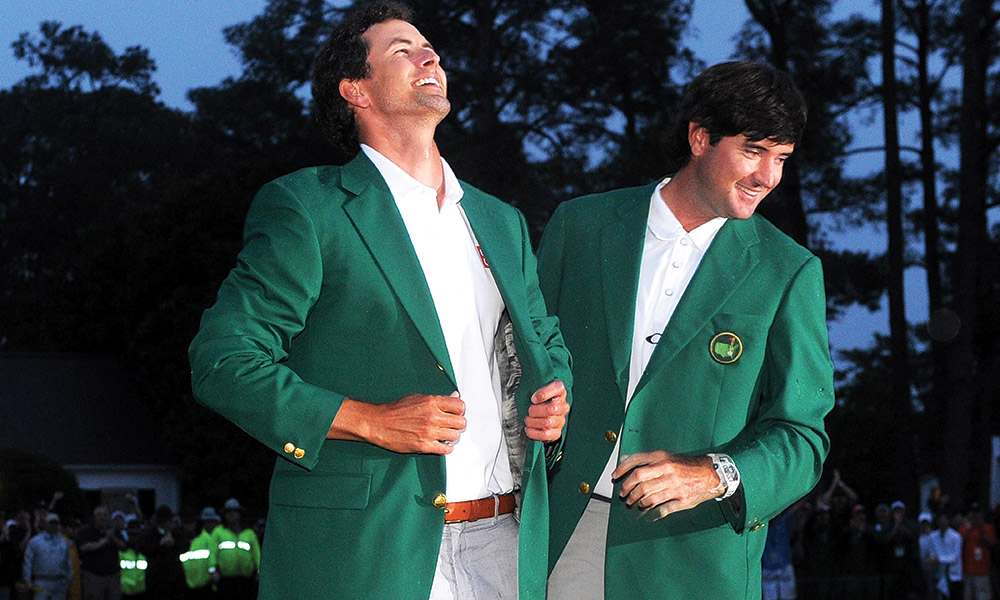 "I was a little nervous before the Champions' Dinner," admits Scott. "I had no idea what to expect. A couple of the guys were winding me up, asking whether I had picked my song. I was like, 'Really?' I may be a little gullible, but that was pretty funny."
The acid test with the Champions' Dinner is to see how many guests go with the menu, and how many quietly opt for a 'stick-with-what-you-know' steak. As a proud Aussie and the first Australian Masters champion, Scott was keen that the illustrious fellow Masters champions would not opt out of his offering.
"I think my menu was received very well," he says. "No one to my knowledge ordered anything other than what was on the menu, so I think I passed, and I made sure to serve good wine so the wine drinkers couldn't have a go at me about that! The Champions' Dinner is just a buzz."
As defending champion and dinner host, Scott was also required to speak.
"It's quite hard to address a room with all the guys that you've looked up to forever."
"Speaking was emotional, so I kept it short and sincere," he recounts. "I said how grateful I am to Augusta National for everything I've been able to experience in the last 12 months, and how everyone in that room has been an inspiration to me. I probably rambled a little more than that, but that was about it. It's quite hard to address a room with all the guys that you've looked up to forever."
All the while, in the background Scott was secretly planning his wedding to Marie Kojzar, which took place at a small ceremony at Scott's home on New Providence Island in the Bahamas on April 17, just four days after the Masters. To ensure privacy, the small number of family and friends invited to the wedding thought they were going to a post-Masters party, and only the couple's parents knew about the wedding in advance. In keeping with Scott's low-key approach, the newly weds did not even go on honeymoon.
"We figured we didn't need a honeymoon," says Scott. "Our life is pretty much like a honeymoon all the time so there are no plans for that."
The major mission
Scott grew up dreaming of winning the Open Championship just like Norman, of winning the Masters that cruelly eluded his idol, and of being world number one, just like the "Great White Shark." So far, Scott has achieved two out of those three ambitions, and those who watched the 2012 Open at Royal Lytham will know that he should have achieved all three.
Norman has gone so far as to claim Scott could win more majors than any Australian in the history of the game, which would mean surpassing Peter Thomson's haul of five—all of which were Open Championships.
"Greg strongly believes in my ability and has always pushed me to achieve," says Scott. "Slowly but surely, maybe I'm getting there, but I don't know how you put a number on how many majors you want to win. To win five would be a dream career. Not many guys have been able to do that lately. Other than Tiger, Nick Faldo is the only guy to have more than five since 1980. It's a good goal to have. If I keep focused, I believe I've got more majors in me. How many more, I don't know."