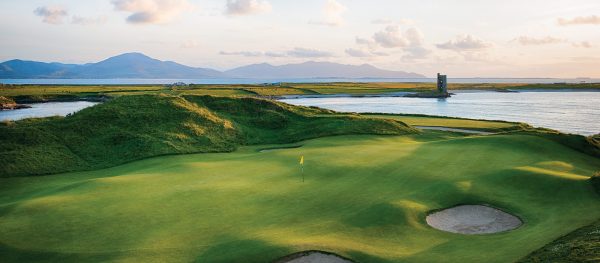 British exports to the United States have a long and colorful heritage, from Aston Martin and The Beatles, to Sherlock Holmes and breakfast tea, but Tony Dear—himself a British export to the U.S., resident in Washington state—asks whether links golf courses, with their fast running fairways, odd bounces and treacherous pot bunkers, have made a genuine transition across the Atlantic.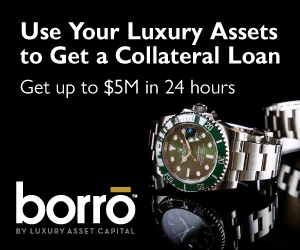 Five years ago, acclaimed U.S. golf writer George Peper teamed with his equally admired British counterpart Malcolm Campbell to create a book so well researched, so lovingly produced, and just so…good, it became an instant classic. True Links manifested the pair's devotion to the game and the courses where golf not only got its start but also provided, they said, the best combination of beauty, challenge, variety and entertainment.
Somewhat controversially, Peper and Campbell identified only 246 courses from around the world—the vast majority of them in the British Isles—which they considered authentic, honest-to-goodness links, while omitting a number of layouts people regarded as the genuine article but which somehow failed to satisfy one minor tenet or another.
Because it was on Great Britain's sandy coastlines that the game as we know it was first played, and because the [British] Open Championship—the game's oldest and most prestigious tournament (to every non-American golfer at least)—is contested annually on a coastal links course, the word "links" is afforded great significance. And it is certainly a beautiful feather in a club's cap to own a course designated as such.
But what exactly are links courses, and how do they differ from over 30,000 other courses around the world that had no place on Peper and Campbell's list?
The first chapter in their book—"Rare, Rugged and Real"—gives a very good indication of what the authors think constitutes the real thing. The point is made that, unlike virtually every course built in the last half-century or more, links courses simply evolved. They were not planned, designed and constructed with fleets of bulldozers and teams of laborers, they emerged from the land; land that has been altered only minimally over time by greenkeepers maintaining turf at certain heights, cutting holes in the greens, and building sod-wall or revetted bunkers—a practice that is thought to have originated in St Andrews around the turn of the last century. The famous links at Tralee in southwest Ireland, shaped by Arnold Palmer, might be a modern exception to this rule, so naturally has the land lent itself to golf. "I may have designed the first nine," said Palmer of his first European design, which opened in 1984, "but surely God designed the back nine."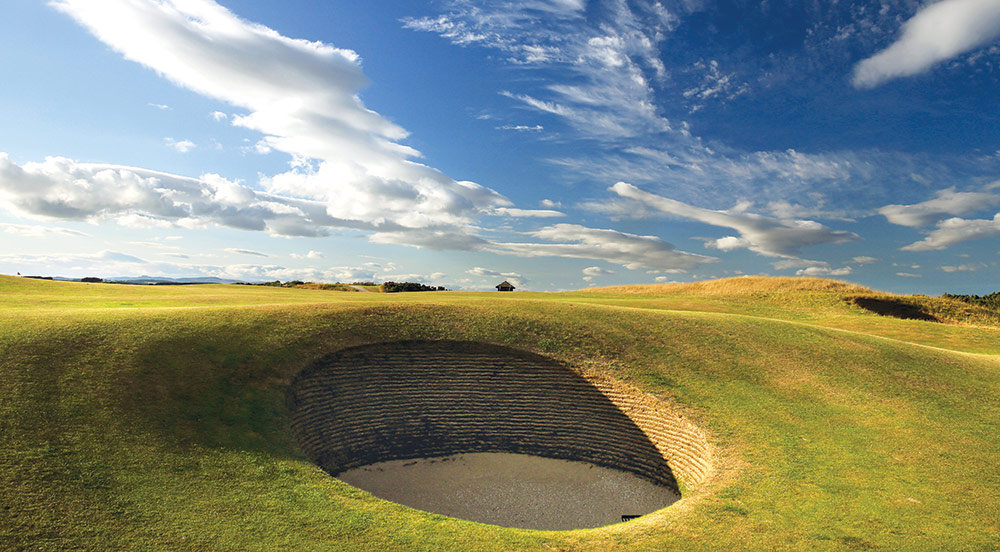 Back to basics
St Andrews is known as the Home of Golf of course, and the Old Course deemed the original links, though the game could well have been played on dunes elsewhere in Scotland before golfers first appeared on the sandy common ground of the Old Course. Records indicate golfers might actually have first begun swatting projectiles with sticks in Perth before migrating to Stirling, Montrose, Carnoustie and St Andrews. And it is actually the nine holes at Musselburgh Links, seven miles east of Edinburgh, that the Guinness Book of World Records notes as the oldest continuously used golf course in the world.
But let's assume for the moment the Old Course at St Andrews (it became the Old Course in 1895 when the town added a second layout; the New Course) is our prototype. How and why is it so very different from a typical Florida course, for instance? Why is it so special?
Where to begin…
Apart from the fact the Old Course is several hundred years old, its situation on a stretch of coastal sand dunes by the North Sea means the sounds and smells you take in during a round contrast utterly with those in Florida. Then there is the ground beneath your feet. It is firm and drains extraordinarily well because it is sand-based. Golf courses away from the coast cannot usually match coastal courses for drainage, particularly those that sit on heavy, impervious clay soils. Golf on heavy soils, softer ground and broad-bladed turf provides a markedly different playing experience than compressing the ball off more compact, less-yielding links ground.
Golf course designer David McLay Kidd, from Scotland, says the two most important characteristics of a links are sand and cool-season grasses. "It has to lie on sand first and foremost, but the grass is also very important," he says. "It has to be cool-season turf, specifically fescue mixed perhaps with a little bent, and beachgrass or marram-grass that survives in cool climates."
Fescue blades are finer than those of warm-season grasses like Bermuda, it grows relatively slowly and tends to retain its color for longer. It is very hardy, more resistant to disease, and doesn't go dormant in autumn and winter. It therefore requires far less attention from greenkeepers than turf found on inland, parkland-style courses.
What else? There is usually a total absence of trees on a links, few if any water hazards save for the occasional burn or stream and, because the course is so exposed to breezes blowing in off the sea, the wind is a near constant factor with which players must contend.
Dogged purists insist links courses must be located not only on the coast but also at the mouth of a river estuary— the Old Course sits close to the where the River Eden meets the North Sea. Some will also tell you the routing must comprise nine holes running in the same direction away from the clubhouse, and nine running back towards it—yes, just like the Old Course. And there should also be plenty of bunkers—the Old Course has nearly 120.
Those who allow for a little wiggle room, however, will point to the many exceptions to these rules. There are plenty of trees at Carnoustie. Muirfield has nine holes moving around the course's perimeter and then nine circling in the opposite direction, inside the outer loop. Royal Lytham and St Anne's, venue for 11 Open Championships, may have over 200 bunkers, no water hazards and very few trees, and its 9th green may be the furthest point on the course from the clubhouse, but it lies in suburban Fairhaven, seven miles south of Blackpool and half a mile from the coast.
They may not agree on one or two finer points, but famed course designer Robert Trent Jones does share many of the criteria as Kidd for what constitutes an authentic links. Like Kidd, Jones believes links courses are really defined by what happens to the ball after it pitches. "Appearance is certainly important," starts Jones. "But I think the real key to links courses is how they play. You have to take the ground and natural topography into account far more than you would at a suburban course."
Links courses, Jones continues, are laid out on the "link" between sea and arable land, on terrain that has no agricultural use apart from grazing sheep. The land is an integral part of the game influencing the outcome of nearly every shot, and you learn quickly never to say "good shot" until the ball has come to a complete stop. "You need to use the ground creatively in order to move the ball toward the hole," he adds.
If Jones and Kidd agree the type of shots is the defining criterion, then perhaps they regard certain inland courses built on sand as genuine links. How about courses in the Nebraska sand hills, for example, or those set on similarly sandy ground at the Pinehurst Resort in North Carolina? What about the incredible collection of courses on Australia's Melbourne sandbelt, or those located on wonderfully fast-draining sand to the west of London?
"Well, the turf is short and the ground firm," says Kidd. "They are natural like the Scottish links, and the type of shots you play aren't dissimilar to those you might play at the Old Course. But I would stop short of classifying them as 'inland links' because some have a lot of trees so aren't as exposed to the wind. The courses in Melbourne and outside London have a lot of trees and are really heathland courses. But Gamble Sands in Washington, which I designed, and Sand Hills in Nebraska which was the work of Ben Crenshaw and Bill Coore, have no trees and are very similar to an actual links. You may not smell the seaweed or salt, but the golf is virtually the same."
George Waters, a shaper and architect who has worked for Crenshaw and Coore as well as architects Tom Doak and Kyle Phillips, likewise believes that while the inland sand courses come very close to replicating real links conditions, only courses set on coastal sand dunes are the real deal. "A course can never truly be a links without the coastal connection," he says. "This is a matter of landscape, playing characteristics, and sense of place. The sand characteristics, plant species, wind patterns, and cultural history associated with coastal dunes are the fabric of links golf."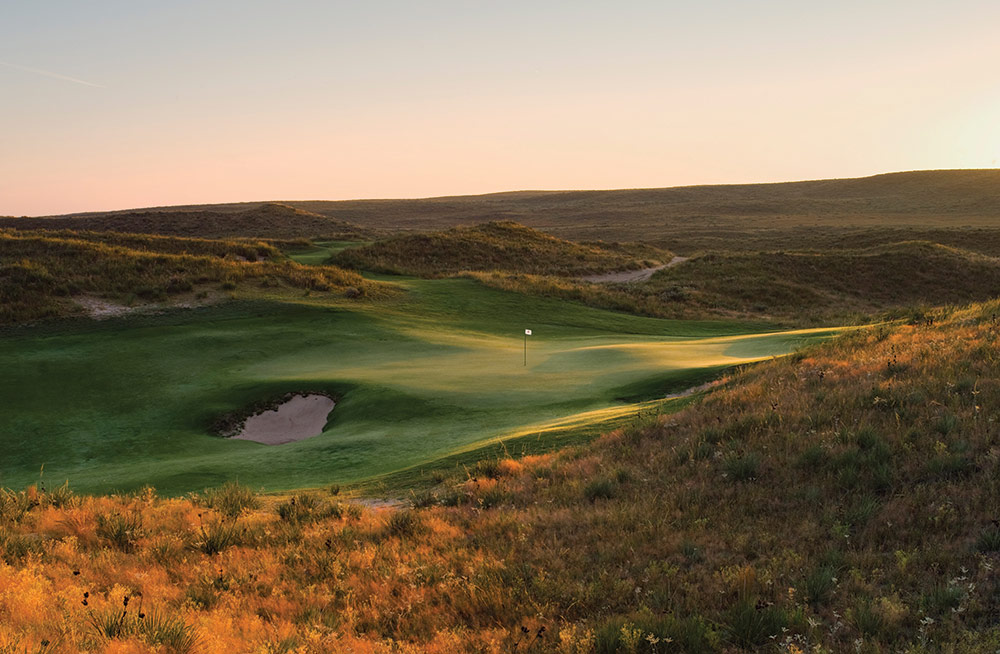 Doak himself has designed a couple of courses in the sand hills of Nebraska and neighbouring Colorado; the much admired Dismal River (Red) in Nebraska, and the superlative Ballyneal in Colorado, 170 miles northeast of Denver, which features everything you would expect of a links, other than a connection to the sea. Does he think either of them could be deemed links?
"I'm careful not to use the term when talking about either," he says. "The Thought Police appear to enforce the strictest possible definition, and there is no use arguing with them. But I certainly do think Ballyneal, especially, plays like a true links as it was designed around the wind and the ball's bounce on a firm playing surface. The shots you play there actually remind me of those you play at Machrihanish."
Taking the U.S. Open to the links?
There are American seaside courses that many assume are links, but which do not meet all links requirements. Like Pebble Beach; it's often labelled a links and has the word "Links" in its official name: "Pebble Beach Golf Links."
"Pebble is not a links," argues Jones. "It's a headland course where the ground conditions are actually very different to those you find on the Scottish coast." Same for the Pete Dye-designed Whistling Straits in Wisconsin, which Kidd describes as "a little contrived." And the Ocean Course at Kiawah Island, though situated right on the Atlantic Ocean, is likewise not a links because of its warm-season turf. The Arnold Palmer Signature Course at Palmilla Beach Resort at Port Aransas, Texas is another stunning golf landscape that shares many links characteristics.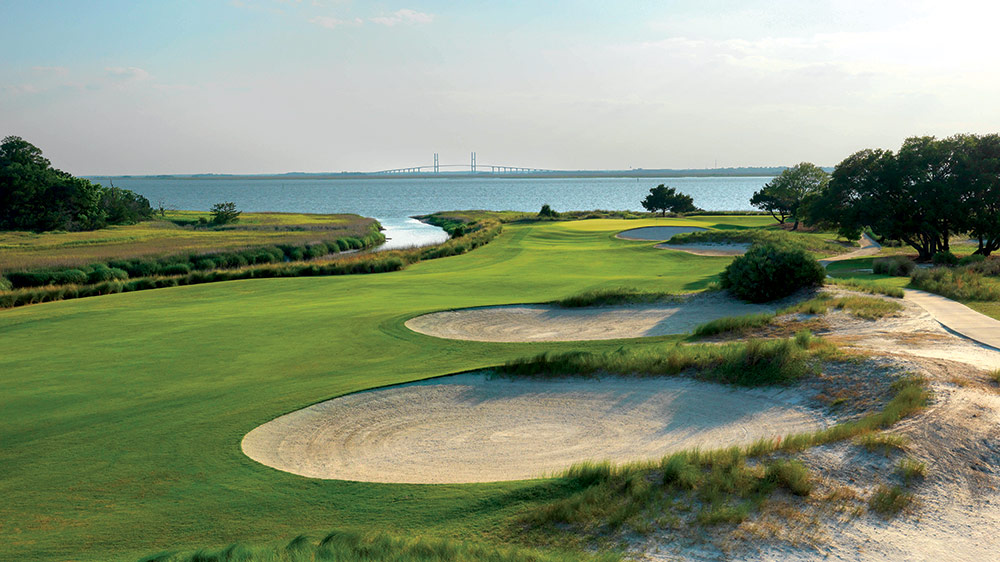 The PGA Tour does not visit a links course in the strictest sense, although the RBC Heritage at Harbour Town Golf Links at Hilton Head, South Carolina comes close, as does The McGladrey Classic at the Sea Island Resort on the southern tip of St. Simon's Island, among the idyllic Golden Isles of Georgia. This is the home club of reappointed U.S. Ryder Cup captain Davis Love III, and the tournament is played on Sea Island's celebrated Seaside Course, with the Atlantic surf serving as stunning backdrop. Designed by links legend Harry Colt and Charles Alison in 1929, and updated by Tom Fazio in 1999, the challenging Seaside Course is defined by tidal creeks, sand dunes and salt marshes.
Chambers Bay on the Washington coast, 40 miles south of Seattle and designed by Jones, is an interesting case, the inclusion of which in the links stable will be strongly debated when it hosts the U.S. Open in June. Peper and Campbell chose not to include it in True Links (they listed only four authentic links in the USA: Bandon Dunes, Pacific Dunes, Old Macdonald in Oregon, and Highland Links in Massachusetts) because it's located on Puget Sound rather than the sea or ocean, and because the course was manufactured rather than "discovered."
Jones disagrees. "It definitely has all the natural characteristics of the ancient links," he says. "Yes we crafted it, and didn't use the land as we found it, but that wasn't possible as we built the course on what had been a sand and gravel mine for over a century."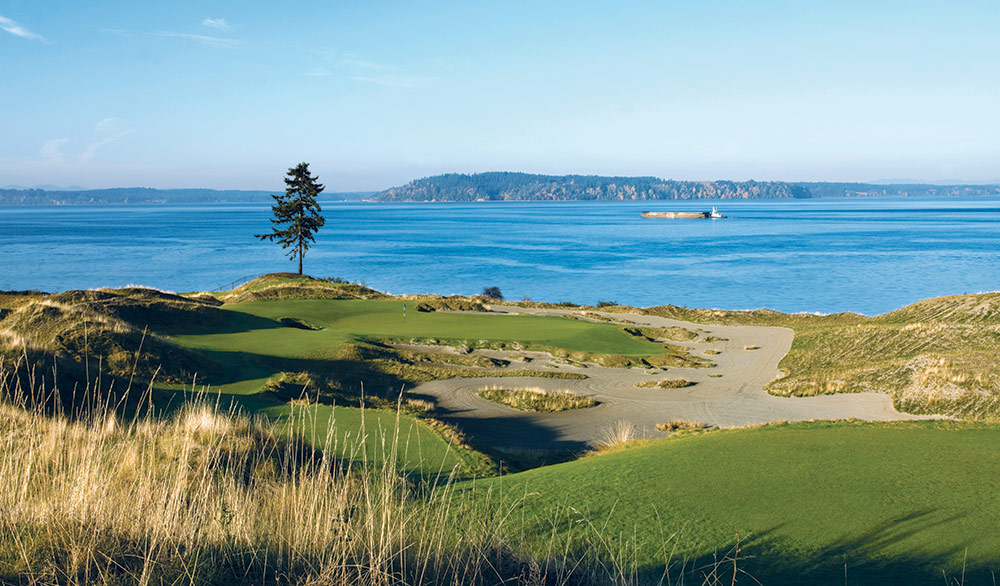 One wonders what the typical American golfer, more accustomed to courses with artificial hazards and man-made features, will make of Chambers Bay when it is on TV in June. Many will consider it a little goofy, says Peper, but the dedicated golfer who appreciates the game's history—and what Jones calls "great creativity and unusual shot-making"—will be absorbed.
"Americans seem to prefer parkland-style courses," Jones adds. "But I firmly believe Chambers will be the paradigm shift I've been working toward since designing The Links at Spanish Bay in California, 25 years ago. Natural, firm courses that don't require a lot of maintenance or water are where golf started, and, hopefully, it's where we're headed."