Desert Days: golf in Arizona
When conversation turns to the question of where the world's leading golf destination might be located, several hats large and small are invariably thrown into the ring. Of them all, Paul Trow is convinced Arizona has inched ahead of the field
The Valley of the Sun, home to the City of Phoenix, offers 330-plus days of sunshine each year, just 7.7 inches of annual rainfall, way below-par humidity and average daily temperatures of 70 degrees from September to May. From June through August, the dial exceeds the three-digit barrier, hotel charges plummet and re-seeding gets underway, so golf is not advisable during that window.
But for the other nine months, nothing could be more golf-friendly and, not surprisingly, the number of courses in the valley now exceeds 200. Complementing this temperate, sunny climate are glorious mountain backdrops that are visible from almost everywhere.
Scottsdale, to the east of Phoenix, half an hour's drive from Sky Harbor International Airport, has more than 50 courses alone, mostly aimed at winter visitors and snow birds. Carved into the southern outskirts of the Sonoran Desert, Scottsdale's green fairways stretch seductively across a starkly beautiful landscape brimming with elaborate rock formations, cavernous arroyos and towering Saguaro cacti. It's a sweeping, sun-drenched setting populated with coyotes, roadrunners, rattlesnakes and the occasional beer cart. No wonder more than 12 million rounds of golf are played here each year.
Many of the courses elsewhere in the valley are private and devoted to the ever-expanding cadre of resident golfers, notably the four Jack Nicklaus-designed layouts at Desert Mountain just north of the Valley and the exclusive 36-hole community at near neighbors Whisper Rock. With the local population doubling to 4.3 million in less than 25 years and people continuing to move into the area to work or retire, the growth of members' courses has been a necessity.
Yet it's arguable the valley is still under-developed.
A 10-mile drive in almost any direction will reveal shopping malls, apartments, offices, gated communities and houses in random clusters. But between those pockets of habitation lie large tracts of sand, dust and wasteland. Lizard territory for the moment, but the tell-tale real estate signs denote that every inch of land is already spoken for.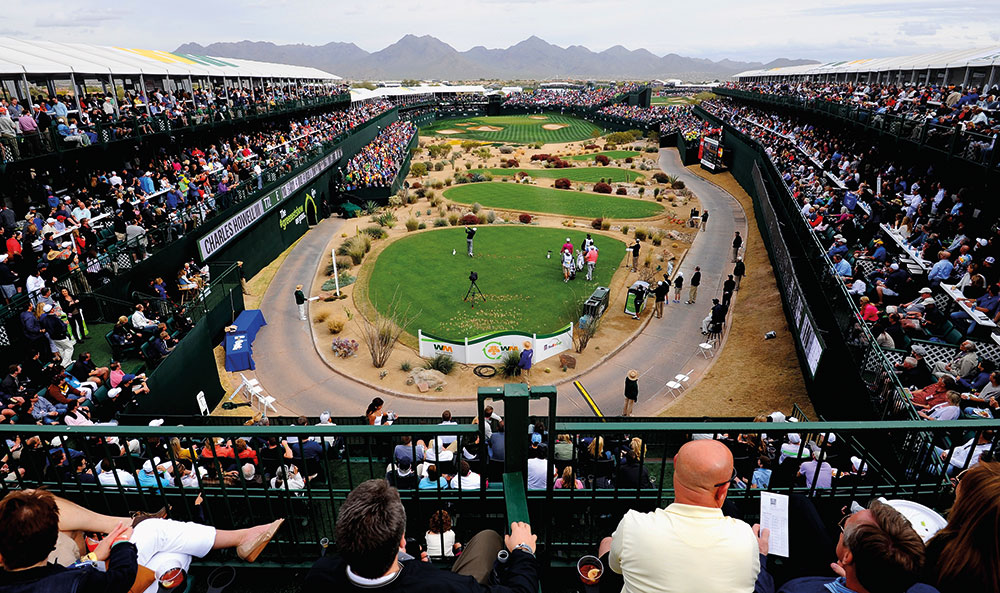 Accommodating vast influxes of people has never been rocket science for the valley—well over 550,000, at least half of whom are visitors, routinely attend the region's flagship PGA Tour event—the Waste Management Phoenix Open—over the Stadium Course at TPC Scottsdale during the last week of January. The migration that weekend in 2015 will be even greater than normal due to the landing of Super Bowl XLIX in town, but with the country's second greatest concentration of hotel bedrooms on offer after Las Vegas, no overspill problems are anticipated.
Original co-designer Tom Weiskopf (with Jay Morrish) has overseen an extensive renovation to toughen up the Stadium Course. Just completed, the project involved relocating four greens, reshaping all the tee and bunker complexes, replacing cart paths and re-landscaping the desert areas. He's made no changes, though, to the iconic par-3 16th, scene of a Tiger Woods hole-in-one in 1997 that triggered much alcohol-fueled revelry. Each year, the gallery around the hole seems to grow bigger and noisier, and many of them carry on into the evening in the Birds Nest nightclub over the road from the clubhouse once play has concluded.
But there's more to TPC Scottsdale than the Stadium Course. The equally scenic Champions Course is another gem, and a stiff enough test to host the Champions Tour Q-School every other year.
Weiskopf's influence is evident throughout the valley, most notably at the Four Seasons resort at Troon North, named after the scene of his 1973 [British] Open Championship triumph and again designed with Morrish. The Monument and Pinnacle courses, dating back to the 1990s, are carved out of Saguaro forests and surrounded by an extensive complex of properties. In quite a revolutionary move seven years ago, Weiskopf oversaw the rerouting of both courses with a few holes swapping from one layout to the other.
Morrish was the brains behind the two outstanding courses at Waldorf Astoria's Boulders Resort in Carefree, a few miles north of Scottsdale. No one knows why boulders weighing hundreds of tons and smoothed almost to pumice by eons of desert mountain winds remain perched precariously on top of each other. Certainly no human hand could have created such perverse geometry. Guests do not stay in a central hotel complex. Instead they are dotted about the estate in camouflaged, boulder-shaped, bombardment-proof casitas—Apache-style homes which resemble igloos for squatness and efficiency yet interfere not at all with the rugged beauty of the cacti, Mesquite and Palo Verde trees, and rocky outcrops.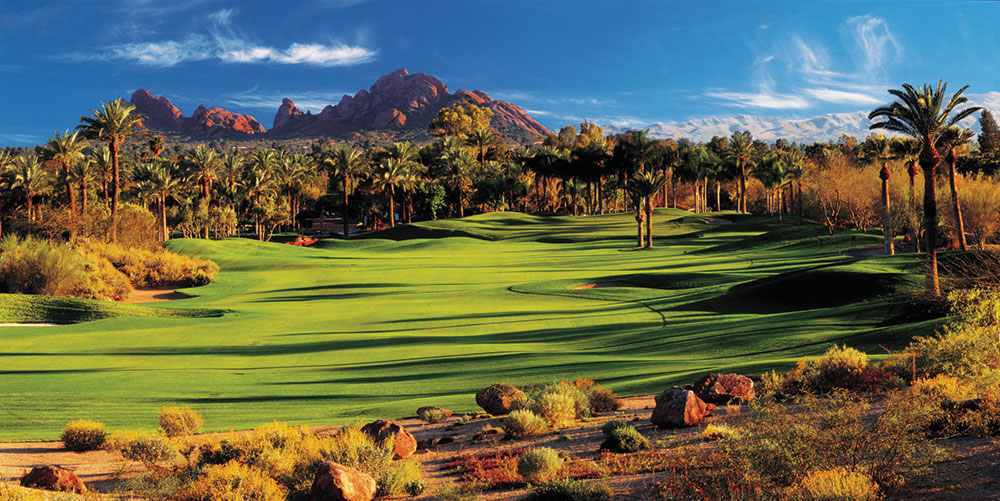 On my recent visit, I stayed at two 5-star hotels—the Fairmont Scottsdale Princess, which adjoins the Stadium Course, and The Phoenician, an older property but still the acme of style and luxury.
One of the highlights of the Princess is its Tequila Bar at La Hacienda which offers more than 200 labels with free tastings at weekends. The hotel also has a Posh Paws pet program at $25 a night to provide pampering for guests' dogs, or even cats.
Likewise, the Phoenician offers many treats beyond the norm—a $25 million dollar art collection, two-acre Cactus Garden, 11 majestic Steinway pianos and personal butler service.
Homer Flint and Ted Robinson were responsible for the design (and redesign) of The Phoenician's three 9-hole loops—Canyon, Oasis and Desert—at the base of the Camelback Mountain which dominates the skyline in western Scottsdale.
The Camelback Inn, which ironically is closer to the base of Mummy Mountain, opened in 1936 and has been managed by JW Marriott since 1967. The first of its two 18-hole courses, the Padre, opened in 1971 and was followed by the longer Indian Bend in 1978.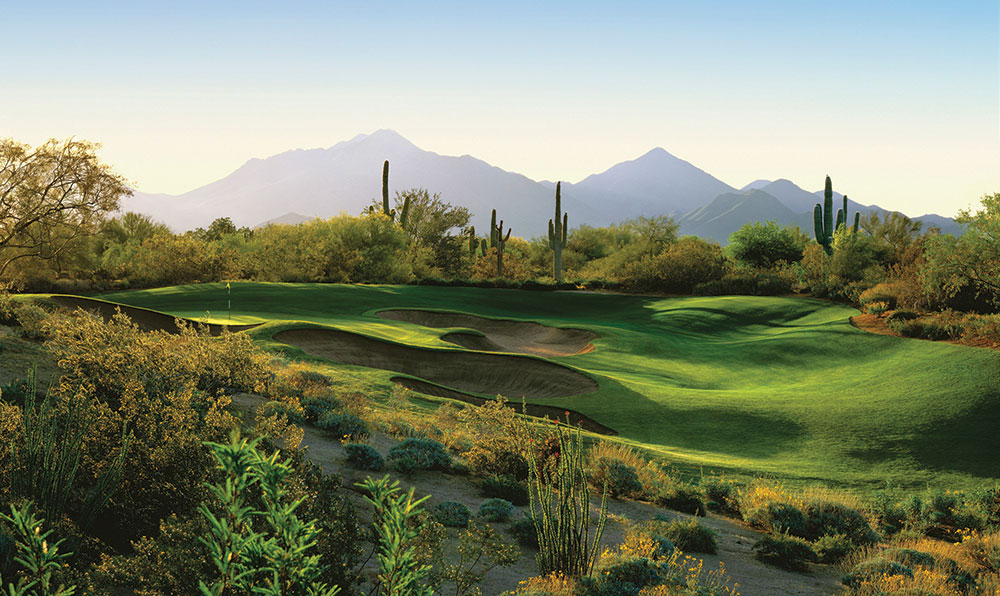 One of Scottsdale's most stylish golf clubs is Grayhawk, a few miles north of the center of Scottsdale. In their relatively short lifespan (20 years), the Talon and Raptor courses (designed respectively by David Graham and by Tom Fazio) have hosted between them a variety of high-profile tournaments, including the Andersen Consulting World Championship of Golf, Williams World Challenge hosted by Tiger Woods, Tommy Bahama Challenge and Frys.com Open.
The Rees Jones-designed Legend Trail opened around the same time as Grayhawk, as did the 27-hole Kierland Golf Club, created by Scott Miller, a former Nicklaus staff designer. Kierland, the focal point of the Westin Kierland Resort & Spa, offers three picturesque but quite different 9-hole loops.
Paying homage to the Scottish immigrants who helped build Arizona's railroads, mines and towns more than a century ago, Westin Kierland offers Scottish cuisine, and the resort's own micro-brewed beer, "Piper's Pale Ale," in the Brittlebush Bar & Grill, named after a Sonoran Desert plant that explodes with brilliant yellow springtime blooms. Also on offer in the clubhouse's Scotch Library are more than 100 single malts and 25 blends from Scotland's six whisky regions.
For golfers wishing to travel further afield, there are dozens of eligible courses over in Phoenix and beyond. Going a similar distance east, though, takes you into Fountain Hills, the setting for three popular clubs: Eagle Mountain, Sunridge Canyon and We-Ko-Pa.
Eagle Mountain, designed by Scott Miller, combines rolling hills, ridge lines, box canyons and lush valleys with breathtaking panoramic views while Sunridge Canyon, at the foot of an extensive hillside residential development, blends easily into the terrain with its elevated tees and secluded fairways.


The much newer We-Ko-Pa, a Radisson property, has two courses—the Cholla, another Scott Miller design, and the Saguaro, laid out by Ben Crenshaw and Bill Coore. Hand-stitched into the grounds of the Radisson Fort McDowell Resort & Casino, We-Ko-Pa offers a unique desert golf experience with no dwellings, roads or even out-of-bounds markers.
Crenshaw and Coore's first foray into course design in Scottsdale came in 1998 with the opening of the 36-hole Talking Stick hotel and casino facility within the Salt River Pima-Maricopa Indian Community. The two courses, the North and South, could not be more different in concept. The North is reminiscent of a Scottish links, treeless with gently rolling terrain, adjacent fairways and thick native grasses, while the South is a traditional American design featuring streams and ponds often framed by cottonwood and sycamore trees.
The final course I visited during my stay was McCormick Ranch, a 36-hole public facility just off the main drag. The Palm and Pine courses, laid out in 1971 by Desmond Muirhead, have all the accoutrements of modern American golf—doglegs shaped by palm trees, labyrinthine cart paths, a plethora of bunkers, an even greater abundance of water—and yet, unusually for Arizona, they are unmistakably parkland layouts.
McCormick Ranch, one of Scottsdale's older golf complexes, was initially in danger of being left behind by the well-funded desert layouts, but it has unquestionably established a niche catering for players who prefer a more traditional style of golf.
After a week, though, I felt I'd merely scratched the surface of golf in the valley. Unvisited but also on my bucket list in the Scottsdale area were Gainey Ranch, Tatum Ranch, Ocotillo, Rancho Mañana, Quintero, Desert Canyon, Longbow, McDowell Mountain and the recently opened Ken Kavanaugh-designed Tegavah. And I was keen to cast my eye over a couple of Phoenix layouts—Raven, a charming, friendly club with an excellent course I was told, and Wildfire, part of the JW Marriott Desert Ridge resort where the LPGA staged the JTBC Founders Cup in March—but it wasn't to be.
Seventeen years is a long time in golf and much has happened in the valley since my initial visit, but I saw enough to convince myself that, in General Douglas MacArthur's immortal words, "I shall return."