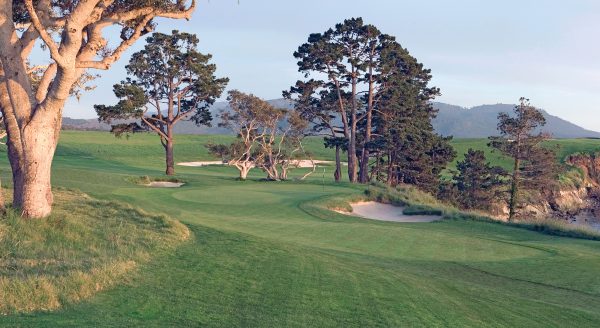 Gladiators' Paradise
Set on a coastline that's inspired generations of poets and painters; the product of an age that defined modern American elegance; built to push the best golfers of any period to their absolute limits. The iconic Pebble Beach Golf Links may be the most beautiful expression of the game anywhere. But don't let the aesthetics fool you: This place was made for competition.
Pebble Beach has compelled both artistry and cliché from all those who have chosen to write about her—and that includes every golf journalist since 1919. Whether we wax lyrical about the Monterey Pines or simply ponder in somber terms the cold waves and blustery winds along 17-Mile Drive, scribblers can only skirt the edge in describing what is, for many, the closest thing to perfection when it comes to golf. Stunning setting and masterful design combine to make Pebble Beach Golf Links and the other courses on the Monterey Peninsula a top stage for golf, and the dramas played out here have made this site a legend.
Legions of professionals and amateurs alike have tested their games here, reaping rewards or desperately failing, both usually in bold fashion. Remarkable U.S.
Opens, well-fought Pro-Ams and all manner of other tournaments at Pebble Beach have yielded some of the game's greatest and most infamous moments.
Here are just a few of them:
1950 BING CROSBY
The AT&T Pebble Beach National Pro-Am started life as a celebrity get-together hosted by Bing Crosby. Originally held at Rancho Santa Fe Country Club near San Diego and billed as "The $10,000 Invitational National ProAmateur Golf Championship," the tournament moved to Pebble Beach following the end of World War II.
Known colloquially as "The Crosby," the three-day event (there was no cut) offered a prize of $2,000 to the winner from an overall purse that was personally supplied by the singer/actor himself. In 1947, the first Crosby at Pebble Beach resulted in a tie for first, with George Fazio and Ed Furgol both shooting 213—but that was nothing compared to 1950. Less than a year after Ben Hogan's car accident, the tourney's defending champ was back in the field but out of contention after struggling with the fierce winds. At 6ft 2in, Dave Douglas (paired with Olympic swimmer and Tarzan actor Johnny Weissmuller) was struggling as well, but was getting lucky. Shots like a ridiculous par-5 at No.18—which saw his ball first arc toward the beach, then bounce off a rock and back into play—kept him in the running. Likewise, 1956 Masters champion Jack Burke Jr., had been looking poor until he managed an incredible five birdies on Monterey's back nine to put himself near the top of the board. Smiley Quick, a former combat Marine who played on the 1947 Walker Cup team, was there as well, much to the surprise of Sam Snead, who was that year's favorite to win. After three difficult days of play Snead was set to fulfill expectations but he missed putts on the last two greens to create one of the strangest finishes in golf history. The end result: A four-way tie for first, with Burke, Douglas, Quick and Snead all shooting 214 and earning $1,237.50 each.
1972 U.S. OPEN
A painful Arnold Palmer loss at Pebble Beach came at the 1972 U.S. Open—a tournament famous for one of the most incredible shots in golfing history. While Arnie was making almost his last serious tilt at the title, Jack Nicklaus was on fire. On the final day, Palmer effectively put himself out of contention by missing an 8ft putt at 14. Meanwhile, Nicklaus was battling to hold off defending champion Lee Trevino, who started the day just one shot adrift, and Australian Bruce Crampton, who was a further two shots back. At the iconic par-3 17th, with the wind blowing like crazy, Nicklaus audaciously asked his caddie for a 1-iron and smacked his ball into the teeth of the gale. It bounced a foot from the hole, hit the flagstick full-on, and came to rest just inches from the cup. He finished with a 72-hole total of 290 and the third of his four U.S. Open wins.
1982 U.S. OPEN
Ten years after making history with his 1-iron, Nicklaus was in contention again in the second U.S. Open to be played at Pebble Beach. But the game's leading player at the time had other ideas. Tom Watson shot a 72 on the first day of the tournament and was fortunate to get that as he needed to make three birdies in the final four holes. His second round was no better and he ended with another 72 that could easily have been a lot worse. The weekend, though, was a completely different story. Watson shot a 68 on Saturday, giving him a share of the lead going into Sunday. Nicklaus had been relatively quiet, suffering putter issues that left him 1-over after the first two holes of the final round. But birdies on holes 3 through 7 turned things around, and the fight was on.
Watson saved par at No.10 with a 25-foot putt that would have been better remembered had it not been for his unbelievable save at 15 from 40ft above the hole.
With Nicklaus in the clubhouse and confident following a 69, Watson choked off the tee at 17 and put his ball in the rough behind the green and above the hole.
Facing an impossibly tough shot, short-sided and from thick rough, and with his caddie incongruously urging him to get it close, Watson reportedly replied, "Get it close? Hell, I'm going to sink it." And so he did, with a chip that rattled into the flagstick before dropping for one of the greatest birdies of all time. Watson birdied 18 as well and took the title—his only U.S. Open victory—by two shots. He then went on to win the 1982 [British] Open Championship at Royal Troon as well, becoming one of only a select few golfers to win two professional majors in a single season.
1992 U.S. OPEN
As cruel as the weather at Pebble Beach can be, the course is not without a conscience. And in 1992 it showed its just side, yielding the 42-year-old Tom Kite his one and only major after numerous near misses. The tournament that saw Phil Mickelson's first start as a professional began with three days of calm conditions. But on the final day the wind attacked with a steady barrage of 40mph gusts from all directions. Only five players broke or matched par on Sunday, one of whom, Colin Montgomerie, had set a seemingly impregnable clubhouse target with a 70. Indisputably, Monty had produced one of the greatest U.S. Open rounds ever played, compiled at the height of the storm when no one else broke 75. However, despite being congratulated prematurely on his first major championship win on air by Nicklaus, the Scot was eventually eclipsed by Kite who came home with an equally sterling 72. Kite's career-defining shot came at the 105-yard 7th where he hit a 6-iron off the tee, desperately trying to keep the ball low. But his shot went long and left and landed in deep rough nearly 20 yards from the green. Steadying himself in the wind, Kite hit a wedge, arced the ball over a bunker and watched it hurtle across the green, hit the flagstick, and drop for birdie. From that point on, the course relented and the wind eased up, and ultimately the heretofore "best golfer never to win a major" was rewarded with the first and only 'big one' of his career. At least he won one, though. Montgomerie, who ended up third that year, never did get over the winning line in a major, despite five runners-up finishes.
1997 AT&T Pro-Am
For anyone who wasn't already awake, 1997 emphatically announced the force that was Tiger Woods. The 21-year-old won the Masters by 12 strokes with a four-round score of 270, setting records as the youngest Masters champ, Masters winner by the largest margin, and scorer of the lowest Masters total with 18 under par. By the end of the year Woods had won four tournaments and finished in the top-10 nine times, breaking the PGA Tour's single-season earnings record with more than $2 million. But despite all of Tiger's success, the year could have started better. On the last day of the AT&T Pebble Beach National Pro-Am, along came his new best friend, four-time former winner Mark O'Meara who was three weeks past his 40th birthday and seven shots behind the young star. But by the end of the day the tide had turned quite dramatically. Needing par on 18 to secure an unprecedented fifth AT&T win, O'Meara nailed it, tipped his hat to the crowd and edged out Woods by a single stroke.
2000 U.S. OPEN
Tiger may have faltered at Pebble Beach in 1997, but he famously came roaring back at the 2000 U.S. Open. Anyone who watched it will not soon forget his astounding total of 272, 12-under par, along with the 15-shot triumph that still stands as the biggest winning margin in the history of major-championship golf. The joint runners-up, Ernie Els and Miguel Angel Jimenez, finished on 287, three-over par.
2010 U.S. OPEN
In contrast to Tiger's unbelievable score at the 2000 U.S. Open, long-hitting Dustin Johnson will remember Pebble Beach for a very different kind of distinction: Carding the worst final round of any 54-hole leader in a major championship in 99 years. Johnson, winner of the two previous AT&T Pro-Ams, headed into the final round with a three-shot lead, but wasted no time in completely unraveling. In the space of roughly 20 minutes, he ran up a triple-bogey 7 on No.2 and a double-bogey 6 on No.3. By comparison, the bogey 5 on No.4 was almost merciful. Alas, it didn't get any better. Indeed, articles at the time likened Johnson's final-day stumble to "a brainless shell walking along the cliffs, contemplating a leap," and used terms like "crash and burn," "meltdown" and "collapse." His final-round score was 82. In the meantime, the title was claimed, after a closing 75 that sealed a one-shot victory, by a Northern Irishman (no, not that one). His name? Graeme McDowell, Rory's McIlroy's old best friend.