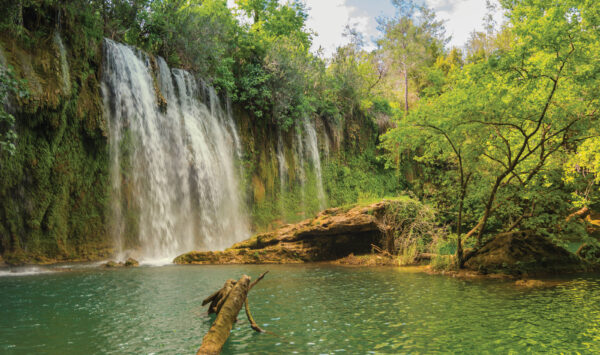 Seduced by the warmest of welcomes and immaculate modern facilities, travelers are flocking to the ancient gateway between the continents of Europe and Asia, and specifically to Belek, a region lush with natural beauty, five-star amenities—and golf. Paul Trow discovers the jewel in Turkey's modern tourist crown, and sees a bit of the old, old world as well
Back in 1994, Belek, in southwest Turkey, was an obscure coastal village best known for Caretta turtles laying their eggs on its beaches and impressive backdrops provided by the snow-capped Taurus Mountains 30 miles inland. Since then it has become the eastern Mediterranean's must-visit golf destination with 11 pristine developments, all carved from ages-old pine and eucalyptus forests. For Europeans, it's an easy decision to spend a long weekend here for the golf alone. For travelers from further abroad, Turkey offers the chance to have a rich, foreign experience in an exotic land that's easily accessible and full of modern luxuries. Of course the golf is a lure as well, and most of that—and most of the top accommodations—will be in Belek, easily accessible on a one-hour flight from Istanbul.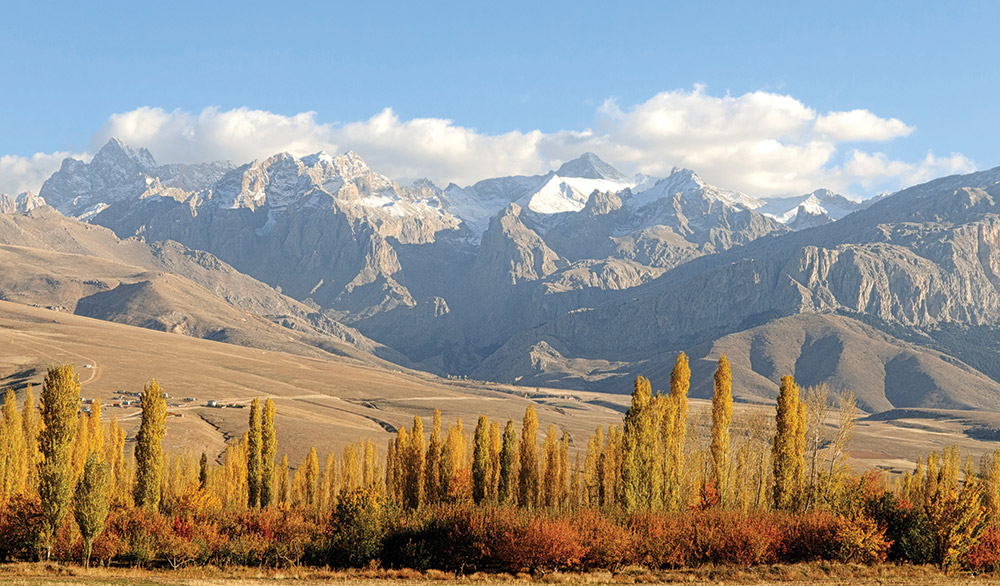 Most Americans traveling to Turkey will arrive in Istanbul, and it's well worth spending some time here. For those eager to get on with a luxury vacation, however, there are numerous flights each day to the international airport at Antalya. From there it's only 40 minutes' drive to Belek and its more than 50 five-star hotels, where "full-board" means virtually unlimited food and drink. There's plenty to do and see here, but let's start with the golf.
Golf
The Antalya region is often described as the Turkish Riviera, due as much to its preponderance of resort courses as to its beaches and sunshine. Two decades ago, the arrival of the National Golf Club in Belek triggered the area's reinvention and opened the doors on golf tourism. Northern Ireland had more than a passing influence on the 18-hole course here, thanks to TV celebrity David Feherty and his compatriot David Jones. The Ulstermen's design made imaginative use of the sylvan terrain along with four ticklish lakes to create several testing doglegs and blind approaches.
Three holes on the front nine take the breath away, notably the short 2nd which is Turkey's answer to the infamous island 17th on the Stadium Course at TPC Sawgrass. Throw in the long 4th, banked down the left by a river, and the par-4 8th, flanked by water on both sides, and the back nine will seem a doddle by comparison.
Until, that is, you come to the 18th. It measures barely 350 yards, but no matter how far your drive goes you have to negotiate the pond that shields the front and sides of the green; and if the pin is set left, that same hazard winds round behind the putting surface for a further bite at your cherry. No wonder Feherty is regarded as a tease!
No hotels are attached to the National, but visitors are made to feel completely at home in a clubhouse that exudes exceptional 19th-hole bonhomie—as participants in the annual Turkish Airlines Ladies' Open can confirm.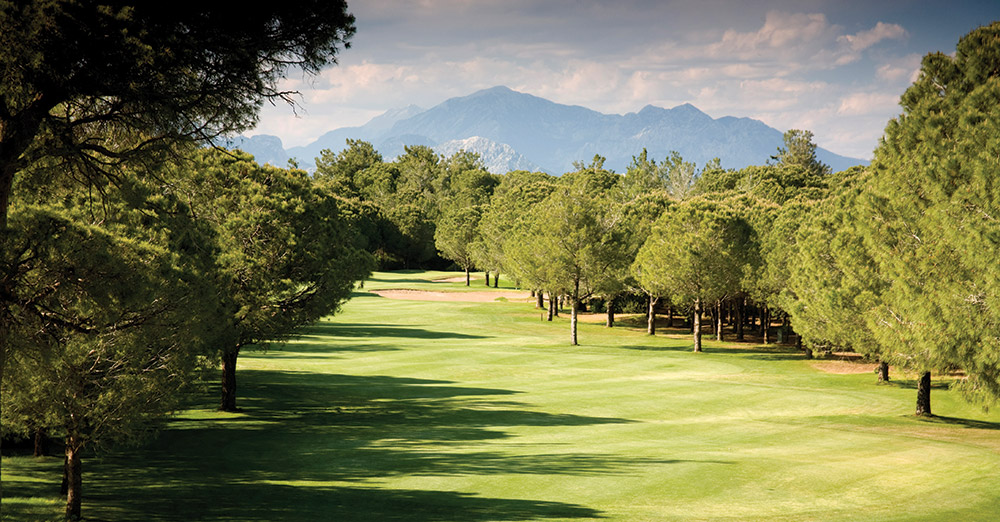 The next course to open in Belek was Gloria Old, which premiered in 1997 at the Gloria resort development. Designed by Frenchman Michel Gayon, it soon hosted the Turkish Open on the European Seniors' Tour. Wending its way through pine vistas, it requires both length and accuracy, but what you see is what you get—there are no hidden tricks or pitfalls. The line of attack is mostly clear, but the task is occasionally daunting, especially on the par-3s—the greens at 4, 8 and 13 are all surrounded by water.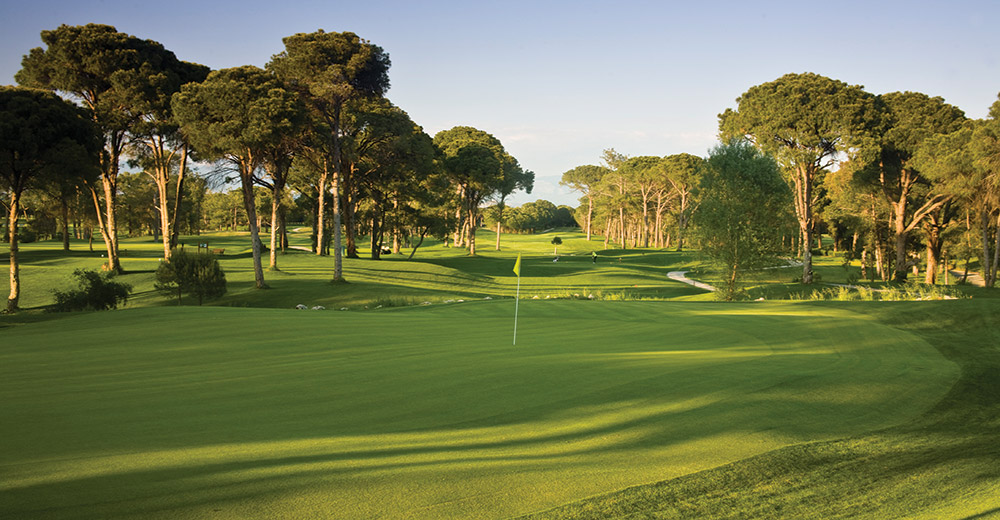 The New, another Gayon design at the Gloria, is an undulating parkland layout, shaped by four large lakes and 67 bunkers (four more than the Old). In addition to these two 18-hole offerings, Gloria's 9-hole Verde Course is particularly popular with conference delegates who don't have time for a full round.
The resort's three hotels are airy and elegant. The beach and lobby bars at the main hotel are ideal for evening rendezvous while the golfers' bar serves at least 35 different varieties of coffee. The Verde hotel, a mile and a half inland, has an atrium foyer overlooked by a raised circular gallery and houses a restaurant set around a blue marble-surfaced fountain.
The highlights of Gloria's youngest hotel, the Serenity, are its eight bars, three of which are American-themed: Wall Street, Ella Fitzgerald and Route 66. The Green Back's Coffee Shop (accentuating the American theme) is beside the front desk and the Vitamin Bar, predictably, is in the superbly-appointed Sanitas spa centre.
Across the road from Gloria, the Robinson Nobilis course is routed attractively through mature conifers and inland waterways. It was designed by the late Dave Thomas, a former Ryder Cup opponent of Arnold Palmer's. The Welshman's main claim to fame, apart from twice finishing runner-up in the [British] Open, was to co-design The Belfry just outside Birmingham, England, with Peter Alliss.
Another 1998 creation was the 27-hole TatGolf Belek International Golf Club, close to a windy stretch of coastline. Designed by English architects Hawtree, Tat offers rugged Mediterranean views on its second nine, but, ironically, the first and third nines are more threatening.
The PGA Sultan at Antalya Golf Club, dating from 2003, is a fair but stern challenge. It was here in 2012 that Steven Fox, Justin Thomas and Chris Williams of the U.S. won the Eisenhower Trophy, arguably the most prestigious international team event in men's amateur golf.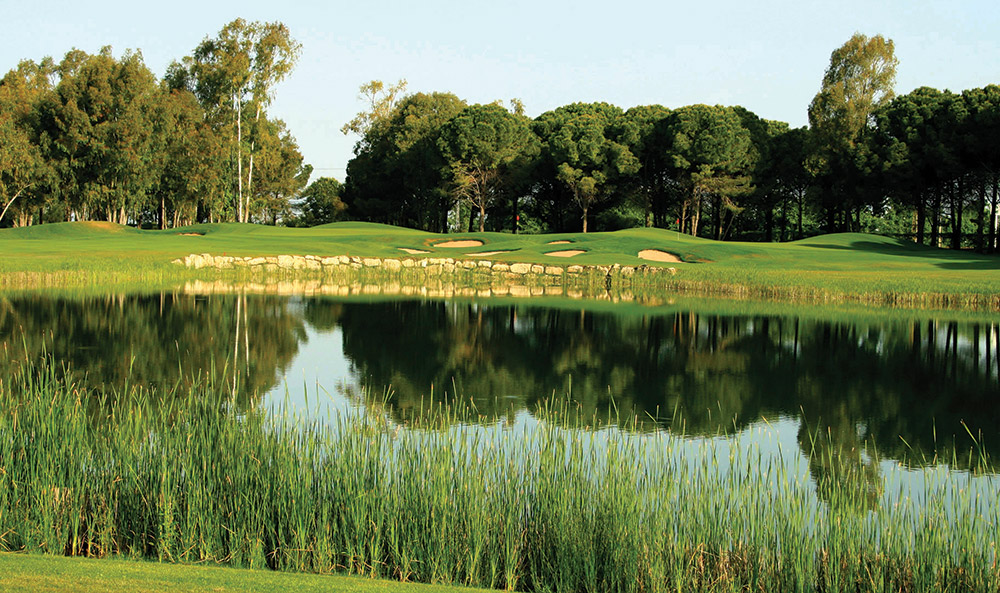 Rolling fairways, a dozen water hazards and nearly 100 sand traps, including several pot bunkers, define the PGA Sultan whereas the fairways and greens of its sister course, the Pasha, present much wider targets. Right from the start (a par-5 riddled with water hazards), the Sultan's a handful to play. It does ease up in places, but golfers can't afford to lose concentration. Unusually, it has two signature holes. The left-to-right dogleg 16th is a dangerous, complicated par-5 with water meandering down the right of an ever-narrowing fairway before cutting left sharply across the front of the green. The par-4 18th has a long carry off the back tee over water to a tight fairway, followed by an approach, with water both left and right, to an undulating green.
Just as Antalya Golf Club has two courses, it also has two hotels—the Kempinski Dome, an architectural tip of the hat to pre-Ottoman (11th century) styles, and the Sirene, a palatial establishment featuring a 50-meter, Olympic-sized swimming pool and a mosaic Silk Road thoroughfare comprising more than a million stone chips.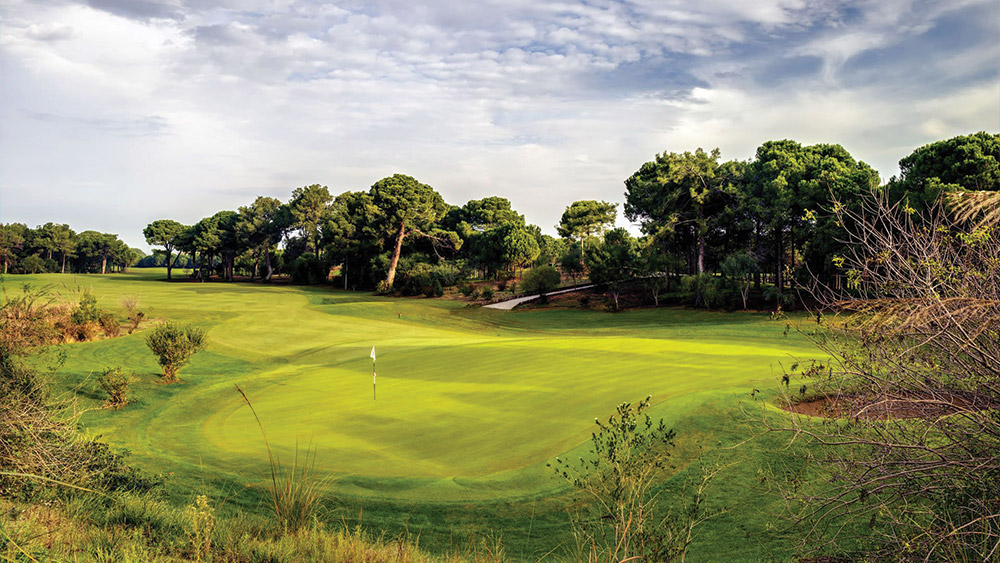 Another prominent Belek resort is showcased by Sir Nick Faldo's 27-hole design at Cornelia Golf Club. Opened in 2006, it reflects the attention to detail that characterized the six-time Major champion's game in his pomp.
Cornelia consists of three nine-hole loops named, charmingly, Tiberius, Sempronia and Galus. The three nines in turn blend to create three different 18-hole combinations—Prince, Queen and King. The holes thread over a spine-like ridge of sand dunes and through a colony of umbrella pines. Typically for a Faldo design, the challenges include many doglegs that place more emphasis on tactical acumen than brute force. Factor in elevated tees, tight driving holes and genuine three-shot par-5s, and it's obvious that patience as well as skill is required here.
The course is part of a group that includes two more of Belek's luxury hotels—the green-motif Cornelia De Luxe and hexagonally-shaped Cornelia Diamond number between them almost 1,000 rooms.
Kaya Eagles, now partnered by a Riu hotel, was five years under construction before David Jones completed the job in 2007. When it finally opened, with eight water hazards and numerous clusters of mature pines, it was immediately apparent the wait had been worthwhile. This dazzling layout is an exciting challenge that interacts pleasingly with the eye only to exert a high tariff on the average golfer's scorecard.
Sueno, home to 36 holes, has two 18th greens that are effectively islands surrounded by a lake in front of the resort's hotel. The tougher of the two courses, the Pines, stretches beyond 7,000 yards and is heavily wooded. With sweeping contours and memorable views, most resort golfers prefer the Dunes option at Sueno. This delightful track meanders through the indigenous forest and its blend of spectacular views, island greens and waste bunkers guarantees an eventful round with never a dull moment.
Five-time [British] Open champion Peter Thomson deployed nearly a million heather sprigs when he rolled out the Carya course in 2008. Cultivated in specially constructed greenhouses at a neighboring nursery, the heather enabled the veteran Australian to create an authentic heathland experience.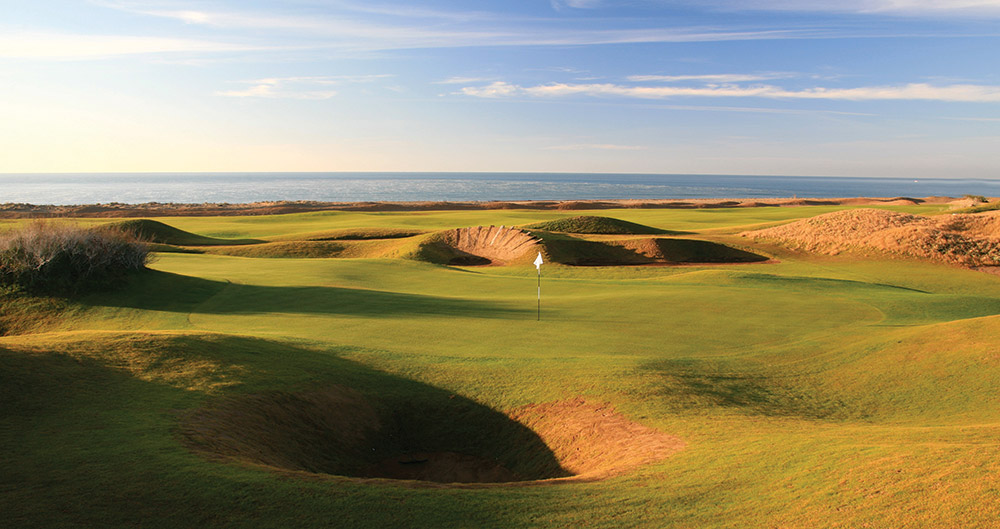 Another course well worth a visit is Lykia Links, designed by Pete Dye's son Perry in 2008. It is actually half an hour's drive from Belek (despite being only a few miles away as the crow flies), and is therefore set apart from the other golf resorts. As with most links, the wind can make a huge difference. But even if conditions are still, the four holes between the dunes and the sea—13 to 16—take one's breath away. So, too, do the long par-3 17th with a small, shallow green that's especially elusive in a crosswind and the par-4 18th which finishes, stadium-style, with a huge waste area on the right, mounds on the left and a wicked turtle-back green.
"At Lykia Links you never know what to expect. It can play like five different courses on five different days," is Dye's description of his baby.
The most recent addition to Belek's array of golfing gems is Montgomerie Maxx Royal where France's Victor Dubuisson won the inaugural Turkish Airlines Open last fall, beating a star-studded field that included Tiger Woods. The 2014 event, the third in the European Tour's four-tournament Final Series, will take place from November 13-16 with Woods expected to return, fitness permitting.
Scotland's Colin Montgomerie, winner of the 2014 U.S. Senior PGA Championship in Michigan, is rightly proud of his creation. Laid out across 250 acres of prime land, it has attracted rave reviews since opening in 2008. Accompanied by a 9-hole floodlit academy course, it blends beautifully with the trees and sandy ridges on site, features that multiply the strategic options from every tee.
The Maxx Royal hotel is the perfect complement. Located on a 300-yard stretch of beach with its own pier, it caters for all tastes—families, couples, honeymooners, golfers, business folk and sightseers.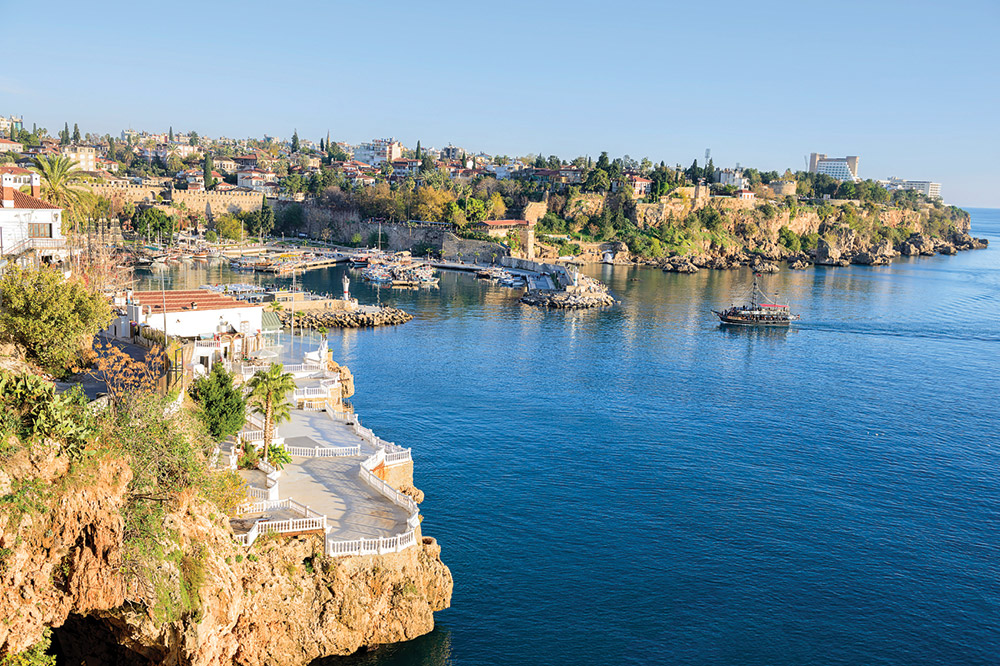 Off Course
Beyond the resorts and golf of Belek, the Antalya region has a lot to offer in terms of attractions. For natural beauty, two can't-miss destinations are the waterfalls at Kursunlu and Manavgat. The former includes a cave behind the falls while the latter was deemed beautiful enough to make an appearance on Turkish currency for many years. Both are quick rides from Antalya. Also near the city, the Karain Cave offers a glimpse into the prehistoric world; evidence of human habitation dating back to the Paleolithic Age (150,000-200,000 years ago) has been found here, and it's a curious place to visit. For a day or two out of the Belek area, consider the lake district at Isparta in the Taurus Mountains, which offers roses, caves and Byzantine history along with beautiful lakes and charming accommodations.
There are numerous links with the distant past near Belek, including the nearby ancient cities of Side, Phaselis, Termessos, Perge and Aspendos. Perge was founded along the coast west of Belek and Antalya around 1200BC, following the fall of Troy, while Aspendos, beside the River Eurymedon in the Koprulu Canyon National Park, has an amphitheater capable of accommodating 15,000 people, an aqueduct over half a mile in length and a basilica-topped Acropolis. If one decides to take a quick trip on a small boat—a "gulet" in local parlance—from the Belek area, it's easy to reach the coastal resort of Kemer, to the west.
Plus, during the voyage, the gulet will stop off at Phaselis, dating back to 700BC and colonized by Greeks from the island of Rhodes, so passengers can swim and snorkel in the harbor.
Safari-style tours can be arranged to almost anywhere while other popular activities are fishing, rafting, diving and trekking. Hiring a car or booking a taxi are relatively inexpensive options for those wishing to explore the region on their own, but the "dolmus" bus service will pick up and drop off anywhere on its route for a fixed charge.
Back in Antalya proper, the old Roman Harbor in the city's Kaleiçi district offers the chance to relax where Roman Emperor Hadrian once dined. Boat rides and plenty of repast are on offer, along with charming tea houses and cafés. In fact, it's worth taking a guided tour of Antalya itself, a venerable port with a population in excess of a million. Its museum is filled with Roman and Greek archaeological finds, including a naked statue of the god Apollo, while the old quarter with its walled city is now rejuvenated with fashionable boutiques and restaurants. For competitive buyers determined to barter their way to what they think is a fair price, Antalya is replete with leather goods, textiles, jewelry and carpets.
Returning to base, though, Belek, implanted with growing colonies of privately-owned villas and apartments in addition to all those luxury hotels, also pulsates with a wide selection of shops and outlets.
Away from all that bargain-hunting, visitors seeking a more supine form of relaxation can always indulge in a couple of hours of spa treatment at any of the major resort's spas. Indeed, Belek presents a bewilderingly sophisticated and historic range of invigorating procedures, from piping hot Turkish baths to Thalasso therapy, founded locally by Hippocrates, the father of medicine in the ancient world. The good doctor noticed that when fishermen cut their hands on hooks, their wounds never became infected. After concluding that the salt in the water and seaweed was protecting them, he developed an entire therapy system from this discovery.
The hotels all offer an ethnic variety of restaurants, but at least one evening should be spent savoring the local cuisine (a sumptuous blend of fresh meat, vegetables and salads). A typical repast might consist of dips (like humus), dolma (stuffed vine leaves) and pastries, followed by some locally-caught fish or a choice of grilled meat from the Okabasi, or even a local casserole. The coup de grâce will be a baklava (a sugary pastry) or Turkish Delight, made from pistachio nuts, all washed down by a strong cup of Turkish coffee, a glass of Efes, the national beer, or perhaps even a bottle of Yakut red wine.
With its huge variety of bars and clubs, Belek buzzes well into the small hours—perhaps not the ideal preparation for an early-morning tee-off time, but, heck, you're on holiday! And even for golfers, there's more to a golf holiday than golf.