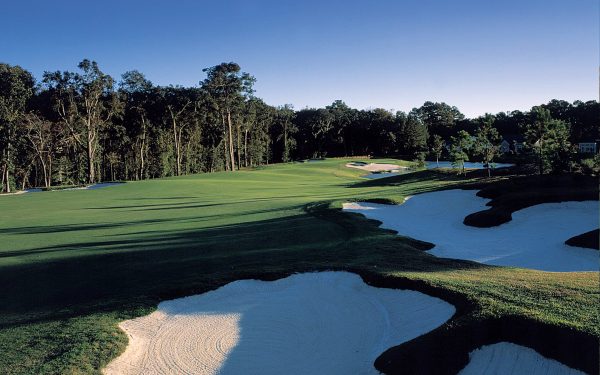 Hilton's Head
It hosted Native Americans for thousands of years, was a stopover during the Colonial era and eventually functioned as an important military post. But whether you value it for its strategic importance or its natural beauty, there's no denying that Hilton Head Island is the perfect place to golf.
At age 6, the young William Hilton was already an explorer—although he couldn't have realized it at the time. Born in 1617 in Cheshire, England, the boy had crossed the Atlantic as a 4-year-old with his family as one of the early settlers at Plymouth Colony. By 1662 he was in charge of a ship exploring the Carolinas, and on September 28 the following year, he spotted—and named—the island that would become one of the most popular golfing destinations in the United States: Hilton's Head Island, later shortened to Hilton Head.
Today, the island that boasts a year-round population near 40,000 but welcomes more than 2.24 million visitors per year is one of the South's—and the country's—most beloved places to hit a ball with a club. A host of public, semi-private and private courses dot the marshland and oak groves of the "low country," as locals call it with it good reason. The highest point on Hilton Head Island is 28 feet above sea level, and this spot, not surprisingly, is found on a golf course. Whether you're scaling this peak, relatively speaking, to catch a view of the natural coastal beauty, hitting one of the more than 30 excellent golfing options or just chilling out at a 19th hole somewhere and watching the birds fly by, Hilton Head Island is one of the few golfing destinations where "must play" actually means "must play." If you're an American and you golf, Hilton Head Island should be on your travel diary. When you get there, may we humbly suggest the following:
Crescent Pointe Golf Club
843.706.2600
crescentpointegolf.com
Visitors to Hilton Head Island know the place is a little challenged for topographic variety. Put simply: It's as flat as a ball marker. Leave it to Arnold Palmer and the excellent team at the Arnold Palmer Design Company to change things up a bit with the lovely Crescent Pointe Golf Club in Bluffton. Here, amidst lush magnolias and century-old oaks, players will find plenty of graceful, rolling hills—topography as surprising as it is refreshing on an island where the highest spot is only 28 feet above sea level. Crescent Pointe is the only public Palmer course in the area, which means it's as popular as it is beautiful and challenging.
Amply sized fairways are there for the taking, but should you miss one you'll find what all the beautiful beach bunkers are about. Namely, APDC gilt the edges of the lakes and ponds with gold sand and solved a drainage problem at the same time. So while the sand all looks lovely, in fact it's shoring up marshland—literally. Think quicksand jungle adventure more than tropical beach vacation. Note: If you like the look of your shoes, stay on the fairways. When Crescent Pointe opened in 2000, the late Ed Seay—Arnie's long-time friend and design partner—said the course's variety is its strong point. "Crescent Pointe's really a different golf course," he said at the time. "There isn't one hole on that layout that even comes close to looking like another."
Good for us, because 18 individual masterpieces are more fun than one work of art repeated 18 times.
Palmetto Dunes Oceanfront Resort
866.380.1778
palmettodunes.com
When Capt. William Hilton and his ship 'The Adventure' (sailing for England's King Charles II) entered Port Royal Sound in 1663, the good captain humbly christened the island at the sound's mouth "Hilton's Head," noting a high bluff on the northern end of the land. Today, near the bluff that inspired the name, sits the Palmetto Dunes Oceanfront Resort, which, in addition to holding some great golf, also features the one true remaining lighthouse on Hilton Head Island (the striped harbor lighthouse on all the postcards is a fake). Built in 1880, the Leamington Lighthouse is on the National Register of Historic Places. It was decommissioned in 1932, served as a lookout in WWII and today comes with the requisite number of historical anecdotes and local ghost stories (the most interesting involving a hurricane and a lighthouse keeper's daughter who is said to still walk the tower in a long, blue dress on rainy nights). In the shadow of this rather inelegant structure sits the tremendously graceful Arthur Hills Golf Course, which finds directional use for the landmark as a guidepost for both the 5th and 15th greens.
No kidding: With 10 holes on the water, a lighthouse is exactly what you'll need. This course, like many on the island, rewards precision and punishes errant drives. As much as we like Arthur Hills' Course, there's no denying that the Robert Trent Jones Course at Palmetto Dunes is amazing as well. Benefitting from a 2002 renovation, the course is highlighted by a unique lagoon system, which winds its way through 11 of the course's beautiful 18 holes. The par-5 No.10 is one of the few proper oceanfront holes on Hilton Head Island, and offers a breathtaking opportunity for visual respite from what is assuredly a sincere challenge. If that's not enough, Palmetto Dunes' George Fazio Course is routinely considered to be one of the most challenging on the entire island. It's the only par-70 on Hilton Head, with no shortage of bunkers or water hazards. The good news: Even if you lose a whole box of ProV1s at Palmetto Dunes, you won't care because the resort's views and amenities will soothe even the most bruised of egos.
The Sea Pines Resort
866.561.8802
seapines.com
In 1969, Hilton Head wasn't the massive tourist destination it is today. In fact, few people could readily find it on a map. Despite this, staff at the island's Harbour Town Golf Links at The Sea Pines Resort wanted to open their new course with a Thanksgiving weekend tournament they dubbed the "Heritage Classic." They weren't sure anyone would show, but they needn't have worried: Once Arnold Palmer committed to playing, the event's success was assured. Arnie won the first Heritage Classic in front of a modest crowd, taking $20,000 in prize money. Last year, nearly 135,000 attendees watched Jim Furyk earn just over $1 million with his victory, and the tournament (which is now played the week after The Masters) is only growing. The good news is that you don't need to be a world-class golfer to enjoy Sea Pines' fabulous courses: Harbour Town Golf Links, Heron Point and the Ocean Course. In fact, the resort is happy to set you up with a package in which you could enjoy some of the best golf in the country, no matter how long you're staying in Hilton Head. A precision game is favored on the courses, which tend to badly punish missed fairways, but there are enough choices in play to make sure everyone has a good time.
Hilton Head National
843.842.5900
golfhiltonheadnational.com
The first thing you'll notice about Hilton Head National is that it's not on the beach. In fact, this was the first public course to be built inland, and that was a good move for all concerned—especially for golfers. The property's 18 holes are divided into two nine-hole courses, one designed by Gary Player and one by Bobby Weed. We're not sure either designer knew how good this place was going to turn out, but it's ended up being one of the best spots on the island, as friendly or as nasty as you want it to play. What currently sits as the front nine are the Weed holes, which offer bigger greens than Player's designs but with more undulations.
The back nine, also called the National Nine, kicks off with three increasingly longer par-4s, letting you know you're in for a challenge. However, as Player says, it's "a fair challenge." We love the course-provided advice on the Player-designed No.5 (No.14 if you're playing the course as 18): "You might feel like you need to call in Henry Kissinger to negotiate the huge waste bunker." Either way, we've no doubt the serene and beautiful landscape will help you achieve some kind of emotional détente, whatever your score.
Country Club of Hilton Head
843.681.9147
hiltonheadclub.com
The semi-private course is a thing of great joy to traveling golfers anywhere, and the benefits of a club-supported golf venue is certainly evident to anyone who spends a day at the Country Club of Hilton Head, whether you're a member or a guest. The excellent Rees Jones design deftly maneuvers through pine forests, substantial hazards and the native (and pristine) marshland common to the island's courses and quite beautifully featured here. The Club has hosted several U.S.
Open Qualifiers along its 14 doglegs, offering anyone who makes it to No.12 a view from the highest point on all of Hilton Head Island. No surprise this towering (well, relatively speaking) tee 28 feet above sea level is the Club's signature hole, and it's a stunner. Course reviews praise the front nine for a relaxed, Southern experience while simultaneously expressing pleasant surprise at the back nine, which snap golfers out of their daydreams and wake them up with a few challenges and some amazing views. Look for moss-draped oaks, marshland and freshwater lagoons, and don't forget your camera.
Other Notables
Oyster Reef
Regularly awarded but not on the tips of many tourists' tongues, Oyster Reef Golf Club nonetheless deserves mention because of its par-3 No.6 (if not for other reasons), which plays 192 yards and finishes on a green with one of the best backdrops of any hole on the island: Port Royal Sound in all of its splendor. Additionally, this lushly landscaped course offers a bit of distance compared to many of its island brethren, playing near 7,100 yards from the championship tees.
Palmetto Hall Plantation
Like many of the plantation properties on Hilton Head Island, Palmetto Hall offers golf along with its other amenities. Its Robert Cupp course isn't a beginner's best choice, but isn't completely out of reach for the ambitious novice, and certainly provides a great round for more accomplished golfers. Also: Palmetto Hall is the site of the island's other Arthur Hills Course (there's one at Palmetto Dunes), and it's one of the best rated courses in all of Hilton Head. The par-4 No.18, specifically, is considered to be one of the best finishing holes on the island.
Old South Golf Links
Fans of days gone by will love the Old South Golf Links, which, true to its name, provides some seriously old-school game among classically styled surroundings. Natural beauty, abundant wildlife (including the odd gator or two) and a laid-back energy that stretches from the style of play to the staff members themselves permeate this delightful gem, which is routinely voted a favorite among locals. A beautiful picture of what the coastal Old South is all about.