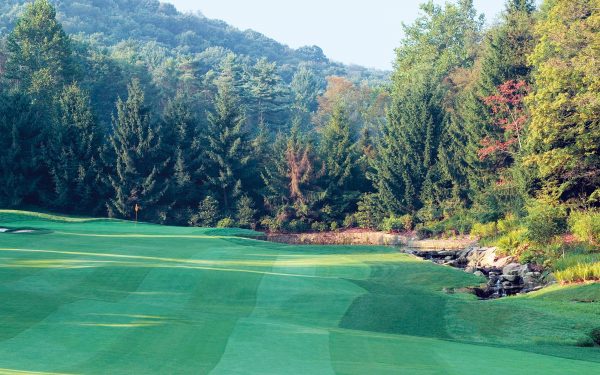 Pennsylvania – Keystone Tops
Pennsylvania, the cradle of modern America, gave Arnold Palmer and Hershey Bars to the world. Naturally, it offers a sublime selection of historic courses. Paul Trow looks at what's on offer for the visiting golfer.
Pennsylvania, known as the keystone state, can claim Arnold Palmer as one of its most famous sons. And anywhere capable of producing a player of Palmer's quality and achievements must be home to far more than a mere handful of decent golf courses.
Palmer's father Deacon was the professional-cum-superintendent at Latrobe Country Club, an attractive undulating layout in the hinterland of small farming towns up in the Laurel Highlands some 40 miles east of that vast forge in the far west of the state that goes by the name of Pittsburgh.
Latrobe is where the young major-winner-to-be learned his golf game, and it launched him on such a successful and lucrative career that it was not too long before he returned home to buy the club.
Dating from 1922, this challenging par-72 course measures only 6,407 yards from the back tees but it plays much tougher due to elevation changes, tree-lined fairways, a few blind tee shots and fast, tricky greens. Managed for many years by Jerry Palmer, the King's brother, this private club also has tennis courts, a heated swimming pool and bathhouse, extensive dining facilities and four deluxe guest houses.
The other great test of golf in the Laurel Highlands, which also bears the Palmer hallmark, is Laurel Valley Country Club in Ligonier. Laid out by Dick Wilson in 1959, Laurel Valley hosted the PGA Championship, won by Dave Marr, just six years later.
After that, Palmer oversaw a redesign of this tough, tree-and-water-lined course prior to the 1975 Ryder Cup. It was a breeze for the U.S. team, captained by Palmer, but the match is generally remembered for two singles wins in one day by the GB & Ireland golfer Brian Barnes over Jack Nicklaus. After losing 4&2 in the morning, Nicklaus told Barnes: "You've beaten me once, but there's no way you're going to beat me again." But the burly Scot did exactly that, winning 2&1. A sheepish Golden Bear then had the awkward task of explaining himself to his team captain.
Palmer has renovated the course since 1975 for two more "majors"—the 1989 Senior Open won by Orville Moody and 2005 Senior PGA Championship won by Mike Reid.
Apart from Laurel Valley, Pennsylvania boasts seven other courses that have hosted either the U.S. Open or PGA Championship: Oakmont, Merion Philadelphia Cricket Club, Llanerch, Hershey, Shawnee Country Club and Pittsburgh Field.
Leading the way from these other impressive venues, though, must be Oakmont which will host the U.S. Open for a ninth time in 2016—its 16th national championship—and is considered by many pundits the hardest course in the entire country.
When, in 1903, wealthy Pittsburgh industrialist Henry C. Fownes created what he hoped would replicate the links-style golf he had loved in Scotland, there was hardly a tree on the whole property. After winning the 1925 U.S. Amateur Championship, Bobby Jones pointed out that 17 of the 18 flagsticks were visible from the rear of the clubhouse with only the 16th obscured by a hill.
A massive tree-planting program carried out in the 1950s and '60s largely eliminated this linksy feel so the only remaining openness consisted of the large sweeping greens, a dozen fescue-topped mounds in the massive bunker between the 3rd and 4th fairways known as the Church Pews, and the Pennsylvania Turnpike that splits the property.
A redesign project to restore Oakmont to its original character began in the mid-1960s with input from Palmer, Robert Trent Jones Sr., Tom Fazio and Arthur Hills. That process continues to this day and in the past decade more than 5,000 trees have been removed from around the course.
Palmer, who was honorary chairman when the U.S. Open was last staged at Oakmont two years ago, first played there as a 12-year-old in 1941. "The greens and surfaces have not been changed since this golf course was built. When I first came here to play with my father there wasn't a tree on this course. Zero. It was beautiful, something I had never experienced before. It was truly an inland links and it played like one. It was one of the great thrills of my life."
Palmer, who won one of his four Western Pennsylvania amateur titles at Oakmont, has twice been humbled in the U.S. Open by this monument to Pittsburgh's economic might—when he lost an 18-hole playoff against Nicklaus in 1962 and was caught by Johnny Miller's astonishing closing 63 ten years later.
Four other prominent Pennsylvania courses have been designed by Palmer. Blue Bell Country Club, at the heart of a gated community in Delaware Valley in the Greater Philadelphia area, opened on 1 June 1994. Stretching to 6,920 yards from the tips, this delightful course has already staged several professional tournaments and played host to the likes of Phil Mickelson, Craig Stadler, Sandy Lyle, Rocco Mediate, Lanny Wadkins, Duffy Waldorf, Roger Maltbie, Fuzzy Zoeller and the late Payne Stewart.
Palmer's first creation near Philadelphia, dating from 1990, is Commonwealth National Golf Club at Horsham in Montgomery County, a high-end private club with 7,100 yards of immaculate bent-grass fairways and manicured greens, and fine dining at The Manor House.
Another 1994 Palmer landmark was the 27-hole Treesdale Golf & Country Club at Gibsonia just off the Pennsylvania Turnpike in Allegheny County. The three loops wind scenically through rolling fields, apple orchards, lush forest, lakes and wetlands to produce a challenge very much in keeping with Palmer's design philosophy—a course should be beautiful and challenging but fair, constantly demanding but always playable for every caliber of golfer. Bent-grass tees, fairways and greens along with strategically placed bunkers and water hazards conspire to deliver a memorable round of golf.
Last, but by no means least in Palmer's personal Pennsylvania canon, is The Club at Blackthorne—a growing residential golf-course community in Jeannette, halfway between Latrobe and Pittsburgh. Situated in the rolling hills of Westmoreland County, this nine-hole layout opened in 2005 and a further nine is already on the Palmer Design team's drawing board. The 315-acre, residential community features upscale living with manor, carriage, and single-family homes. When completed, the property will consist of nearly 500 homes, 18 holes, clubhouse, swimming pool and tennis courts.
Moving towards the wider world of Pennsylvania golf, its major event this year was the U.S. Women's Open in July at Saucon Valley Country Club in Bethlehem, an hour's drive north of Philadelphia. Over the years, Saucon Valley has grown into a massive private club with three 18-hole courses, a charming six-hole layout, tennis and squash courts, swimming pools and an 18th century guest house, all set in an estate stretching to more than 800 acres. In 1997, Saucon Valley's three 18-hole courses—Grace, Old and Weyhill—were voted, respectively, the fourth, seventh and eighth best courses in Pennsylvania.
Merion will provide a historic setting for the 2009 Walker Cup from 15-16 September. The East Course, designed by Hugh Wilson and opened in 1912, is unique in that it has wicker baskets instead of flags at the top of the flagsticks – so players cannot tell which way the wind is blowing on and around the green. One advantage of the baskets, though, is that you can see them whichever way the wind is blowing.
Wilson had no previous design experience, so he took a seven-month fact-finding trip to the British Isles, the principal outcome of which was the "white faces of Merion", the course's distinctive Scottish-style bunkers. Built on a mere 126 acres, Merion is, according to Jack Nicklaus, "acre for acre… the best test of golf in the world." It is certainly rich in history: Bobby Jones won the U.S. Amateur Championship for the first time there in 1924 and completed his "impregnable quadrilateral" in 1930 when he beat Eugene Homans in the final to add the U.S. Amateur to the British Amateur, British Open and U.S. Open titles he had won earlier in the year.
At the U.S. Open in 1950, Merion was the scene of Ben Hogan's comeback from the road accident that nearly killed him the previous year.Of course, he won! After the Australian David Graham won the U.S. Open in 1981, Merion was lengthened to 6,846 yards following some land acquisition and it will host the U.S. Open for a fifth time in 2013, extending a legacy that also includes six U.S. Amateur Championships.
Llanerch, a few miles west of Philadelphia, last year celebrated the 50th anniversary of its hosting of the PGA Championship won by Dow Finsterwold and, coincidentally, Palmer's first appearance in the event. It was also the first time the PGA had been staged as a strokeplay competition, having previously been matchplay. In recent years the course has undergone extensive renovation by architect Stephen Kay and, although it is not long at around 6,700 yards, its par of 72 takes some matching.
If the state is famous for golf, it is also renowned for its chocolate. The town of Hershey, about 40 minutes from both Philadelphia and Baltimore, is home to the celebrated chocolate factory that pumps out Hershey's Kisses and Cookies along with a mouth-watering multitude of other waist-expanders.
Hershey Country Club has two courses, the George Fazio-designed East Course comes in at 7,061 yards and has been in operation since 1970 whilst its older brother, the West, was laid out by Maurice McCarthy, measures 6,860 yards and dates from the early 1930s. The whole place is a monument to Milton Hershey, an entrepreneur who after several business failures struck gold with his Lancaster Caramel Company. He became involved in confectionery towards the end of the 1890s when he formed the Hershey Chocolate Company and built the town that bears his name for resident workers.
From the 6th hole on the West you can see the factory while Hershey's mansion is visible in all its glory from the 5th tee.
At first glance, it is unlikely that Philadelphia has any connection with that most English of sports, cricket, but the Philadelphia Cricket Club is one of the oldest sports clubs in the United States. Founded in 1854 by men of English descent who wanted to play cricket, it also has three golf courses.
The St. Martin's course, designed in 1898 by Willie Tucker, hosted the U.S. Open in 1907 and 1910, and nine of its holes are still open today.
Philadelphia-born A.W. Tillinghast, the fabled creator of Winged Foot and Baltusrol along with no fewer than 26 Pennsylvania layouts, then built the Flourtown Course in 1922. Named Wissahickon, it is renowned for having 10 par-four holes that stretch beyond 400 yards from the championship tees, with the signature 9th and 18th both upward of 450 yards. The third course, Militia Hill, opened in April 2002 to an imaginative design by Dr. Michael Hurdzan and Dana Fry on the site of an old American Revolution War encampment.
Shawnee's Island course, designed by Tillinghast and opened in 1906, has a special place in the heart of Palmer because it was here that he first met his wife, Winnie. And if you have worked up an appetite after doing battle with this tough track you can always repair to Sam Snead's Tavern where man-sized steaks are the order of the day.
Other designers from golf's pioneer days to ply their craft in Pennsylvania include Donald Ross, whose 12 courses in the state include Aronimink in Newtown Square which hosted the 1962 PGA Championship won by Gary Player and the 2003 Senior PGA Championship won by John Jacobs. Aronimink opened in 1928, and upon revisiting his "child" 20 years later Ross stated: "I intended to make this my masterpiece, but not until today did I realize that I built better than I knew." How much better will become evident when the PGA Tour tees it up there in Tiger Woods' AT&T National tournament over the next couple of years while the Blue Course at Congressional Country Club is groomed to host the 2011 U.S. Open.
Another of Pennsylvania's great designers was William Flynn, a greenskeeper who assisted Hugh Wilson with the design of Merion and went on to turn Lancaster Country Club into an outstanding 18-hole challenge in 1919 before creating the Spring Mill layout at Philadelphia Country Club in 1930.
Elsewhere, the course at Pittsburgh Field was designed by Alexander H. Findlay in 1914. We all dread the feeling of trudging wearily to the last tee after 17 demoralizing holes, but the closing hole at Pittsburgh Field is uplifting in every sense of the word—an elevator is on hand to transport you from the 17th green to the 18th tee.
Other private courses worth considering are Huntsville in Shavertown, Fox Chapel in Pittsburgh and Hunter's Station in Tionesta. If you're after a public course, why not check out Pete Dye's Mystic Rock layout at Nemacolin Woodlands, Center Valley in Allentown or Tom Fazio's Hartefield National masterpiece in the northeast? And if you're only passing through, grab nine holes at the charming Cliff Park Inn B&B in Milford. A quaint, quick perfect example of the state's natural beauty and one more reason Pennsylvania golf is something to explore.