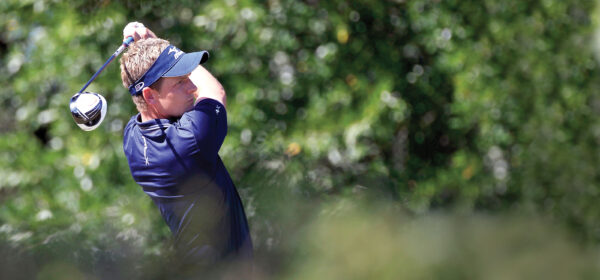 While Tiger Woods sat mainly on the sidelines during 2011, his crown as world No.1 bounced from pillar to post. It eventually landed in the lap of an unsung Englishman who seemed an unlikely candidate for the title of 'best player on the planet.' But when Paul Mahoney caught up with Luke Donald for Kingdom, he discovered a man who was happy to have shed his mantle as a reluctant star, if not his innate humility; a man more than comfortable in his new skin.
There's a sign by the entrance to Disney World in Orlando, Florida that promises: "Where Dreams Come True." Luke Donald drove past it every day on his way to play in the Children's Miracle Network Hospitals Classic during the third week of October, and it certainly didn't escape his notice. He knew he needed to win the tournament to become the first European to finish top of the money list—and he did exactly that, living up in style to his season-long billing as official world No.1.
Webb Simpson, enjoying the year of his young golfing life, had overtaken Donald on the money list the week before the Disney tournament, narrowly failing to win the McGladrey Classic on St. Simons Island, Georgia in a playoff with Ben Crane. Thus Chicago resident Donald was persuaded to file a last-minute entry to the Lake Buena Vista tournament, even though only out-and-out victory could restore him to his long-held position at the top of the PGA Tour tree.
Seemingly by accident, though most appropriately in the circumstances, the two rivals played all four rounds together, shadowing each other's moves—shot for shot, putt for putt, day by day. And with just nine holes to play, the top dollar, not to mention all the attendant bragging rights, looked to be heading the 26-year-old American's way. At that point, Simpson was beautifully positioned in the top-10 on the ubiquitous Disney leader-boards while Donald was a shot or two further back. As far as the bookmakers were concerned, it was 'game over,' and as far as Simpson was concerned, everything was just fine and dandy.
Then Donald pressed the overdrive button and fired off six straight birdies en route to a back nine of just 30 strokes that left Simpson, along with the rest of the field, trailing in his slipstream. He holed four straight birdie putts inside 8ft, took the lead with an 18ft birdie on the par-5 14th, then sealed his stunning rally with a 45ft putt on 15. "Everything was on the line," Donald said afterwards. "I'm thrilled and over the moon." His final round of 64 was good enough by two shots to earn him the right to receive the trophy of his dreams… presented in person by Donald Duck himself.
Admittedly, the victory was Donald's first in strokeplay on the PGA Tour in more than five years but it had the same mano-a-mano feel as his win over Martin Kaymer at the WGC-Accenture Match Play Championship in Arizona in February. He was tied with Simpson through 12 holes but kept pouring in those birdie putts, as he had all year, and in the end his younger adversary just couldn't keep pace.
"We both had our moments playing great golf this week," said Simpson, who began the final round one shot ahead in their personal duel and ended in a tie for sixth. "He did his thing at the end when it counts. We had a blast out there. It was a tiring week playing together every day and thinking about all that was going on. I'm glad it's over. He played great. We gave ourselves a chance. The fact is, the best player in the world is going to do something great like that most of the time, and he did—tough to compete against."
Without question, it was a stunning performance reminiscent of the golfer formerly known as the undisputed world No.1, Tiger Woods. "Creating history is important to me. That's why I added Disney to my schedule—to give myself that chance of making history," was Donald's verdict. His peers were quick to pay tribute to yet another extraordinary display of precision off the tee and deadly accuracy with wedge and putter. Graeme McDowell called Donald "The Machine" and added: "Ball-striking machine? Putting machine? Definitely a money-printing machine!"
This was the 33-year-old Englishman's fourth victory of the season—he also won the Barclays Scottish Open and BMW PGA Championship in Europe. Strangely, it was only the ninth title of a professional career that began in 2001, but it sure proved an important point about himself to a player who had become renowned as a serial top-10 finisher rather than as an habitual winner.
"This is one of the most satisfying wins of my career just because it was do or die," Donald told Kingdom.
"To do it when I needed to, to know that under pressure I was able to pull off the shots when I needed to—to hole the putts and get ahead of Webb on the money list and win the event was very, very special. Knowing I had to do it and being able to do it. It was kind of do or die. Having this amount on the line this week and coming up and shooting 30 on the back nine on Sunday, finding the shots when I needed to, really meant a lot to me and to all the people that I work with. I'm very, very excited about my golf right now.
"Obviously it wasn't looking great after the 8th hole, but I knew I was going to get on a run. I didn't play my best golf throughout the week. I knew that something good was going to happen. I just kept plugging away. To birdie the first six holes on the back nine was the difference this week.
"I think I've answered everyone's questions. Obviously, coming into this week, I felt like Webb was probably favorite, based on [the fact] he was ahead of me on the money list and he was ahead of me in [PGA Tour] wins this year [two to one]. Obviously, I've drawn level on wins and I've gotten ahead on money. It feels like I've answered all the questions thrown at me."
Challenging for the money title on both sides of the Atlantic was a driving force for the Royal Bank of Canada representative as both Tours neared their climax. One sensed that because he is yet to make his breakthrough at the majors, Donald wanted to prove to followers of the game on both continents that he really did deserve his ranking as the best player in the world. Well, even his harshest critic would declare this as 'mission accomplished.' In Europe, he was still leading the Race to Dubai at the beginning of November by more than $1.5m. "It would mean a big deal to win both money lists," he says. But, typically cautious, he wasn't writing off the possibility, even at that late stage, of being overhauled by one of his hawkish rivals.
All Donald has to do now is translate his stellar form of 2011 into a major championship victory in 2012. He knows it, too, and admits that from now on he would rather win a major than continue to be ranked No.1.
"Being ranked World No.1 is self-satisfying. Winning a major makes you seem more accepted as a great player by your peers," he reflects. "Would I swap being No.1 for Phil Mickelson's four majors? Yes! As a kid you dream about winning them. For the bulk of my career, Tiger was so far ahead that being No.1 never crept into my mind. But his personal issues and injuries have given us all a chance."
Donald is honest enough to acknowledge that he should have turned some of those chances into trophies and won a major by now. "I probably should have, but I'm getting closer. Since I come from the United Kingdom, I would obviously love to win the Open Championship. It's the home major for me. But I would take any of them," he says, smiling. "I'm trying to peak for the majors. But if it doesn't happen, it doesn't happen. I've never seen a champion who hasn't lost. You have to lose to find out what you have to do to improve. I've learned that from some of my top-10s. I'll keep fighting." In this respect, he takes inspiration from the way Padraig Harrington kept grinding away until he made his breakthrough. "You need one guy to inspire a generation. For me that was Padraig when he won his two Opens in 2007 and 2008 and the PGA Championship in 2008," Donald says. "If he can do it, so can I."
Like Harrington before him, Donald was seen as too nice to be a major champion. Not ruthless enough. It's nonsense, of course. Harrington and many others have proved that nice guys can win. But there's now a steelier edge to Donald. For years, he kept hearing why he would never be truly great. He refused to believe it. So he hit the gym last winter as well as working on his game and came out in February fitter, leaner and meaner. He was more confident and feistier without losing his gentleman's touch. He looked and sounded like a welterweight fixing for a fight. He thrashed six opponents in the Match Play event and tied fourth at the Masters. Then at the BMW PGA Championship, he beat fellow Englishman Lee Westwood in a playoff that was about so much more than that week's crown at Wentworth—they were jousting to become the new world No. 1. "In a way, there was a bit more on the line. Obviously, I felt like if I hadn't won at Wentworth, I was playing well enough that I would have got to No.1 in the world at some point.
"Maybe I've found the right formula. I can't put my finger on a specific point," Donald says. "It's been a natural and gradual progression. But confidence breeds confidence, and that win at the Match Play was a big deal." It set the tone for his history-making season and a string of top-10s (to go with his four victories) that would have been the envy of The Beatles.
It's the kind of dominant form that draws comparisons with Tiger, the man who once famously dismissed Donald as a 'plodder.' However, Donald's 2011 season has given him an insight into what it was like for Woods when he was at his jaw-dropping best. "It certainly raises your confidence, but I have a long way to go to match Tiger. Winning 80-plus tournaments and 14 majors is pretty amazing. But being in contention week in, week out, you start to expect it a little more, which I'm sure Tiger did in his prime, too."
Donald has the biggest lead at the top of the world rankings since Woods and, like everyone else, has watched aghast as Woods tumbled down the ladder due to injuries and problems in his private life. "Golf is very mental as well as physical," Donald says. "When one of those goes, it becomes tough. He has obviously struggled with some personal issues and it's hard to get that out of your mind at times. He took a long break from the game to try to change a few things and it hasn't worked out for him. But he still has plenty of talent and I wouldn't write him off yet."
Because Woods had set the bar so high, Donald still attracts criticism for not converting more of his almost guaranteed top-10s into top-1s. One critic wrote that Donald was part of a generation that was happy to coast along cashing checks without ever having to win. He even coined a phrase for it—Luke Donald Disease. Donald bristles when reminded of this. "That upset me. That was a terribly written article by a journalist who had never met me. Fair enough if you want to criticize that I haven't won enough. I'm the first to criticize myself. But to say it's down to not having the desire or work ethic, that I'm someone who's happy to pick up checks but who doesn't really care about winning, is ridiculous. He should come and watch me practice."
PGA Tour veteran Joe Ogilvie defended Donald recently, asking if anyone could show him how to catch Luke Donald Disease. "He saw the funny side of it," Donald says. "People want to be in contention every week. And I've been doing that. If it was me just chasing the money, you get a lot more for coming first than you do for eighth."
Donald seems to have spent his entire career defending himself and fighting to prove his doubters wrong. He's the underdog that has become top dog. He reached the pinnacle of his sport by bucking the trend. He's a grinder—an old-fashioned golfer with a mercurial short game and a deadeye putter, battling to stay ahead of a generation of big-hitters. "I'm not a bomber. I'm more about precision," he admits. "I have to rely on all parts of my game firing if I'm going to win.
It's not easy, because fields seem to be getting deeper and a lot of the guys hit it 40 yards past me. But there is more to the game than hitting it far. There are ways to make birdies other than hitting 350-yard drives. I pride myself on a good short game; I work very hard at it."
He's long had to deal with not receiving the recognition he feels he deserves. But he's smart enough to understand why, and it inspires him. He's aware of his public persona, too. "I'm sure people see me as quiet, as someone who keeps things to himself. I might be quiet, but there's a lot of fire inside me, and hopefully people see that sometimes. There's a determination to succeed. Just ask my wife [Diane, a Chicago native he met while studying art at Northwestern].
Even if it's a game of tiddlywinks, I still don't like losing."
Donald knows he doesn't have the star quality of Woods or Mickelson. He accepts his diminished place in the celebrity food chain with good grace. "Some personalities attract more attention. I'm not one of those. And that's just the way it's going to be. I get great support in the UK and in Europe but I understand that when I'm in the U.S., being a player from England, I'm not going to get as much." Yet Donald receives respect, if not hysterical support, from galleries on both sides of the Atlantic, and 'Luuuuuuke' is an oft-heard chant on golf courses around the world these days.
"It's pretty cool to have your own chant," he says, grinning.
Growing up in leafy Buckinghamshire in southeast England, Donald's heroes were Seve Ballesteros and Nick Faldo. "I watched Seve a lot on TV winning his Opens and the Masters, but I've modeled my game a little bit more on Faldo's. I tried to stay away from Seve's," he laughs.
Donald, who had a bitter-sweet end to 2011 when his father Colin died suddently just days before his second daughter was due to be born, is now at the forefront of a resurgent group of Europeans that includes Westwood and three recent major champions—Rory McIlroy, Kaymer and McDowell. Donald believes they have a chance to create another great era for British and European golf. "It's similar to the generation back in the late 1980s and early '90s with Faldo, Seve, Ian Woosnam, Sandy Lyle, Bernhard Langer and Jose Maria Olazabal," Donald says. "It's a great time for European golf, and especially for English golf."
England's No.1 certainly enjoys being world No.1.
"It's an honor and achievement," Donald says. "It will be a great story when I'm an old man telling my grandkids that I was once the best player in the world."