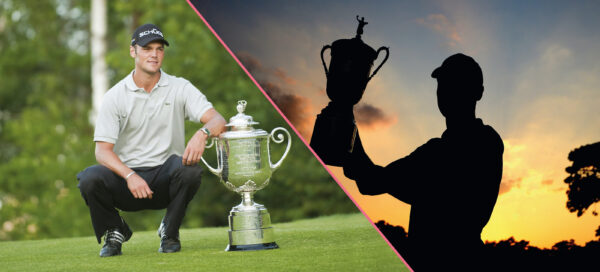 Major mission: Martin Kaymer
Martin Kaymer was little known in the United States when he won the 2010 PGA Championship, and not much more familiar when he reached world No.1 six months later. Then his light dimmed, his form dipped and he disappeared into the shadows. As Robin Barwick reports, it was all part of the process of becoming a champion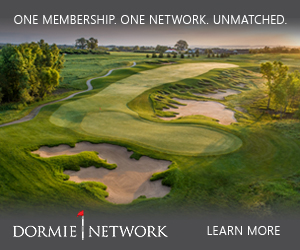 Depositing a check for $1.8 million does not always produce the life-changing outcomes some might imagine. It's not always caviar served with a silver spoon and Cuban cigars lit with a golden lighter. It's not always travel via private jets either.
On May 12, 2014, the day after Martin Kaymer had won the biggest paycheck of his career—$1.8 million for winning the 2014 Players Championship at TPC Sawgrass—the German golfer was blighted by what tour golfers hate more than anything other than missed cuts: a flight delay.
Kaymer, 29, had already missed his Sunday night flight because of the ceremonial and media merry-go-round that accompanies winning the PGA TOUR's flagship event, and on the Monday his next flight remained grounded in Jacksonville because of bad weather in Dallas, where Kaymer was heading for the Byron Nelson Championship.
More like a travelling student than a millionaire golfer, Kaymer disembarked and sat on the floor by a pillar in the departure lounge at Jacksonville, where he could recharge his phone and reply to some of his many congratulatory text messages. It was a sight some fellow travellers could not resist, and pictures of a cross-legged Kaymer sitting on the floor went viral. American journalist Stephanie Wei's picture of Kaymer was re-tweeted 686 times, and was published online by NBC Sports.
"I needed to charge my phone and I don't mind sitting on the floor," said Kaymer afterwards. "I'm not a king or anything. A few people were kind of bending their phone, taking pictures, thinking I don't see it, but there is not much you can do, and I don't care. My dad saw a picture of me sitting at the airport on CNN in Germany. It comes with the job."
Kaymer certainly didn't receive royal treatment that day: he had to stay another night in Jacksonville before he could get his flight into Dallas. But this is Martin Kaymer. He is not a golfer who likes a fuss, even if his previous week's work had seen three years of toil and struggle on tour finally come to dramatic fruition.
Opting for the rocky road
Spanning a three-year long haul before his victory at TPC Sawgrass, Kaymer stripped back his game with long-time coach Gunter Kessler, not so much to fix this right-hander's natural fade, but to make sure he could draw the ball from right to left when occasion called for it, such as a number of tee shots at Augusta National (think of holes two, five, nine, 10 and 13—all begging for a draw).
Stardom had arrived rapidly for Kaymer, perhaps before he was ready, when he won the 2010 PGA Championship at Whistling Straits. By the spring of 2011 he had reached a World Ranking of No.1. Kaymer's first major as top gun was the 2011 Masters, but rather than stamp his authority at Augusta, he missed the cut for the fourth time in four Masters appearances.
"It was the expectation that changed once I won the PGA Championship," recalls Kaymer in an exclusive interview with Kingdom. "All of a sudden I had won a major and reached No.1 and it was a strange feeling. They were career goals and I had reached them at the age of 25. It was a positive thing but it was not that easy and I had to set myself new goals. I was not really prepared.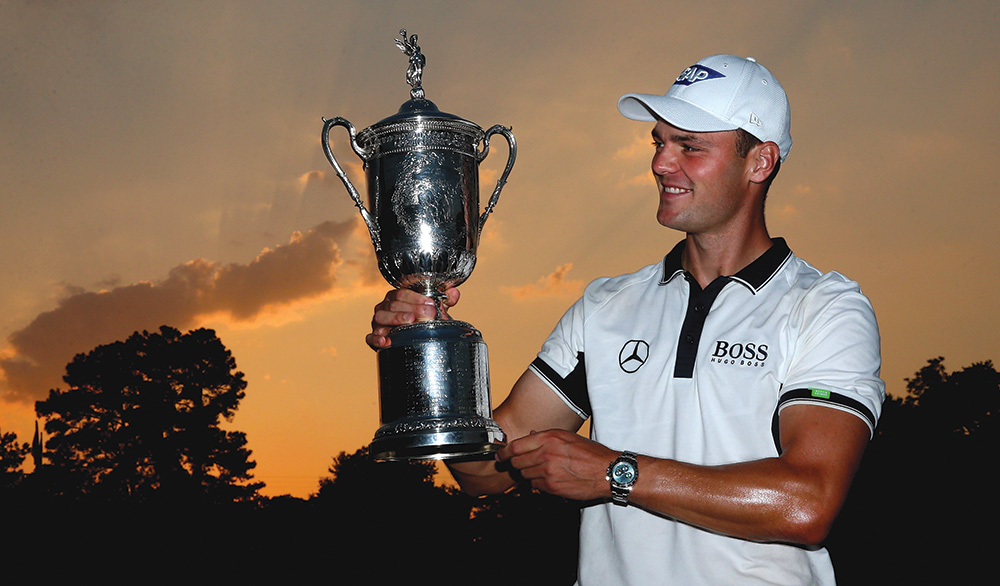 "At the Masters the spotlight was on me but I missed the cut again. I was in the car going back to Atlanta with my coach and I was so disappointed, and I said to him, 'How can I be number one in the world if I can not even hit a draw, and I cannot play that golf course?'"
In the understated yet brutally frank manner that typifies Kaymer and Kessler's partnership, Kessler just looked at him and said, "Yeah." No sugarcoating, no commiseration. Then Kessler said: "You can improve though, and you can become a more complete player."
From that point, Kaymer's career was set on a new course.
"It was not that I changed my swing, but I improved certain parts of my game," explains Kaymer. "I just wanted to play Augusta the way it is supposed to be played, and to make it a bit easier for me. Before, I always had to play a long iron into the 10th green because I could not hit my drive down the left side, and it was impossible for me to reach the green on the par-5 13th in two because I could not draw the ball around that corner."
From that point it was a rocky road for Kaymer, and it was not until the end of March last year, practicing with Kessler at TPC Scottsdale near Kaymer's U.S. base in Phoenix, Arizona, that Kaymer felt he was ready to take his tournament performances to a new level.
"Everyone can talk and think positively, but you have to put it into action"
"At Scottsdale I hit five drives at every hole," recalls Kaymer, whose primary home is in the town where he grew up, Mettmann, near Dusseldorf in Germany's west. "Two draws, two fades and then a straight one, and afterwards we sat down and realized I hardly missed any shots out there. There were one or two, but there was proof for me right there that I could hit any shot I needed. It is just a matter of being brave. Everyone can talk positively, and think positively, but you have to put it into action, and you can only really put that to the test in tournaments. When you play the right shots in tournaments, in difficult situations, that is when the confidence develops, and you gain from that immensely.
"I knew in Scottsdale that everything was there, and I knew it would just be a matter of time."
A new dawn at Sawgrass
Frustrations dominated Kaymer's early season in 2014. A pair of missed cuts on the PGA Tour gave little clue of what would unfold in May, and only the slightest glimmer of hope appeared at the Masters, where a result tied for 31st was hardly the stuff of Kaymer's dreams, but it was at least his best result at Augusta in seven attempts.
Then in the first round of the Players Championship at TPC Sawgrass, all the work, soul searching and perseverance paid off with a sudden burst of golfing perfection. Kaymer started at the 10th that day and began tidily, with two birdies and no dropped shots to turn in 34, two under par, and then he found a different zone as he walked onto the first tee, Kaymer's 10th. He birdied the first, and the second, and seven out of nine holes to become the first golfer to card a nine-hole score of 29, seven under par, in the history of the Players Championship at TPC Sawgrass. Kaymer's lead would endure to the end, and amid darkening skies on a storm-interrupted final round, the German holed out from 30 feet across the shadows on the infamous island green on the par-three 17th at Sawgrass, to bury rumblings of a late collapse. He would hold on to defeat Jim Furyk by a shot.
With that triumph, Kaymer confirmed his return as a serious force in world golf, and a month later he reinforced the message emphatically in the U.S. Open at Pinehurst. Pinehurst No. 2 was baked and Kaymer's putter burned, as a pair of 65s in the first two rounds took the Ryder Cup star to 10 under par, and scorched a path from which he would win by eight clear shots.
"You want to win majors in your career, but if you can win more than one, it means so much more," reflects Kaymer. "Some people called me the 'one hit wonder,' so it's quite nice proof, and it's quite satisfying to have two majors under my belt. And I'm only 30 years old, so I hope I have another few years ahead of me."
The early signs in 2015 are that Kaymer is ready to strike again, and he should have done already at one of the European Tour's biggest winter stops, the Abu Dhabi HSBC Championship, where Kaymer has won three times already. The German set out at Abu Dhabi Golf Club in much the same way as he had done at Pinehurst last year: rounds of 64-67-65 laid the foundations for another wire-to-wire victory, which would have delivered Kaymer back into the world's top 10, and when he birdied three of the final round's first four holes, he held a 10-shot lead with 14 to play.
For those of a nervous disposition, look away now.
A bogey five at the sixth seemed to deflate Kaymer's challenge, and a double bogey six at the ninth wrung alarm bells. A triple bogey seven at the 13th turned fears into reality, as a bewildered Kaymer slumped to a 75, three over par, to finish two shots behind Frenchman Gary Stal, gratefully receiving the first win of his career.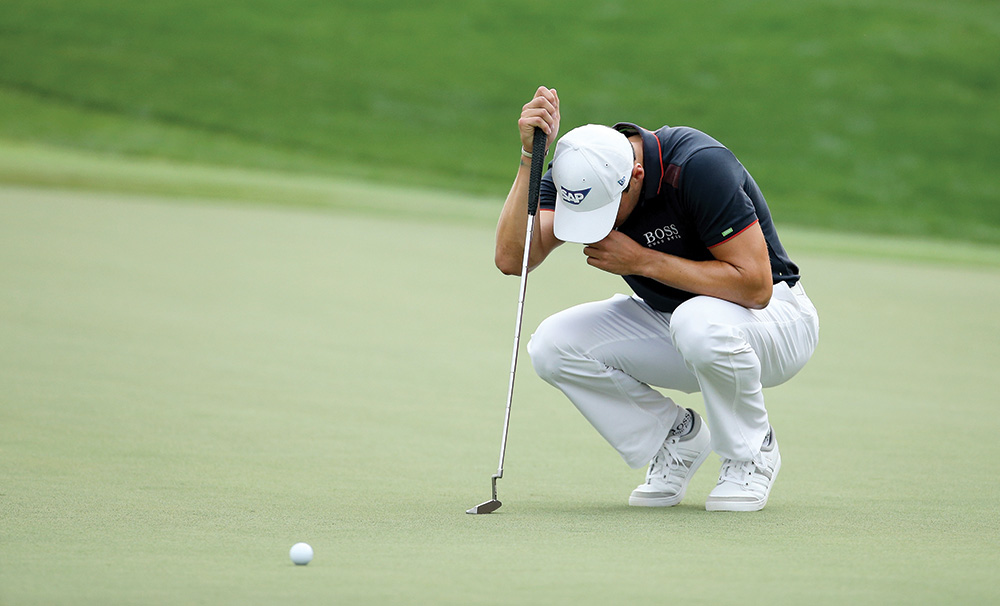 Kaymer takes the disappointment in his stride: "Of course I would have loved to win, and I hope I have another chance in the future to win that golf tournament.
"I don't want to call it a bad experience because it is not a bad experience. It creates a bad result on your scorecard but also [reveals] a lot of truth about yourself; that we are not machines, that the German engineering doesn't always work! It does work, usually, but once in a while it sticks, too.
"In fact, this year, it was more important to lose. It was more important for my future to lose, in order to help me to win more."
"In fact, this year, it was more important to lose. It was more important for my future to lose, in order to help me to win more. It was like a life lesson, not only a golf lesson. Actually, I am very glad that it happened."
It might not just be Rickie Fowler, Jordan Spieth and Bubba Watson who challenge Rory McIlroy at the summit of the world game in 2015. Kaymer will have his say.