Masters Class
Arnold Palmer chalked up his seven Major victories between 1958 and 1964. Both his first and his last Major triumphs took place at the Masters, but they were very different wins: One was a dogfight by a relative unknown, the other a beloved champion's afternoon stroll through destiny. Today, looking back, it seems they encapsulate the King's entire career.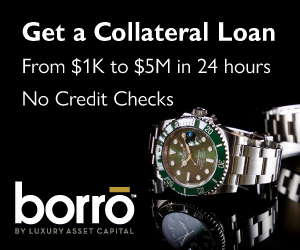 As the stage that hosted both his breakout Masters performance and his last Major victory, Augusta National rightly holds a special place in Arnold Palmer's heart. In total, he donned four Green Jackets there between 1958 and 1964, and he probably would have pulled on a few more if fate had really played into his hands. If his first Masters launched a kind of transformation for Palmer from everyman golfer to global hero—and presaged a huge leap for the game itself—then his final win at Augusta was a reassuring reminder that he would forever be King, whatever happened next.
On the afternoon before the start of the 1958 Masters, a ceremony took place at the farthest reach of Augusta National, down in Amen Corner where Rae's Creek crosses the 13th fairway near the tee, runs in front of the green on the short 12th and pans out to the left of the 11th green. Bobby Jones, the man who, with Alister MacKenzie, had built the club in 1934, was officially dedicating two new bridges across the creek: one (leading to the 12th green) to Ben Hogan and the other (leading back to the fairway from the 13th tee) to Byron Nelson. Ironically, a few days later that exact part of the course was to play a seminal role, not only in the outcome of that year's tournament but also in the shaping of golf's future. Nobody knew this when the 1958 Masters began, least of all the journalists. Most of them had picked Ken Venturi to win, a man many felt was due a jacket after a near victory in 1956. Palmer was relegated to the bottom of the golf columns if he was mentioned at all, with only the New York Times' Lincoln A. Werden listing him among possible contenders. Palmer's Masters debut had come in 1955, the year after he won the U.S. Amateur Championship, and he finished in a respectable tie for tenth. At the time, this was a mere footnote to a tournament in which Cary Middlecoff triumphed by seven shots from Ben Hogan with Sam Snead third. Palmer fell further down the sports pages at the 1956 Masters, when he slipped to 21st. But 12 months later, he tied for seventh at Augusta and the signs were there for all to see—if only the great and the good had known where to look. Over the first two days of the 1958 tournament, mentions of Palmer were buried beneath exaltations of Venturi's "brilliant" play, despite the fact that Arnie was only three shots off the lead. But on the third day, the writers woke up. Third round 68s by both Palmer and Sam Snead had them tied for the lead and sharing a headline in the New York Times' sports page. In the article that followed, Palmer's age was incorrectly listed as 26 years old when he was actually 28, but it didn't matter; he was entering the spotlight.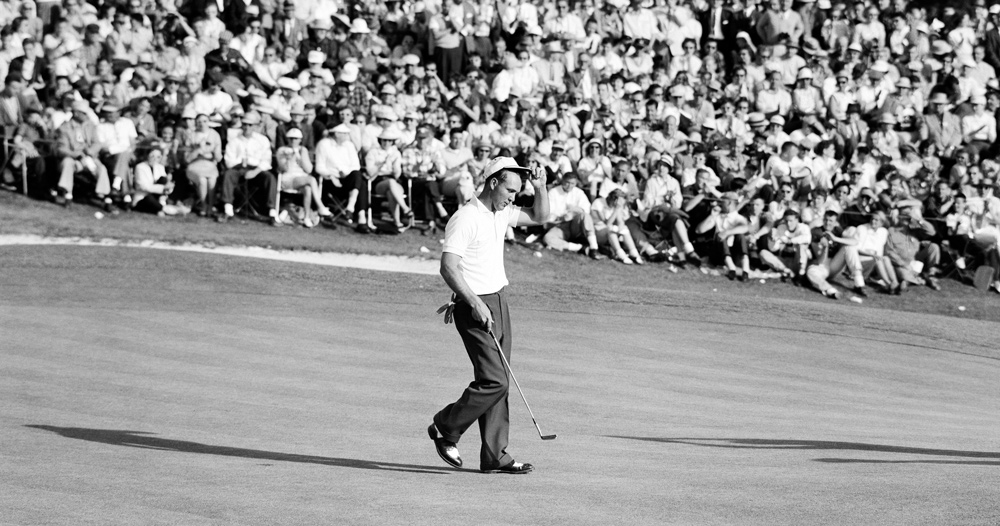 For day four, Palmer, at 211, was paired with Venturi, who trailed him by three shots. The two young men were the first contenders to go out and—even though a dozen players were grouped between 211 and 215—by the time they reached the 12th hole it seemed likely that the winner of their duel would win the tournament. Palmer led Venturi by a solitary shot as they prepared to play the hole, which measured 155 yards from the back tee. The pin was placed dangerously in the far right corner of the green, and the wind, as is invariably the case on the final day of the Masters, was puffing and gusting unpredictably.
Venturi and Palmer both hit their tee shots over the shallow putting surface and into the soft turf between the green and the trap at the back. It had rained heavily during the night and conditions were far from ideal. Venturi's ball kicked down onto the far side of the green, from where he two-putted. However, Palmer's ball landed on the turf and embedded itself. Following an animated discussion with a rules official Palmer was refused a drop, so he played the plugged ball and shifted it 18 inches. He then chipped near the cup only to miss the short putt he'd left himself. Now the drama began: Believing he was entitled to a drop due to the weather, Palmer returned to the spot where his ball had been plugged and dropped over his shoulder. It rolled down the slope a little, so he placed it near the pitch-mark. He chipped stone-dead and then holed it for a three. The question now was, had Palmer scored three or five? If three, he still led by one; if five, he trailed Venturi by one.
This question was still hanging in the air when Palmer struck a 3-wood second shot to the back of the green on the par-5 13th and holed the 20-foot putt for an eagle three. Two holes later he received word that his three at 12 would be allowed to stand, and history was all but written. Seemingly unsteadied, Venturi ended up tying for fourth. Palmer, on the other hand, rode the good news to an eventual one-shot victory over defending champ Doug Ford and Fred Hawkins.
Helping him were the many fans who'd grown to love his fighting style over the four-day tourney, including a group of local soldiers from Camp Gordon who'd been given free admission and had come to support Arnie (marking the first assemblage of "Arnie's Army").
Following the victory, the same newspapers and magazines that had all but ignored Palmer before the tourney suddenly were trumpeting his name as "a steel-nerved Master." The win garnered pages and pages of positive coverage for him, and opened doors that led to a lifelong partnership with manager, friend and agent Mark McCormack (who eventually marketed Arnie's image to the world), a meeting with President Eisenhower (with whom Palmer developed a lifelong friendship) and superstar status as the working man's golf hero and the man who would change the game forever.
"I was so tense and focused, I don't even remember the walk up 18," Palmer confessed in his autobiography, A Golfer's Life.
In contrast, he found the same walk in 1964 unforgettable. By then Palmer was a different entity entirely, even if, at his core, he was the same man who'd teed it up in 1958. He'd won the Masters again in 1960, when suburban America's newfound love affair with the television (and with televised sports) was in full bloom. That victory and the illuminated coverage being piped into households from sea to shining sea helped make Palmer golf's first superstar, and from then on he was riding the crest of a wave. He took the 1960 U.S. Open at Cherry Hills as well, followed by a hard-fought success in the 1961 [British] Open at Birkdale. A few months earlier he had blown the chance of a third Green Jacket when, needing a four for victory up the last, he contrived to take six and hand the title to Player. But a year later, in 1962, he exacted sweet revenge by beating his South African rival and Dow Finsterwald in an 18-hole playoff to don his third Green Jacket. By now Palmer's celebrity was in full effect, evident in the frenzied crowd that attended his late summer appearance at Troon to witness a second [British] Open victory—this one by six shots! For once in his gilded life, Palmer had won a Major whilst barely breaking sweat. It was a dream he had talked about after each of his previous Major wins: how much he wanted to smell the roses and wave to his fans down the stretch in the certainty that victory was secure. Alas, with the unruly crowd at Troon, that was not possible. His level of enjoyment was blighted because, rather than striding serenely up the final hole acknowledging the spectators' plaudits, he felt he was fighting his way through a raging mob in a scramble to catch the last bus out of town.
Palmer drew a blank in the Majors of 1963, the year that young upstart Nicklaus confirmed he was the real deal, but the King bounced back with a vengeance in the early part of 1964. This time his dearest wish came true, and where better than at Augusta.
Certainly, Palmer felt the 1964 Masters was his greatest victory. It had been months since he'd won on Tour, and there had been a few rumbles about his star starting to fade. Undaunted, Palmer silenced the critics with a poised, masterful performance at Augusta. From the first tee shot to the last putt—a birdie, no less—he commanded the field, firmly establishing his place in Masters history and reaffirming to all that he was indeed the King. This time, his name was atop the sports pages from the start; he came out swinging and never let up. Palmer won by six strokes and his 276 total was the second-best score to date in the tournament's history. He also became the first man to win the Masters four times, further cementing his legend. His attack on the course was beautifully planned and perfectly executed on a day-by-day basis, and it more than met expectations—though it might have disappointed some who'd been looking for more of a brawl. The stage had certainly been set: Weeks of rain meant there'd be little bounce and roll on the fairways, and there were Palmer and Nicklaus ready to slug it out. The 24-year-old defending champion and favorite to repeat, and the three-time Masters champ with the crushing drive. With all eyes on these two, the first day's results were surprising, with five men sharing the lead on 69: Palmer, Player, Kel Nagle, Bob Goalby and Davis Love, Jr.
On the Friday, Palmer's 68 was near flawless, one of the finest rounds of his competitive career. Partnered by Chi Chi Rodriguez who hammed up to the galleries, Palmer remained undistracted, not least at 13 where he followed Rodriguez's 3-wood approach into the green with a 1-iron to five feet. The Puerto Rican three-putted and, even though Palmer failed to hole his eagle, it seemed that he'd reached the point where he was in control of the tournament.
He led by four at the halfway stage from Player, whose 72 included six one-putt pars, and by seven from Nicklaus who was struggling on the greens.
Saturday, everyone chased Palmer. Eschewing his customary tendency to throw a few shots away early on to make things interesting, Arnie ground out a "take every shot as it comes" third round 69 that as good as slammed the door on his rivals. He stood 10-under for the tournament after 54 holes and his nearest challenger, five strokes back, was young Australian Bruce Devlin.
Twenty-four hours later, at precisely 5:26pm, Palmer was sinking the 25-foot putt that made him the first four-time winner of the Masters. He signed for a closing 70 having seen off dynamic last-round charges from Nicklaus, featuring an eagle-three at 13, and Dave Marr, Palmer's playing partner who seemingly holed every putt he looked at on the front nine. On the 18th tee, Palmer asked Marr, who at that point was third, trailing Nicklaus by one: "What can I do to help you?" "Shoot a 12!" Marr quipped, though in the end he needed no help from Palmer as he sank a downhill 30-foot birdie putt on the 18th green to tie the Golden Bear for second place.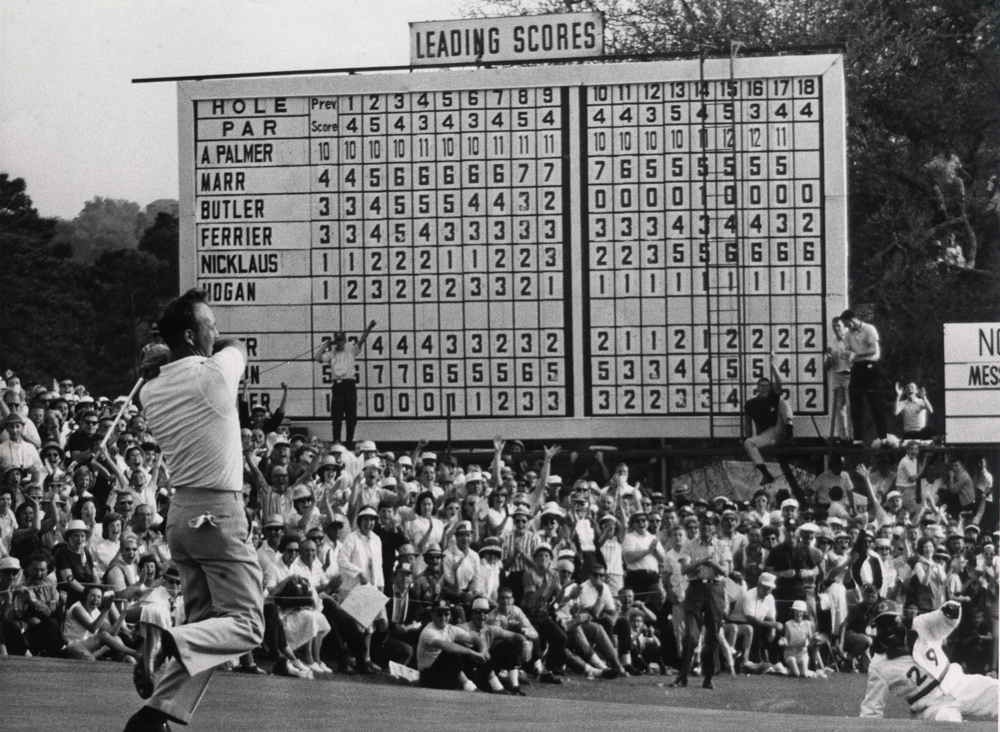 "At the start of the tournament," Palmer said afterwards, "I told all the reporters what score I thought would win, somewhere between 276 and 278, and I tried to set that as my point of aim. So when I began today's round I figured I could win if I shot a 72, which would put me at 278. Since Bruce Devlin was five strokes behind me, he would have had to shoot 66 to win, and that's a pretty tough assignment on the final day of the Masters.
"When I got here I felt as great as I have in years. I was hitting the ball solidly, and I felt that from tee to green I was okay. But on the green I wasn't so sure. When you go from one tournament to another, no matter how well you're hitting the ball you're never too sure about your putting. It's like checking out a plane with new sparkplugs. You're not sure whether they will all work."
For once, during that memorable week at Augusta, there was none of the spluttering down the stretch that traditionally injected excess nervous tension into Palmer's annual tilts at the Masters. This time, the flight took off smoothly and soared majestically and inexorably to the highest echelons of professional golf.
Strangely, that was it for Palmer in terms of Major wins. He claimed a further 19 PGA Tour titles after that 1964 Masters success, not to mention numerous other wins beyond American shores, but his Majors' tally parked itself at seven and went no further. True, there were many subsequent near misses, but, as parlance would have it, a miss by an inch might as well have been by a mile.
Whilst one, slightly uncharitable interpretation would encapsulate Palmer's career within the six years that spanned April 1958 and April 1964—a period he entered as a contender and from which he emerged a King—the other, more reasonable view is that his reign is 60 years young and still spreading its legacy wherever the game is played and loved.