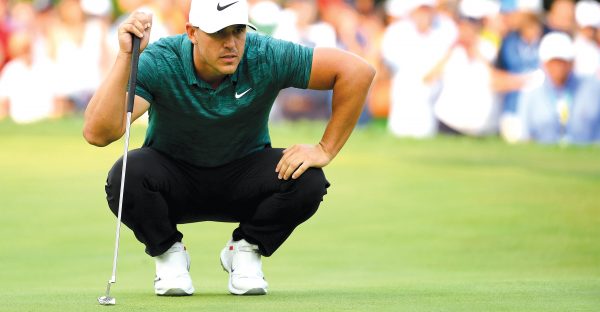 Cool-hand Koepka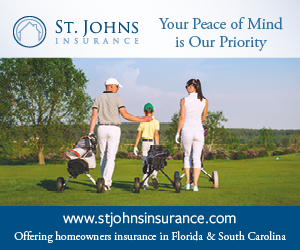 Despite winning his first major title at the 2017 U.S. Open at Erin Hills, Brooks Koepka came into the 2018 majors on the outer reaches of the media radar. The names Dustin Johnson, Justin Thomas, Justin Rose and Rickie Fowler were more prominent in championship previews and opinion, but not any more. Koepka, now a three-time major champ and golfer who has reached world No. 1, spoke to Kingdom about winning big and re-setting his goals
It was the final round of the 2018 PGA Championship at Bellerive, St. Louis, and Brooks Koepka stood over a five-foot putt for birdie on the eighth hole. He held a two-shot lead over Tiger Woods, Adam Scott and Justin Thomas, but as he settled over the ball, a roar from the crowd surrounding the ninth green echoed through the trees and washed over the eighth green. It wasn't just any crowd roar; it was a Tiger roar, the force of energy that only occurs when Woods is on a charge.
Koepka immediately knew his lead over Woods was down to a slender, single stroke. This is how a short yet delicate putt on a slight downward slope becomes a bit more slippery in the mind's eye. The hole shrinks. These putts look straight forward until you are the one gripping the putter, standing over the ball, with thousands of fans around the green glued to your every move and millions more via the television cameras.
Visibly at least, Koepka did not flinch. He did not step back, look up or adjust his routine, but took a last look at the hole before calmly delivering his ball straight into its shady midst. His two-shot lead was restored, 10 holes to play. It is not just booming drives that make Koepka a major champion, it is the short putts too.
"I was about to hit my putt and it was one of the loudest crowd roars I have heard," recalls Koepka, 29, and like Woods a Testimonee for Swiss watchmaker Rolex. "I knew Tiger must have birdied nine. I thought, 'Just make this one, get through this hole'. The atmosphere was unbelievable but I tried to focus on each shot, one at a time."
Recalls Woods, 43, and golfing hero to the childhood Koepka not that many years ago: "The energy that day was incredible. There was a lot of excitement and the crowds were willing all of us to hit great shots. It was very positive and great to be in the middle of that kind of
scene again."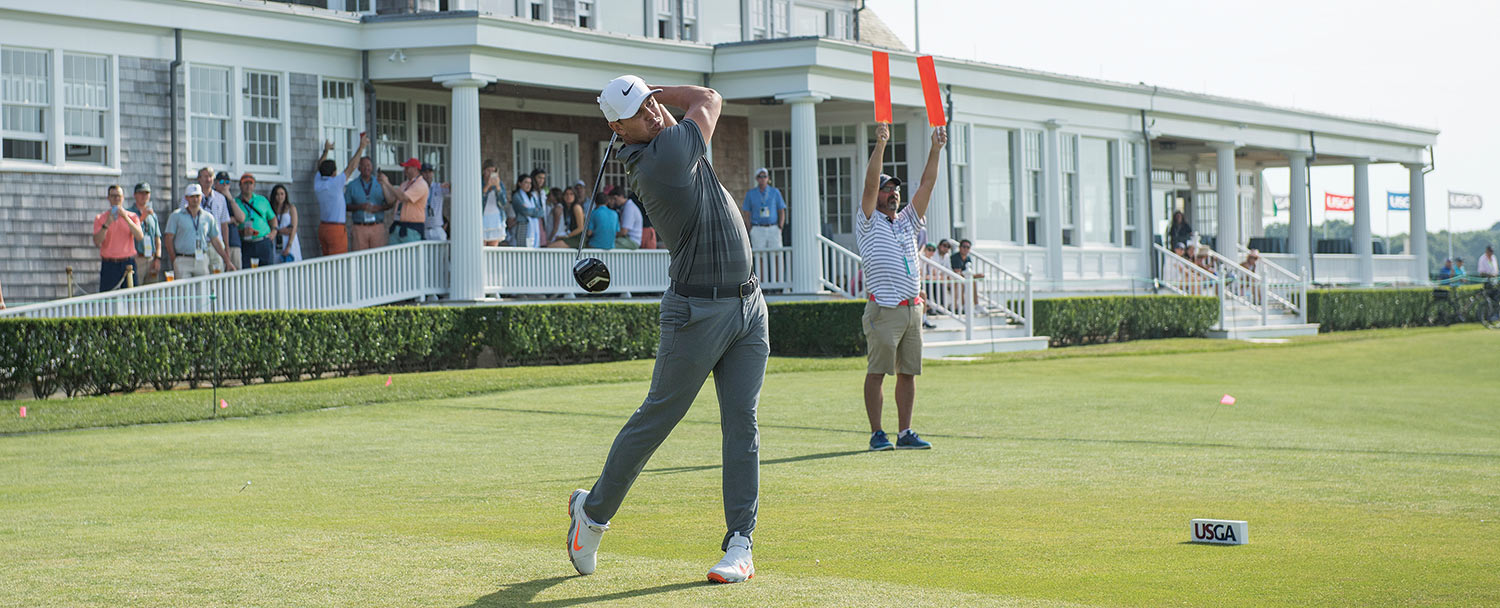 By this point it had been 10 years since Woods had lifted a major trophy, the 2008 U.S. Open at Torrey Pines, when playing with a fracture in one leg he edged Rocco Mediate in a play-off. Since then and after a long line of injuries and four back surgeries, many presumed Woods was finished as a major contender. Then he held the final-round lead in the [British] Open at Carnoustie last July. He didn't win—the unshakeable Francesco Molinari claimed the Claret Jug—but Woods showed for the first time in a decade that he, now a PGA Tour veteran, could still keep pace with the young new guard in the biggest championships. Old man Woods, 15 years older than Koepka, was turning the heat on the champion of the past two U.S. Opens.
Tiger kept charging, the crowd kept roaring, but Koepka kept his golfing idol at bay. Woods shot the lowest weekend 36-hole score—66-64, 10 under par—in championship history, but at no point did he catch Koepka on the leaderboard. Koepka had shot a second round of 63 to match the lowest score ever posted in 100 years of the PGA Championship and his fourth-round 66 was enough to leave Woods in second place by two. It was a classic finale to the closing major of last year.
"Brooks is a complete golfer and he put it all together that week," adds Woods, now a winner of 15 major titles since claiming the Masters last month. "He literally drives the ball 340 or 350 yards in the air and when he's hitting it straight that makes him very tough to beat. Brooks didn't just have the driving at Bellerive though; he had the iron game, he had the putting and he made some key up-and-downs over the weekend to keep himself in the lead and to win. It was very impressive."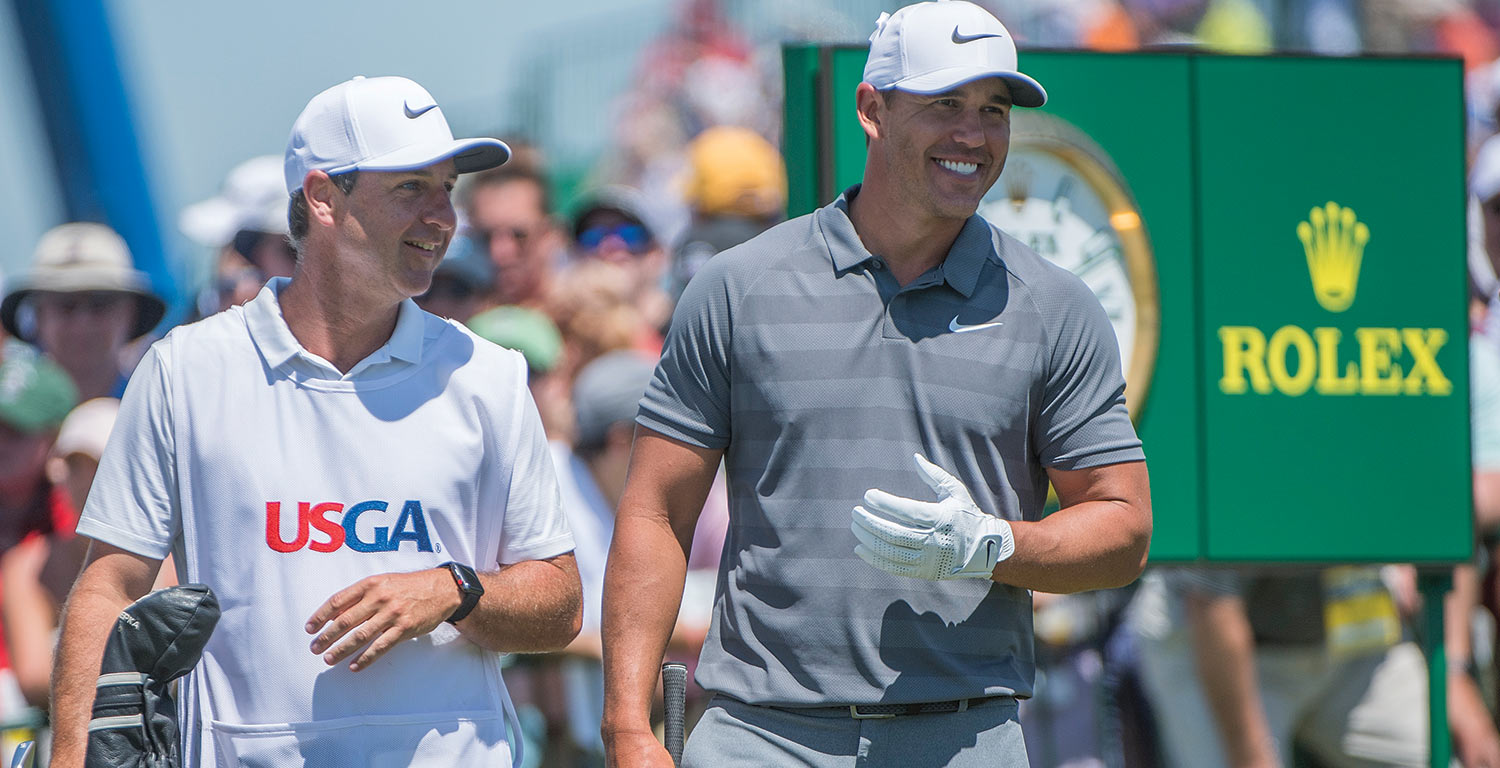 The great American double
In the cauldron of a major championship final round, most golfers would melt under the added pressure of having to keep the resurgent Woods at bay, yet Koepka's invariably ice-cool temperament looks unshakeable.
"When the heat is on I don't want to let other golfers know what is going on in my head," admits Koepka, now a winner of three major titles in his last seven starts. "You sometimes hear about people complaining about being misunderstood but you know, I actually don't want to be understood. That works fine for me. There are times when I want to jump up and down to react to something—be it good or bad—but it is better to keep those emotions to myself. It is also about keeping my focus while I am on the golf course. I have a job to do and I have decisions to make before every shot and I know I can perform to my best if I stay calm."
Winning the U.S. Open and PGA Championship in the same year is more than rare; on a scale of achievement it is at the point of 'Once in a generation'. The last golfer to achieve this great American double was that man Woods in 2000, 18 years before Koepka. Back in 2000 Woods was in indomitable form and on his way to completing the 'Tiger-slam' of winning all four majors in succession (in 2000 he won the U.S. Open, The Open and PGA Championship before completing the quartet at the 2001 Masters). No wonder he was Koepka's idol.
"When I sit and think about my 2018 season and see my name on the U.S. Open and PGA Championship trophies, it is amazing to think I am one of only five golfers to have won both of them in the same year," says Koepka, who reached a World Ranking of No. 1 for the first time in October. "That is quite humbling and makes me very proud and that is what all the hard work is for."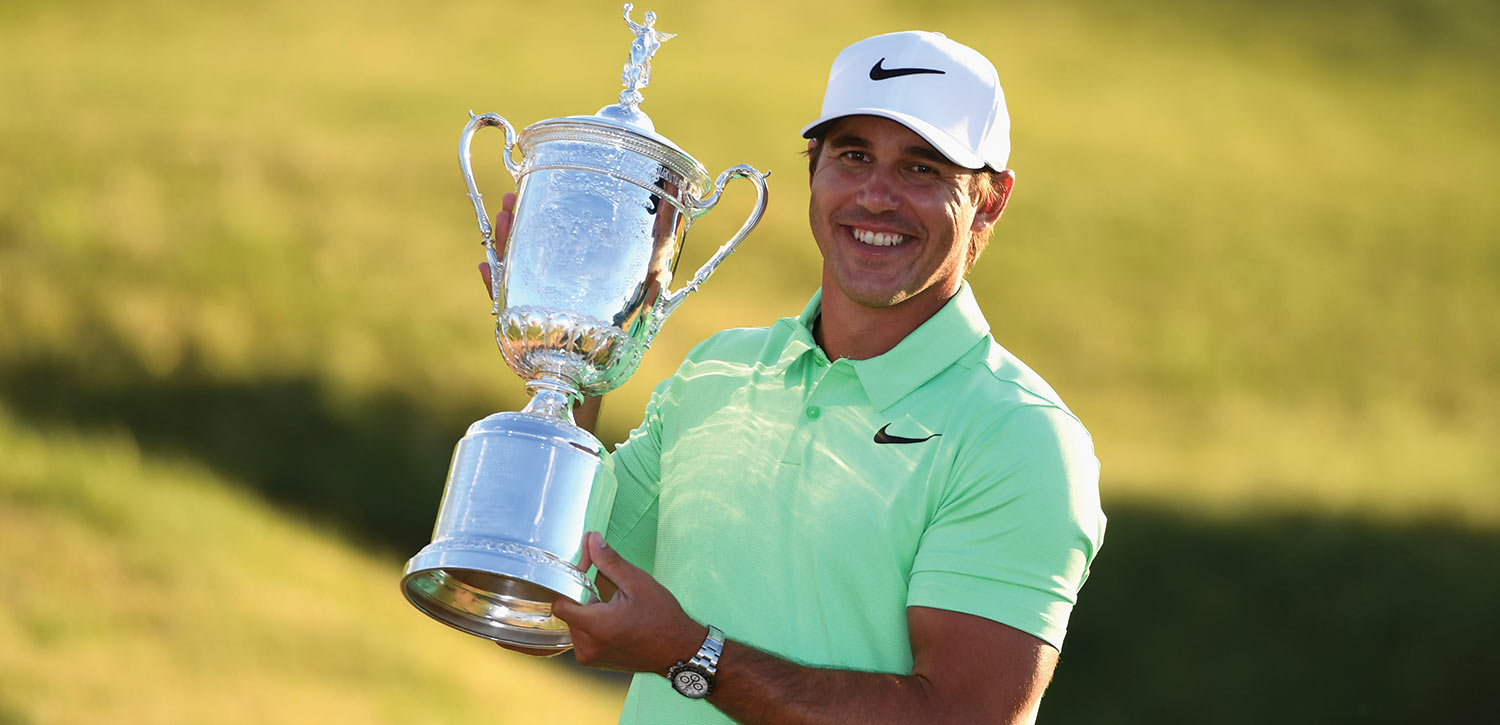 Before Woods, the last golfer to win the U.S. Open and PGA Championship in the same year was the 'Golden Bear' Jack Nicklaus, who claimed both in 1980, the 16th and 17th of his peerless career haul of 18 major titles. The other two were Ben Hogan and Gene Sarazen.
This is the company Koepka is keeping in the record books. And not even Tiger has yet hoisted the U.S. Open trophy in successive years. When Koepka successfully defended his U.S. Open title last year he became the first since American Curtis Strange in 1988-1989, 29 years before.
"The 2018 season was unbelievable for me on the one hand," adds Koepka, "yet I have always felt I could reach this kind of success, that it was inside me and that I have the talent. But you can't predict if or when it will happen. There are so many factors that need to come together to win a tournament, and particularly a major."
Koepka is leading the Rolex New Guard in men's golf, along with fellow Americans Justin Thomas, Bryson DeChambeau, Rickie Fowler and Jordan Spieth. All five were members of the American Ryder Cup team in 2018 and they are set to remain the nucleus of the team for years to come.
There is another particularly exclusive club on which Koepka now has his eye on joining; those who have completed the career 'Grand Slam' of winning each of the four majors. The only members of this club are Sarazen, Hogan, Gary Player, Nicklaus and Woods, and Koepka needs the Masters and The Open to join them.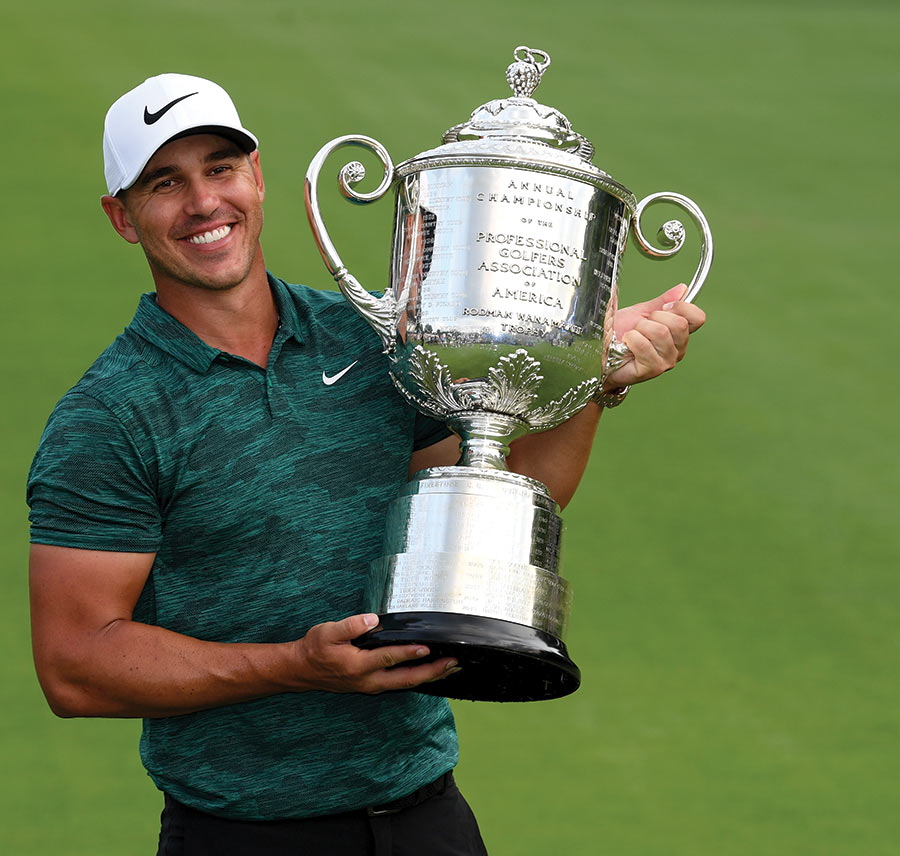 "I do think about the career grand slam and I am halfway there," he says. "When it comes to The Open, St Andrews is where I think I have my best chance of winning. I have played so well on the Old Course in the past and hopefully I could have three more chances to win The Open there."
The Open will next return to the "Home of Golf" in 2021, when golf's oldest major is played for the 150th time, so Koepka will have to be patient for the opportunity to win there, but even so, it will be exciting to watch his bids for further major success in the meantime. And if Koepka can win the U.S. Open for the third year in a row? Well, not even Tiger, Jack, Ben, Gary or Gene have reached that level of dominance. Scot Willie Anderson is the only golfer to have won three U.S. Opens in a row—1903, '04 and '05—and it will be exciting to see Koepka's tilt at Pebble Beach in June.