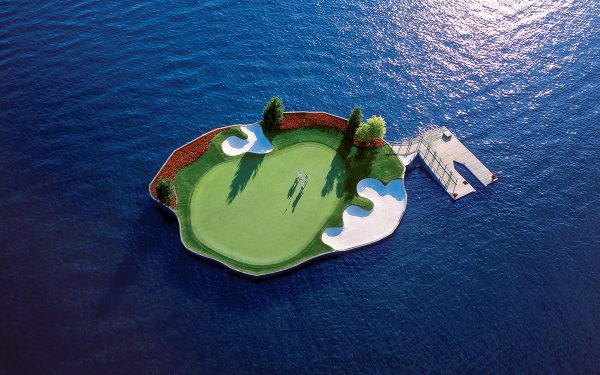 For the Record
Golf is essentially a conservative game, but in the hearts of most golfers lurks a buccaneering spirit. In the grill room after a round, tales of derring-do are traded, superlatives bounce off the walls and facts become distorted. But some claims are no exaggeration at all. Paul Trow delves into a golf file marked "incredible but true".
The view held by most members of the human race is that golfers, like stamp collectors and computer geeks, are oddballs from another planet.
When Mary Queen of Scots strolled out for a few holes only a day or so after the murder of her husband, Lord Darnley, her apparent indifference was labeled as callousness by those who knew no better. To golfers, though, it was a self-defining, cathartic moment.
There seems no limit to the ordeals we are prepared to endure while pursuing our insane pastime, and many course designers are only too happy to indulge such masochistic tendencies.
Some, however, go even further—and their creations, whether sadistic or just plain absurd, often leave even the most stoical golfers blinking in amazement.
Dub's Dread, in Kansas, home of the  equally arduous Yellowbrick Road, measures 8,204 yards and boasts a par of 78. This monstrosity, which dates back to 1964 when most layouts barely exceeded 6,500 yards, was officially the longest 18 holes in the world until 2001. Since then, though, it has been dwarfed by the International Course in Boston, Massachusetts (adapted from Geoffrey Cornish's 1950s Runaway Brook design into an 8,325-yard behemoth from the back tees) and Jade Dragon Snow Mountain at Linjiang City in Hunnan province some 10,000 feet above sea level in the Chinese foothills of the Himalayas which stretches to 8,548 yards.
The Herculean effort required, and the sheer length of time it entails, must make playing a round on any of these gargantuan creations feel like a suicide mission. A simpler form of self-annihilation might be to jump off the top of the seven-storey garage at Pompano Beach, Florida, or over the side of the ocean liner "Legends of the Seas" where two of the world's shortest layouts can be found.
However, for mental torture in its purest form you would be hard-pressed to find anything more excruciating than the 14th, otherwise known as Flottante, at Coeur d'Alene in Idaho. This par-three hole has a green which is surrounded by water, is made of polystyrene and can only be reached by ferry. What really sets it apart, though, is its movability. It changes position daily and can measure anything between 100 and 175 yards.
Picture the infamous island green at the 17th on the Stadium Course at TPC Sawgrass, home of the Players Championship, and then imagine it in a different place each day!
Ferry journeys across water hazards are actually quite common throughout the game. One particularly notorious example is on the 18th of the Melbourne Course at Brocket Hall just north of London, England. This Peter Alliss and Clive Clark design meanders back and forth across the River Lea which runs through the grounds of this former stately home, but at the closing par-five the green can only be reached by ferry. As one travels across this millpond, it is incredible to think that several Ferrari and Maserati automobiles worth more than $500,000 each were once concealed beneath the surface. Their owner Lord Brocket pretended they had been stolen in order to make a fraudulent insurance claim—when he was found out the jaunty aristocrat duly spent two and a half years in jail.
Ferries, buggies and submerged Ferraris aren't the only transportation to be found on courses around the world. The cable car which plummets more than 1,000 feet from the 17th green to the 18th tee at Industry Hills, California, provides a view of downtown Los Angeles which takes the breath, as well as unpleasant memories of an unsatisfactory round, completely away.
Another truly memorable downhill view can be found on the 15th tee of the Tom Fazio-designed Quarry Course at Black Diamond Ranch on the Gulf of Mexico, just north of Tampa, Florida. One stunned visitor observed: "One moment you're 'just' playing a round of golf, the next you're standing on the edge of a limestone quarry, while 80 feet below you fog rises from Black Diamond Lake. Wow!"
Such elevation, of course, is negligible when compared to Jade Dragon Snow Mountain, but even that pales into near insignificance when compared with the world's highest course at Tactu in Morochocha in the heart of the Peruvian Andes (14,335 feet above sea level, in case you were wondering). At the other end of the scale, compare and contrast Tactu with the now-defunct nine holes at Kallia which once ran along the shore of the Dead Sea nearly 1,250 feet below sea level.
The world's longest hole is now reckoned to be the 6th at the recently opened Chocolay Downs Golf Club in Marquette, Michigan. It can measure 1,007 yards from the back tee, which is rarely used, mainly because with more than 50 sprinkler heads it is twice as expensive to aerate and maintain as any other hole on the course. So the members have to slum it most of the time and play it as a mere par-six as opposed to the par-eight its full yardage would probably require.
None the less this beast is a source of great pride for owner Joe Gibbs, who wastes little time beating the publicity drum, especially as the next longest hole in the U.S. is believed to be an 841 yard par-six at Meadows Farms in Locust Grove, Virginia, designed by Bill Ward Jr.
They must be an imaginative and adventurous bunch up there in Marquette (either that or there's something in the water) because the 9th hole at the nearby Chocolay Golf Club boasts the world's largest green—in excess of 29,000 square feet and just shading the putting surface on the 5th at the International Course in Boston which is almost equally as vast.
Giant-sized holes aren't the preserve of U.S. golf, though. The longest hole in Japan, not known for an abundance of golf-suitable real estate, is the 964-yard par-seven 5th at Satsuki Golf Club in Sano, 50 miles or so north of Tokyo. The lifting of heads on the 860-yard par-seven 6th at Koolan Island in Western Australia is a regular occurrence, and not just because it's one of the world's longest holes. It doubles as an air strip.
They're certainly a brash lot 'down under'. Currently under construction is the golf course to end all golf courses—eight holes are already completed and the remaining 10 will open next year. Designed by the Eyre Highway Operators' Association secretary Alf Caputo and named Nullabar Links, it will span 1,365 kilometres and run parallel with the Eyre Highway from Kalgoorlie in Western Australia to Ceduna in South Australia. Playing packages of up to 11 days are already being sold, with the Japanese and Korean markets particularly enthusiastic.
When it comes to traffic and congestion, the Japanese lead the way. They have even installed a traffic light at Fukuoka, one of their busiest courses. After putting out at the 9th, players switch it to green for those waiting behind. Meanwhile, floodlit golf is now commonplace across the Far and Middle East, though less so in Europe and North America.
The oil-smeared greens known as "browns" at colonial outposts are largely gone, but there is still plenty of wildlife on show. Elephants and warthogs enjoy a right of way on many African courses while relief is automatically granted to balls that finish in hippopotamus' footprints or close to sleeping crocodiles. Indeed, rattlesnakes pose a similar hazard in Arizona or Colorado. At a course in Vermont, llamas act as caddies while squawking crows are constant companions at the aptly named Wack Wack Club in Manila. At Royal Canberra the kangaroo population is regularly culled and ball-munching iguanas are scarcely more welcome in Malaysia. For those who perhaps scare more easily when it comes to the supernatural, the course Stromness in the Orkney Islands north of Scotland wends its way through and round a 5,000-year-old burial mound.
Mickey Mouse, or rather a bunker shaped in his silhouette, is the nearest they get to animal intrusions at Walt Disney Magnolia in Orlando, Florida while the French interest in naturism finds expression in two courses exclusively for nudists—one near Biarritz and the other near Nice—with holes which resemble parts of the anatomy when seen from the air.
For other firsts and extreme feats, where better to refer than the Guinness Book of Records which tells us that the world's longest hole-in-one was achieved on the par-five 8th at Teign Valley in Devon, England, while Hell's Half Acre bisecting the fairway on the par-five 7th at Pine Valley, New Jersey, is recorded as the world's widest bunker with a carry of more than 100 yards. Mission Hills in southern China is the world's biggest golf resort with 12 courses, all designed by household names, while the newly opened Legend Golf & Safari Resort in Limpopo Province, South Africa (another 8,400-yarder off the back tees, by the way), has had each of its 18 holes designed by a different (famous) player. Notably, the course's optional 19th hole is reached by helicopter—necessary as the tee for this 2,700-foot par 3 sits 1,410 feet above the green.
Contrary to the sport's rather stuffy image, no challenge is beyond some golfers. Imagine teeing up at the world's most northerly course, Akureyri in Iceland, and then consider that an airbase manager on Victoria Island in northern Canada stakes out nine holes each winter on the frozen Beaufort Sea. The same pioneering spirit is evinced by cattle farmer Gerald McDermott who missed the game so much when he moved to Belize in Central America that he built one solitary, 100-yard hole.
Perhaps golf's most famous missionary was the late Captain Alan Shepard, commander of Apollo 14, who struck two shots with a makeshift club when he visited the moon (He took the identity of the ball manufacturer to his grave with him when he died in 1998). It didn't quite take to another planet but that historic moment, no doubt, would have met with Mary Queen of Scots' approval.