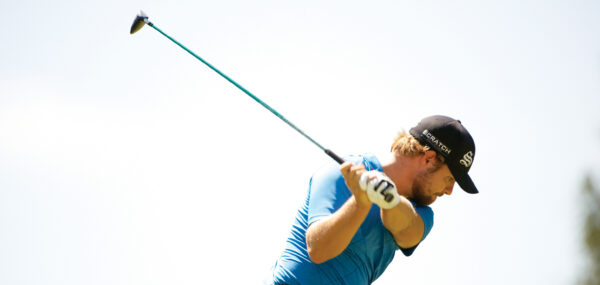 Ryan Moore
The Arnie collection enjoyed a successful launch to the golf trade at the recent PGA Merchandise Show. At the heart of this stylish array of apparel, blending the nostalgia of Mr. Palmer's halcyon days as the game's most charismatic player with state-of-the-art technology and textiles, is a young Tour professional who has always cut a dash as well as a mean fade. Paul Trow reports.
The PGA Tour, like any walk of life, has its fair share of stereotypes—clean-cut veterans grinding toward their 50th birthday and that pot of gold otherwise known as the Champions Tour; pumped-up gym addicts with muscles bursting hulk-like from their pastel-colored polo shirts; walking cash machines who seem almost in a trance when it comes to the process of completing a golf stroke; and born-again Christians wearing their faith on a sleeve. But it also has Ryan Moore.
In this case, Moore is definitely more, not less. Now in his eighth season on Tour, he has a well-established reputation for doing his own thing regardless of what might be in vogue. He has certainly never been one of the herd, and his choice of dress has always reflected this fact. So much so, that on many occasions he could easily have been in Vogue.
While the stereotypes paraded their on-course skills wrapped from head to toe in sponsored gear, Moore tended to steer clear of any arrangement that would see him attired in a way with which he was not comfortable. The preppy cardigans, pencil-slim ties and logo-less caps he used to wear while going about his business, still likes to wear from time to time, are definitely not the first thing you'll see on the rack when you run by the pro shop at your local country club.
But after teasing the apparel industry the whole time he's been on Tour, Moore, who has turned down endorsement deals worth potentially hundreds of thousands of dollars in order to retain his independence, has at last come in from the cold. After holding out for so long, he now has a sponsor, the sponsor of his dreams, and he couldn't be happier.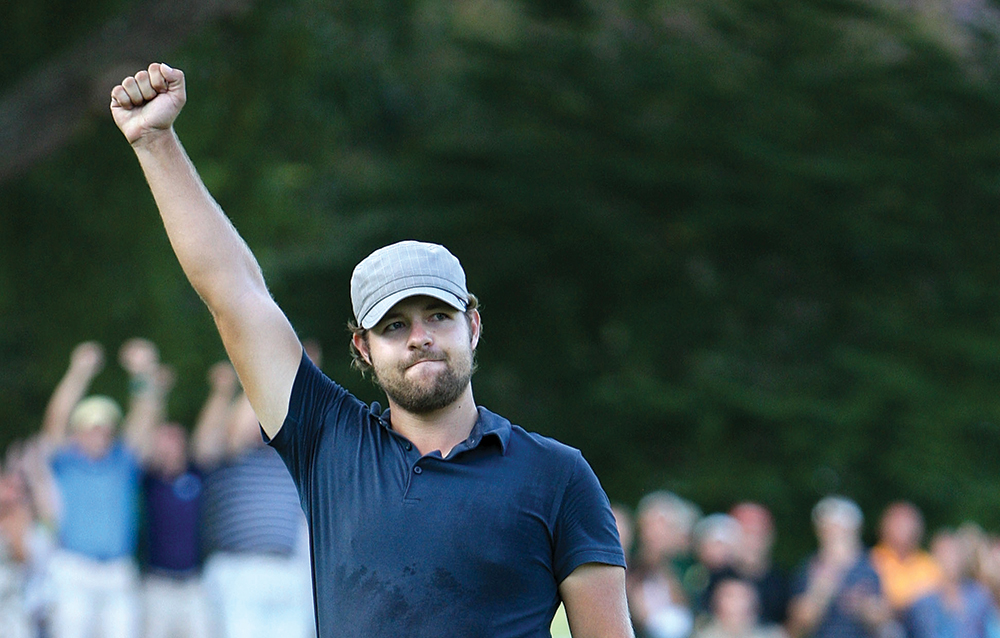 Ryan Moore is the official face of Arnie, a golfing apparel range developed in tandem by Mr. Palmer and his daughter Amy Saunders with cutting-edge Canadian company Quagmire.
"I can still wear cardigans and ties if I want to," the 29-year-old from Puyallup in Washington state, told me when I caught up with him on the range at the PGA West club in California's Coachella Valley. "But I love the Arnie line—it is both fashionable and timeless. They [Geoff Tait and Bobby Pasternak of Quagmire] approached my agent, sent me their catalog and we met up in Las Vegas last fall [during the PGA Expo show at the Venetian hotel]. The concept and style that they were offering me was exactly what I was looking for. And the other amazing thing about them is I might give them an idea and within 24 hours they've turned it round and produced a garment. Those guys, they're so professional."
In some respects, Moore is a bit of an experiment for Mr. Palmer and Quagmire, a leap of faith into the unknown, if you will. He's certainly a fixture on the PGA Tour, in it for the long haul as his money-list finishes through the previous seven seasons—113th, 81st, 59th, 88th, 31st, 32nd, 42nd—suggest; and he's young enough, at 29, to have a dazzling future ahead of him. In truth, most of the game's star players don't remotely fulfill their potential till they're past 30 (Moore's big day doesn't arrive until December 5). Indeed, Mr. Palmer didn't win his first major—the 1958 Masters—until he was 28.
"This is my eighth season on Tour and I feel I'm due to win again soon," Moore says. "I've only won the one title on the PGA Tour [the 2009 Wyndham Championship in Greensboro, North Carolina]. I think I was something like seven shots back with nine holes to play in the final round, but I had a good charge going and one or two of the guys ahead of me on the leader-board, Sergio Garcia in particular, started leaking shots. In the end I won the title in a three-way playoff [against Jason Bohn and Kevin Stadler].
"I would say my strength out on the course is on the mental side. My short game and putting are pretty solid, and I pride myself on my course management. My USGA record would suggest that I tend to play well on the tougher courses."
His USGA record definitely proves he can play well on the tough courses, invariably set up by the game's governing body to play at their very toughest whenever a big championship comes calling. And his high, controlled, stock-in-trade fade has clearly been a factor in helping him stay on the short grass over the years.
In the summer of 2004, Moore held five of the game's most prominent amateur titles: the U.S. Amateur, U.S. Public Links, NCAA Championship, Western Amateur and World Amateur. This record, indicative of the talent Moore possesses, means there are parallels to be drawn between him and, say, Matt Kuchar, who enjoyed a similarly impressive career prior to turning pro. In contrast, Kuchar then took nearly a decade to start fulfilling his talent in his early 30s. This gilded period in Moore's life was even more memorable for him because of his experiences at the 2004 Masters. "I actually played with Mr. Palmer a couple of times at Augusta National that year—I got in because I was public links champion. We played together in the par-3 tournament and also in practice before the tournament.
It was a fantastic experience that I shall always cherish."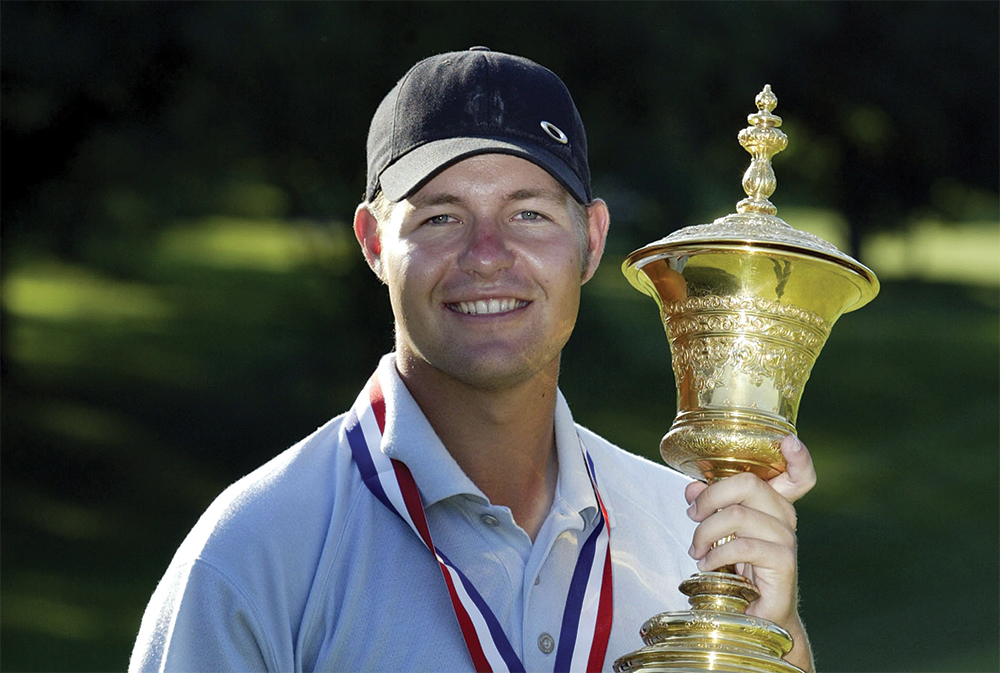 Mr. Palmer, for one, is mightily impressed with his young protégé. "He's my kind of guy," he says. "I like him a lot and I think he's going to do really well with this brand."
The main thrust of the Arnie range has been to reflect Mr. Palmer's classic look from the 1950s through the 1970s. "Mr. Palmer is among my all-time idols as a golfer and a person, so competing in these clothes and being so closely associated with his style legacy—it's a dream come true," Moore continues. "The research that went into each piece is really evident and when you combine those timeless elements with advanced technical fabrics you've got something great."
The collection was developed in part by going through Mr. Palmer's personal library of photographs. It is currently being distributed to retail outlets in three styles—the 1950s (fitted pants and tops, small collars and shorter sleeves); the 1960s (wider pant legs and collars); and the 1970s (slightly wider collars, with gray as the signature color).
Recently ranked one of 'The 25 Coolest Athletes of All Time' by GQ, which previously named him one of the '50 Most Stylish Men of the Past 50 Years,' Mr. Palmer has also been honored as one of 'The 75 Best Dressed Men of All Time' by Esquire.
Tait, creative director for Arnie and Quagmire, says Moore was always top of his list to wear the clothes. "He truly gets our vision and is a dapper guy who's always moving mainstream menswear trends onto the fairways."
Apart from a low-key association with Oakley at the beginning of his time on the PGA Tour, it wasn't until last year that Moore signed any sponsorship deals—with Adams Golf to play their clubs and TRUE linkswear to wear their golf shoes.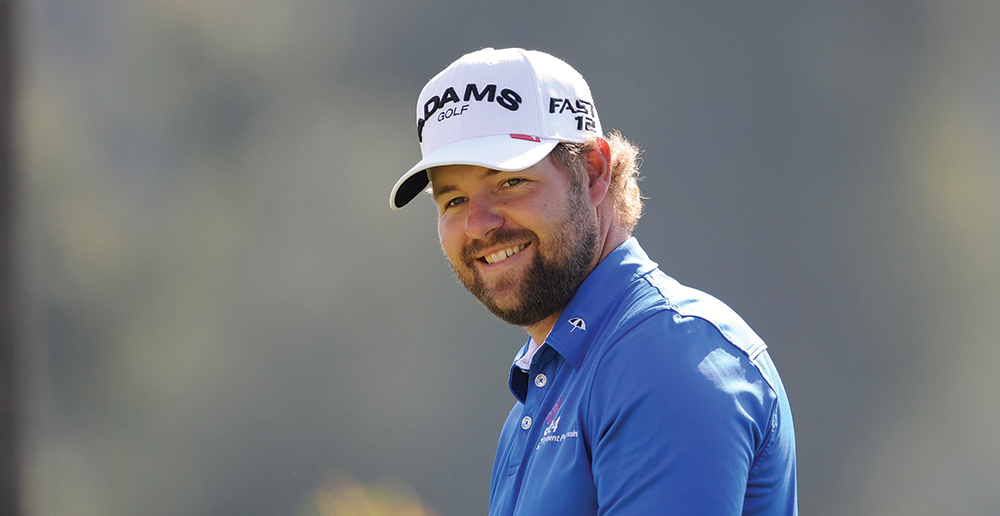 However, there's a lot more to Moore than the clothes that maketh this particular man. Even though his residence is in Las Vegas—he studied communications and public relations at the University of Nevada-Las Vegas and plays most of his recreational golf at TPC Summerlin or TPC Las Vegas—he remains a huge supporter of his home community near Tacoma.
Cementing that association, he has partnered with friends and family to form Ryan Moore Golf Course Management, LLC (RMG Club). Designed to combat Puget Sound's sagging golf economy, the RMG Club took over the ownership and day-to-day affairs of three local golf courses—the Classic Country Club in Spanaway, McCormick Woods in Port Orchard and Oakbrook G&CC in Lakewood. "We want this to be a product that appeals to everyone," Moore, who learned the game from his father "as soon as I could walk," said. "We want people to have great facilities they can go play at a reasonable rate."
With three levels of unlimited golf memberships available, the RMG Club is designed to attract players of all skill levels and people who pay the membership fees can play all three courses. "Our vision is simple; we believe all golfers should have the opportunity to belong to a world-class golf club," Moore explains. Memberships start at an extremely generous $49 per month with no money down for unlimited twilight golf. For only $99 per month, members are granted unlimited golf at the RMG home course of choice, significant discounts at all other facilities and many more perks.
Moore, who has two brothers—Jeremy and sometime caddie Jason—and one sister, Alyssa, also serves as host of the annual BMW Northwest Charity Skins Game at Chambers Bay—the Robert Trent Jones Jr. course in Washington State that will host the 2015 U.S. Open.
But his focus going forward is on taking his own golf game up a peg or two. "I finished 37th on the FedEx Cup points table last year," he says. "I was on the fringes of Presidents Cup qualification for a lot of the season, but I didn't have that big finish towards the end which was what I'd have needed to make the team. Obviously making the Ryder Cup team this year is a big goal for me this year. I'd love to be on the team but I'm going to have to up my game because I've never got close to it before."
Moore's campaign to up his game has resulted in the appointment of a new and monumentally experienced caddie, Tony Navarro, whose most famous previous employers were Raymond Floyd and Greg Norman. "He's a great guy with a ton of experience," Moore confides. "I thought that could really help me take that next jump in my career and start winning a little bit more, so I'm excited to have him on the bag and excited for this year."
Personally, I think I might have had some influence on this 'next jump' as well. Moore and I conversed after his level-par first round of 72 at the Humana Challenge and he went straight out the next morning and shot 61. Coincidence? I don't think so! And he looked quite smart, too.