Southern Hospitali-Tee
It's been said that north, east and west are directions on a compass, but South is a place. These days a place so rich in history is devoting a lot of time looking in the other direction. The Gulf Coast is banking on a future made golden with gaming and golf. Yes, as Chris Rodell writes, you can still reminisce and wish you were in the land of cotton where ol' times are not forgotten. But rest assured, the promise of memorable tee times will not soon be forgotten either.
Those who approach life from the glass-half-empty side are sure to think of the Gulf Coast as mired in a perpetual cycle of destruction and resurrection. In just the past five years, there's been Katrina, Deepwater Horizon and Isaac. And the only natural phenomena outnumbering the headline-grabbing calamities are the soulful comebacks.
The more optimistically-inclined will say there's nothing nature or man can do to diminish this charmed and ever charming land.
And, c'mon, all along the sugar shores of Mississippi, Alabama and the Florida Panhandle, there are squads of friendly bartenders eager to fill those half-empty glasses right up to the top.
Cheers!
Interested in a glass-more-than-half-full perspective of what is being marketed as America's Golf Coast? You can't beat a man named Drum.
"We're three destinations in one," says Kevin Drum, executive director of the Biloxi-based Mississippi Gulf Coast Golf Association. "We have the golf quality of the magnificent Carolinas, the weather of Florida and the gaming opportunities of Las Vegas. And we have some of the tastiest food you'll find anywhere in the world."
He's right about the trifecta of fun that makes driving around the Gulf Coast in a Hertz rental car such an appealing option.
During a roughly 100-mile stretch from the eastern banks of the Mississippi River to the tip of the Florida Panhandle there are 20 championship courses wedged between Interstate 90 and the waves. The average high temperatures in April are 73.6 degrees; in July 88.5. And coastal Mississippi has become a regional casino Mecca with 12 casinos, the most recent being the months-old Jimmy Buffett's Margaritaville in Biloxi.
Drum is charged with making this sun-kissed land a legend among golf travelers on a restless quest to find the next great golf destination. It'd be wrong to bet against him. He has legend-making in his blood.
He's the son of CBS golf broadcaster Bob Drum, the late Pittsburgh sportswriter who first heralded to the nation that a skinny kid out of Latrobe was going to turn the country-club golf world on its head. In doing so, he helped him take the whole planet by storm.
Drum was to the sporting press what John the Baptist is to the Bible if Palmer had been a New Testament Messiah or if Jesus had known how to hit a soft fade.
It was Drum senior whose curmudgeonly goading at Cherry Hills in 1960 so agitated Palmer that he launched his most famous charge. And together Drum and Palmer divined the notion of golf's modern Grand Slam that today is accepted as gospel.
Those were the conversations Kevin Drum grew up overhearing at the dinner table and other places golfers only dream of being.
"Some of my earliest memories are flying around the country in Palmer's prop plane with my Dad," he says. "I'll never forget my dad asking me what I thought of Mr. Palmer's plane and me saying, 'Gee, Dad, it's pretty small.' Twenty years later my Dad was still introducing me to Mr. Palmer, saying, 'Remember Kevin, Arnold? He's the kid who said your plane's small.' And he did remember."
The colorful Drum is woven prominently throughout Palmer history. So when his son tells you he's found the next big thing, man, you'd be wise to pay attention.
"To me, sharing with the world's golfers the news that this is one of the best golf destinations in America is a once-in-a-lifetime opportunity," he said. "It has everything the traveling golfer could ever want—and it's all in one place."
If history has taught anything it is that even the worst storms and spills along the Gulf Coast will come and go. The good times aren't going anywhere.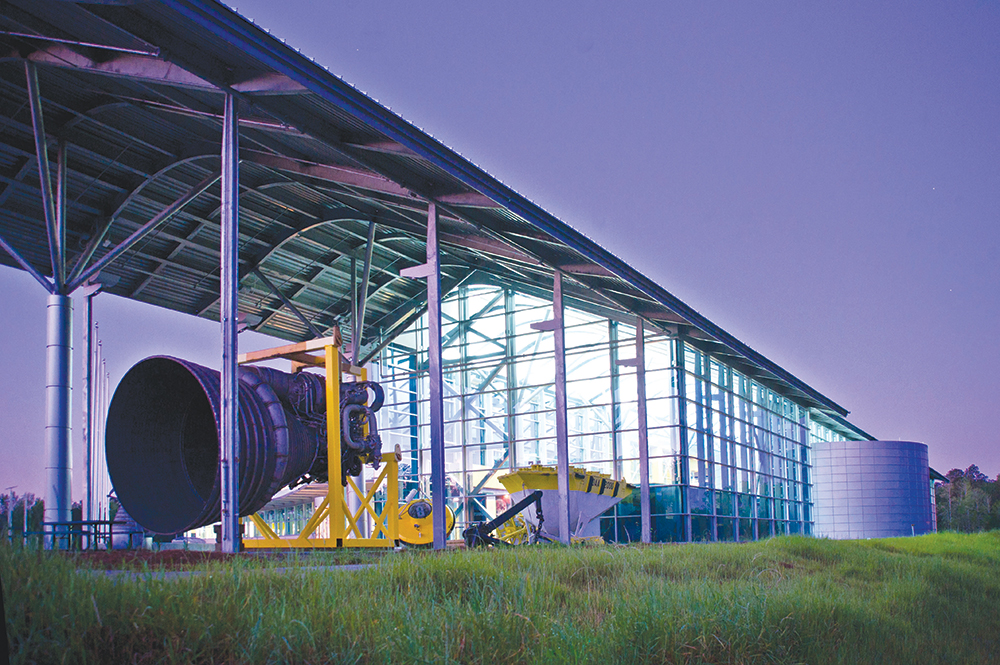 Bay St. Louis, MS
The garage-sized reinforced steel box stood there amidst a vacant block for five years. Visitors to this idyllic little town would point and wonder at the surreal incongruity.
"It was the vault for Merchant's Bank," says Myrna Green, manager of the Hancock County Visitors' Bureau. "Katrina washed the whole block away and the only thing that didn't move was the vault."
Finally, the vault, emptied prior to Katrina's landfall as a wise precaution, is gone and Bay St. Louis, the town Katrina hit even harder than New Orleans, is back. This charming community of arts, shops and splendid hostelries like the 200 North Beach Restaurant and Hurricane Hunter Bar is open for business.
"It's been five years and that's how long it took to get the infrastructure back in place," Green says. "Once the electricity, sewage and all the utilities came back, things have really taken off."
Like a rocket. Opened in March after 10 years of delays, the $10 million Infinity Science Center is attracting tens of thousands of visitors and the adjacent Stennis Space Center is historically renowned as the Delta home to where NASA has since 1961 tested its rockets. The grounds are the site of America's largest rocket test complex and the museum of space artifacts, a hall that contains a moon rock, a real Space Shuttle engine and a Space Center simulator.
It's not the only Bay St. Louis location where people are intent on launching spheres into orbit. The other would be The Bridges Golf Club at Hollywood Casino, the only Arnold Palmer-designed course in the Magnolia State.
"Golfers here love how Palmer built around what nature provides," says head professional Billy Baumgartner. "He adapts the course to the land, not the land to the golf. That's evident here and that's one of the things golfers love about it."
Baumgartner says he is struck by how many golfers from Palmer courses around the country are on a mission to play as many other APDC courses as they can. "They love to sit around and talk about how The Bridges compares to their course back home," he says. "You hear it all the time."
Baumgartner says the Palmer name generated a lot of goodwill in the difficult months after Katrina by introducing an innovative stress-reducer for people beleaguered by tragedy and endless repair.
"We were the first course to open after the storm," he said. "We over-seeded the heck out of the fairways and got the course in play position. Then when we opened we used the oversized six-inch cups. And people just loved that. Life was tough enough back then. People really appreciated being able to score on the big cups."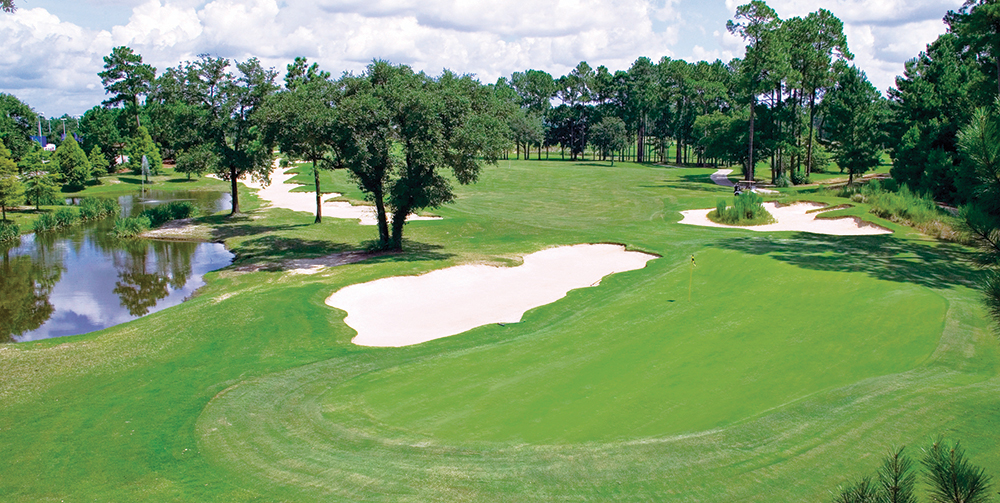 Biloxi, MS
It's No.4201 on the jukebox at Shaggy's on the Beach in Ocean Springs, the charming old Biloxi Bay hamlet that is to Biloxi what the French Quarter is to New Orleans. The number cues the tune Biloxi, Jimmy Buffett's 1977 romantic ode to the town that was renowned as "The Playground of the South" decades before casino gambling swept in to back the boast.
The song's an evocative lullaby about the hurricanes, seafood, beautiful women and splendors of skinny dipping in the magnificent warm waters of the Gulf of Mexico that bestow so much character on the region.
The singer placed a big 2012 bet that Biloxi itself will make an indelible impression on the minds of flighty parrot-heads. Because you can go to Key West to see where the Mississippi kid went after he became famous or you can go to Biloxi and the Gulf Coast to see how he became who he is.
"He was a border boy," says Drum. "Born in Pascagoula, Mississippi, he went to Southern Mississippi University. Visit Biloxi and you'll see where the idea of Margaritaville came from. This place is just so casual, so fun and so without any stuffy pretense. Just like Jimmy Buffett."
A growing niche movement of tourists is ambling down an informal Jimmy Buffett boyhood trail that wobbles all along the coast in places Buffett made famous through song or association. Places like Lulu's at Homeport Marina, operated in Gulf Shores, Alabama, by his sister, or that delightful dive Flora-Bama Bar, mentioned in his 1983 song, Rag Top Day.
The only part of the Biloxi experience that seems far removed from daydreams and hammock naps starts on the tee boxes. The advent of Mississippi casino gaming brought championship golf to a land that seemed made for it.
"We started marketing golf right away because we knew it was going to be a great niche market," says Janet Leach, golf and sports program manager for the Mississippi Development Authority/Tourism Division. "And it's really paying off. The area's dealt with hurricanes, floods and spills, but our golf play has been very steady. Golfers love coming here again and again.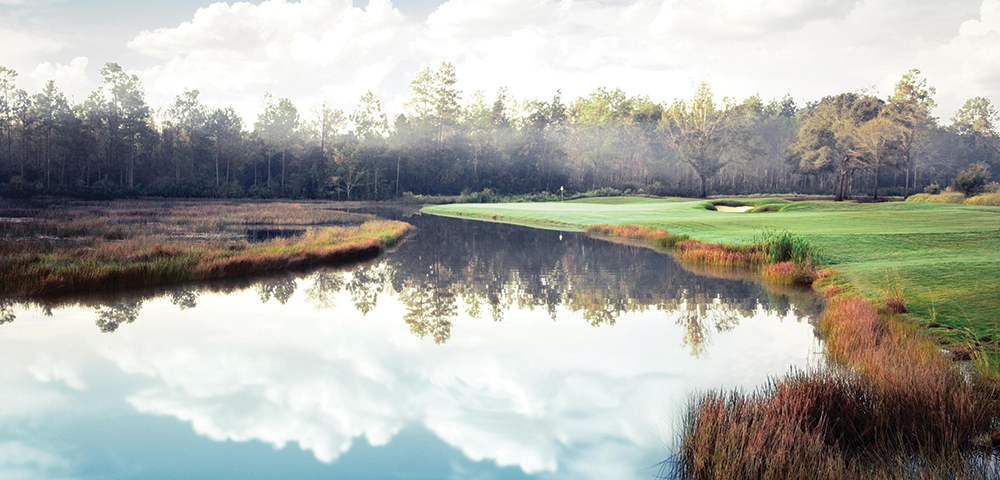 "You can't beat the quality of golf for the prices, the entertainment at the casinos, the food, the beaches and the games. Lots of people come for the casinos and are surprised to learn what a great golf destination we are."
It's not a surprise to Champions Tour pros, who each year bring one of the deepest and highest-profile fields to contest the Mississippi Gulf Resort Classic at the vaunted Fallen Oak, a dazzling amenity for guests of the Beau Rivage Casino. Golf Digest considers the Tom Fazio design the second best casino course behind only its sister course, Shadow Creek in Las Vegas.
Other notable golf clubs in the Biloxi area are Grand Bear, The Oaks, Shell Landing and a sublime Jerry Pate wilderness track, The Preserve, a course that looks all the more rugged for having to adjust to the ravages of Hurricane Katrina on the fly.
"We were under construction when the storm hit," says head pro Chris Champagne. "Overnight we needed to find a way to replace 1,000 trees. It was a real mess. Torrential flooding washed debris over the whole course."
Today The Preserve looks as its name implies: a wilderness refuge that threads its way through with 18 outstanding holes of marsh golf. Don't plan on munching on a hotdog at the turn here. The clubhouse food is refined enough for non-golfing diners to fill the tables for exquisite gumbo all day long.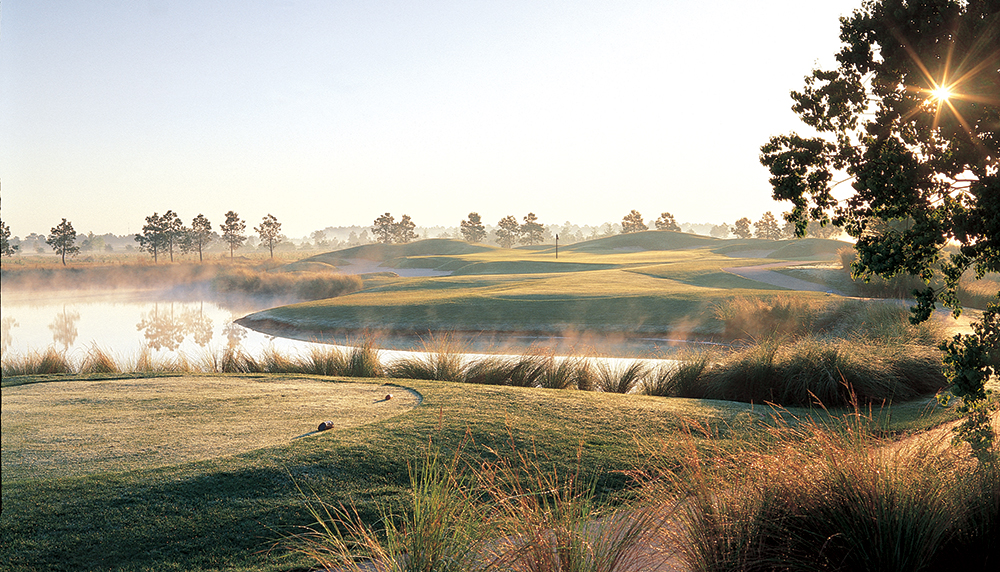 Gulf Shores, AL
As mentioned, this is a region that's used to dealing with forces of nature. But only one of them forever altered the region in ways that inspire residents. Arnold Palmer!
This once sleepy Gulf Coast community was devastated by Hurricane Frederick in 1979. Visionary entrepreneurs R.C. and Robert Craft figured the rebuilding would transform the town for the better.
They wanted to take a chance on turning their lucrative sod farm into championship golf courses. They needed what planning experts call a market accelerator, something that will generate overnight publicity.
They turned to Palmer, a human market accelerator.
"It was a real struggle to earn approval for a sewer line," says Robert Craft. "The opposition evaporated as soon as my father announced Arnold Palmer was interested. I remember the first question the mayor asked us at the very next council meeting was, 'Do you think you could introduce me to Mr. Palmer?'"
The mayor got his wish and the Crafts got their sewer line.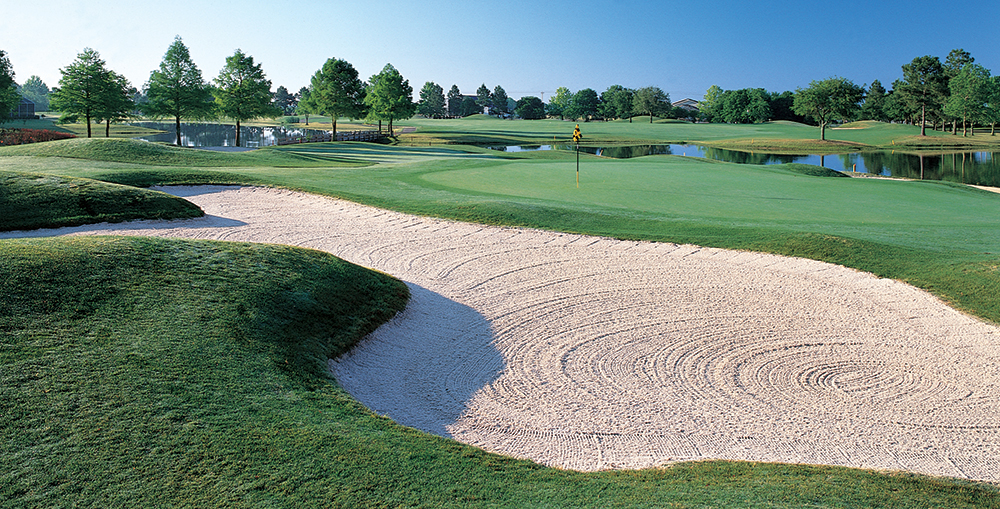 Today, Robert Craft sits in the seat of the man whose favor he once petitioned. He's been mayor of Gulf Shores since 2008.
"I think he was impressed that we were a father-son family business devoted to doing things right," he recalls. "He said to his team, 'Let's help these guys out.' Next thing I know, I'm watching Arnold Palmer and my father riding around the property watching sods being harvested. We had a whole team of people waiting there to answer his questions and all he wanted to do was learn about sod farming. We had to remind him that he was there to build a golf course."
Need a refresher on the evergreen appeal of Palmer? Talk to Craft.
"When my father died in 2006, one of the first people to call to express his condolences was Arnold Palmer," he said. "I remember he asked me, 'Tell me how I can talk to your mother.' He told her how much he thought of my father and his words really helped ease her through her pain.
"I have great respect for him as a golfer and a businessman, but what a human being."
In Gulf Shores, Craft Farms is considered the granddaddy of nearly a dozen courses and the only one fashioned by a true grand daddy. It's two 18-hole courses—Cotton Creek and Cypress Bend—teem with lakes, sculpted bunkers and shots that require precision attention; in short, they showcase the Palmer course-building mystique.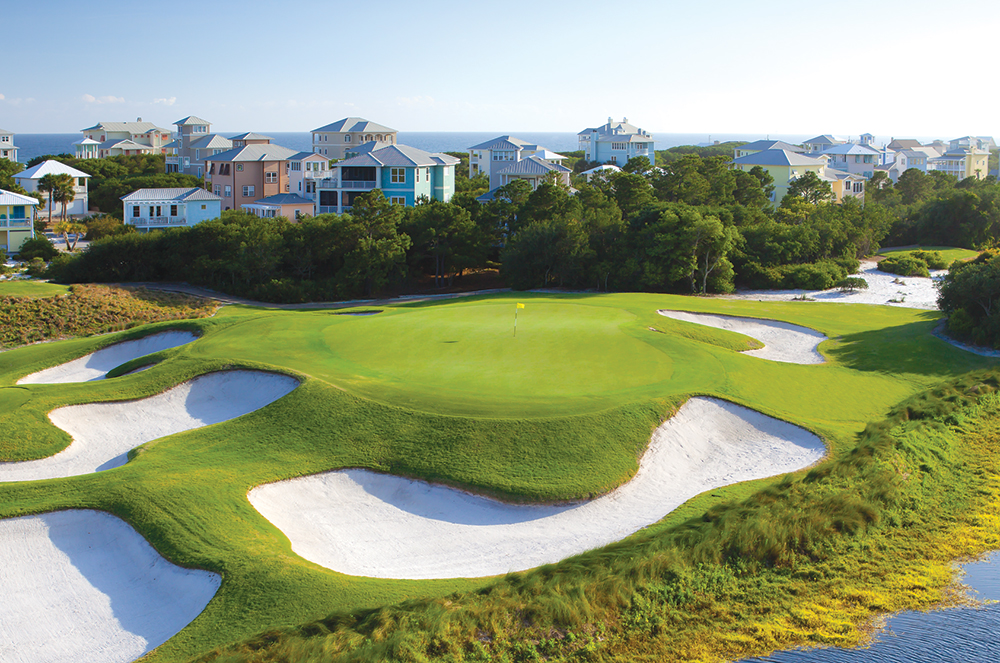 Just east from Craft Farms across the border in Perdido Key is another Palmer jewel, Lost Key Golf Club, the first Florida course to earn the distinction as an Audubon International Silver Signature Sanctuary. The course is exacting enough that frustrated golfers refer to it as "Lost Ball."
Earl Stone is another name that resonates with fans of great golf. He's designed three highly-regarded Gulf Shores courses—Peninsula, Rock Creek and Timber Creek—and all earn high marks from discerning golfers.
Best of them all, though, is the beguiling Kiva Dunes. Built on a dunescape that in places looks almost lunar, the golf here is out of this world. Unique and unsparing, the holes are carved through wind-gnarled groves twisted enough to look in need of chiropractic intervention.
The pro shop walls sport review accolades from every prestigious golf publication in North America. It's a regular in Golf Digest's lists of Top 75 American golf resorts and 100 Best Public Courses.
With a stately four-story lodge overlooking the nearby Gulf of Mexico, the property also includes elegant seaside homes, with one-to-10-bedroom availability, and lushly appointed condominiums.
And did you know Kiva has 3,000 feet of private beach? Perhaps not. In fact, it took an environmental catastrophe for some geographically challenged tourists to realize just how much luscious beach front there is in Mississippi and Alabama.
The 2010 BP Deepwater Horizon spill was the worst thing ever to happen to the Gulf Coast. Ironically, BP's reaction was the best.
"Our Gulf Shore beaches were Ground Zero for the spill," Craft says. "We were inundated with more oil than any beach along the whole Gulf Coast. It was horrific.
Having said that, if you had to have this happen with one company in the gulf, we're all glad it was BP."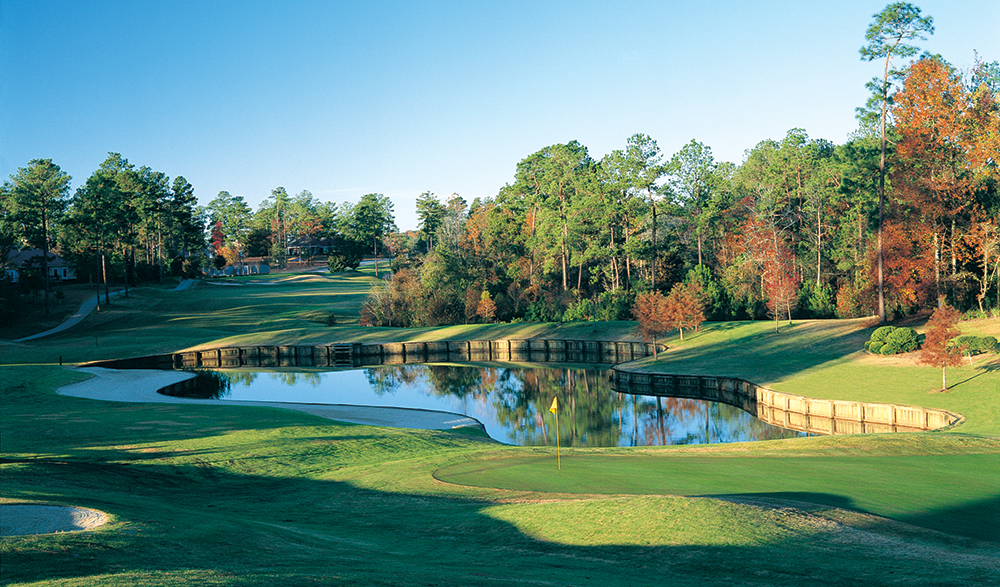 Two years and myriad stumbles later, BP officials now get uniformly high marks for their response, not least for an endless and effective advertising campaign that features tourism officials from Florida, Alabama, Mississippi and Louisiana extolling the virtues of renewed gulf tourism.
Duncan Millar, executive director of the Gulf Shores Golf Association, says the ads reach potential visitors who had no idea that the states had such dynamic tourist opportunities.
"It opened a lot of eyes to the fact that Alabama and Mississippi share some gorgeous coastline along the Gulf of Mexico," he said. "Those ads brought a lot of positive attention to the area. That means the world to us. Once we get people here for the first time, our repeat rates are through the roof."
He's right, of course. But why should the Gulf Coast be any different to the people who love to visit? Just like the people who love it, it keeps coming back, over and over, too.