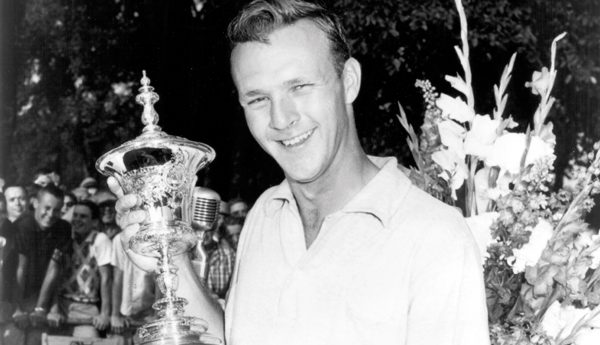 The 1954 U.S. Amateur: Destiny in Detroit
By Rick Johnson, with additional reporting by Paul Trow
The 1954 U.S. Amateur Championship was the denouement of Arnold Palmer's amateur career. In hindsight, it was an achievement that ushered in golf's modern era. Kingdom looks back on an historic week in Detroit.
"Where's my father?"
Arnold Palmer called out moments after he had won the 54th U.S. Amateur Championship at the Country Club of Detroit on Saturday, August 28, 1954. He had already given a big hug to his mother, Doris, who had tears streaming down her face. 'Pap' was there all right, lost in the throng. When his 24-year-old son spotted Deacon Palmer, who was never one for a big show of sentiment, the Latrobe superintendent nodded and said quietly: "You did pretty good, boy."
A story that begins with a happy ending.
The following week, Palmer played in bandleader Fred Waring's annual invitational in Shawnee–on–the–Delaware, Pennsylvania, and there he met Winifred Walzer. Within a short time, he was married to Winnie and had turned pro. And the following April he played in his first Masters.
His life thereafter progressed, with a few bumps along the way, down a boulevard paved with success, fame, honor and glory. The week of the 1954 Amateur was truly a turning point, not just for Arnold Palmer, but for the whole game.
Just think… if Palmer had stumbled during one of his eight matches (seven of which were undeniably close), he might have carried on working for Bill Wehnes as a paint salesman in Cleveland. He might have never met Winnie since Wehnes only let him off work for Waring's event as a reward for winning the Amateur. Who knows, there might even have been no charge at Cherry Hills, no Arnie's Army, no "go for broke" legend and no transformation of his sport.


More than six decades have passed since that historic week in Grosse Pointe Farms, Michigan, a wealthy enclave of auto-industry titans parked between the Detroit border and Lake St. Clair. The course had been redesigned in 1951 by Robert Trent Jones, who lengthened H.L. Holt's 1911 layout from 6,412 to 6,875 yards. But they have never played another major tournament there. Some of the club's honchos tried to bring the Amateur back in the early 1970s but the membership vetoed it. They mostly lived nearby and they didn't want crowds tramping across their Gatsby lawns. And no one wanted any tramping on their memories of the 1954 Amateur.
Most gentlemen scratch amateurs in those days had long, languid swings in the style of Horton Smith, Lawson Little and Bobby Jones. But the young paint salesman's contact with a golf ball—more slapshot than golf shot—bore the hallmark of a hard-handed son of toil.
A teenage caddie named Lew Echlin was assigned to tote Palmer's bag during a practice round. The youngster waited on the first tee as his man emerged from the locker room, attired in immaculate dress pants and a white shirt. Then the player hit his first drive and the caddie thought to himself, "What?". Palmer swished away at the ball throughout the round. Afterwards, the caddymaster gave Echlin the choice of either keeping the loop for the week or take an hourly rate for working on the scoreboard. Echlin, no doubt to his eternal regret, headed to the scoreboard.
So Jimmy Gill, who was 16 at the time, found himself on Palmer's bag. Years later, he recalled: "He was so strong, big shoulders and arms, and he was so confident. He was a gambler. He'd just go for it. If he missed a shot, he knew he would make it up later. He had something about him, that walk of his, the way he attacked the ball."
Six days, eight matches
Palmer played his first match on Monday, August 23, against Frank Strafaci of Garden City, a seven–time winner of the New York metropolitan title. He won 1-up after taking the lead by hitting a 4-wood from a sand trap on the 460-yard par-4 17th and getting up and down from just short of the green. The next day he again needed the full 18 holes to defeat John W. Veghte, a Florida State golfer from Gloversville, New York. On Wednesday morning Palmer met Richard L. Whiting, captain of the 1946 Notre Dame college golf team, but couldn't close out his opponent until the 17th. However, things were easier that afternoon against Walter C.
Andzel of Hamburg, New York, and a 5&3 victory was posted, as fate would have it, before a thunderstorm drenched the course and caused play to be suspended.
The next morning, Palmer took on Frank Stranahan, who had been winner by one hole in a thrilling fourth-round encounter with Harvie Ward, the man who succeeded Palmer as champion in both 1955 and 1956.
The powerful Stranahan, then 32 and an enthusiastic bodybuilder, had beaten Palmer 4&3 in the 1950 Amateur and 11&10 in a 36–hole North and South semi–final. And just the week before, Stranahan had finished first and Palmer second at the World Amateur Championship in Chicago. But the "Kid who would be King" was undeterred—typically as we would later know—and he won 3&1. Palmer was suddenly the favorite.


His quarter–final opponent in the afternoon was Don Cherry, a professional singer from Wichita Falls, Texas, and winner of the 1953 Canadian Amateur. Cherry had a singing gig the night before at the Dakota Inn in Detroit and several participants in the Amateur went to see him perform, but not Palmer. The decisive hole was the 17th. Neither hit the green, but Palmer pitched close and made his putt. A half up 18 saw Cherry dispatched 1-down, but he held no grudges and went on to enjoy a lifelong friendship with Palmer. Indeed, Cherry would be one of his closest challengers during the famous charge down the stretch at the 1960 U.S. Open.
Palmer's opponent in a 36–hole semi–final was Edward Meister, Jr., a former Yale golf captain making his 13th U.S. Amateur appearance. This match was a see–saw affair in which neither player was at his best. Despite shooting 76, Palmer was 1-up after the morning round. With the match tied after 35 holes, Meister split the 18th fairway and flighted a 5–iron eight feet from the pin. Palmer found the rough with his drive and flew his second into a grassy lie behind the green. He was faced with a near impossible chip, up and onto a green that sloped severely away from him. His wedge shot landed gently at the top of the slope, crawled down the putting surface and stopped four feet above the hole. After Meister missed his birdie attempt, Palmer deliberated long and hard over his putt.
"My recollection was that it was a straight-in putt, straight in the hole, and that's what happened," he said. A plaque marks the spot to this day where Palmer executed his chip.
In sudden-death, Meister missed two further makeable putts for victory before Palmer smacked a 300–yard drive on the 510–yard par–5 3rd, followed by a low 3–iron that stopped 30 feet from the hole. He two–putted for birdie and his place in the final.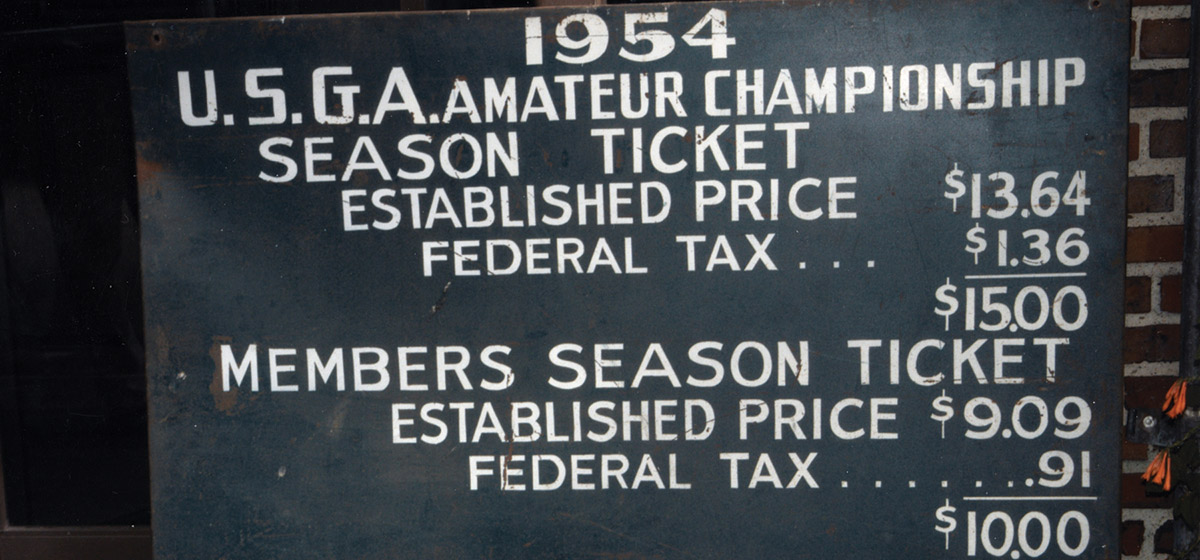 Meanwhile, Robert Sweeny, a 43-year-old investment banker from Sands Point, New York, defeated Dr. Ted Lenczyk 5&4 in the other semi–final. Tall, elegant and blessed with a Rolls-Royce swing, Sweeny was born in California, but divided his time between Palm Beach, Long Island and Europe. He studied at Oxford University and won the British Amateur in 1937. During World War II, Sweeny and his brother Charlie helped organize the Eagle Squadron, a group of American pilots who fought for the Royal Air Force. A bomber pilot and squadron commander, Sweeny earned the Distinguished Flying Cross (DFC). After coming out of the RAF, he reached the final of the British Amateur again in 1946. Palmer once said: "We hailed from different galaxies."
Sweeny made a flying start, sinking putts of 35, 20 and 25 feet on the 2nd, 3rd and 4th greens. Palmer was reeling, but his spirits were lifted by his opponent as they walked off the 5th tee. Sweeny put his arm around Palmer and said, "Arnie, you know I can't keep this up." Palmer, who was out–driving the older man by as much as 30 yards, won 8, 9 and 10 to even the match, though Sweeny was 2-up at the halfway stage having shot a 70 to Palmer's 72.
Palmer got his nose in front for the first time on the 32nd, and promptly doubled his lead with a birdie on the par-4 15th. But he three-putted 17 from 50 feet and the match went to the final hole with Palmer up by one. First up on the 36th, Sweeny went into the thick grass on the right. It was the moment of truth for Palmer and he struck his drive 250 yards down the right side of the fairway.


The players never made it to the green. After searching fruitlessly for his ball, Sweeny walked over to Palmer and said: "Congratulations, Arnold, you win." There was some confusion at first, then a ripple of applause as the new champion waved to the gallery—a wave that soon became one of the most popular sights in the whole of sport.
Then, symbolically as it turned out, a brass band on the clubhouse terrace struck up the unmistakable chords of Hail To The Chief.