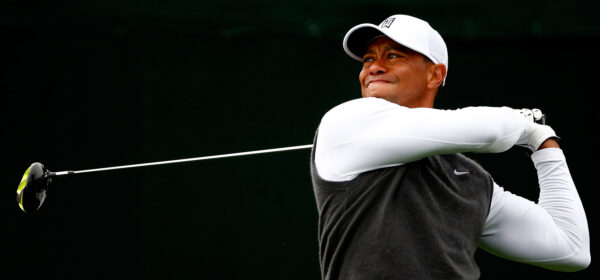 Will Woods make it to the Masters?
Being Tiger Woods is not as much fun as it once was—not that the former world number one has looked like he has enjoyed himself on the golf course for some considerable time. He is ranked 87th in the world, until Monday morning anyway, when his ranking will continue to slide; he missed the cut at TPC Scottsdale in January after shooting a second round of 82, his highest ever tournament round; then he withdrew the following week at Torrey Pines, one of his favorite golf courses. Now he has skipped this week's Arnold Palmer Invitational at Bay Hill in Orlando, which is Woods' most bountiful tour stop, where he has won a staggering eight times since 2000. Things must be bad.
The last cut the American made in a full tour event was at the 2014 [British] Open at Royal Liverpool last July, when scores of 69-77-73-75 showed early promise before the winner of 14 major titles limped away in 69th place.
Speaking at Bay Hill this week, Palmer sympathized with the most successful golfer ever to tee up in Palmer's home tournament.
"Tiger said, 'Arnold, you know, I can't think of anything that I'd rather do than be there to play,' and he explained he didn't feel his game was ready," started Palmer. "He really wanted to work on it and get it ready to play and I don't blame him. I think if I were in his position I would probably have said somewhat similar things.
"He simply said that he just couldn't present himself ready to play when he isn't [ready], and he's going to work on his game and get through it. I told him how much we would miss him and how sorry we were that he wasn't coming because his record at this golf course is the best record in golf on any single situation. I appreciated that he called. He was very nice and very apologetic for not being here."
Woods released a statement, as follows: "I've put in a lot of time and work on my game and I'm making strides, but I won't return to the PGA Tour until my game is tournament ready and I can compete at the highest level. I hope to be ready for the Masters, and I will continue to work hard preparing for Augusta."
It has been thoroughly reported how Woods' abbreviated performances have plummeted to a new low in 2015, not just with his wild tee shots that have become customary, but with chipping that would embarrass a high handicapper.
Phil Mickelson, historically Woods' closest rival, generously warned that Woods would have the "last laugh" and that Woods' short game just required a "small tweak". Woods' former coach Hank Haney sees it differently, describing his problem as the "Yips", adding, "This isn't going away". Haney's appraisal looks closer to reality.
The yips—involuntary nervous twitches that bushwhack a golf stroke—are a taboo of the locker rooms and practice grounds of tour golf. In his bid to recover some semblance of form, the last thing Woods needs are questions swirling around his head about whether he is suffering from chipping yips, but that looks to be the situation into which he has slipped. Tiger Woods, the most mentally formidable golfer since Jack Nicklaus.
And the last place a professional golfer with a chipping problem wants to be is Augusta National, where delicate yet confident chipping around the extremely fast and undulating greens is critical. The 2015 Masters begins on Thursday, April 9, in less than three weeks' time, and it is inconceivable that even Woods—a four-time Masters champion—can contend at Augusta this year, after such an abysmal start to his season.
There could be a new pre-tournament routine leading into the majors now, just as enacted before the last one, the 2014 PGA Championship at Valhalla in Kentucky last August, when photographers and TV crews snapped the empty 'Tiger Woods' parking space in a vigil until he arrived. Woods did eventually show up, shot two rounds of 74, missed the cut while gripping back spasms and swiftly vanished again.
So the biggest question in golf over the next fortnight is thus: will Tiger Woods make the drive up Magnolia Lane at all?