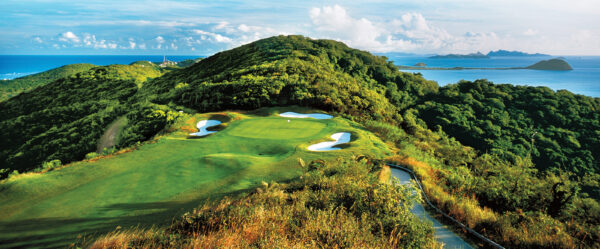 Winging It
Throwing the clubs in the trunk is all well and good, but just as easy—and infinitely more liberating—is packing them into a private jet and setting out for an epic weekend with friends. There are a number of stunning golf courses located a short flight from just about anywhere, and all of them provide a "world away from it all" experience without being so remote as to be inconvenient. When it comes to great golf, the sky's the limit.
The benefits of private aviation are myriad, as Arnold Palmer and many others have found. Private aircraft owners or those who use a company like the excellent Richards Aviation, which provides access to private flight services (raijets.com), can vastly increase the reach of even the smallest business, effectively "shrinking" the world and increasing access to clients. For businesses or individuals with frequent travel needs, private aircraft can also lower the overall cost (and increase the comfort) of travel, bypassing the gauntlet and rituals currently required to use commercial aviation and saving time and money in the process. Of course, private aircraft aren't necessarily relegated to business-only flights. Those with access to private planes enjoy tremendous freedom and opportunities in that they can take off at a moment's notice for a weekend away, and return to the office on Monday morning. So what better way to dramatically enhance a weekly foursome than with an exhilarating two-night golf trip out of town to an island in the Caribbean or even to one of the more remote corners of our great country? The following courses are close enough that you won't have to take any time off work, but remote enough that you'll feel a world away from the responsibilities at home. Whether you need a break or just want a little something different, grab your overnight bag and take to the skies for some great golf. Happy landings!
Caye Chapel Island Resort
Belize
It's flat, located on a private 265-acre island in the Caribbean Sea and it's the only game in town. Mostly designed by the island's owner, billionaire industrialist Larry Addington, the par-72 USGA-rated course is the only 18-hole golf course in Belize, and it doesn't get more exclusive. A deep-water marina can host yachts up to 140 feet, but most guests will likely make the two-hour flight from the U.S. mainland and use the private airstrip. The resort itself has been closed for the last couple of years, but it's still possible to book rounds on the course via a travel agent. And if you really, really like it, you can buy the whole thing—the course, the marina, 25,000-sq.ft. clubhouse with bar/restaurant and conference facilities, the large swimming pool complex, luxury villas and casitas and even the coconut palms. Caye Chapel is for sale at an asking price near $45 million.
Grenadines Estate GC
Canouan Island, Grenadines
Located on the small island of Canouan at the southern tip of the Grenadines Islands chain, the Grenadines Estate Golf Club has to be one of the world's most spectacular courses, if only for its setting. Fantastically designed by Jim Fazio, the course carves a beautiful path across the verdant slopes of Canouan's hills before rising to the island's highest point, where the views are most assuredly breathtaking. Lush, impeccably maintained and satisfying all definitions of "exclusive," this course and the island's attendant Canouan Resort and Spa are a welcome place to land—and an easy one. Flying time from Miami is under three hours.
canouan.com
ArborLinks
Nebraska City, NE
This "Destination Private Club With a Resort Element" sits in Nebraska City (which has an airport for private aircraft) and features an Arnold Palmer-designed golf course, a full-service clubhouse and onsite guest cottages accommodating up to 24 guests. In addition to being absolutely beautiful, the course is a living testament to environmental stewardship and a laboratory for research on environmental practices. Developed in partnership with Landscapes Unlimited, Arnold Palmer Design and The National Arbor Day Foundation (headquartered in Nebraska City), every possible step was taken to ensure the course would serve as an example of environmentally responsible golf. The result is one of the greatest courses in the Midwest, with native grasses rolling over a natural landscape with an old world feel. Even better, if you visit in July of next year you can catch the 2013 U.S. Senior Open, which is being played at the relatively nearby Omaha Country Club. Arnie won the championship in its second year (1981), and the competition since then has always been fierce. Just one more reason to experience the great golf that Nebraska has to offer.
arborlinks.com
Prairie Club
Valentine, NE
The Prairie Club's owners claim that the club offers the "world's most undisturbed holes in golf," and they might be right. Located in the state's Sand Hills region near the South Dakota border, the golf offerings at Prairie Club are astounding, as much for the sense of remote wonder they inspire as for the excellent quality of play. The vast landscape is almost unbelievable in its expansive beauty, and the Club is as charming as it is comprehensive. The Pines Course is influenced by the Snake River Canyon setting and has a windmill pump on No.3 from which you can get a drink from the world's largest aquifer, according to management. The Dunes Course runs through nearly undisturbed parts of the Sand Hills and plays like a links course, with high winds and large natural blowouts. In an inspired bit of fun, the club's HORSE Course invites you to grab a wedge, a putter and a couple of balls and hit from wherever you like, challenging your playing partner(s) to a game of HORSE over 10 holes. Fly-in to the strip at Valentine. Not to be missed.
theprairieclub.com
Yellowstone Club
Big Sky, MT
Situated in a valley northwest of Yellowstone National Park, the Yellowstone Club provides a true backcountry experience with luxuries more common to urban environs. For golfers, that means a civilized 18-hole course set among some seriously wild country. Mountains stretch in all directions, so inevitably there are some big changes in elevation here—and tremendous views as well, which you'll start to appreciate as you come into the airport in nearby Bozeman. Comfort stations along the course resemble mountain shelters and are as welcome, offering cold drinks and comfortable seating. Playing to the aesthetics, the pro shop looks like something out of an old Western, a trading post or rustic ranch home. Safe to say that if the Tom Weiskopf design doesn't thrill you in this setting, you need to check yourself for a pulse.
yellowstoneclub.com
Chewelah Golf and Country Club
Chewelah, WA
Just 200 yards from a newly surfaced (and lighted) small airstrip, the Chewelah Golf and Country Club offers 27 holes of top-quality Washington State golf less than 60 miles north of Spokane. Majestic conifers line the semi-private courses, which are both straightforward but elegant layouts that make the most of the area's rolling countryside. That, and solid BBQ offerings at the club's Rusty Putter Bar and Grille, make this worth putting on the flight plan.
chewelahgolf.com
Ballyneal Golf & Hunt Club
Holyoke, CO (Left)
A true destination club, this "inland links" course (as the owners call it) sits three hours northeast of Denver, and offers a rather special kind of experience. In 1979 an area golf enthusiast named Jim O'Neal noted that the inland dunes locals referred to as the "chop hills" reminded him of dunes and course layouts in Scotland, and a sort of seed was planted. O'Neal's family owned a local hunt club on the property, and in the early 2000s they added golf to the mix. The layout was largely determined by Mother Nature, there are no tee or yardage markers, and it's walk-only, meaning that the private course is as close to a proper Scottish links course as one can get nearly 4,000 feet above sea level in the Rocky Mountains. Visually stunning, Ballyneal is a liberating experience easily reached via the airport in the small town of Holyoke.
ballyneal.com
Sutton Bay
Agar, SD (Right)
Benefitting from the tremendous natural landscape carved from the landforms of the mighty Missouri River, the golf course at South Dakota's Sutton Bay is as dynamic as it is remote.Fantastic changes in elevation, the strong winds coming off Lake Oahe and monster-sized greens remind one of courses on the British Isles, but the rugged terrain that stretches out in all directions under the majestic sky will remind you you're in the Mount Rushmore State. It is real "take your breath away" stuff and the course is true to its surroundings: challenging, not forced, and exhilarating. Arnie himself enjoyed some time here (staying in a lux cabin named for him),and landed his Citation X at the airport in nearby Pierre. With tremendous hunting and fishing available as well, there's no doubt you will too.
suttonbay.com
Bandon Dunes
Bandon, OR
Who would've known that the closest to Scotland one
could get in America was Oregon. Bandon Dunes is an absolutely superb example of a traditional links course, right here in the U.S.A. Located 100 feet above the Pacific Ocean along Oregon's beautifully severe coast, four distinctly different courses roll through and over the natural grassy dunes and rock outcroppings. A regional airport in nearby North Bend takes care of access, while a host of top-drawer accommodations, restaurants, lounges and club amenities invite you to stay longer than a round or two. Windswept, primeval, and elegantly rugged, Bandon Dunes is not to be missed.
bandondunesgolf.com
The Hideout GC
Monticello, UT
This course is a municipal track but it's no less a get-away-from-it-all experience than the most remote private club. Lauded by Golf Digest as one of the top muni's in the country, its par-5 No.2 is reportedly one of the most beautiful holes in the state—and the highest: the entire course sits at 7,000 feet above sea level, making it the state's most elevated course. The course is set along the edge of the Abajo Mountains, which provide dramatic changes in elevation along with great views, and is located in the town of Monticello, between Canyonlands and Mesa Verde National Parks. A relatively new (and quite nice) runway in town provides access, unless you'd rather make the long drive through the desert.
hideoutgolf.com
Lajitas Golf Resort & Spa
Lajitas, Texas
It's not necessarily easy to find, and that's rather the point. This superb property near Big Bend National Park in the state's southwest offers 27,000 acres of rugged beauty served up in high luxury. Cowboy country it is, but the amenities are top-flight, right down the convenient airport in town. Golf all day, go shooting, swim in the pool or just kick your boots up and relax.
lajitasgolfresort.com