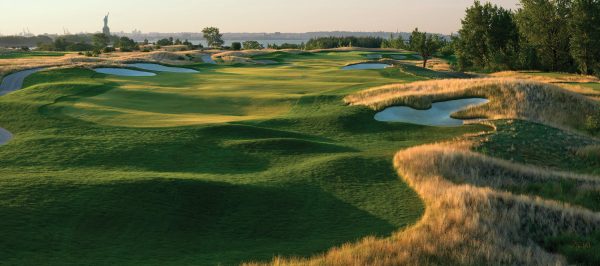 American Icon: Liberty National GC
The site of the 2017 Presidents Cup represents one of the most dramatic transformations of regenerated land in the United States. Brian Wacker reports
Course photography by Evan Schiller / golfshots.com
It was 1992 and Tom Kite had just won the U.S. Open at Pebble Beach, one of the world's most picturesque golf courses. That same year, Kite and Bob Cupp—a course designer and something of a design mentor to Kite—were asked to take a look at a swath of New Jersey land just across the Hudson River from New York City. There had been a movement to rehabilitate the area's waterfront, and a golf course certainly would fit the bill, with the property sitting just south of Ellis Island and the Statue of Liberty, right across from the southern tip of Manhattan.
What Kite and Cupp saw (and smelled) though, was a diametric contradiction to the Monterey Peninsula's gem: a toxic landfill heaped with trash, including rusted vehicles, rotted furniture and more. Over the years the property had seen its share of hard use—as an ammunitions dump during World War I, and later as an oil tank depot and a home for giant storage warehouses, one of which was utilized by the Gambino crime family.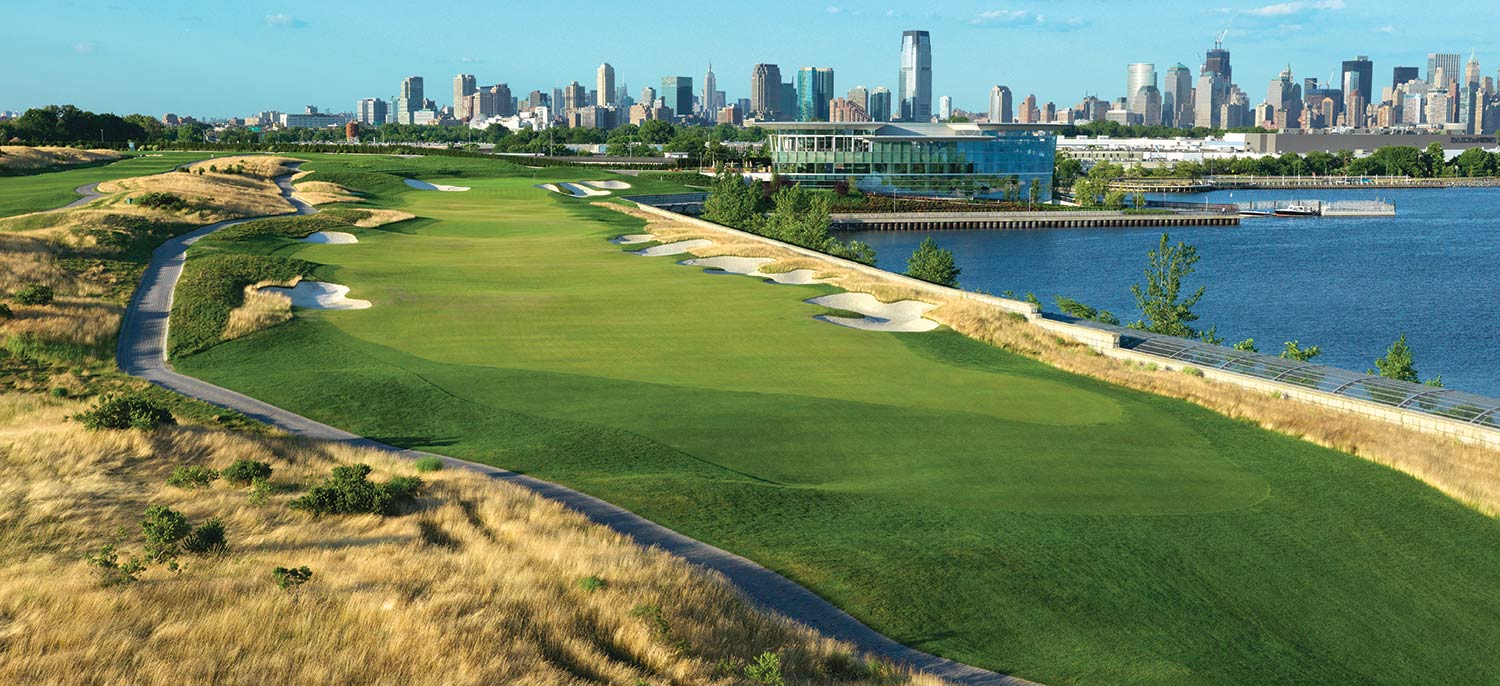 Once Kite and Cupp looked past the piles of trash, however, the appeal was obvious, starting with unobstructed views of the Big Apple and its iconic skyline.
After a few years of designing and tweaking and getting through heaps of red tape, the plans for a golf course and residential component were finally approved in 1998; now someone just needed to fund it, and that's when Paul Fireman entered the picture.
Fireman grew up in Brockton, Massachusetts, and came to the game through Thorny Lea Golf Club, where he was caddying by age 10. He eventually attended Boston University but didn't graduate, instead working a series of jobs, including one at a family-owned sporting goods store. Then in 1979 he mortgaged his house to borrow the $35,000 he needed to land the North American rights to sell a little-known British sneaker called Reebok. Five years later he bought Reebok, taking it public a year after that and then selling it to adidas in 2006 for $3.8 billion, netting more than $600 million for himself.
That same year, Fireman, who had by this point opened an impressive portfolio of golf clubs across a number of states and Puerto Rico, opened Liberty National on the former toxic wasteland, calling it his "legacy."
And a handsome one it is. The course cost $250 million to build, shoehorned into 150 or so acres and rising 52 feet above sea level. The club, which costs $500,000 to join, features a helipad, yacht services, a spa and restaurant and future plans for some 900 adjacent homes. In 2009, it held its first PGA Tour event, the Barclays (now the Northern Trust), and it did so again in 2013.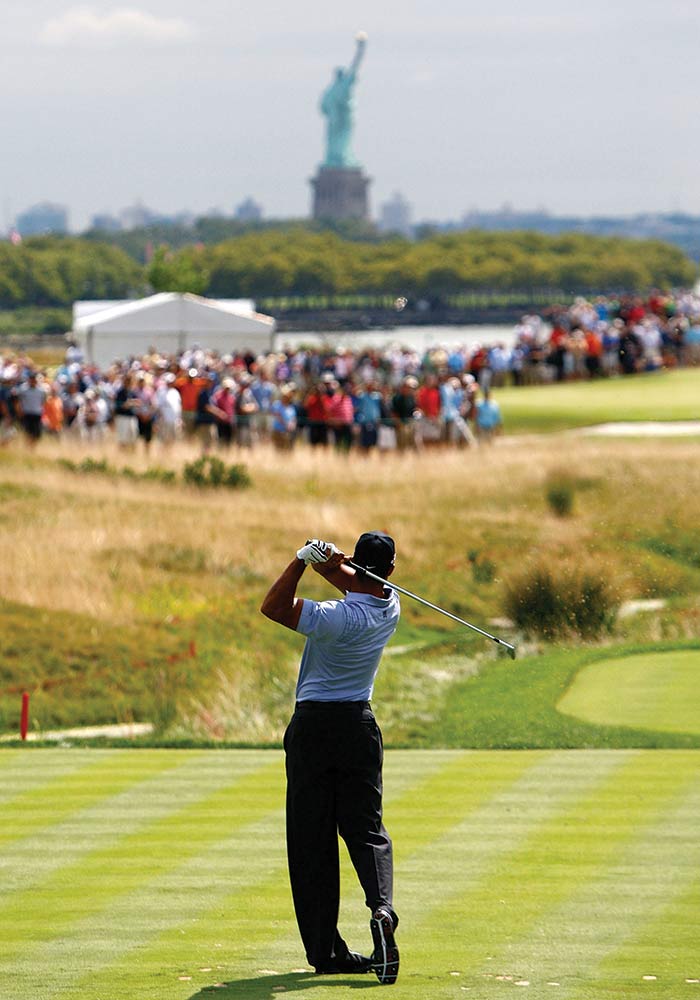 Searching for seven
Now, it plays host to an even bigger audience as the stage for the 2017 Presidents Cup, where the United States will try to extend its winning streak to seven straight against the Internationals.
"Liberty's going to be a fantastic venue," International team captain Nick Price beamed.
Added Liberty National managing director of golf, Derek Sprague: "This is going to be a much bigger event. Having hosted two [PGA Tour events] this event is probably double in size, at least, not only with the number of attendees but with the excitement surrounding it."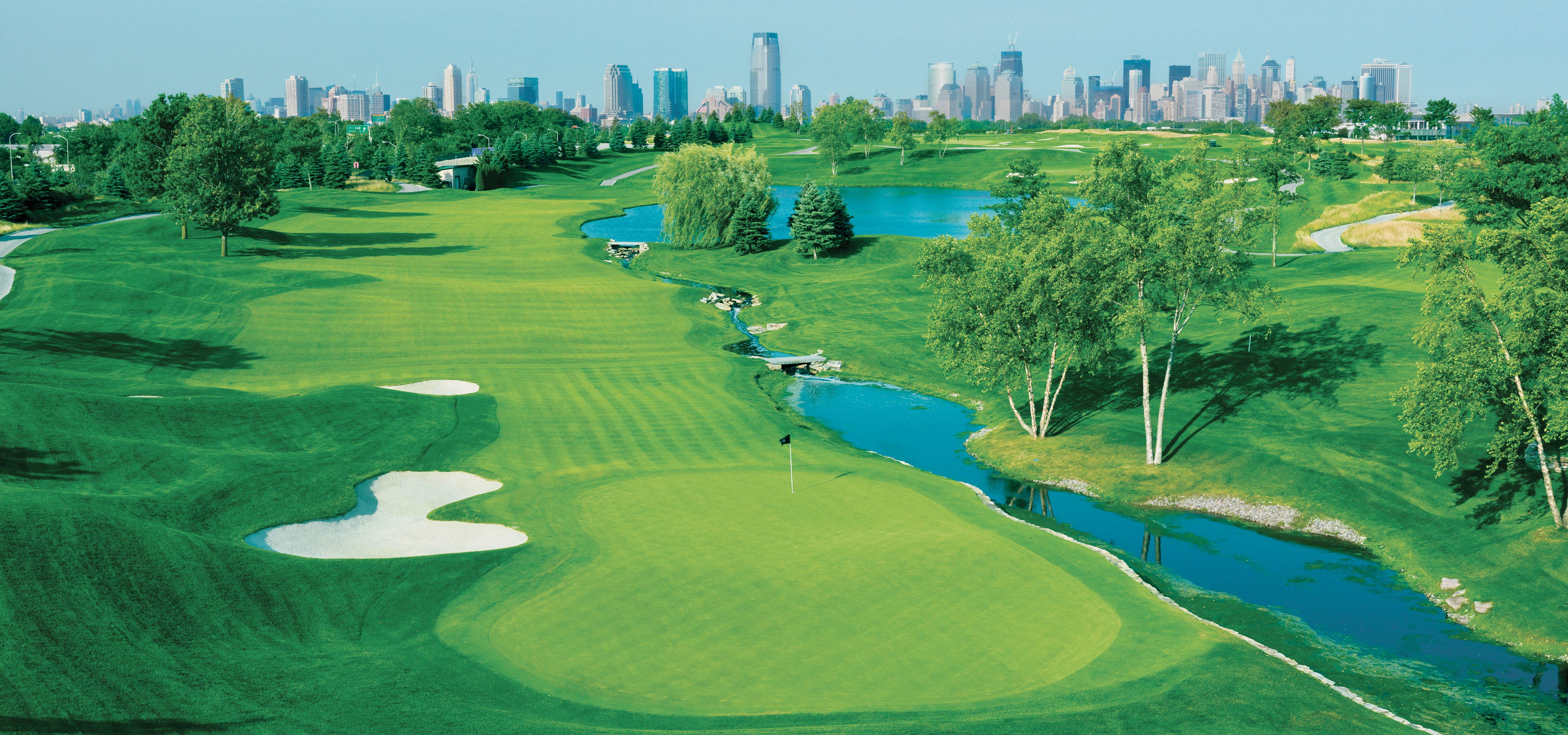 International team member, Australian Marc Leishman, said: "The views are just spectacular and the crowds will be massive."
Some of those views, at least from a routing
standpoint, will also be different from when fans last saw the host course.
In order to bring the course's signature holes—and all of those dramatic views—into every match, what was previously the 5th hole will serve as the opener, with the 6th as the 2nd and so on. That means matches that go the distance will feature two par 3s over the final three holes, including the 18th (normally the 4th), a 193-yard par-3 with the Manhattan skyline acting as the backdrop behind the green.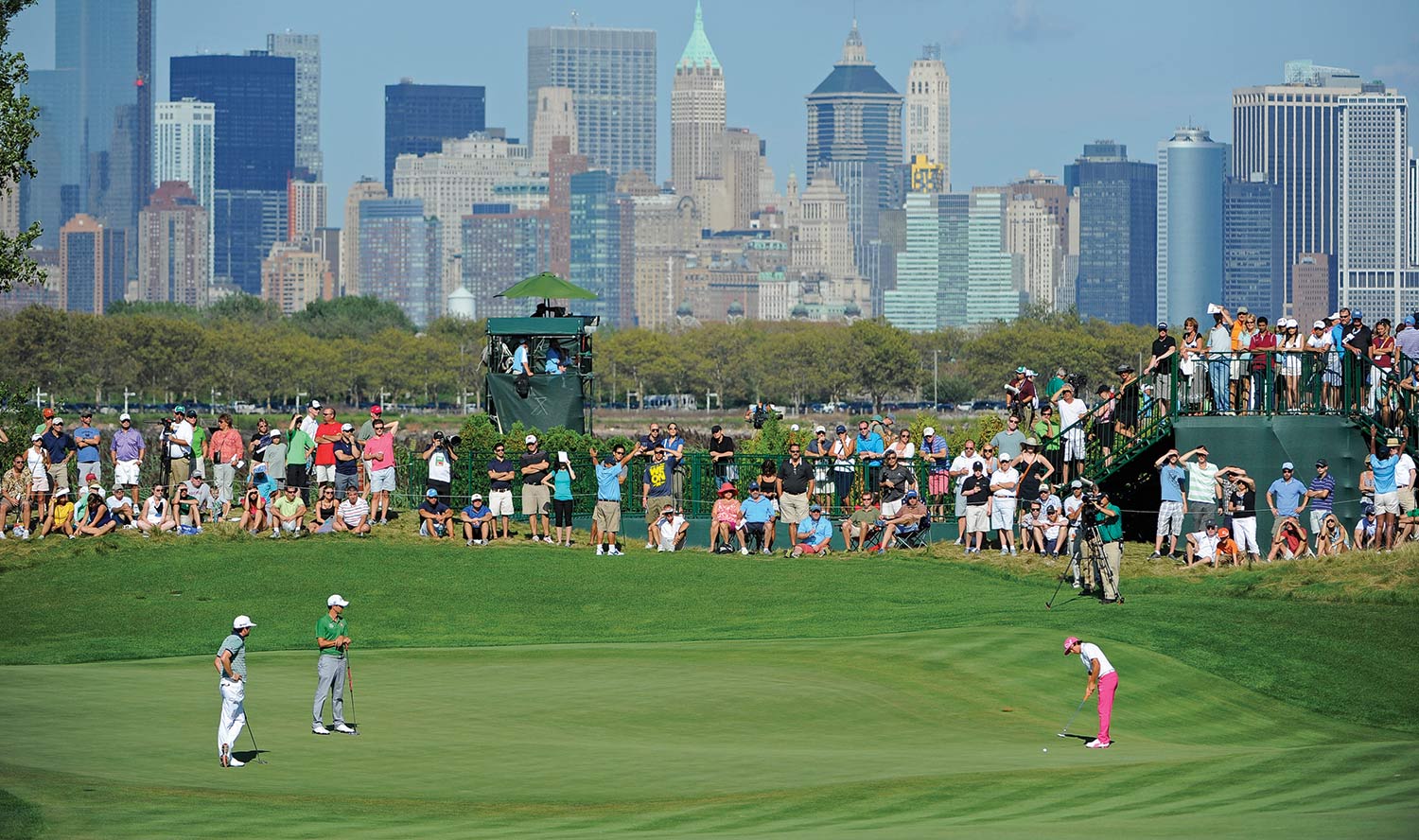 On the front nine, there will also be four par 5s and just one par 3, a 250-yard doozie that has water left and long. The back, meanwhile, will have three par 3s and no par 5s.
And while some were initially critical of the course in the beginning—which led to a dozen greens and tees being retooled, portions of 13 of the bentgrass fairways being re-contoured and fairway bunkers being repositioned after that first tour event—Liberty National has not only grown in stature but also in the eyes of the ones who will be hitting the shots in the Presidents Cup.
"They can change a lot of the tees and make a lot of the holes play differently," said Justin Thomas, who played Liberty National with Rickie Fowler for the first time in August. "They can take some risks with the lines on a few holes."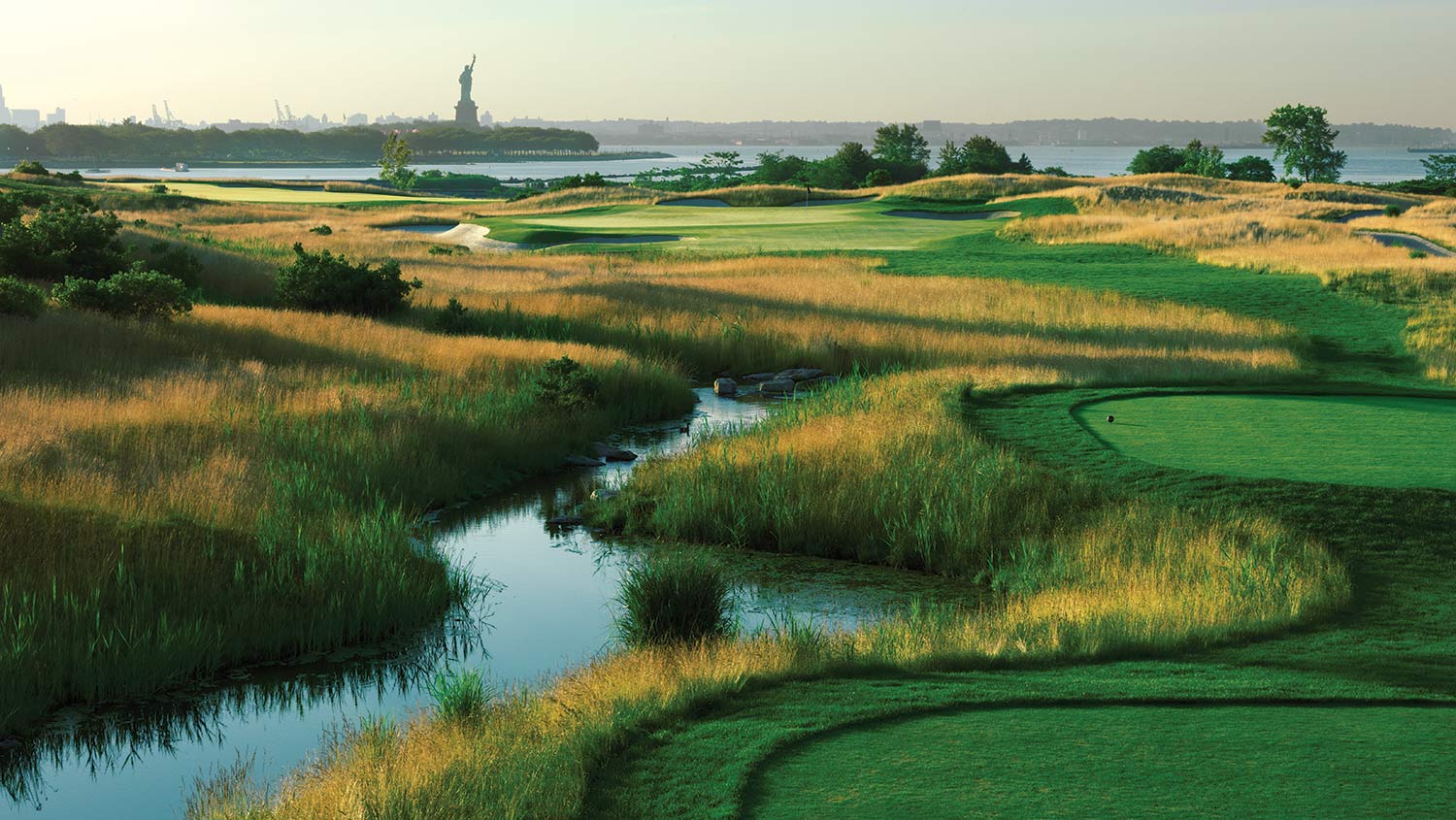 Given its demand for accuracy off the tee with lush rough and tall fescue grasses, and for precision ball-striking thanks to small but receptive greens, it also makes for a strong match play venue.
"They can tuck pins and have really nice par 5s and par 3s," said Leishman. "It's a terrific course from that standpoint."
Liberty National has come a long way over the last 25 years. In a way, it stands as tall as the skyscrapers across the river—and it looks (and smells) much better.