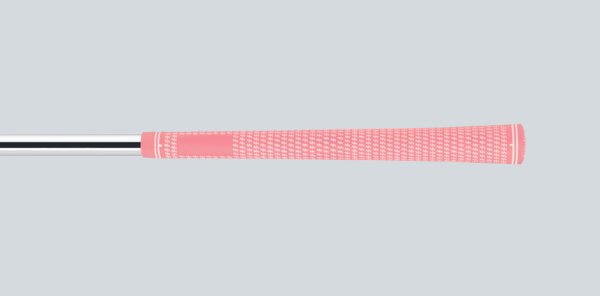 Women in golf
"The ladies, bless the merry, meandering migratory creatures, are the delicate outer fringe of golf."
So began a December 15, 1940, column by sportswriter Jack Bell that appeared in the Palm Beach Post. Bell went on to ruminate on the attractiveness of pro golfers' wives and the various ways women like to spend money—one of their few talents, apparently, in addition to looking pretty on course and being obedient—before offering some advice to would-be Mrs. Professionals: "The woman with undue love for a cottage, flowers, children and attention to bills had best marry a man she knows can putt." Ironically, a more modern portrait of women in golf is found in a New York Sun article from January, 1894, which noted that "a review of the athletic sports and pastimes in which women are becoming prominent is most interesting in review and most encouraging in prophecy of the new and stronger womanhood of the future… Golfing women are said to be more enthusiastic over their favorite game than half the men who play on the 'links.'"
No kidding, and so it's 1894 all over again. For the women in this article, golf is far more than just a game. It connects them as women, and it helps to define the various roles they fill in their lives. For Jae Wu, who owns her own company, Heyler Realty, the game is a family affair, a way to teach her sons valuable life lessons. For Azucena Maldonado, who founded the Latina Golfers Association, the game is a key that opens doors—doors she is now helping other women to find. And for Shalini Malik, the first Indian woman ever to referee at the [British] Open Championship, the game is a calling, a responsibility and an honor, in addition to being her career. These women and countless others demonstrate every day that golf is about more than just a low score. Beyond that, they prove that women are not meant for golf's delicate outer fringes—no matter how merry the ladies may be.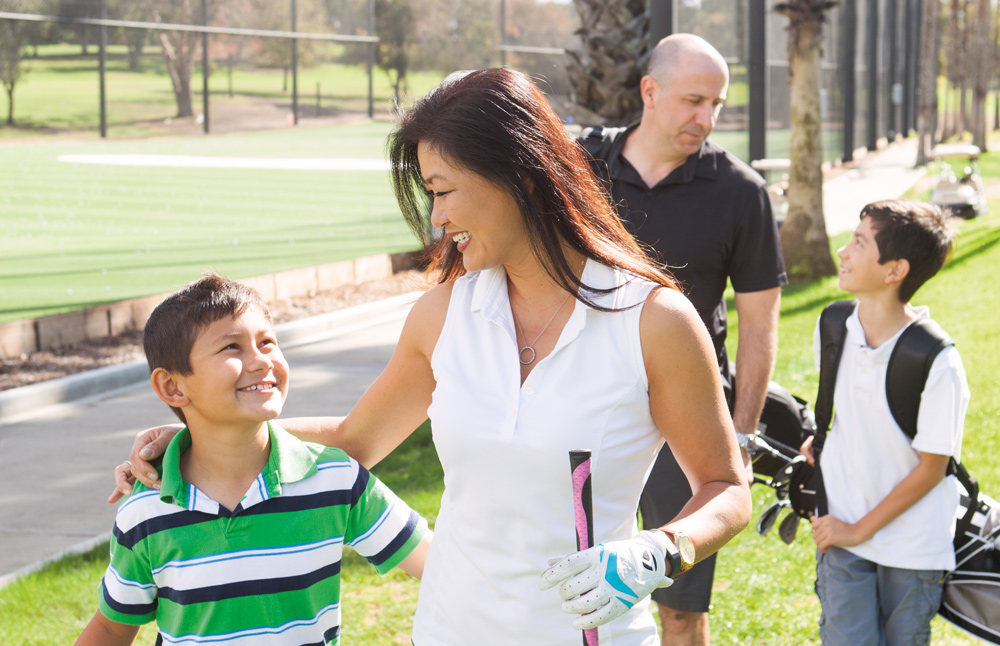 Family
We came from Korea in 1976; my uncles and some of my aunts were already here. We came from Seoul to Washington, D.C., my mother, father and my sisters and me. I was 7, and I've never been back. Golf was something my father came to as an adult. He always had to work and so he wasn't able to golf until he'd already been here 20 years or so, much later in life. We all had to work. My mother and father, they were making $2.25 an hour working at 7-Eleven to save up and buy their own franchise, which they eventually did. Then they bought a grocery store. I worked there, from ages 13 to 16, after I got my worker's permit. In my mid-teens, after my father had gotten into golf, he always tried to get me to go to the driving range with him, but I thought it was boring; I wanted to play softball instead.
Anyway, when it came to academics, they didn't really push sports. Back when we were growing up it was all about being a doctor or lawyer. I had to take piano and violin, but I also had to get straight As.
I loved volleyball and softball. I thought golf was so boring, but now I wish it was one of the things I'd liked. It was later, in the early 1990s, that I gravitated toward the sport. Picking it up at 23 is different than when you're 5, 6 or 7. As an adult I found more patience and a love of the game that I didn't understand when I was in my teenage years. I'd go to the driving range, go to the course at 5 in the morning to get a round in before I went to the office at 9:30.
Likewise, my husband [Larry Fernandez] didn't really learn until his late 20s. He never really played until he met me—then he got tired of me beating him. I'm a golf fanatic. I'm a business owner as well as a mom, as well as a golfer.
When we had our kids—Jake, now 8, and Ryan, 9— I couldn't wait until they picked up a golf club. We took them to the driving range when they were 3 and 4 years old. If I wanted to hit a bucket of balls we'd take them out there and all take turns hitting the balls around, that's how it started.
Now they can do junior golf programs and we can all go out together. The 8-year-old gets competitive, and then he gets frustrated because he can't hit it as well as the 9-year-old. The 9-year-old went to a golf camp and he's always had a natural swing; he's long and lanky and can really hit it. The 8-year-old has an awkward swing, but he's stocky, he's sturdy, and when he swings it's like he's trying to cream a baseball.
Golf can serve my kids for the rest of their lives—they can play forever
We've actually played at our local par-3. We played nine holes there, the four of us. It's really something special to get to do that at this young age, to introduce them to the sport. Most of the lessons you need in life—socially and in business—you learn on the golf course: etiquette, manners, patience, socializing, rules and regulations and strategy as well as discipline. All of those things are in the game. It's also a very good metaphor: you don't walk on somebody's line, you wait for the other person to go, you care about your clothing and how you appear, how you present yourself. If I can introduce them to the sport now and they can have a good understanding of it as they become young adults, into college, into business life… It's something that can serve them for the rest of their lives. They can play forever.
You know, though, they can do whatever they want. We enjoy it as a family, as an enjoyable thing—not a forced thing, not a 'have to be great at it' thing. I have a cousin, she never had the passion for the sport. She got burnt out because her father drove her to do it. With us it's just fun. And it's also nice because they can see that mom can kick a little butt on the golf course.
Community
I didn't have a relationship with golf, neither did my family. We didn't grow up around golf, it wasn't in my field of reference, I didn't really know golfers and so it was absolutely foreign to me. I'd heard of Nancy Lopez and probably Lee Trevino, but they were all just vague names to me. I knew them as Latino leaders, but I didn't see beyond that.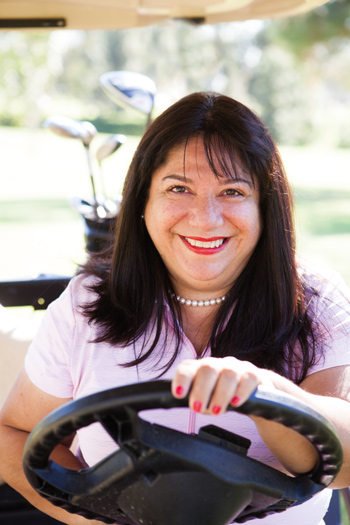 One day I needed a plumber and I asked a neighbor for a recommendation. They gave me a number, and because it was a holiday the man who owned the plumbing company came himself, it wasn't one of his people. That's how we met. He called me the week after! And so we went out. He was a crazy avid golfer—is a crazy avid golfer, one of those single-digit handicap golfers. He lives to golf, and this is a Latino golfer, right? And so on our second date he took me to a golf course and he bought me a putter and were just putting on the practice green. He was setting up drills for me and, you know, it was fun, and right away, immediately, I thought, 'Wow, this is something that I can do!' I was making some putts and it just seemed doable to me. I like it, and so he keeps taking me to the golf course, pitch-and-putt par 3s, introduces me a little bit more and a little bit more, and when I started hitting the ball I fell in love with it immediately, I connected immediately. It felt like something I could do. I'd never played sports in my life, although I felt athletic. Anything I played was never formal, baseball or football with the neighbors. I was always competitive with my brother, I could catch a ball better than him, that kind of thing, but I never participated in formal sports in school.
He would take me three times a week minimum to teach me. I think his game suffered because he was dedicating so much time to me and so he wasn't playing the big courses, he was there with me on the little par-3s working on his short game.
On my own I would go to the driving range and practice. I'm not going to say I got pretty good, but I got comfortable with the game right away. I wanted to get better because I wanted to be able to play the bigger courses, and he wasn't going to take me to the bigger courses before I was ready. That's all we would do: golf, watch the Golf Channel, everything in our relationship was golf.
Through the years I always practiced on my own. I wanted to get better, and I liked the challenge. I wasn't doing it for him—never was I doing it for him, it was always because I loved it. And yes, of course I got to play with him and he was like my caddie—he was fabulous, he spoiled me.
Three years into playing golf, I was a little confident with my game, somebody invited me to participate in a golf tournament. I didn't really understand the bigger picture of golf, I didn't know what it was. When I walked in to register I thought, 'Wow, this is like Disneyland for a golfer.' That's how it seemed to me because all of these people were having a great time with putting contests, all kinds of contests, just having fun getting to meet all kinds of people. The person that invited me introduced me to different individuals who were at the tournament—corporate executives, elected officials—and he was introducing me as a golfer. 'Here's Azucena, she's a golfer.' And they immediately welcomed me as a golfer. Immediately it was like every barrier was gone, I was just a golfer to them. I don't think I would have ever had access to those individuals, not in that way, had it not been for golf. The other thing that occurred to me immediately is that I didn't see any other women. Maybe there were two other women playing in the tournament, and at the end of the day I wondered why more women weren't playing. Is this just some little secret that these guys have and they're keeping it from us?! We'll have to do something about that! And that's really how the idea of the Latina Golfers Association [which Maldonado founded] was formed.
You might make a few business contacts when you go to regular networking events, but you don't get a bonding experience. Golfers are a close-knit family, that's what I think the difference is. It's like a family member introducing you into their family: 'I'm bringing you in.' They're immediately going to accept you into the family, and that's a very different experience than when you meet somebody at a networking event. And because golfers are a close-knit family, well, you have better access to your family, right?
There may be more barriers for Latinas to get into golf because they probably haven't been exposed to it as much as some women, haven't grown up around it. Also, they might have a stereotype of what golf is, even though golf has transformed, and because of that stereotype they might be thinking, 'It's not for me, I wouldn't feel welcome.'
I think they feel intimidated, they don't think they can keep up with the men. I think they feel judged, definitely, I think that's a big one. I'm not sure men are judging them, I'm not sure that's the reality, but that's the perception.
But I find the biggest barrier is that we don't have somebody to introduce us to golf, and so the LGA is that welcoming arm, we are that introduction for them. If you've never been on a golf course in your life, you're probably not going to go to a golf course—why would they go? So we host events at golf courses, golf lessons, clinics, but first and foremost we make women feel welcome. I think Latina groups in general, we cross all age barriers. We have teenagers, women in their 20s, 30s, 40s, 50s, 60s, 70s… It's the LGA so they feel they're going to be among kindred spirits. We love being around each other. Everyone in our group is really supportive, we want everyone to succeed. Basically, we create a safe environment for women to come to a golf course. Women belong there.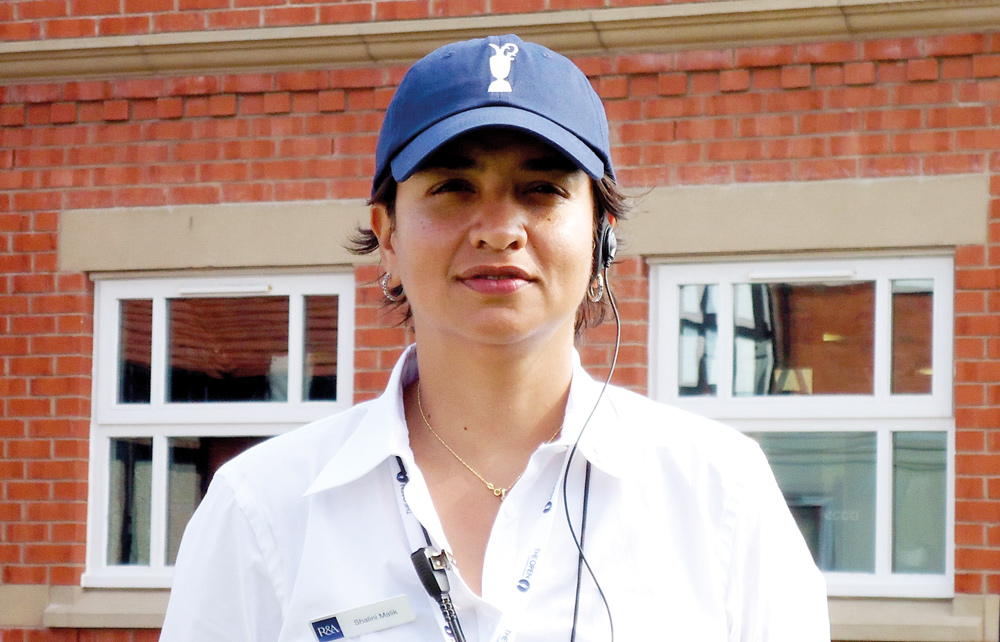 Inspiration
History was made this year when Shalini Malik became the first Indian woman ever to referee at the [British] Open. Here, the former pro golfer describes the experience.
A version of this account appeared on India's NDTV.com
Playing golf as a junior girl in the India of the (very) early nineties meant playing with the boys. It also meant little or no access to any information about women's golf in the rest of the world. Consequently, when we'd practice putting, the mantra that would go through our collective little heads was 'this five footer is to win The [British] Open Championship.' Not the U.S. Open, The Masters or the PGA—always simply, The Open.
Needless to say, I never did get an opportunity to make that winning putt, but as I grew up the dream itself evolved. I stopped playing competitively and started refereeing. Now the Holy Grail was to be invited to referee at The Open. Again, not the U.S. Open, The Masters or the PGA—simply, The Open.
I arrived at Hoylake on the Monday before the tournament, and as I picked up my credentials it took every bit of self control I possessed to not awaken the ghosts of the stately Thornton Hall Hotel by shrieking giddily "I'm here! I'm here!"
An hour later, en route to the Royal Liverpool Golf Club, the enormity of where I was suddenly hit. I was thrilled to bits while at the same time felt like a complete interloper. Walking through the entrance gates at the club did nothing to ease the feelings. If anything, they were amplified. This was hallowed ground.
I made my way over to collect my uniform. We had been informed that Ralph Lauren provided uniforms for all referees, and while I'd heard stories about how special they were, nothing really prepared me for the sheer pleasure of donning the crisp white button-down shirt with the Claret Jug discretely embroidered on one cuff.
I think my nervousness may still have been pretty evident at dinner because Chris Hilton (Chairman of the Rules Committee) took pity on me and invited me to join him on his course walk the next day. This proved to be absolutely invaluable and helped calm me down a little.
As we plodded and plotted our way down the fairways of the RLGC, I went through a myriad of emotions that were to be my best friends through the week. Absolute delight, incredulity, confidence and terror—all playing in a constant loop like elevator music.
To put the scale of The Open in perspective, the biggest events I'd worked on previously were the Avantha Masters, a European Tour event in India followed closely by the Dubai Ladies Masters on the LET. There were, at most, a dozen rules officials working both. At the 143rd Open there were 83. The number of spectators through the week exceeded 200,000. The grandstand erected on the 18th green was so large that my brain could not visualize a TIO drop without the dropping zones provided.
Each group had one walking referee, one bunker raker (they are usually head greenskeepers from courses around the country), one leaderboard carrier and one scorer. Marquee groups had a rules official walking as an observer and travelling marshals, who, as I discovered, are all from the military. More than 3,000 men and women volunteered at the event. Many, like Ben the leaderboard carrier in my group, came from families that have a long history of working The Open. His father was a scoring supervisor and his mother was a scorer with another group. They had been doing this as a family for many years. What a great family tradition!
On Day One, I (thankfully) went as an observer with Robby Ware from the U.S. PGA TOUR as the referee. My job was to walk ahead of the players, spot the ball and inform the referee of any potential rulings that may come up. It's also a great opportunity to watch and learn.
On Day Two, I was flying solo. My group consisted of Matt Jones, Chris Wood and Bernd Wiesberger. I walked over to the first tee and introduced myself to the starter, the legendary Ivor Robson. As I waited for the players to arrive, I looked up at the crowded grandstand surrounding the tee and I'm not embarrassed to say that I had goosebumps. I introduced myself to the players, held my breath as I fervently hoped that they would find the middle of the fairway and we were off. The nerves began to calm down after a couple of holes as I remembered that I do know how to do this. It is my profession and after 25 years of association with the game, it is now in my blood. I had a couple of gentle rulings (5-3 and 12-2 for those who want to know) and before I knew it, I was shaking hands with the players at the 18th. I had just had my first experience of being an Open referee.
My role as observer on Days Three and Four gave me an unimaginable equation with the event. My learning curve soared. The opportunity to study just how the best in the world (players and officials) perform under pressure was fantastic. To stand by the 18th green watching Rory McIlroy kiss the Claret Jug was a moment no amount of money in the world can buy. But if I were asked what my most treasured experience of the week had been, I'd say without doubt that it was meeting the most wonderful people from all over the world. Some I had had the privilege of working with in the past, but most were strangers who very quickly became friends. The fact that I'm lucky enough to be a part of this tiny community of warm, affectionate, witty, eccentric, intelligent men and women united in their love for this noble game, was never lost on me.
Members of the Rules Committee that I interacted with went out of their way to make me feel welcome. I was a rookie—simultaneously anxious and dazzled. They all said the same thing to me: soak it up, enjoy it, your first time comes only once. I took that advice to heart and I will remain forever indebted to the Indian Golf Union and the R&A for giving me an opportunity that was simply awesome.