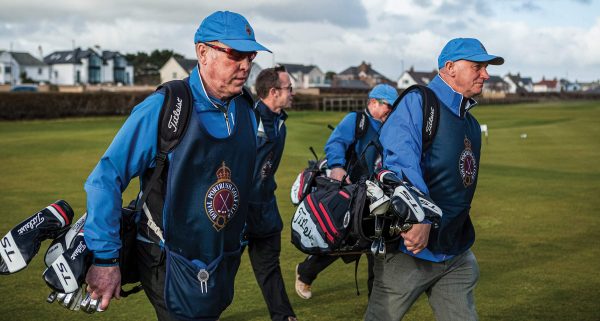 A Royal Reprieve: Royal Portrush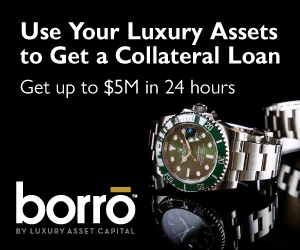 The Open is returning to Northern Ireland for the first time in 68 years. Skipping two generations, the people of Portrush thought they would never see the glint of the Claret Jug again. To get a true sense of the golf club and what we have been missing all these decades, Robin Barwick met the caddies of Royal Portrush.
Photos: Chris Roberts
Caddying gets hold of the young the old-fashioned way and there is little romance about it; it's the money. Kids on summer vacation eat breakfast with empty pockets but if carrying a golf bag leaves them at dinner with $20 bills lining their pockets, well, that's the padding of success. A couple $20 bills and now the world is an arcade of opportunity, open for business.
"I started 22 years ago when I was 12," starts Chris Gaile Jnr., Portrush made and a caddie at Royal Portrush Golf Club. "My grandfather Robbie Gaile caddied here. He started back in the 1950s and one day he had two bags to carry so he made me come along. I didn't want to do it but he thought it was a good way for a young fella to make a few quid."
Robbie Gaile knew a thing or two.
"That first round of caddying, I thought it was the longest, hardest thing I had ever done," admits Chris. "After two holes I was thinking, 'when is this thing going to be over?' Carrying that bag felt like torture but I made it to the end and basically, I got paid well; something like £20, which was a lot of money for a 12-year-old in Portrush in 1997, so I got the bug and kept coming back. Here I am 22 years later."
Like Chris, fellow caddie Gary Stevenson was introduced to Royal Portrush by his grandfather, and lest it should slip his mind, each time Gary glimpses the scorecard for the club's storied championship Dunluce Course he sees his grandfather's name. P.G. Stevenson was the club professional here and co-designed a couple of the holes, including the 11th, or "P.G. Stevenson's". And so began a Stevenson dynasty at "The Port".


Starts Gary: "When my grandfather retired as the pro here in 1977 my father took over and we moved here, when I was seven."
P.G. Stevenson was club professional for 55 years, from 1922 to 1977, and his son David—or "Dai" as he was known—maintained the tradition of repeating digits by serving for 22 years, until retiring in 1999. It was the job he always wanted. Before joining the caddie ranks, Gary worked as his father's assistant, but before then he learned the game from his grandfather.
"Some of my favorite memories are playing golf with my grandfather," says Gary. "This was back in the early 1980s.
My father was working in the shop, my grandfather was retired and he taught me the game. He would take me out onto our sister course, the Valley Course, which is where the juniors start until they can play the Dunluce. I always swung the golf club far too quickly, and I do to this day. I always think I need to hit the golf ball as hard as I can but I can always hear my grandfather saying, 'swing slowly'."
Ian Bamford is the club historian at Royal Portrush. He has been a club member for 75 years, since joining at the age of eight in 1944. He is not a caddie but must be forgiven for his sins. On the way to becoming one of the finest Irish amateurs of his generation, Bamford was taught by both Gary Stevenson's father and grandfather.
"His name was Philip George Stevenson but we just called him 'Stevie'," starts Bamford in remembering the first generation Stevenson to serve at Portrush. "Stevie was a renowned coach and clubmaker. If you were looking for a good set of woods—a driver, brassie and spoon—you always went to Stevie. In those days the clubs were hand-crafted from persimmon wood, before some of the manufacturers began to mass-produce them in the late '50s."
Clubmakers in Stevie's day would hold a stock of partially-shaped clubheads, ready for customization and hand-finishing.
Adds Gary: "He would measure you up and carve the woods out for you. Nowadays it takes a minute to just fix the clubhead onto a shaft but in my grandfather's day the job took ages and he would plane the clubheads to the exact lofts."
Good golfers would travel afar to get fitted by Stevie, but his most famous customer came from just around the corner; Fred Daly, who started out as a caddie at Portrush—whose father was an artisan member—and who became the first Irishman, north or south, to win a major; The Open of 1947 at Royal Liverpool. And he did it playing with woods made by Stevie.
"And Daly used those clubs for many years," confirms Bamford. "I was a teenager when Fred won The Open and I would watch him play a friendly fourball at Portrush nearly every Sunday afternoon. There would be more than 100 people out watching him.
"A very fine golfer he was. He would address the ball with a few wiggles of the club and then before he would take the club back he would move his right foot back just about two inches, to help his rhythm. He used that method for most of his life. I have tried it. Sometimes if you are off your game it can be a good tip."
Daly was born in Lower Causeway Street in the heart of Portrush, and on his death in 1990 he was buried in the graveyard of Ballywillan Church, on the edge of town. By the age of 10 Daly was well established among the caddie ranks.
"When he was younger Fred caddied for a Mr. MacMillan, who owned a hotel in Portballintrae," adds Bamford. "Mr. MacMillan lent Fred his fine set of clubs to play in the caddies' tournament at Portrush and certainly Fred won that two years in a row before he turned pro."
Later, as an aspiring professional, Daly was recruited to help shape course changes, as prescribed by Harry Colt.
"Fred was employed as a part-time member of the greens staff because an awful lot of work had to be done in a very short time," states Bamford. "Colt's final design was ready in 1932 and the course was officially re-opened, with 17 changed holes, in July 1933."
Royal Portrush originally opened with 36 holes in 1888, but it was this Colt re-design between the wars that set the club on a major championship trajectory. Reporting on The Open in 1951 at Portrush, renowned correspondent Bernard Darwin wrote: "Mr. H.S. Colt… has thereby built himself a monument more enduring than brass."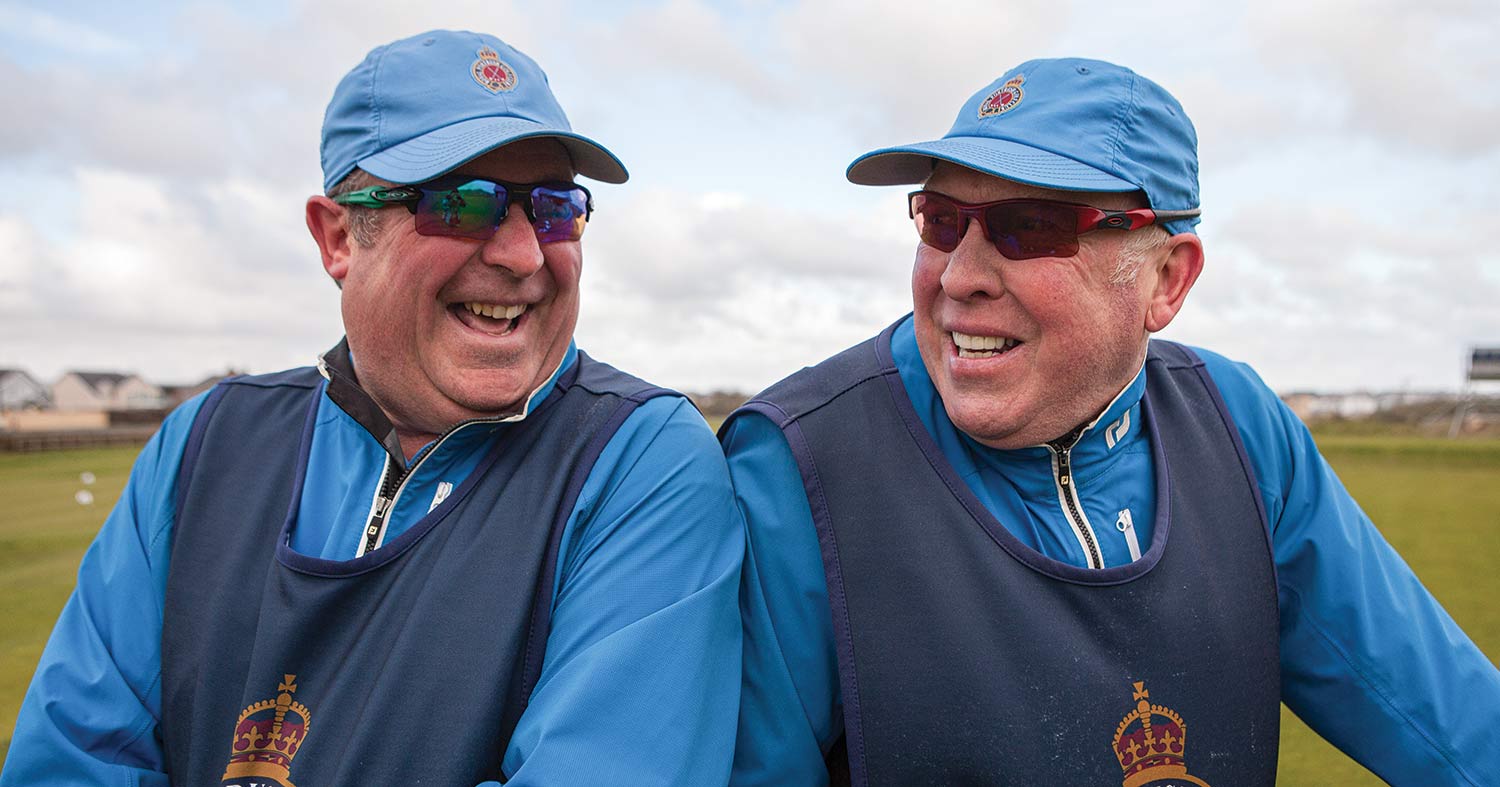 Porridge for breakfast
Like almost all the "Open" towns around the shores of the UK—Southport (home of Royal Birkdale), Lytham St. Anne's (Royal Lytham), Hoylake (Royal Liverpool) to name a few—Portrush enjoyed a Victorian heyday as a seaside resort. A fishing village before that, the heart of Portrush town lies on a mile-long peninsula, Ramore Head, which outstretches from the coastline of Northern Ireland into the brooding North Atlantic. This is not the northernmost part of the province but it is not far off, and stoic Portrush withstands the prevailing south-westerly winds that whip in off the ocean.
A broad sandy beach stretches along the West Strand of Portrush, just outside the town's harbour, and on the other side of the peninsula the unspoilt swathes of sand resume, along the East Strand and separating Royal Portrush from the Atlantic. Those south-westerlies regularly cause consternation on the links and it is little solace to golfers that the same winds render Portrush a haven for surfing.
Traditionally, the British working man might have porridge for breakfast in winter, to warm him up and hold him down when the breeze picks up, but in the Antrim House bed and breakfast on Eglinton Street in Portrush—with a view of the West Strand from the front and the East Strand no further away from the back—they serve porridge every morning, winter, spring, summer and fall. And if you can hear the wind buffeting the tall, elegant sash windows then you might choose to add a "drop of Bush" to the porridge, as they call it—a dram of the locally distilled Bushmills Irish whiskey—which always sits next to the porridge pot.
"A 20 mile-an-hour wind is normal here," warns Chris.
Eamon Hughes is originally from Antrim, 40 miles down the road towards Belfast, but has lived in Portrush for 40 years, all his adult life, and has caddied at Royal Portrush for 25 years.
"We get visitors from warmer climates and when we have a really cold, wet day they say, 'I suppose you guys are used to this', but the truth is that how can anyone get used to that kind of weather on the golf course? We live here, sure, but no-one likes the cold, wet weather. Golf is best in sunshine and shorts.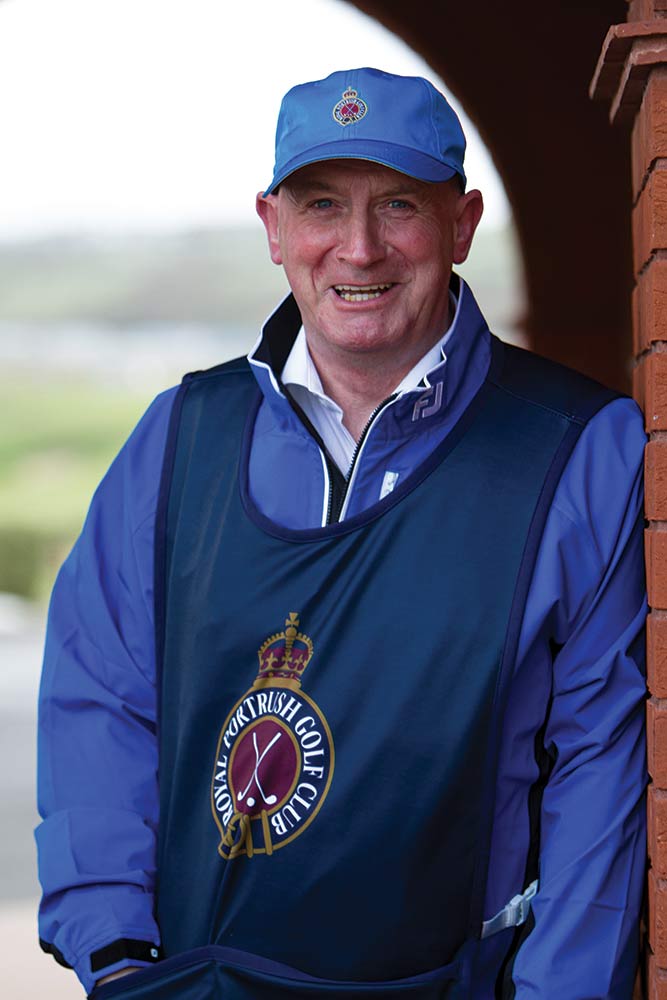 "One day last year my woolly hat blew away. It took off in the wind, probably ended up in Scotland. We were walking up the 12th hole, straight into the wind, we could hardly walk into it, and this gust took my hat and off it went like a bullet. Never saw it again. It was absolutely freezing. That had to have been the single windiest day I have ever had on the golf course. We were talking about 80, 90 mile-an-hour winds. One guy only played two holes, another played six, but my guy was very dogged and he was determined to finish, and he did."
Hopefully he was a good tipper.
"You do get the odd day without wind," offers John McIntyre to redress the balance, who started caddying here in childhood in the 1970s. "Any day that the sun shines is a good day. Last year was the hottest summer we can remember. People were going on holiday and coming back to find everyone at Portrush as brown as berries. It was crazy.
"Portrush is a fantastic place to grow up although you might not realise it at the time."
The caddies of Portrush enjoy brisk business these days, particularly from May through October, but on this particular day in April the weather is being uncooperative.
"On a windy day like this, what looks like a right-to-left putt could be left-to-right," says Gary.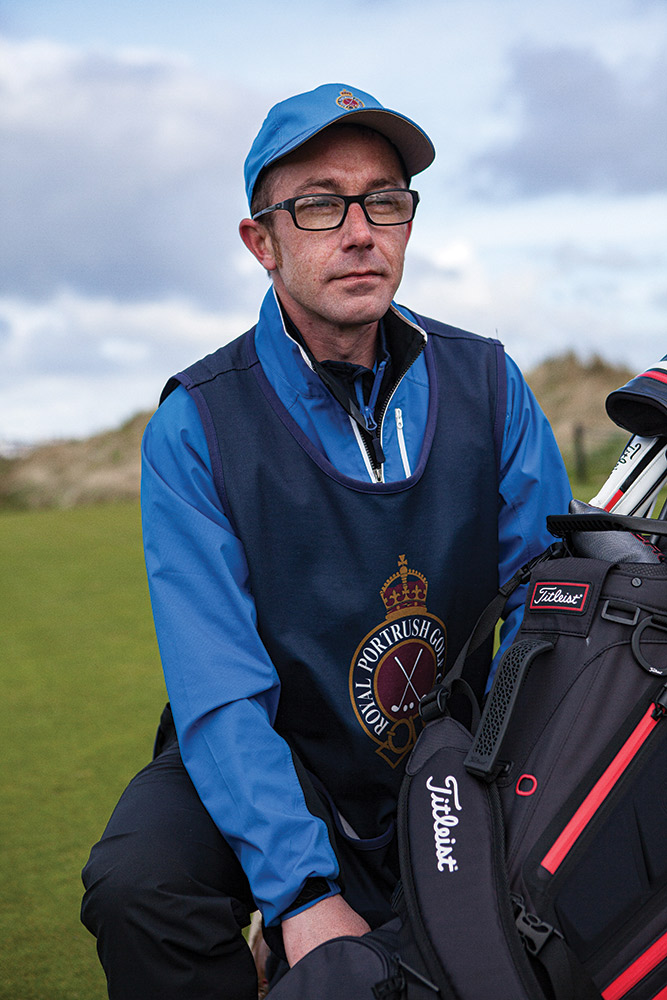 The winds are brisk, the clouds are thick and the porridge was necessary. Only a handful of groups are venturing out, enabling Chris, Gary, John and Eamon some time to rest their shoulders and reflect on their hometown's return to stardom. Royal Portrush first held The Open back in 1951, when England's Max Faulkner won. It was the first and last time The Open was held off mainland Britain but now, 68 years later, The Open is returning.
"It's brilliant," says Chris. "When I was young it didn't seem possible. The regular caddies will miss the work when the course is closed over the summer but overall in recent years the number of caddie requests has gone up quite a lot because The Open is coming back. The number of caddies here has doubled. We have packed tee sheets from morning until the end of the day."
Like Chris, John caddies, works on the practice ground and also on the morning divot squads.
"I first came to caddie in the school holidays in the early '70s and in those days it was very quiet up here," says John, who also serves as a starter. "The older caddies would get priority over the kids. We would all start at the bottom of the pecking order, eating humble pie, and you might only get one round a week. Visitors were scarce due to the political situation in Northern Ireland."
The Northern Ireland Conflict—or "Troubles" as they are often called with understatement, which have caused more than 3,600 deaths—occurred mainly in the 30-year spell between 1968 and 1998, until the Good Friday Agreement was signed. As a town, Portrush was largely beyond the areas directly afflicted by street battles and acts of terrorism but in terms of tourism, all of Northern Ireland was off the grid.
A turning point for Royal Portrush came in 1995 when it hosted the Senior Open for the first time. England's Brian Barnes won but the star turns were the 65-year-old Arnold Palmer and 59-year-old Gary Player.
"Like many, I followed Palmer," recalls historian Bamford, a retired judge who captained Royal Portrush in 2002. "On the par-five 18th hole, Palmer hit one of the finest five-irons that I can remember—it was his second shot into the green. I was amazed he was still able to hit such a shot.
"The fact that Arnold Palmer attended the Senior Open in Northern Ireland was a great accolade for Royal Portrush.
Northern Ireland was just three years short of the Good Friday Agreement and there was a strong movement towards peace and the laying down of arms. From then, Northern Ireland was able to begin to take its place on the international golf map and attract visitors, which it could not have done in the 1980s when the troubles were still rampant. And once the Americans started to come over the caddie master was able to recruit."
"I started caddying here when the seniors came here in 1995," says Eamon. "After that it got busier and busier with visitors. The past 10 years have been pretty flat-out."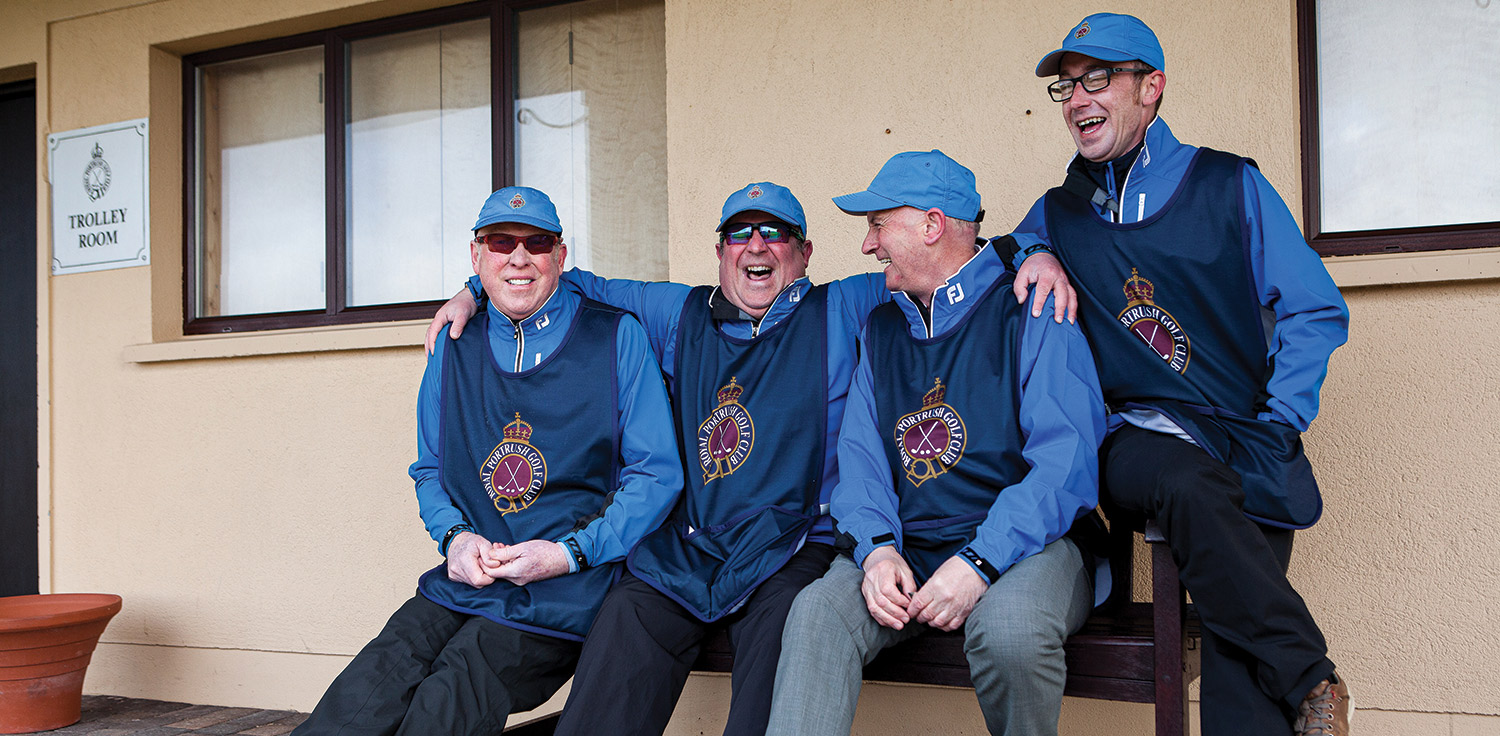 Portrush held the Senior Open for five consecutive years and then for a sixth time in 2004. In 2012 Portrush re-confirmed its championship caliber by hosting its fourth Irish Open on the European Tour, but for the first time in 65 years. Three years later the renaissance was completed by the R&A's announcement that The Open would be played over the Dunluce Course in 2019.
Rory McIlroy will have to shoulder local hopes in July. The Open champion of 2014 at Royal Liverpool, McIlroy was born and raised just outside Belfast and 60 miles from Portrush. For local knowledge he has his share; McIlroy shot 61 to break the old Dunluce course record by three shots in 2005, playing in the North of Ireland Amateur Open.
"When Rory set the course record—before the new back tees were put in and the new holes—he was 16 years old, with all this curly hair," recalls John. "I was there when he did it and you thought, 'Who is this crazy little kid?'"
Darren Clarke, the 2011 Open champ at Royal St. George's, is from Dungannon, 50 miles due south, although he has a home in Portrush and will receive warm support.
But for the townsfolk—and for the caddies, each and every one—the player they really want to see play well in The Open is Graeme McDowell, the U.S. Open champ at Pebble Beach in 2010 and who only recently qualified for The Open with a top-10 finish at the Canadian Open in June.
"Graeme is the local man," says Chris. "He is definitely the favorite around here. He was born and raised in Portrush. His mother and father still live here and his brother works on the course along with us guys. G-Mac is the man."
"He's a gentleman," adds John. "He's the local lad who won the U.S. Open. This place was buzzing when that happened, and at the Rathmore Club too, where he grew up playing."
Says Chris: "G-Mac is down to earth and that is one of the reasons people love him so much here."
If you are heading to Portrush for The Open in July you have a lot to look forward to. Portrush as a town, as a golf club, as a population, is overdue its second chapter in The Open. And July it may be—the heat of the summer—but please, for the love of porridge and Irish whiskey, come prepared for all weather.