Andy Garcia: The Untouchable
Hollywood 'A-lister' Andy Garcia took a break from the important business of playing golf at St. Andrews to talk to Kingdom about his career in films, his childhood in Cuba and Miami Beach, and his plans for the future.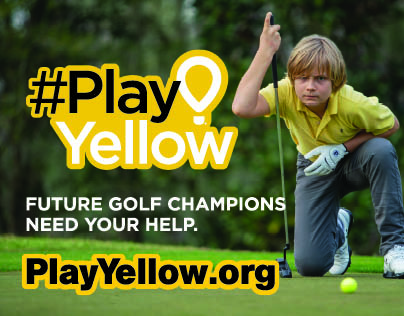 A little like his character in Ocean's Eleven, casino owner Terry Benedict, Andy Garcia has an acute sense of everything going on around him whilst maintaining a serene detachment. He may not be entirely in control of what's happening, but nothing escapes the attention of his piercing, olive eyes.
And so it was when the 55-year-old star of other blockbusters like The Untouchables, Internal Affairs, When a Man Loves a Woman and The Lost City sat down with Kingdom in the fabled Jigger Inn beside the Road Hole 17th following a round over the Old Course at St. Andrews.
Even on a bustling, balmy September night, the Jigger Inn is as far removed from a Las Vegas gambling floor in style and atmosphere as can be. The mingling troops—celebrities, caddies, agents and hangers-on—are enjoying a rustic, al fresco cocktail hour against the backdrop of the setting sun.
Garcia was relaxed—he'd just completed a most enjoyable second round in the 2011 Alfred Dunhill Links Championship in the company of bubbly Spanish professional Pablo Larrazabal—but he remained completely dialed into his surroundings. Dinner with the rock star Huey Lewis was on the agenda, but first he was happy to puff on a cigar, sip a mineral water, exchange pleasantries with fellow (rival) celebrities as they passed by our table, and chew the fat—big time!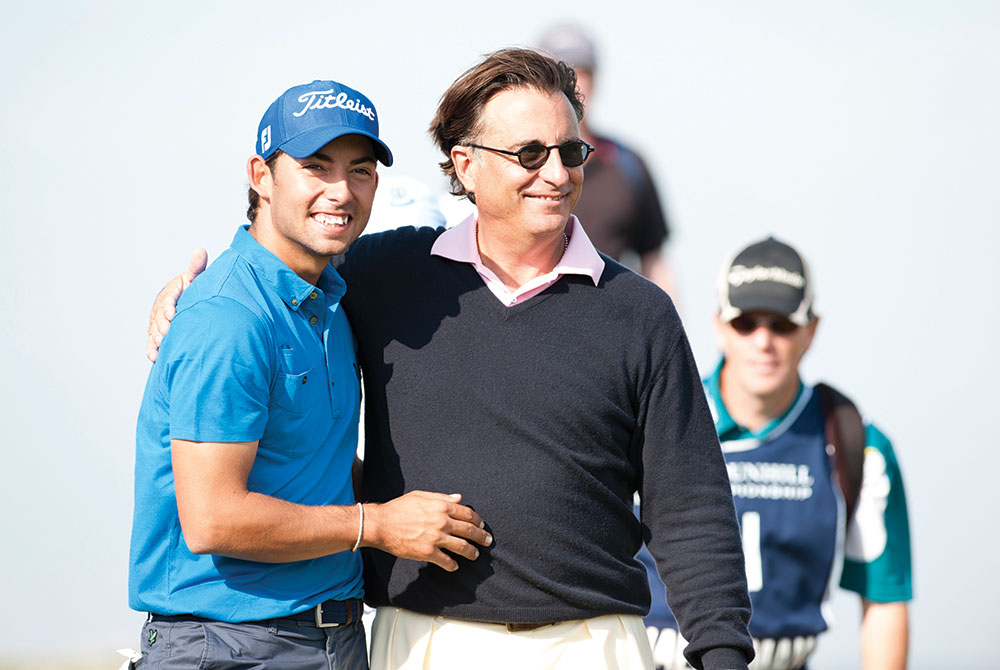 Andrés Arturo García Menéndez was born on April 12, 1956 in Havana, the capital of Cuba, yet by the age of five he had already had an unusually eventful life, packed with incidents and, as it turns out, colorful memories.
His mother, Amelie Menéndez, was an English teacher, and his father, René García Núñez, an attorney but also, following in the footsteps of previous generations in his family, an avocado farmer. Life was grand, to say the least.
Alas, this idyll was rudely shattered in 1961 when well-to-do families like the Garcias were forced to flee their homes and possessions, almost overnight, for fear of falling foul of the new communist regime headed up by Fidel Castro.
They completed the short journey to Florida and settled in Miami Beach. As he was a small child at the time, Garcia could be forgiven for having only hazy recollections of this time in his life. Au contraire!
"Even though I left Cuba at such a young age, my memories of my childhood there are specific and vivid to this day," he told us with detectable emotion in his voice. "When you know you're not going back you hold on to what you have. It can never be taken away from you.
"The Cuba I lived in is not the Cuba of today. It's a different country. We left Cuba because our freedoms were taken away from us, and so we came to America, the land of the free. America is completely different to Cuba in almost every way. Any place where you can criticize the government and nothing happens to you is a good place. That is America.
"We left everything—everything was taken away from us. Whatever you had was gone. A million exiles left Cuba in the first two years after 1961."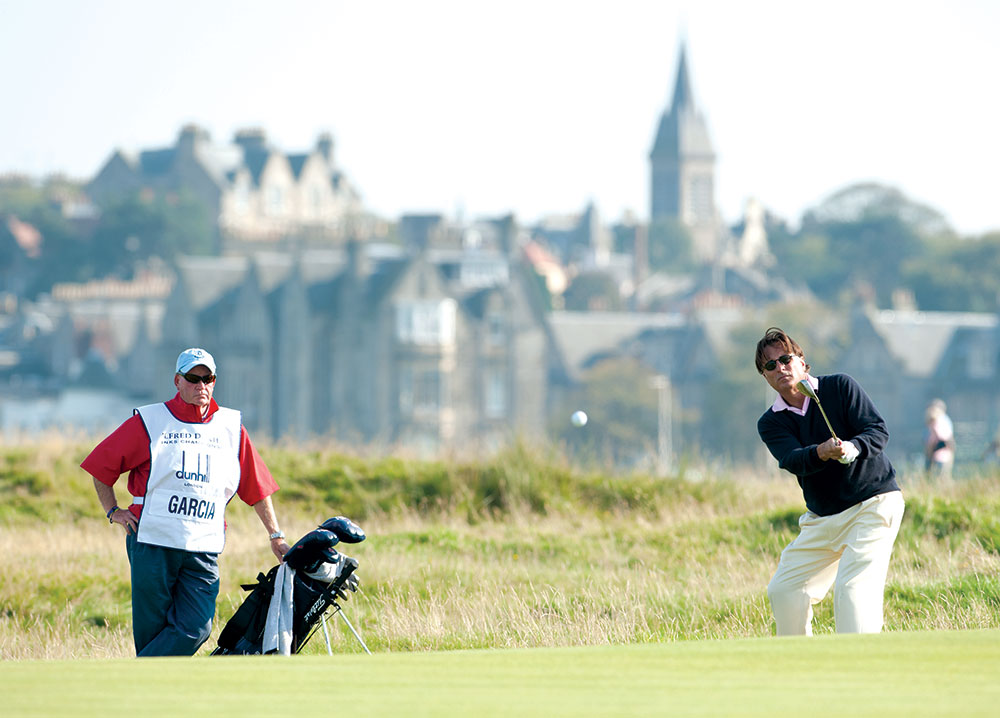 Such passion almost half a century down the line, long after acceptance of the Castro regime became an international fact of life, prompted the thought that Garcia might be entertaining political ambitions, but he's adamant he has no such inclinations. "Absolutely not," he snorted. "No way!"
He's also adamant that he's never had any feelings of deprivation about the rest of his childhood.
"Miami Beach was a paradise for a young boy to grow up in," he says. "I was very fortunate. To this day there are a lot of Cuban exiles there, and it has a great atmosphere.
"When he came to the States, my father never practiced law any more. He worked for a catering company, delivering meals to people from his home. Eventually he bought the business, then sold it, then started a fragrance company.
"My mother, who's still alive, got the first job she could as an English teacher. I have two older siblings and two first cousins. Rene, my brother, runs the family fragrance business to this day and my sister, Tessi, is an interior designer."
Certainly, the young Garcia thrived in his adoptive environment. "I was happy and very sporty. I played basketball and baseball` at Miami Beach High School—but in the end I had to specialize in basketball as the coaches wouldn't allow me to play both. I played point guard. I was only 5ft 7in at the time so I was a ducker and diver. On reflection, I'd have probably been better off playing baseball because during my time there the head coach was Skip Bertman, who later achieved so much at the University of Miami and then won the college version of the Super Bowl five times with LSU."
Not surprisingly for a Florida resident, it wasn't long before golf appeared on the youthful Garcia's radar.
"I've played golf since I was about 12. Back then, it was a very casual pursuit. I got some clubs and we'd play in the park or sneak out on the course in the evening. Today, I play off a handicap of 9 at the Lakeside Golf Club, a course that was built in the 1920s, in Toluca Lake, near Burbank in northern Los Angeles. [The late] Bob and Dolores Hope were members there. It has a lot of members from our profession but I'm happy to play with anybody, a lot of the guys are neighbors of mine and don't work at all in our industry, though I do play a bit with George Lopez.
"My first time in Scotland was when I came to play in the Dunhill last year. Playing in this event on these courses [Carnoustie and Kingsbarns as well as the Old Course] is such a privilege. I'd been to England once before—in 2001 to make The Lazarus Child. We were based at Rye, so I played Royal St. George's [venue for this year's Open Championship, won by Darren Clarke, who was sitting not 10 yards from us at the time of this interview].
"Golf is what it is—one day you feel great and the next you just don't have the feel. Lee Trevino says you play with what you've got on the day and he's right."
An illness during his last year in high school persuaded Garcia to consider a career in acting and he went on to study the subject at Florida International University in Miami. Shortly afterwards, he crossed the country to live in Hollywood and started to take small roles and bit parts. These included portraying a gang member in the first episode of the long-running police TV series Hill Street Blues. Supporting roles in The Mean Season alongside Kurt Russell in 1985 and 8 Million Ways to Die with Jeff Bridges the following year brought him to the attention of director Brian De Palma who gave him his big break in The Untouchables.
"I've always been interested in films all my life," he says. "I was always attracted to them and I'd lose myself in them. I was fascinated by the big film heroes while growing up in the 60s—Sean Connery in the James Bond series, Steve McQueen, James Coburn. Imagine how cool it was for me when I ended up acting with Sean in The Untouchables—it was like you're playing golf with one of your heroes. And in the case of [the late] James Coburn, not only did I act with him in The Man from Elysian Fields but I was his producer. I was signing his pay checks. Incredible!"
In 1989, Garcia teamed up with director Ridley Scott to make Black Rain, a detective thriller with Michael Douglas, a fellow competitor at St. Andrews.
Michael and I were cast as police officers working in Japan.
That's the only film I've ever done with him though I know him well. Michael is a genius both as a man and an actor. If I ever had to be in a fox hole with somebody there are only a couple of guys I'd pick and Michael is one of those guys.
"Movies are an intense experience and you can form a strong lifetime relationship with people you work with over a relatively short time. Playing golf with someone for four or five hours is similar. Pablo [Larrazabal, who was European Tour rookie of the year in 2008] and I will be friends for life after partnering each other over the first three days of this tournament."
Also in 1989, Francis Ford Coppola was casting The Godfather Part III. The character of Vincent Mancini, the illegitimate son of Sonny Corleone, was an exceptional part in a highly anticipated film. García was one of many candidates for the role, but he also bore a striking resemblance to the young Al Pacino. He won the part, earned Academy Award and Golden Globe nominations as Best Supporting Actor for his performance and never looked back.
Critics are divided about the merits of The Godfather Part III, particularly after its stellar predecessors, but Garcia will not hear a bad word about the film. "It was a great honor for me to be nominated for those awards. The original, more than any other movie, is what motivated me when I decided to pursue my acting studies. Being able to act alongside Al Pacino, my hero, was an incredible experience.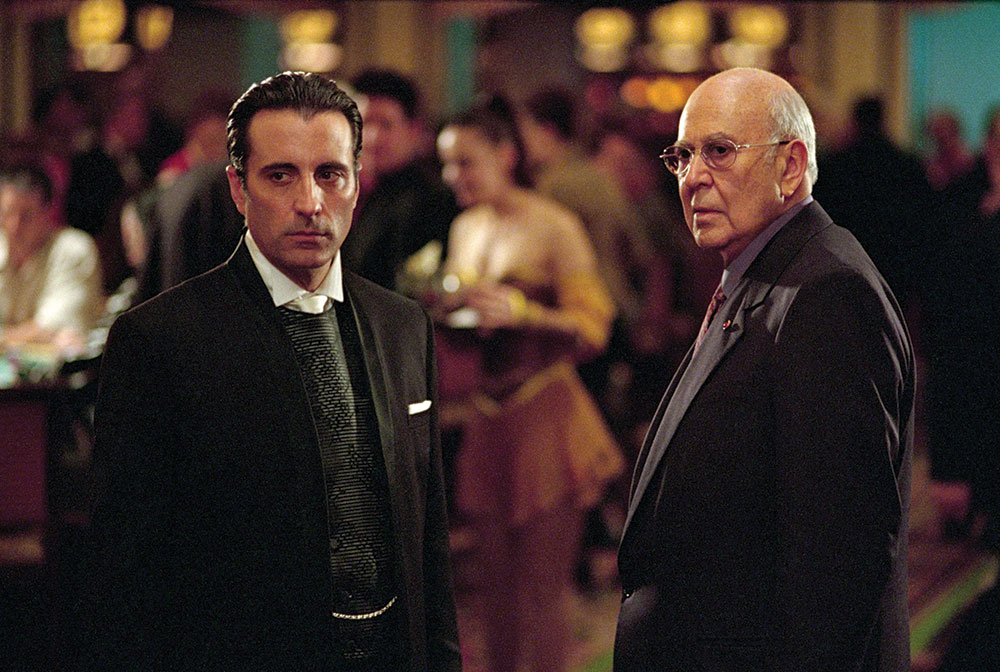 "Also, playing alongside such a stellar cast in Ocean's Eleven [a remake of a 1960 Rat Pack movie] was pretty special. It never crossed my mind that they'd call me when they said they'd make a sequel as I felt my character, as the main antagonist, had pretty much run his course. So that was an honor too when they cast me in Ocean's Twelve and Ocean's Thirteen.
"Yes they were smaller parts, but I always say there are no small parts, only small actors!"
Other notable Garcia parts, small and not so small, were as an honest police officer up against the incurably corrupt Richard Gere in Internal Affairs (1990), a good Samaritan in Hero (1992), the husband of an alcoholic in When a Man Loves a Woman (1994), a doomed criminal in Things to Do in Denver When You're Dead (1995), a crusading lawyer in the drama Night Falls on Manhattan (1997) and a cop trying to save his gravely-ill son in Desperate Measures (1998).
Returning to his Cuban roots in 2005, he released The Lost City, which he co-wrote, directed and starred in, alongside Dustin Hoffman and Bill Murray. Upon its release, The Lost City sparked controversy due to its negative portrayal of the Castro regime and Che Guevara. No doubt that suited Garcia just fine.
"I'm starting a new film soon, The Truth, a thriller with Forest Whitaker," he reveals, "but I can't tell you any more about the plot at this stage. When it comes to work, I do whatever stimulates me. I'm always working on something personally. I do quite a bit of producing and directing, but I act in most of them as well, like The Lost City.
"I don't want to depend purely on things from the outside, hence my involvement with the Hemingway project."
The Hemingway project? "I'm going to do a movie with Hilary Hemingway, daughter of Ernest's brother Leicester. In 2009, we co-wrote a screenplay called Hemingway & Fuentes—it follows Hemingway's friendship with Cuban captain Gregorio Fuentes during the 20 years Ernest spent on Cuba."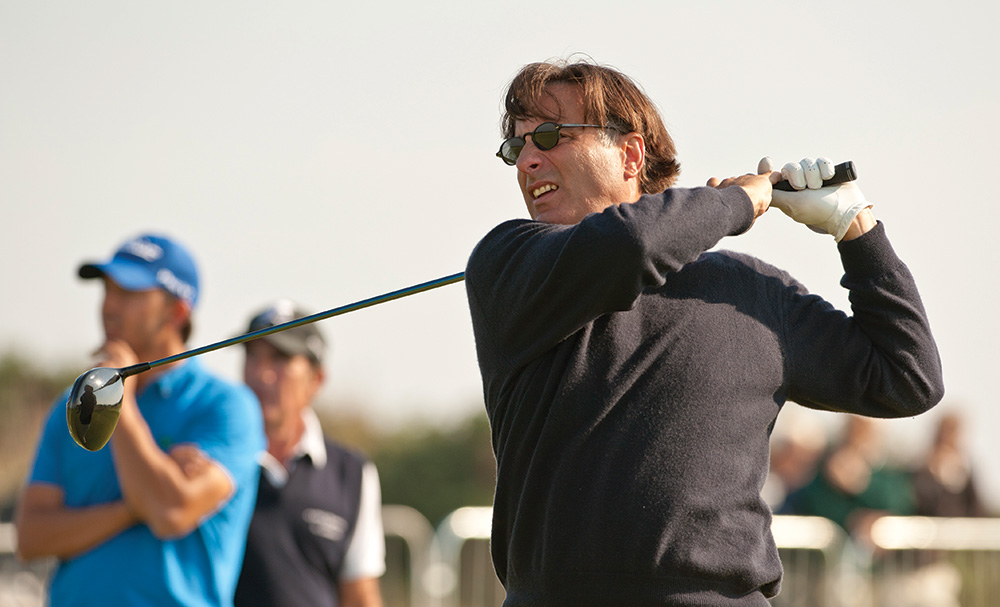 Andy Garcia is a serious man, no question, but in harmony with his earnest (no pun intended) demeanor is the sparkly, lighter side to his personality. In 2010, he appeared on British television in the BBC's Top Gear motoring program to take part in the 'star in a reasonably priced car' segment, recording a time of 1min 46.1secs in a Kia Cee'd. "That wasn't a bad time, considering the car was a pile of junk—I think the third best they'd ever had. It was a crazy day—I almost killed a cameraman along the way."
So is he a budding Paul Newman with a potential career in the wings as a celebrity Nascar driver? "Forget it! I only did the stunt because we were in the U.K. promoting our film, City Island, which had just been released over there."
Ah yes, City Island. This is the 2009 New York family comedy in which he acts alongside his eldest daughter Dominik Garcia-Lorido, 28. Her 23-year-old sister Daniella is also an aspiring actress while a third daughter, 20-year-old Alessandra, is currently at college in New York. Son Andres, still only 9, has a way to go, but watch this space. The mother to this brood of budding thespians is María Victoria Lorido, who married her husband in 1982. She's from a similar Cuban-exile background, but there was no prior relationship between the families, pre-Castro.
"I met my wife in Florida and I actually proposed to her that very same night," confesses Garcia. "But it took a while for her to accept!" Not one to take 'no' for an answer, Garcia was persistent in his pursuit. Like Terry Benedict, he clearly knew a good thing when his olive eyes alighted on it, but unlike his Ocean's Eleven character he didn't panic. He kept his nerve and, more importantly, he kept the girl.