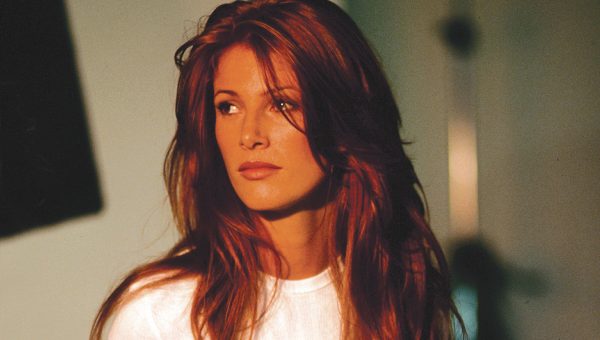 Angie Everhart
So much more than just her red hair, Reade Tilley confirms that Angie Everhart doesn't need anyone's permission to be exceptional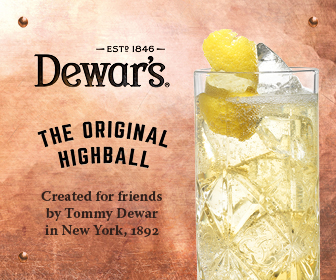 Lucille Ball said that "once in his life, every man is entitled to fall madly in love with a gorgeous redhead." For more than a few men, that redhead has been Angie Everhart. Model, actress, spokeswoman and more, the naturally red-haired stunner has been a fixture of popular culture for more than two decades, gracing magazine covers, films and television shows with a presence that is at once inviting and daring. As someone who's lived life in front of a lens—and sometimes under one—it perhaps shouldn't be surprising that she's been labeled with her share of clichés over the years, including "red hot," "crimson-crowned vixen," and that adjective which always seems to precede redhead, "fiery." The former Sports Illustrated swimsuit model might be all of those and more, but there's another word that should be added to the list: "strong." Cancer survivor, devoted mother and entrepreneur, Angie Everhart endures. And if you didn't know it, she'll kick your butt on a golf course.
"My dad's a golfer, my mom's a golfer, so it was inevitable," she says, explaining that she and her brothers all learned the game early, with her first lessons coming at the age of five.
"My mother is a better golf teacher than my father. My father just expected us to know how to play—'Just do it, like this!' He shoots his age and at one point was a scratch golfer."
Everhart says her father was named after golf great Bobby Jones, pointing out that Jones' first name was actually "Robert."
"My grandparents didn't care. It was Bobby Jones, and so they went with Bobby," she says. "We are an intense golf family."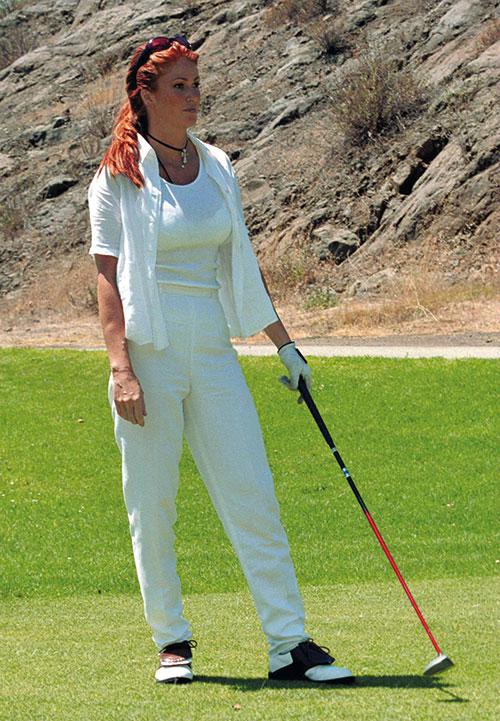 No question. Everhart says she won a junior golf championship as a kid in Ohio and she's logged numerous appearances on the celebrity golf circuit as an adult, tying for the win at Michael Jordan's tournament in 2004 with her playing partner, pitcher Jon Smoltz. More recently she made a strong showing on the Golf Channel show The Haney Project under the tutelage of one-time Tiger Woods coach Hank Haney, who noted her competitive nature along with her solid swing.
"Competitive? Definitely," she says. "At [Jordan's] tournament, [actor] Judd Nelson started talking. He was making fun of my swagger when I stand up to the ball, my little wiggle. And he was saying things like, 'I'm gonna get you!' And I thought, 'I'm gonna beat this guy.' And we tied [for first place]! And the only reason we tied was because [Nelson's playing partner, pitcher] Rollie Fingers made a 65-foot putt or something. The guy is unbelievable."
The tied victory isn't the only success she's found on course, and the chatter she heard—as good-natured as it might have been—was hardly the last of its kind.
"I won the longest drive at Wayne Gretzky's tournament one year, and [a musician] came up to me and said 'it's not fair that you won the longest drive; you should play off the men's tee.' I told him, 'When I don't have boobs, I'll play off the men's tee!'"
For a long time, golf tournaments were a regular part of Everhart's life, but life changed when she had her son, Kayden.
"I was doing so many celebrity golf tournaments that I used to tell Kayden that I was going to work," Everhart says. "At one point I played six in a row, and when I left for one he asked me, 'do you have to go to work, mommy?'"
Everhart's now five-year-old son Kayden is, she says, "awesome. Becoming a mom is the best thing I ever did. That kid is the light of my life."
Unsurprisingly, motherhood made for a few other adjustments as well, and not just to her golf schedule.
"I stopped skydiving, stopped riding motorcycles, pretty much all the extreme sports got taken away."
"I sold my Harleys, I had three or four of them," Everhart says. "I sold them when I had my son. I stopped skydiving, stopped riding motorcycles, pretty much all the extreme sports got taken away. I've been a single mom, and if I get hurt Kayden doesn't have anybody. And anyway, even if he did, nobody's as good as mom."
A friend of mine used to ride motorcycles with Everhart and told me that she was "really hard to keep up with" on her Harley. She was serious about skydiving as well, logging roughly 300 jumps. Her cessation of those kinds of activities is just another reminder that her life has always moved forward at an incredible pace—a pace that began when she was noticed at a fashion show in her hometown of Akron, Ohio, at the age of 16.
Within weeks of being discovered she was in New York City and by the age of 17 she was living alone in Paris, where she stayed for nearly 10 years modeling for top designers. Work for the likes of Chanel, Gianfranco Ferre, Dior, Lacroix and Yves Saint Laurent led to numerous cover appearances for magazines such as Elle and Glamour. Later, she was the face of L'Oreal, a regular fixture in Sports Illustrated's illustrious Swimsuit Issue and, eventually, a big-screen presence, appearing in 1993's The Last Action Hero with Arnold Schwarzenegger and in cult classic Bordello of Blood, to name but two films. In testament to her independent nature (and beauty) she appeared in Playboy in 2000 and in a few highly sexualized movie roles, which increased the media's fascination with her. For a few years, her activities and relationships were regularly put under the tabloids' microscopes, with the attention reaching its crescendo following her 1997 divorce from actor Ashley Hamilton after a marriage that lasted roughly six months. Not the shortest Hollywood union, it nonetheless made for some rather harsh coverage and difficult days.
"I was having heartache, I was in pain, I was suffering. I felt like I'd failed," Everhart told talk show host Dr. Keith Ablow after the breakup. "Normal people, when they're going through a divorce, they have it and it's between them and their family and friends. But me… it was known by whoever read about it or saw it on television. When you're going through a heartache and then you walk into a restaurant and [you hear], 'Oh she just got divorced!' It's so hard when you are being watched every step that you take and everything that you do… Your heart is already laid out on the table and you're suffering and it just multiplies it."
Everhart is the first to agree that negative media attention is just part of the consequence of being a celebrity, as she told Ablow:
"It's a choice that actors and actresses and models, musicians… It's a choice that I made to be in the public eye, so I have to suck it up a little bit and accept it. But it doesn't take away the pain when you're hurting."
However expected intense media scrutiny might be for celebrities, its damaging potential produced a heart-wrenching response in Everhart in May of 2013, years after the divorce, when she received the very tough, very personal news that she'd been diagnosed with thyroid cancer.
"I was ashamed," she says. "I was embarrassed, because I've had enough bad press in my life and I certainly didn't want any more. Cancer was not something… It was not a time in my life that I wanted to have bad press."
At the age of 19 Everhart seriously injured her back in an equestrian accident and required extensive physical therapy to recover. While skydiving in early 2013, she sustained injuries serious enough to require surgery. But cancer posed the biggest health challenge of her life.
"When someone tells you that you have cancer, you don't 'take it in stride,'" she says. "Unfortunately my fiancé was out of town, so I called my girlfriend and she came over. I had a few cocktails and I proceeded to tell her everything I needed her to know in case everything went wrong. I wrote down everything my son needed to hear—there are so many things I want him to hear from me… I let myself really think the worst, because if I don't think the worst then I can't prepare for the worst, but I don't want to prepare for the worst because I have to fight. So I gave myself the one pity party, then I closed it up, and thought, 'tomorrow morning when I get up, it's f**k cancer.'"
Everhart had planned to make her diagnosis public the following morning, but someone beat her to it. Happily, the results weren't at all what she was expecting.
"I got up the next morning and went to tweet the news but someone had already found out. I thought it was going to be a bad thing… But I was very surprised that it didn't come out as bad press. People on my Twitter page, literally pages and pages of well-wishers every day. Wow! I couldn't believe it, pages… I just kept scrolling and scrolling. People I didn't know were wishing me well. It was awesome. It made me cry and it gave me hope and a newfound love of mankind. Being [a celebrity] can really destroy that."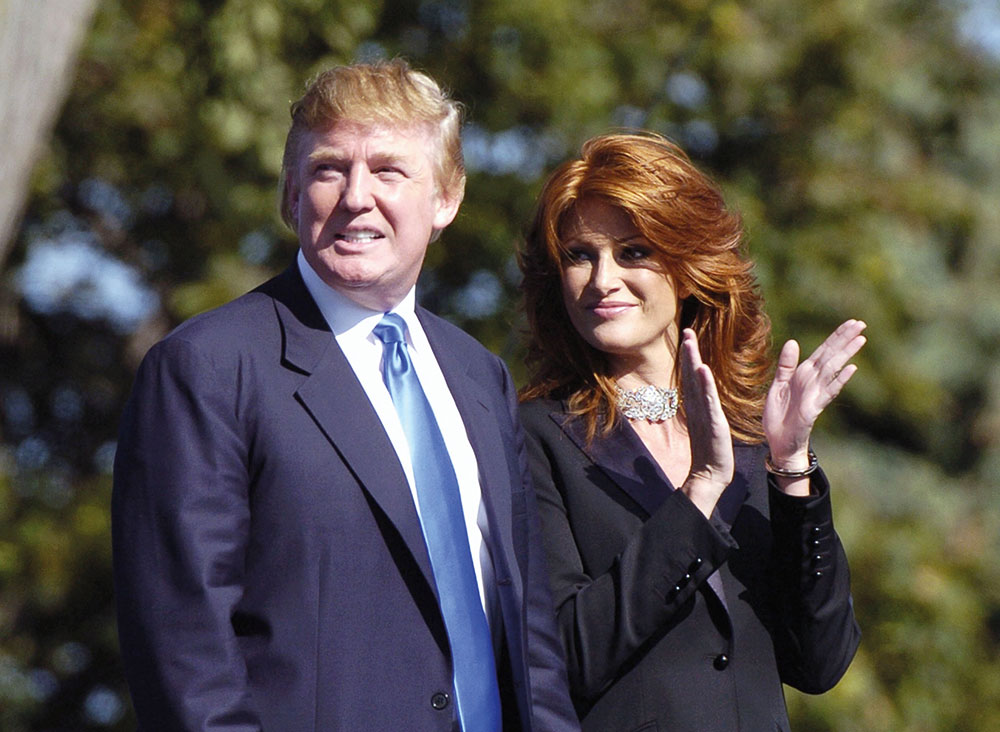 If Everhart ever suffered from cynicism, she hasn't shown it in an overly obvious way—though one could forgive her if she did. For much of her career, the media seems mostly to have settled for presenting her as a version of "tough/sexy." As accurate as that might be in part, and as much as she might have invited the characterization, it's certainly not a complete picture of the woman—not by a longshot. Appearing on the Late Late Show with Craig Kilborn in July of 2000, she was played in on the song "Do Me Baby," by Prince. Four years later, standing next to Donald Trump, Everhart introduced the teams at the 2004 Ryder Cup opening ceremonies. She speaks French and Italian, the celebrity golf tournaments she's played in over the years have raised millions for charity, and even before her very tough year was coming to an end she was already making appearances at events, speaking as an advocate for women who might face similar health struggles.
"I try to get out as much as I can," she says. "To pay it forward to those who need it. I just spoke to a women's group at a community center, gave a speech."
It's somewhat of a new role for the woman who once climbed Mt. Kilimanjaro to raise awareness of environmental change, but it fits. Likewise, life is about to shift again as she readies to launch her own line of hair products, called "Ever."
"I've always been the hair girl," she says, "and I was thinking that I was tired of doing it for everybody else. Why don't I build my own line? Make something for myself and something for Kayden, something that didn't hurt your eyes, didn't strip your hair color. I'm a natural redhead but people always ask me what my 'real' hair color is. It's a concern for women because many women do dye their hair. So I made an exceptional line that's great for the health of women's hair. It took me a long time to get there, but we got there."
So a bright future with a great kid, a great fiancé, and plenty of work ahead—but no more Harleys, no more skydiving, no more extreme sports… How does the extreme supermodel plan to blow off steam?
"Golf," Everhart says. "No matter what, even if you're playing bad, you just look around at where you are. It's such a great escape, so beautiful. I always say you're doing something right if you're on the golf course."