Arnold Palmer: Irreplaceable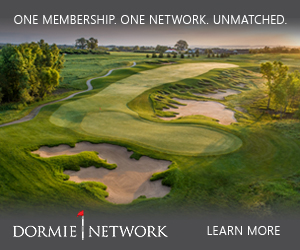 Since the loss of Arnold Palmer on September 25, 2016, the outpouring of heartfelt tear-stained tributes has provided a vivid reflection of the powerful sentiments felt for Palmer around the world. Here is a selection of some of the things that were said and done last year, leading with some of the emotional, inspirational words spoken at the Celebration service held in Palmer's hometown of Latrobe, Pennsylvania.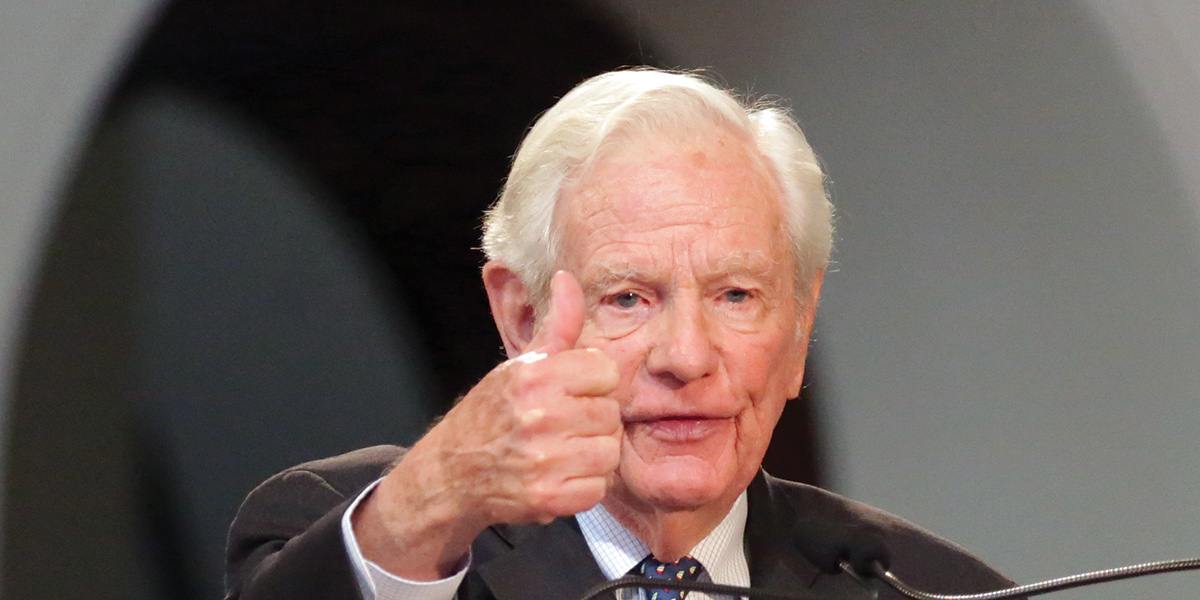 Charlie Mechem
Former LPGA Tour Commissioner and long-time business colleague and friend of Arnold Palmer
We were watching the Masters telecast. Holes 13 and 15 present very interesting challenges—both par-5s with water hazards. More than once, players laid up on these holes, unwilling to risk going into the hazards and becoming toast.
I asked Arnold, "Did you ever consider laying up on 13 or 15?" He sat there for a minute and then said, "Do you know how many times I came second at Augusta?" I said, "No, I don't." He said, "Neither do I."
That sort of said it all.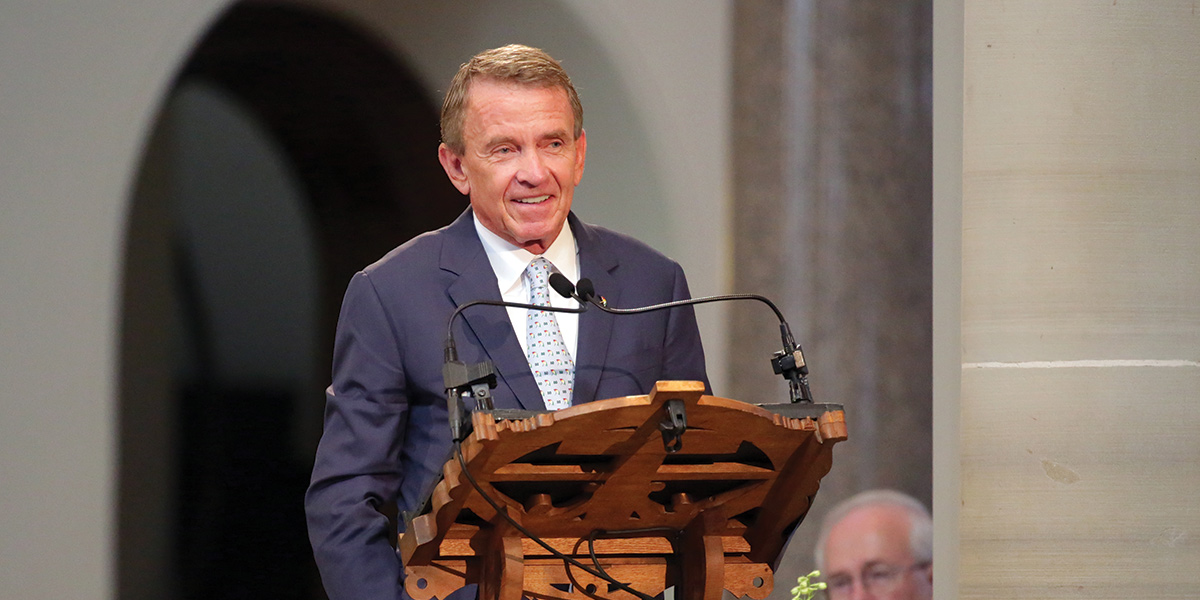 Tim Finchem
Commissioner of the PGA Tour
The younger players today understand what Arnold Palmer did for them. We were having lunch at Bay Hill and player after player after player came up to pay their respects to Mr. Palmer. Rory McIlroy came over and Arnold said, "Rory, I am delighted you're here. If there is anything we can do for you, or if there is anything I can do for you personally this week, you have my number, just call me." Rory said, "Mr. Palmer, that won't be necessary. What you have already done for me is all that I will ever need."
Arnold had this incredible ability to make you feel good, not about him, but about yourself. When he saw how people would react to him, Arnold lit up like a Christmas tree. He took energy from that and then turned it right around and gave it back.
He and I were walking around the Old Course at St Andrews during the British Amateur. I had been taking pictures of him with various people I had never met for about three hours. He just could not get enough of it. We went to watch the final group. These two fellas were on a green and one of them had about a 12-foot putt. Arnold and I were leaning on this fence and he turned to me and said, "Do you think this fella is feeling the pressure because you're watching him?"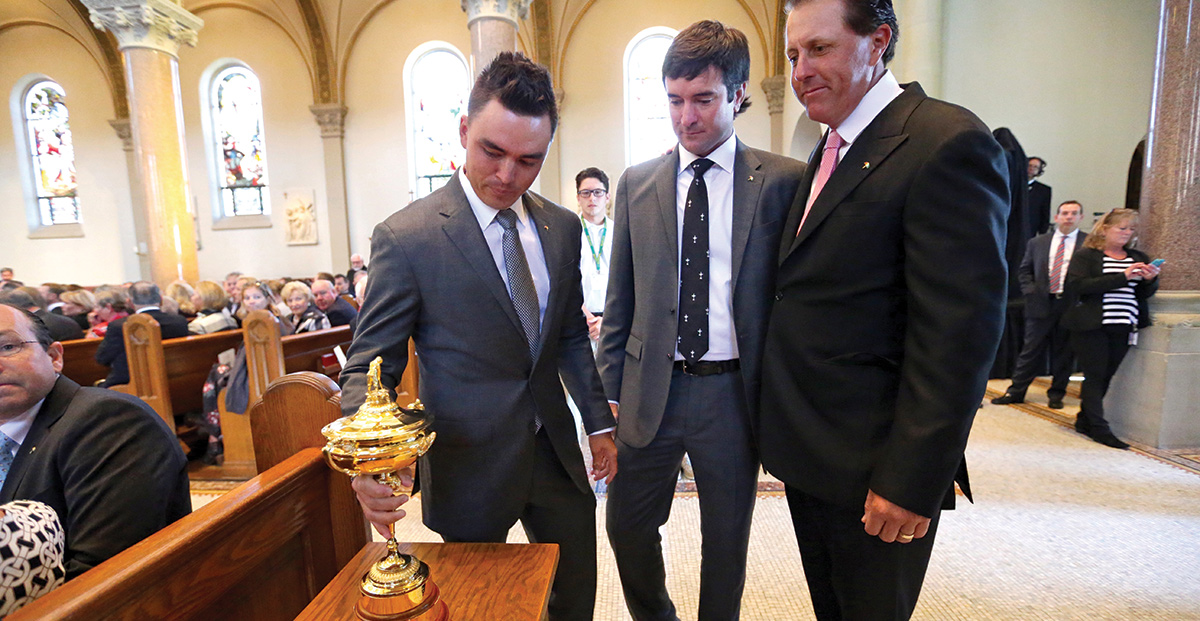 Rickie Fowler
"Before the Ryder Cup, as a team we thought it would be great that if we could win, we could bring the Ryder Cup to him, to Arnie's memorial. Then on that Friday morning we swept the foursomes for the first time since Arnie was captain in 1975, so it all came together. The family asked us to bring the trophy to the ceremony and it seemed fitting."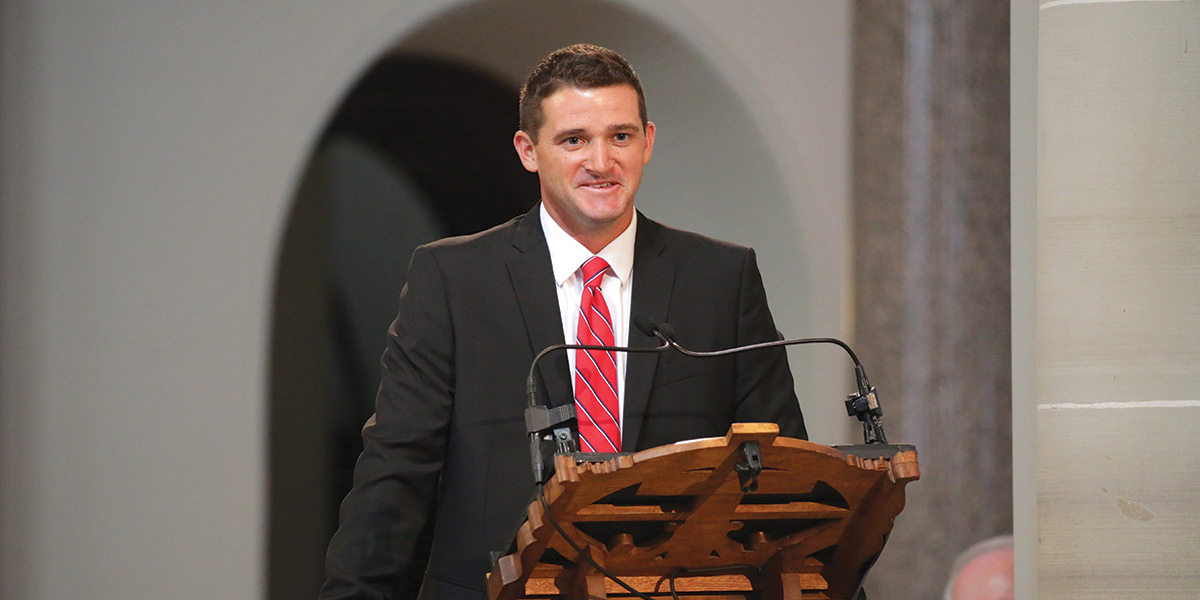 Sam Saunders
Palmer's grandson and PGA Tour golfer
We knew him as "Dumpy." The name came from my sister Emily, in an attempt to call him "Grumpy" as a little girl. To this day I have "Dumpy" in my phone and I'll never change it.
He would always take my phone call, always. He would always answer his phone with, "Where are you?"
This one time I replied, "I'm at home. Where are you?"
"I'm with the President."
"The President of what?"
He said to me as if it was so obvious, "The United States. I'm in the Oval Office right now with the President."
"So why are you answering your phone?"
He said, "I wanted to talk to you."
That is what he did. He always wanted to talk to me. He always wanted to be there for us and he always, always was.
The next phone call I want to tell you about is a little bit tougher. It is the last call I ever made to him. I will be grateful for the rest of my life that I called him at 4:10 on the Sunday that he passed away.
He answered the phone on the first ring, in the hospital, preparing for surgery the next morning.
"Where are you?"
I said, "I'm at home. I'm thinking about you today, we all are."
He told me to take care of my children, my family, our entire family, and I intend to do that and to make him proud. I told him I loved him, he told me he loved me, and that was the last thing we said to each other, and I will cherish that for the rest of my life.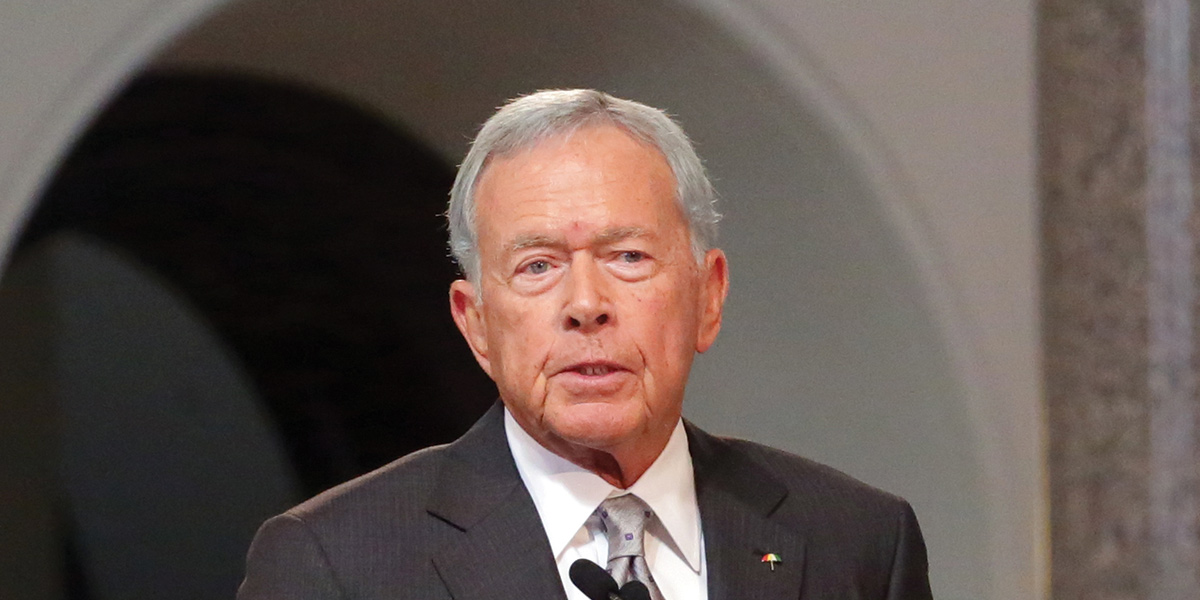 Russ Meyer
Chairman Emeritus and former Chief Executive, Cessna
For a guy who was so confident and successful, Arnie occasionally needed a little reassurance. After an important speech or business meeting he would occasionally ask me, "Did I do okay?" Invariably I would pat him on the shoulder and say, "You did okay."
If Arnie were here and asked me—"Did I do okay?"—I'd say, "Think about this: you raised a wonderful family that mirrors the strength of your character and the quality of your values. You have enriched and inspired the lives of millions of people all over the world, not just by how you played but by who you are. Your exceptional generosity to so many charities, especially for healthcare for babies and children, will have a positive impact and bring joy to thousands of families for generations. That legacy, in my view, is even more important than all those majors. So I would have to say, my good pal, you did okay."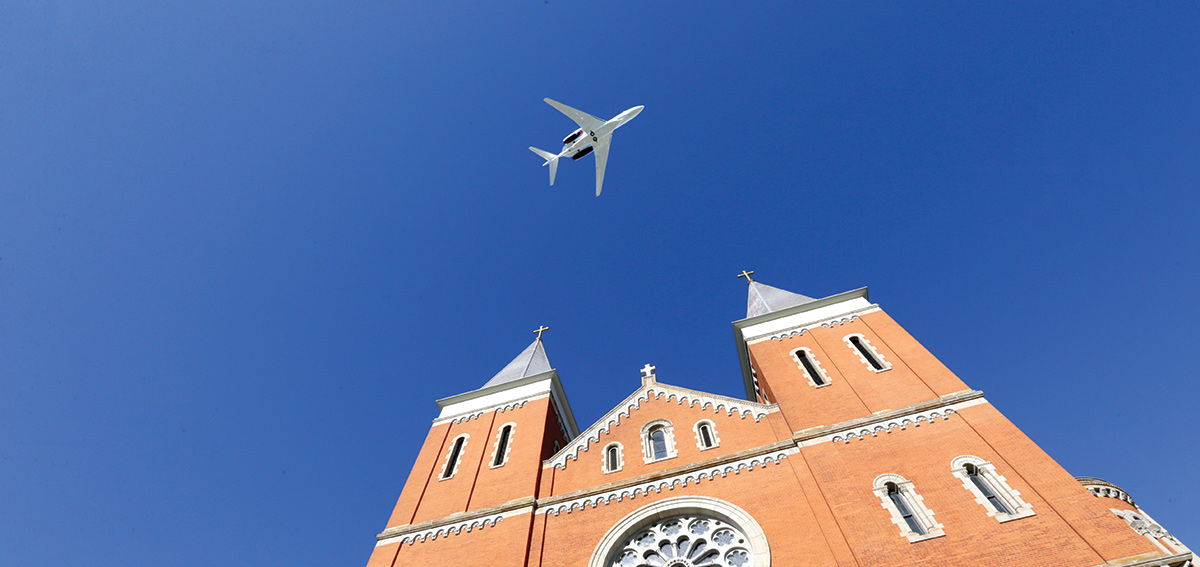 High flying – Palmer's longtime Chief Pilot Pete Luster flies Palmer's Citation X after the Celebration service.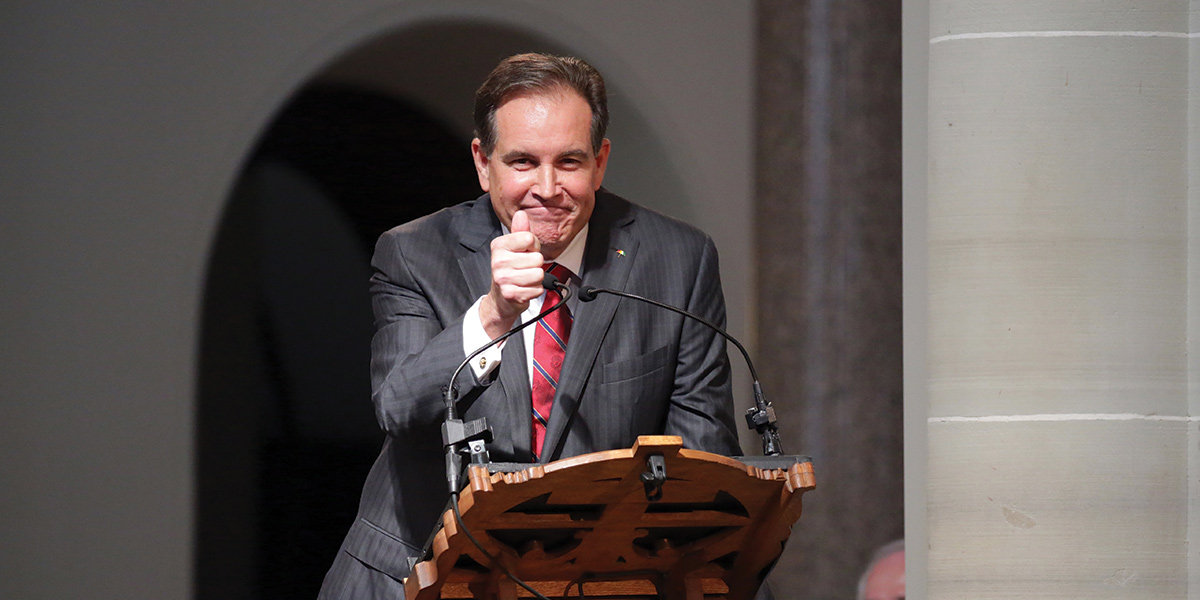 Jim Nantz
Broadcaster
Before Arnie's last Masters round in competition, he had shaken so many hands on the way that he got to the putting green just in time to hit a couple of putts. I was standing there and as soon as we locked eyes he said, "Have you made your decision?"
I was at a significant career crossroads. Was I going to go over and do news in the morning? I told him, "I have. I am staying with sports. It was my dream to one day broadcast the Masters and there's no way I'm going to walk away from that."
He said, "Was it a tough decision?" I said, "It was."
At that time my father was deep in the throes of Alzheimer's, a battle that he would lose soon after, and Arnie was aware of all that. I told him, "It was the first time in my life that I could not seek my father's counsel."
Here he was, Arnold, about to tee off for the last time, and he leaned over and he pointed right here [pointing to heart] with great force. He said, "You don't understand; your father helped you make that decision. You were listening to him. He was right here the whole time."
We're going to miss him, the captain of our game, but you are going to find him in a lot of places. He is going to spring to mind. It's going to hurt that he is not going to be there to pick up that phone, it's going to hurt when he is not going to be there on the first tee when our springtime tradition rolls around, but I hope you will always remember, he's right here [pointing to heart].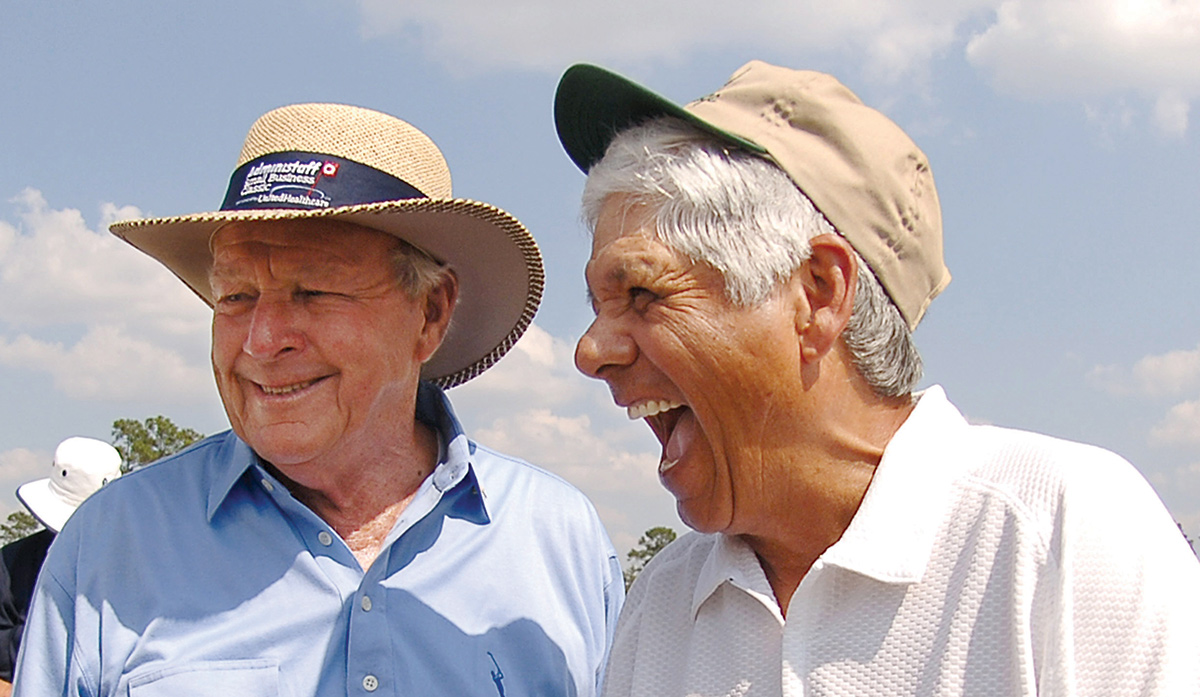 Lee Trevino
"Arnold Palmer didn't pass away, we just won't see him physically. He'll be here forever. I know that 300 years from now, people will still be talking about Arnold Palmer."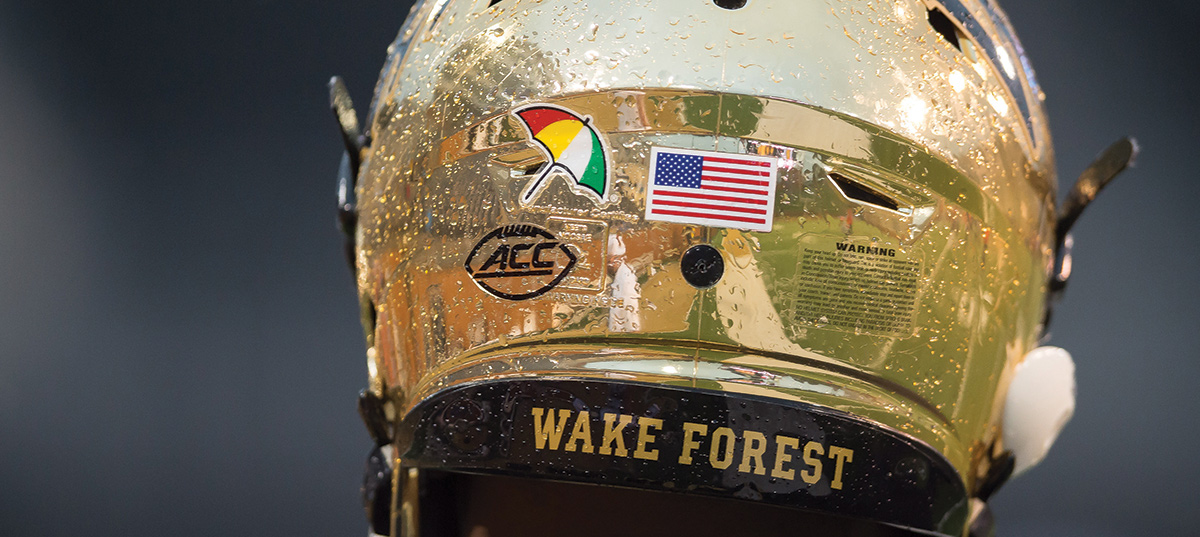 Alma mater – Wake Forest teams in golf, football and basketball all paid tribute to Palmer with uniform badges. The Demon Deacons football team wore the Palmer umbrella on helmets on October 8, 2016, for a 29-8 win over Syracuse.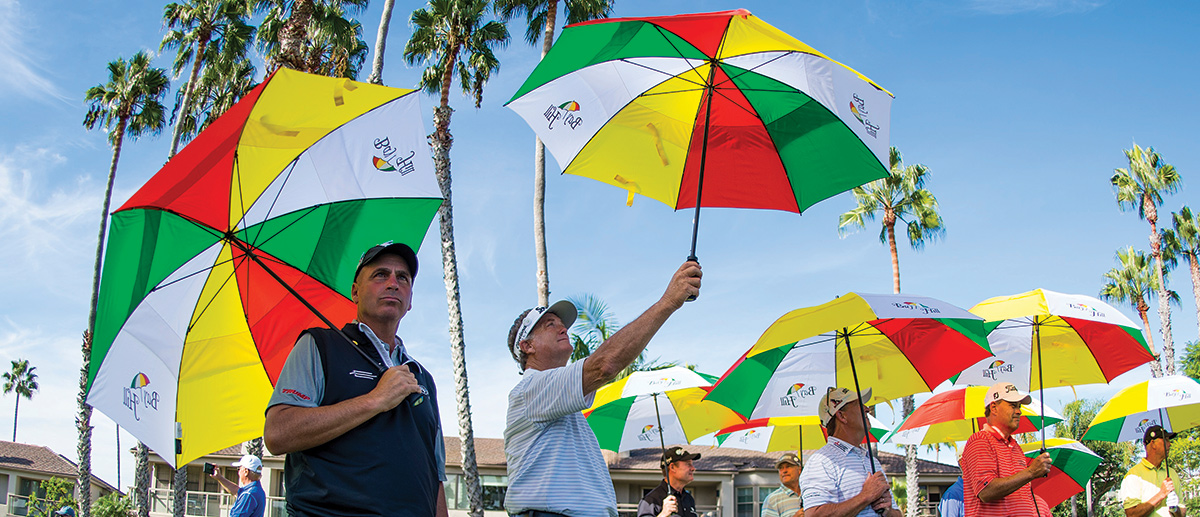 Umbrella weather – PGA Tour Champions golfers raise Palmer umbrellas on October 7, 2106: [l to r] Rocco Mediate, Peter Jacobsen, Joe Durant, John Cook, Loren Roberts, Tom Lehman.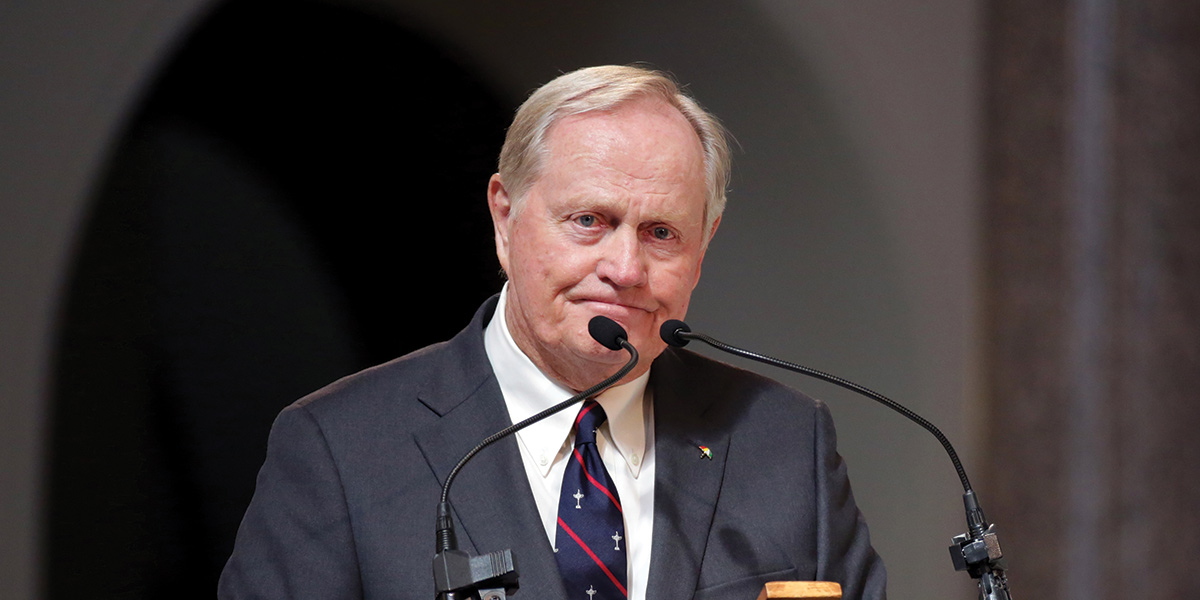 Jack Nicklaus
Winner of 18 majors, Palmer's greatest rival in golf
The game gave so much to Arnold but he gave back so much more. Arnold Palmer was the everyday man's hero. He embodied the hard-working strength of America, with his shirt often hanging out and a hitch of his pants, he played a game we could all appreciate. He made the recovery shot a form of art. At times he played like no one else before or after him, and at other times he played like anyone who had ever gripped a club. That endeared him to all.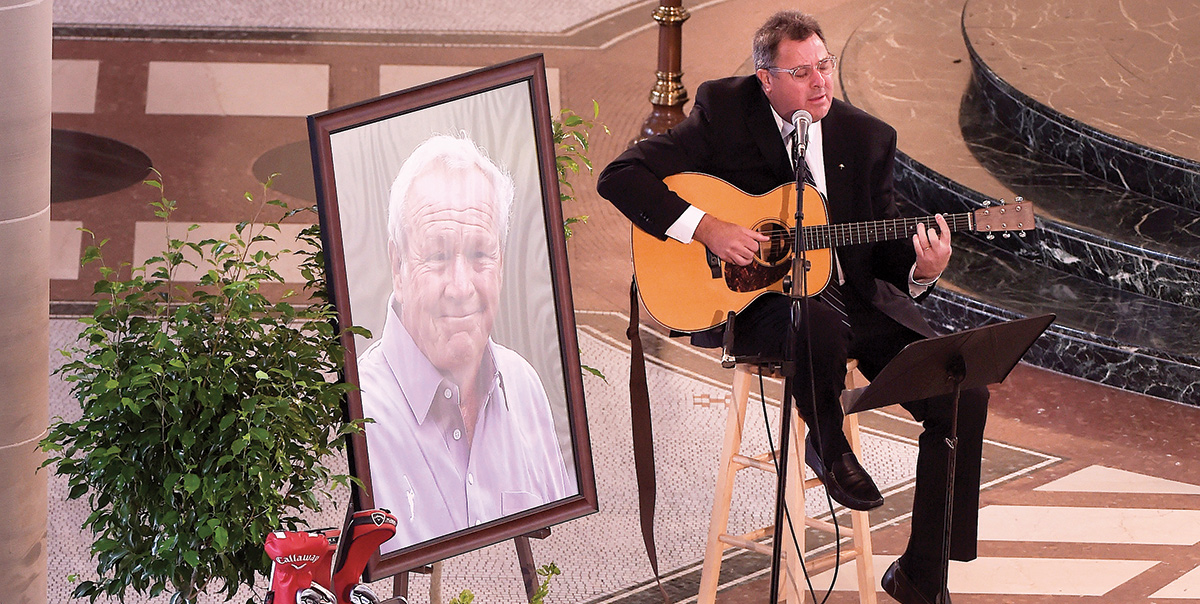 Vince Gill
Country singer and one of Palmer's favorite musical artists
Once when I played golf with Arnold, neither one of us had said a word about our scores but we both went to the 18th four under par. I hit my ball to 15 feet, Arnold hit his to 12 feet. I missed my putt, Arnold made his and he looked at me and said, "Gotcha." It was the greatest defeat of my life.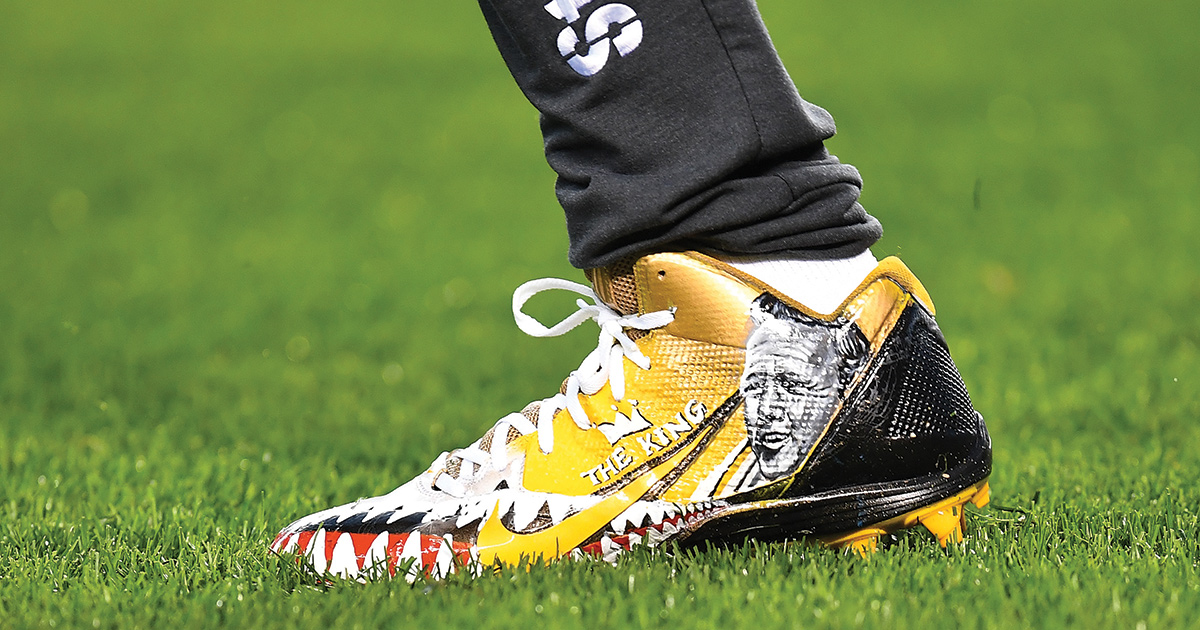 On the green grass of home – Pittsburgh Steelers wide receiver Antonio Brown had "The King" boots made for the Steelers game against the Kansas City Chiefs on October 2, 2016. Brown put the boots to good use, scoring two touchdowns in a Steelers win, 43-14.


"Arnie's Rainbow"
Saint Vincent College on the morning of September 29, 2016, the day of Palmer's funeral.
Mechem: "Arnold, as you get settled in Heaven, I want you to take God to the range—by the way, thank him for the rainbow—but be sure he has the proper grip on the club. Tell him that once you set his grip he is never to change it.
Arnold, you have had a grip on us like no other for these many years and believe me, we are never ever going to change it, so rest easy old pal.
There is an old saying that there are no irreplaceable people. Whoever said that didn't know Arnold Palmer."