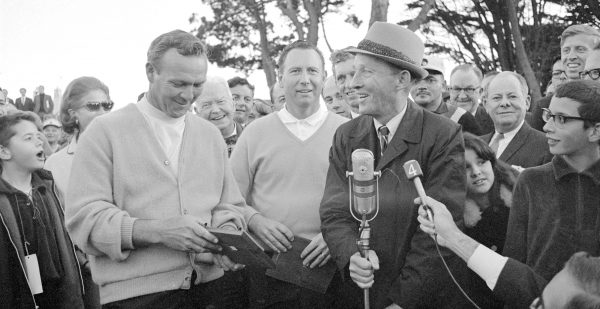 Bing Crosby: Swinging on a star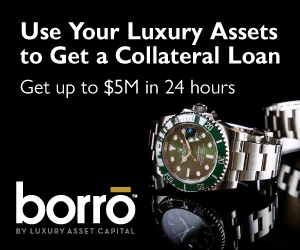 Bing Crosby: Swinging on a star. Sportswriter Art Spander used to listen to Bing Crosby's music. Crosby used to read Spander's column in the San Francisco Chronicle. One created his own golf tournament and the other covered it, year in, year out. Here, Spander reflects on the life and times of Hollywood's most dedicated golfer
As a matter of coincidence but of no real meaning, Bing Crosby and I both arrived in Northern California from the Los Angeles area in the same year, 1965.
He was, of course, singing, swinging—show business couldn't compete with golf, he often reminded—and certainly he was devoted to running the tournament on Monterey Bay, which he helped create and which carried his name. Even though it is now known as the AT&T Pebble Beach Pro-Am, it used to be the "Crosby Clambake"—and they did bake clams—and old-timers today still affectionately call it "The Crosby."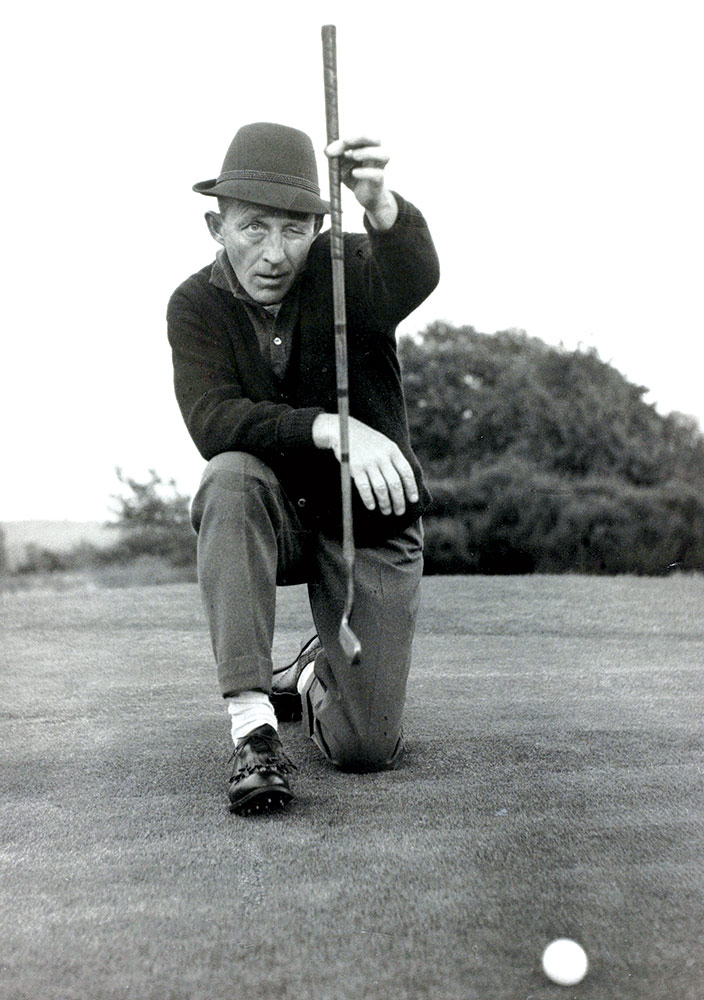 I was pounding a typewriter and the fairways in search of stories. The beauty of being a sports journalist is that even the greats—Bing, Tiger Woods, Arnold Palmer, Kobe Bryant, Serena Williams, Tom Brady—are occasionally at your beck and call because of their position (not yours). Interviews are part and parcel of their line of work, as much to sell themselves—sometimes literally—as the event in which they're involved. And Bing had a tournament to promote.
Residing some 20 miles south of the City by the Bay, the Crosby family received the Chronicle daily, and one day back in January 1976, Harry Lillis "Bing" Crosby was on the phone with the then-golf writer from the paper—blush.
The phone conversation followed the usual question and answer format about amateur invitees; who was coming, who wasn't—movie stars, athletes, others—when Bing said, "I have this 14-year-old son who seems to be a pretty good player and I'm thinking I might put him in the field, but I wonder what others might think."
What? Stammer, stammer. The response, diplomatic and, naturally, respectful from someone in awe of Crosby, was something like, "It's your tournament. If you think he's ready, invite him." Which he did, either that year or the next, in 1977—my advice surely having no bearing on the decision.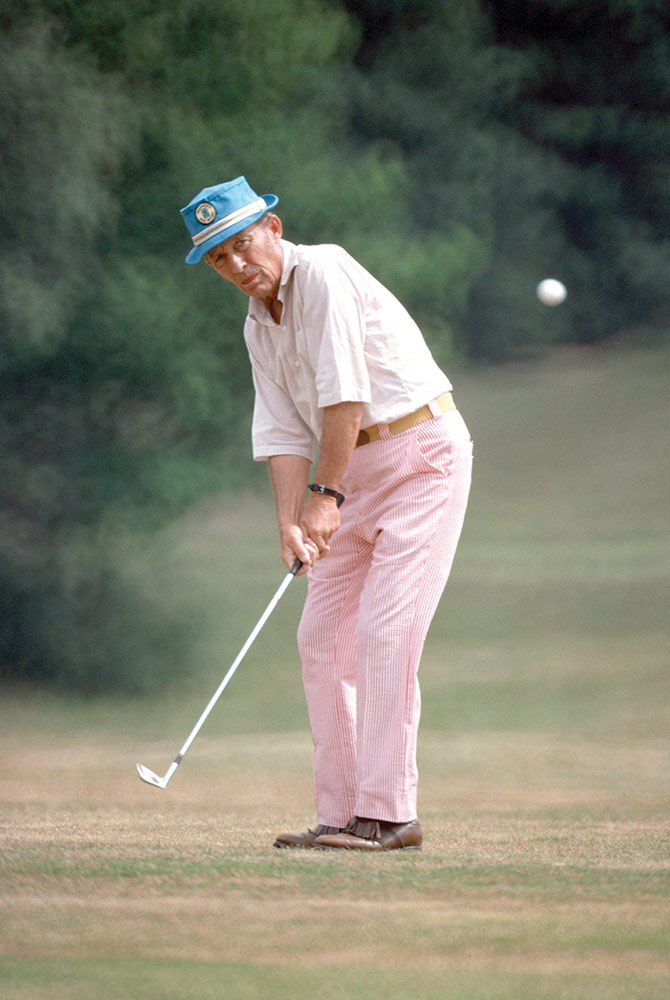 Nathaniel Crosby, indeed, could play, winning championships at Burlingame Country Club where the family belonged and at the 1981 U.S. Amateur at Olympic in San Francisco. For luck that week in '81, he wore the medal Bing earned for qualifying for the 1941 U.S. Amateur. In the 1982 U.S. Open at Pebble Beach, Nathaniel won more silverware by finishing as low amateur.
Like his son, Bing could really play. He learned the game as a caddie in his hometown of Spokane, Washington, and after leaving Gonzaga University and entering the movie business in Hollywood in the 1930s, he went after golf enthusiastically, lowering his handicap to two.
Five times he won the championship at Lakeside, located near the studio lots in Burbank, one of 75 clubs around the world to which he belonged. Crosby even had one of the three holes-in-one ever recorded at Cypress Point's glorious 16th, the 230-yard par-3 set among the crashing waves of Monterey Bay.
His swing was as smooth as his crooning, patterned after that of his boyhood golfing idol McDonald Smith, the youngest of five brothers who emigrated from Carnoustie and who was one of the most successful pros in America during Crosby's childhood. A contented Bing Crosby would be on a golf course, smoking a pipe, wearing his familiar felt hat, as graceful as he was on screen.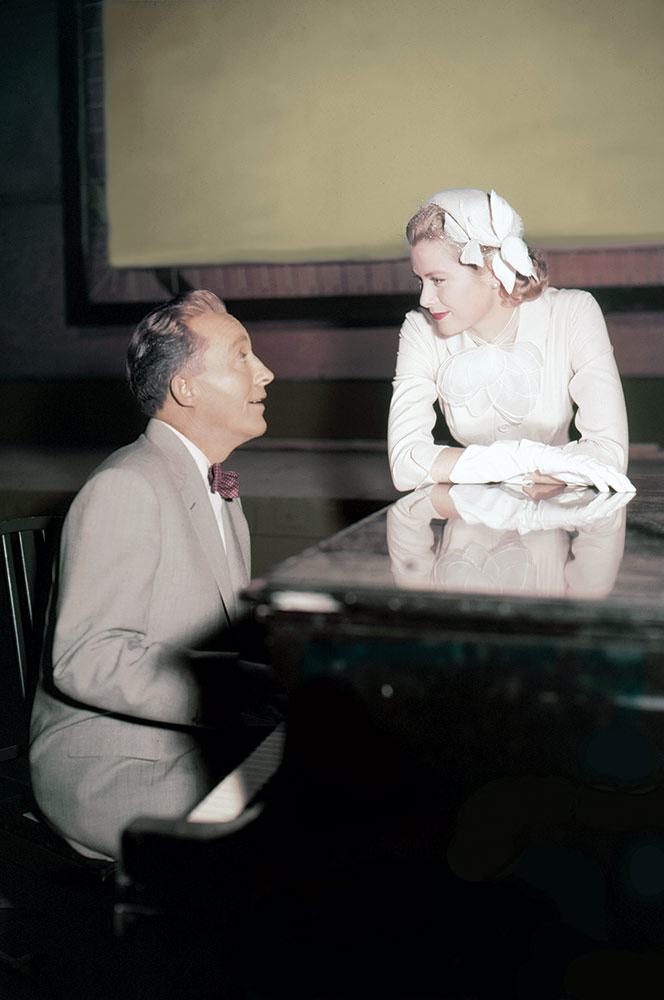 Bing's priorities
In a 2016 biography, co-authored by John Strege, 18 Holes with Bing: Life, Golf and Lessons from Dad, Nathaniel wrote that everything Bing accomplished as a singer was a "distant second" to golf. Bing was the world's first multimedia star—across the radio, TV and silver screen—and in the early 1950s he was described as the second most popular man in America. But he had his priorities.
The story goes that Crosby was supposed to audition for the title role in the TV detective series, Columbo—which would belong to Peter Falk—but Bing had a tee time he didn't want to miss.
Bing's plaque at the World Golf Hall of Fame in Florida carries this quote: "If I were asked what one single thing has given me the most gratification in my long and sometimes pedestrian career, I think I would have to say it is this tournament."
That would be the pro-am, which started in Southern California in 1937—not far from the then new Del Mar racetrack in which Crosby had an interest—before moving in 1947 to the Monterey Peninsula. The celebs brought attention—and the pros. Ben Hogan (who even teamed with Bing), Sam Snead, Byron Nelson and others were ecstatic to play there each winter, usually in late January, and it would later become one of Arnold Palmer's high-priority tour stops.
Crosby not only founded the tournament, he subsidized it in the formative years when banks were failing and the bread lines were growing, and when Hogan and his wife, Valerie, picked oranges off trees for food. Snead won the first Crosby in 1937 and when he was handed the $700 winner's check he told Bing, "If it's all the same to you I'd rather have cash." (Snead liked to keep his money where he could see it.)
There was a period in the late 1960s and early '70s when first the PGA of America, and subsequently the PGA Tour, tried to revise the format and realign the dates for the Clambake, despite tradition and strong opposition from Bing and others on the tournament committee. That's when he told me, in effect, "If it weren't for the money it raises for charity, and because so many organizations on the (Monterey) Peninsula are so dependent on it, I'd drop the whole thing." Fortunately he didn't.
It can be argued that in America the three people responsible for golf's popularity were Crosby, Palmer and Tiger Woods, the generation of one overlapping the next. Bing's tournament was one of the first televised nationally, starting in 1958, and Crosby worked as a commentator. Broadcasts always began with a recording of him singing, "Straight Down the Middle," a song originally in the 1948 film Honor Caddy with Bob Hope, Hogan and Snead.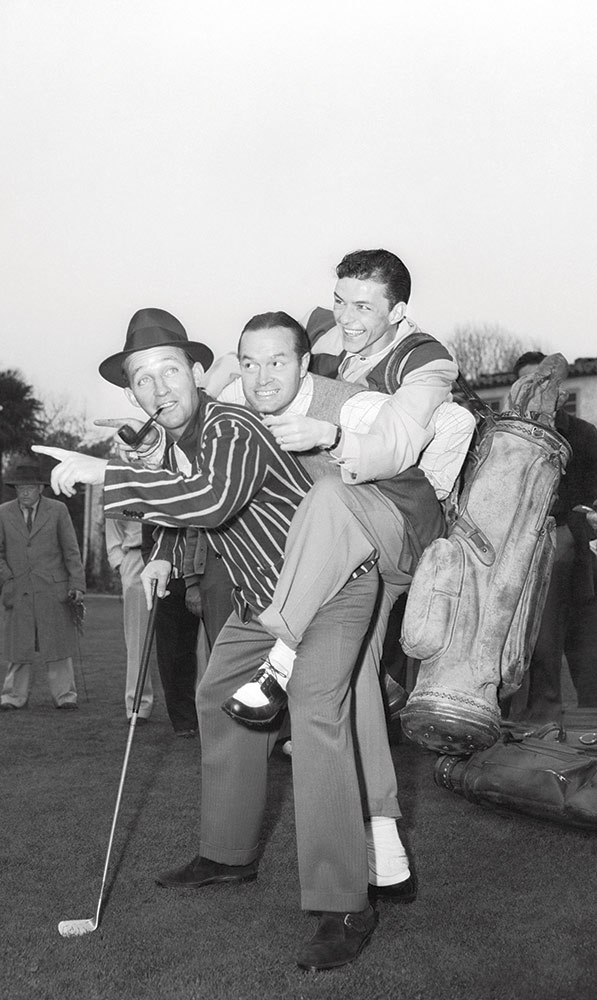 Crosby was a man of the people, despite his status and wealth. He would talk to fans along the gallery ropes; he would drop into the post-tournament hangouts. He and the late singer-comedian Phil Harris, a frequent amateur entrant in the 1950s and '60s, would swap one-liners and occasional one-putts. Still today, the incessant storms during the tournament are known as "Crosby Weather."
Harris filled in for Crosby as host in 1974, a brutal weather year at Pebble, when Bing was in hospital, and according to the huddled masses Crosby was quite better off to be there, warm and dry. But Harris added his own inimitable charm to proceedings. After one downpour, Harris told the press, "I have to get out of these wet clothes and into a dry martini."
After watching a beautiful wedge shot, Harris sighed—in a remark still repeated to this day in some corners—"He did that as gracefully as a man reaching inside the top of an evening gown."
Crosby loved all sports. He was a part owner of the Pittsburgh Pirates baseball team. Unable to attend the 1960 World Series—in which the Pirates defeated the New York Yankees—because he was working in Europe, Crosby arranged to have the NBC broadcast of the final game, the seventh, video-recorded. In 1960 that was not your everyday household request. The recording, rediscovered in 2010 in Crosby's basement, is the only complete video recording of that game, which was decided with unrivalled drama when Bill Mazeroski skied a walk-off home run.
Always involved in horse racing, Crosby met Lindsay Howard, the owner of Seabiscuit, the equine star when a country in the throes of the Great Depression of the 1930s was seeking any reason to cheer and smile. Eventually Crosby and Howard formed Bing-Lin stables.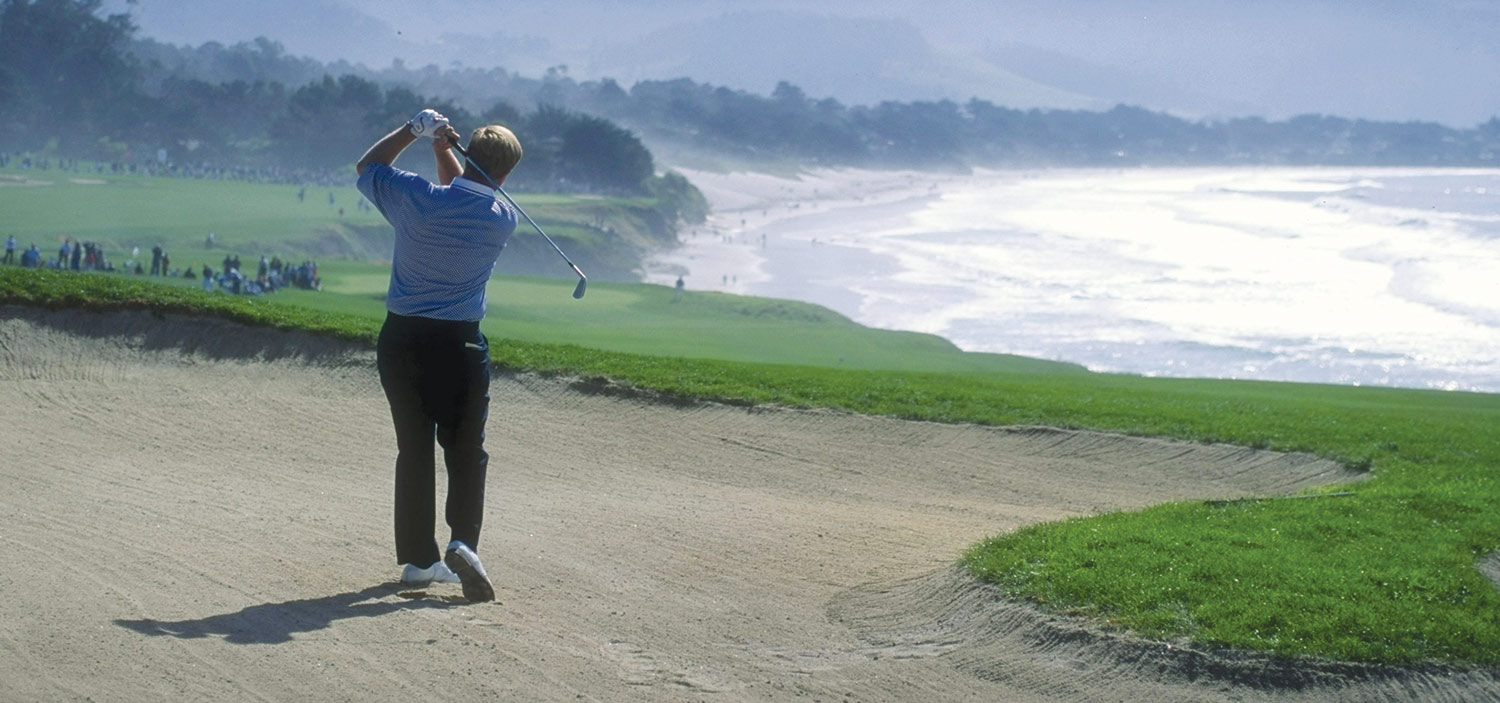 Howard had an estate in Northern California where Seabiscuit would be buried. When Crosby—remarried and with a new, young family—grew tired of the Hollywood scene, he bought the estate, which contained a 32-room chateau where Nathaniel, Harry Lillis Jr. and Mary Frances were raised. It was Mary Francis, later acting in the TV series Dallas, who would be the answer to the biggest question in American television in the 1980s: "who shot J.R.?"
As a member of Cypress Point, Burlingame and Olympic, Bing had golfing partners and friends among the area's elite, including Charles de Young Thieriot, who was publisher of the Chronicle, the paper for which I then worked. Only in retrospect, from a distance of half a century, do I comprehend all the links of those on the links and in the boardrooms.
Crosby lived for golf. "In the battle against par or against your opponent," he told Golf Digest magazine, "you can't think about much else, and the result for me at least is good therapy. For me, golf has been kind of a passport to relaxation and happiness."
It may be appropriate he died just after finishing a round of golf, in October 1977, outside Madrid. Crosby's legacy is entwined in the very game of golf, and in particular, that tournament at Pebble Beach.