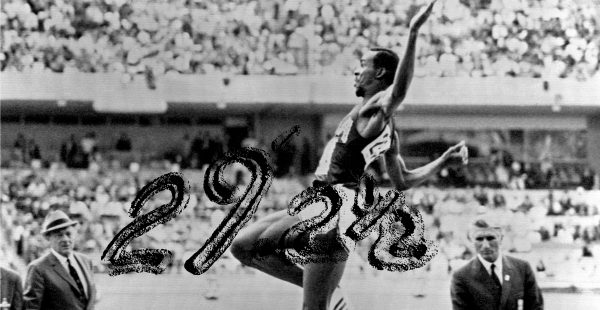 Bob Beamon
Dubbed "the man who saw lightning," Bob Beamon produced one of the sporting performances of the 20th century with a long jump that took gold for the United States at the 1968 Olympic Games in Mexico City. Paul Trow visited Fort Myers, FL, to reminisce and to hear about where the great man's leap has taken him.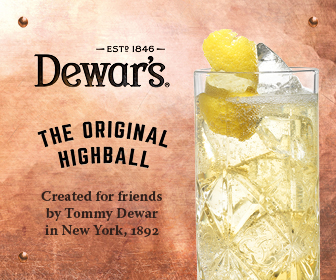 Paraphrasing the late Neil Armstrong's pronouncement as he stepped from Apollo 11 onto the Sea of Tranquility, it was indeed a giant leap for a man.
On October 18, 1968, at the Estadio Olímpico in Mexico City, a raw-boned 22-year-old New Yorker, dipped his head low, set off down the long-jump runway and soared through the air, seemingly forever.
Bob Beamon, who before that day had been regarded as a bit of a rebel unlikely to amount to much, had just done the extraordinary. Like a modern-day Icarus, he went where no man had been before, but unlike the Greek mythological hero whose wings of wax melted as he flew too close to the sun, Beamon fell to earth in one piece and conquered history in his stride.
As moments in the sun go, this was vastly preferable to that of Icarus. And despite the grainy, flickering, black-and-white TV screens that conveyed news to the wider world back then, it was a stunning sight to behold—just as Armstrong's moondance tiptoe proved to be nine months later, on July 21, 1969.
The leap was metaphorically out of this world, and among other things triggered the launch of the world's biggest sports photographic agency, Allsport, now part of Getty Images.
But the story of Bob Beamon doesn't start and end with this snapshot of history that Sports Illustrated named as one of the five greatest sports moments of the 20th century. Far from it. Even to get to the starting line in Mexico City was in itself a Herculean effort, and beyond the length of the jump there has been much more. Since setting the record, Beamon has moved through 44 and a half years of quiet endeavor and achievement as a sports coach, a tireless worker and mentor in underprivileged communities, and most recently as CEO of the Art of the Olympians gallery in Fort Myers, FL.
Born and brought up in South Jamaica, an impoverished suburb of Queens, Beamon was raised by his grandmother from the age of 8 months, following the death of his mother at 25 from tuberculosis. He attended Jamaica High School where the track & field coach was Larry Ellis, who went on to serve as head coach for Princeton (for 22 years) and for the U.S. athletics team at the 1984 Olympics.
In 1965, Beamon ranked second in the long jump in the United States and received a track & field scholarship to the University of Texas at El Paso. But in early 1968, he and eight other teammates had their scholarships revoked by UTEP for refusing to compete against Brigham Young University in protest against Mormon doctrines about blacks.
"Brigham Young had no African-American or Hispanic athletes so I refused to compete against them," Beamon says. "They were all church worshippers, and it was a time when we were still discriminated against—in restaurants, private clubs, etc. I lost my scholarship, but the basketball coach wanted to keep me, so I stayed."
This still left him without a long jump coach at a critical stage in his build-up to the 1968 Games, but his U.S. teammate Ralph Boston, the 1960 gold medalist in Rome and one of his main rivals, generously offered to coach him, unofficially of course.
Despite this glitch, Beamon went to Mexico City as the favorite, having won 22 of his 23 meets that year. But the historic events that unfolded came close to never happening when he overstepped on his first two attempts in qualifying. With only one chance left, Beamon had to re-measure his approach run before making the jump that advanced him to the final. There, he faced the two previous champions—teammate Boston and Great Britain's Lynn Davies (1964)—along with two-time bronze medalist and world-record-holder Igor Ter-Ovanesyan, of the Soviet Union.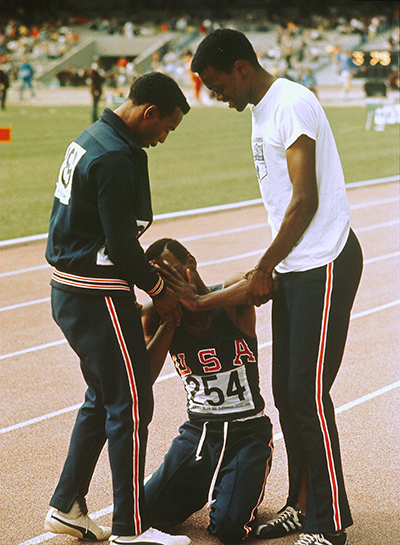 In the final, Beamon ended the contest with his first jump. At 29ft 21/2in, it bettered Ter-Ovanesyan's record by a full 213/4inches. When the announcer called out the distance for the jump as 8.90 meters, Beamon, unfamiliar with metric measurements, still didn't realize what he'd done. But when Boston told him he'd broken the world record by nearly two feet, he went into shock and collapsed to his knees. In one of the more enduring images of the Games, his fellow competitors then helped him to his feet. Davies told Beamon, "you've destroyed this event," and a new superlative, "Beamonesque," instantly entered the sporting lexicon. Not even Usain Bolt or Michael Johnson can claim that distinction.
"The first time I heard it I didn't even know how to spell it," Beamon jokes. "There have been some great performances at the Games, and during my time we had an incredible U.S. team that pretty much dominated every track & field event in '68. But what happened was very special. It was a great experience for me; not only did I win the gold medal but I wrote my name in history. But I had no real understanding of my performance, of what had happened. I certainly couldn't have prepared myself for it."
To demoralize his rivals even further, a rainstorm blew through the stadium shortly after his jump, which made it impossible for the rest of the competitors to challenge him. A lot was made at the time of the advantages Beamon had enjoyed from Mexico City's high altitude (more than 7,300ft above sea level), but statisticians reckon it cannot have made a difference of more than two inches. The fact that Klaus Beer of East Germany came second with 26ft 10 7/16in somewhat bears this out.
Beamon, now a trim 66-year-old, has no doubts. "I don't think the high altitude was of any significance," he insists. "It was just a matter of time before I put together all my abilities and talents. The word at the time was, 'watch out if he really gets himself ready for a serious jump.' But it was a record I didn't expect. I was completely in awe, and I'm still celebrating the accomplishment."
"For that jump, I was definitely in the zone and focused, and as a result I felt very confident. After I'd completed the jump I was only concerned about the flag color, 'was it white or red?' But they were having problems measuring the jump with the electronic device they had by the pit because I had gone beyond its scope, so it had to be measured manually with the use of a tape. Actually, this whole process held up the final of the men's 400 meters, which was eventually won by my friend Lee Evans [in a then world-record time of 43.86 seconds]."
Until fellow American Mike Powell broke it in 1991, Beamon's world record stood for 22 years, 316 days—not quite eclipsing the 25 years Jesse Owens held onto it, from 1935–1960. Perhaps more significantly, his jump is still the second-longest ever and he still holds the Olympic record.
Curiously, after winning gold in Mexico City he never again jumped over 26ft 113⁄4in, though distractions, including a short-term drafting by the Phoenix Suns basketball team, must have been part of the reason.
In due course, he graduated from Adelphi University in Garden City, NY, with a degree in sociology, "then something happened and it was a question of what do I want to do next?
"I took a job working at a savings and loans company. They understood the importance of giving me time off to train, but it wasn't easy and for some reason I lost interest in training. I didn't feel guilty about it because I wanted to find my way in the world of business.
"I enjoyed working with people in the community, so I went to San Diego for two years. I left briefly and then went back to study at San Diego State University. I had this notion that I would sign on for professional track & field, but then I decided the motivation wasn't there any more so I didn't go to the 1972 Olympic Games. It was difficult trying to mix two main parts of my life, a job and athletics. Reading for my Masters degree required very serious concentration, so I retired from competition in my late 20s."
After being hired by the brother of Mexican President José Lépez Portillo, Beamon moved to Mexico City for a year to work in sports and to help train youth. Later, he became the track coach at San Diego's Alliant International University from 1974-1976. After that came Spain for a bit before he eventually returned to New York.
Given his commitment to the socially deprived and issues of natural justice, one topic that intrigued me was why he hadn't emulated the infamous Black Power salute exhibited on the podium by his teammates Tommie Smith and John Carlos after they had respectively won gold and bronze in the men's 200 meters two days earlier.
"I felt at the time that my responsibility as a role model lay with continuing my training and fulfilling my dream as Olympic champion. I was aware of the Black Power movement in our country but I did not associate with it."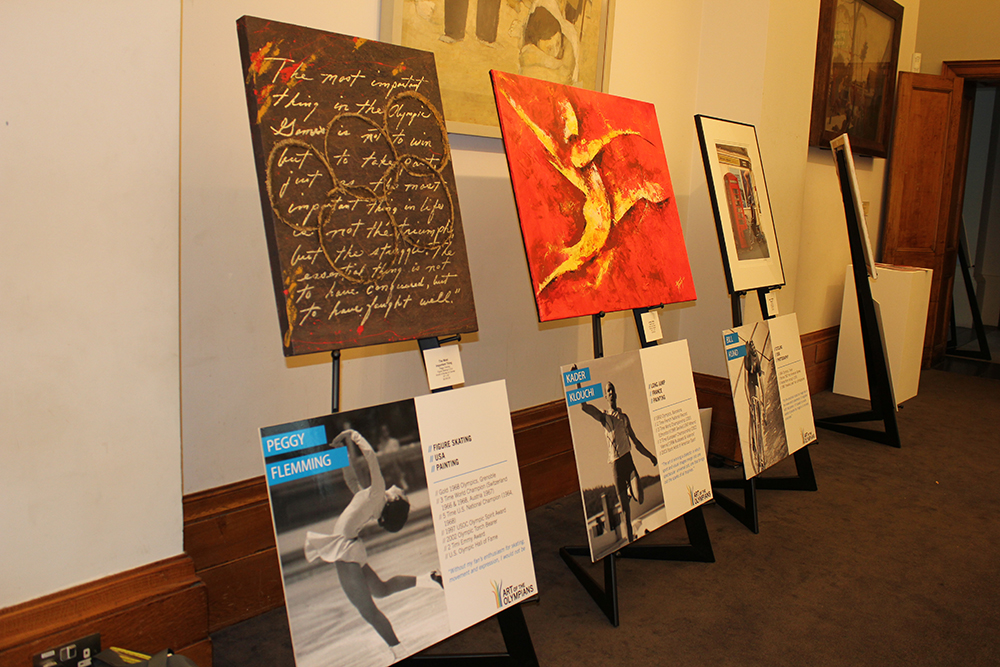 One of the other gold medalists from Mexico had more influence over Beamon's subsequent life—namely Al Oerter, who in 1968 won the discus for a fourth successive Games. Oerter founded Art of the Olympians in 2005 as a tribute to the excellence that Olympians strive for in all avenues of life, and in a building that is to this day known as the Al Oerter Center for Excellence. What started with one man's vision grew into a traveling exhibition of eight Olympian artists, including Oerter's own abstract fantasies, Beamon's digital creations and former Australian swimming champion Shane Gould's breathtaking underwater photographs.
"All the artists are ex-competitors, and we have brought together work from some of the legends of the Olympic Games," Beamon says, bristling with pride.
When Oerter died in 2007, his widow, Cathy, turned to her late husband's great friend, and Beamon was happy to help. "It's a tremendous honor to carry on the legacy of the great Al Oerter," he said.
In the first week of December, Beamon also runs the annual Bob Beamon United Way Golf Classic at the Colony Golf & Country Club in nearby Bonita Springs, where the former jumper—whose handicap is now down to 16 some dozen or so years after he took up the game—plays regularly. The event has raised around $200,000 for the gallery, and he's looking to raise more.
"Like it or not, what we do does need funding. For example, we exhibited at University College, London, during last year's Olympics. It was a huge undertaking transporting the entire gallery over there.
"The IOC is very interested in what we're doing and we're now working on our relationship with them in terms of their Olympic museum in Lausanne [Switzerland]."
Meanwhile, is retirement looming on the horizon? "I've put no time limit on my doing this job. At present, I'm just happy to do it."
ArtOfTheOlympians.org