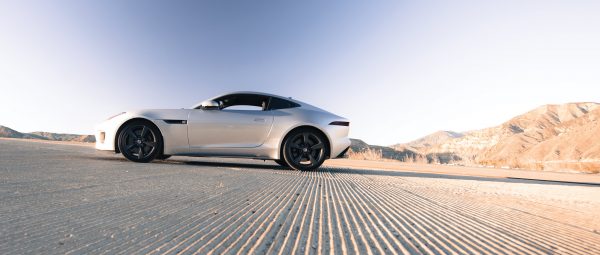 Breakaway: the Jaguar F-Type 400 Sport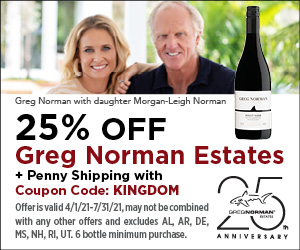 A blown-out setting sun, the world a lemon-amber blur, ripping through the desert with the wind all around, squinting at the brilliance and drunk on the sound, like canvas being torn to shreds, a sublime engine note severing the last few threads that bind me to an otherwise unremarkable day. Some cars offer sanctuary, others escape. The Jaguar F-Type is among the latter, able to outrun—if only for a moment—the pile of mail on the counter, the buzzing phone, the ever-filling inbox and all the mind's chatter. Tearing a hole into twilight the Jag offers so much, but tonight I only need the engine, and so the windows—and the pedal—are down.
Some vehicles host drivers. Extensions of their owners' well-appointed homes, they insulate the satisfied from the mayhem outside. Exit the garage, circle the block, enter the garage, and you've never left the sofa; the car is just another room in the house. Then there are cars that partner with their restless owners like the hero's horse in a classic Western, always ready to bolt over the next horizon and with a near-psychic ability to respond to input. I don't need to watch movies or to put my feet up and get a massage in my car. I want wheels, engine, seat, a way to control it and a gas pedal that feels no pain. That the Jaguar F-Type 400 Sport gives me this is enough. That it gives so much more—and in such style—is a gift. Heigh ho Silver.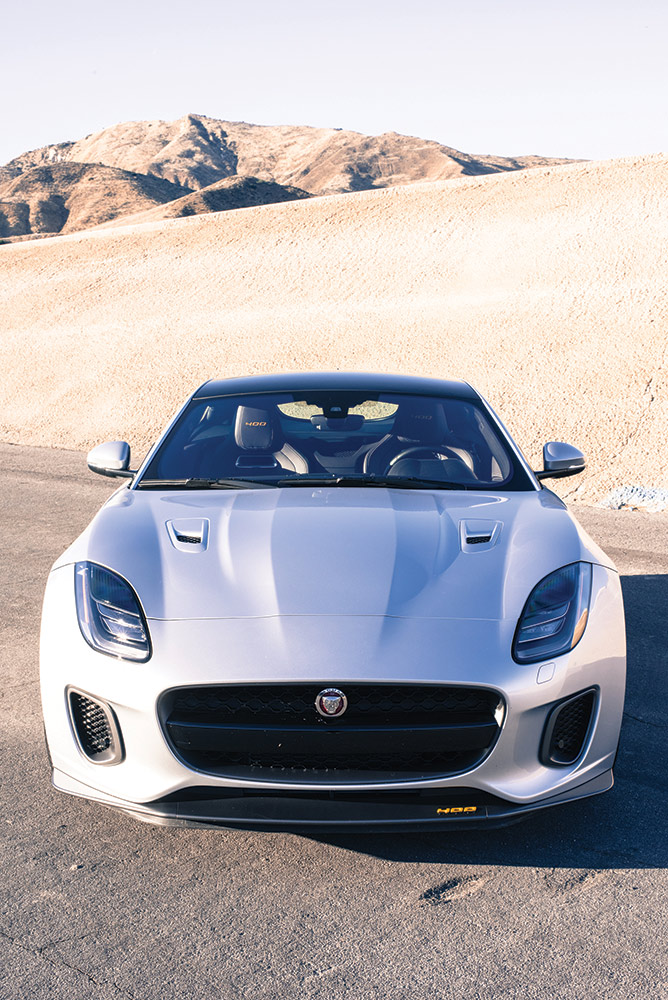 The 400's original big brother is a thug, but it kicked and loudly belched its way into my dream garage back in 2013 when the F-Type launched. That car, the 495hp V8S, has since been replaced by the F-Type R and the rather special SVR, both of which use the S's 5.0-liter V8, which now makes 550hp/502lb-ft of torque and 575hp/516lb-ft, respectively.
Compared to those the 400 is eminently refined, if still growly. Personally I remain charmed by the angry 8 I met five years ago—less easy to drive and flaunting other issues (particularly in the weight category)—but while I was willing to overlook certain questions in that car, I'm not sure I find any to ask in the 400, which is rather complete. The engine is superb, a specially tuned version of the 3.0-litre Supercharged V6 found in most other F-Types that's so good it seems like it should be the model's standard. It makes a claimed 400hp (hence the name) and 339 lb-ft of torque, hitting 0–60 in 4.8 seconds on its way to a top speed of 171mph; not the SVR's 200mph (195 in the SVR convertible) but faster than most owners will go regardless. Likewise, the 400's mechanical limited-slip differential, small touches such as improved seats, and its modestly sporty (in my opinion) "400" badging all contribute to make a car that might be the best iteration of the brand's ethos in some time. If an alien from another world were to ask, "What's Jaguar all about?" The F-Type 400 Sport would be a good answer.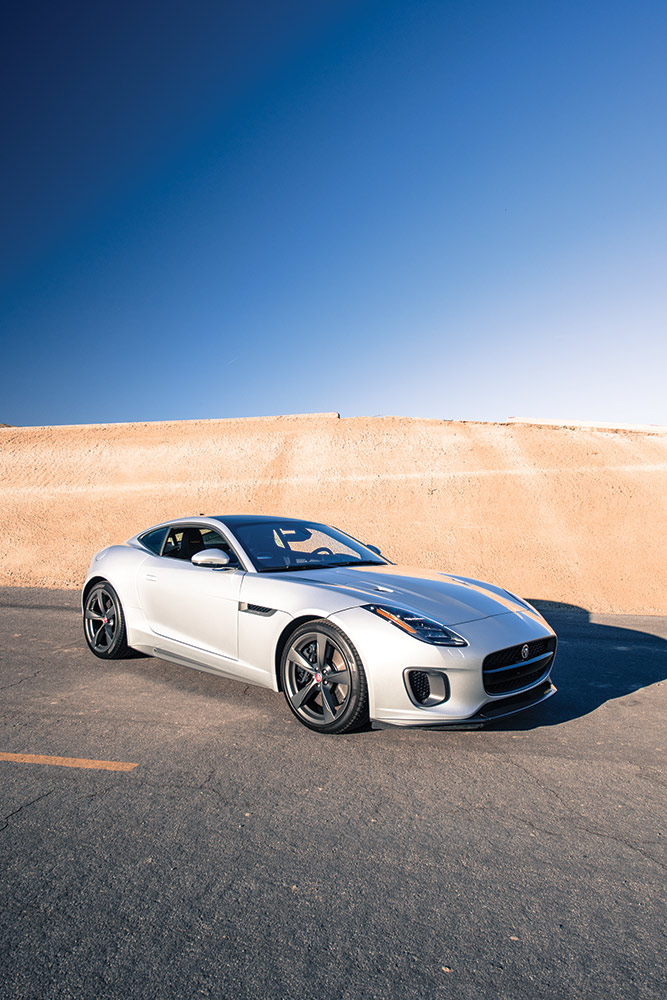 There's a 2.0-litre 4-cylinder "Ingenium" F available for 2018 as well, but we won't bother with that here. Lighter, it's in a different lane to the 400, which is probably the best of the F bunch—and what a shame the 400 is limited to a single production year, according to Jaguar. Still, I wouldn't be surprised if a variation of this mill shows up again.
The worst reviews of the F-Type begin with someone saying, "It's no E…" and it's a silly comparison: the latter's mythical status is due as much to its timing—in the midst of a Brit-friendly sexual revolution—as it is to its many innovative attributes as a pioneering (and beautiful) sports car. Still, if you must, there are a few E cues here, most evident perhaps in the head-on view with the headlights and grill clearly taking some notes, in the long sloping nose and in the rounded bum (as the Brits might call it). References or no, I find the F-Type to be simply stunning in the looks department.
At 3,514lbs it's no ballerina despite so much aluminum (including the chassis) but then it carries the weight well, with a nicely balanced and adjustable sport/performance ride and, in the 400's case, handling and power that feel not at all compromised. There has been an 16-lb (or so) weight savings thanks to redesigned seats, which are thinner without (to me) seeming any less supportive or comfortable.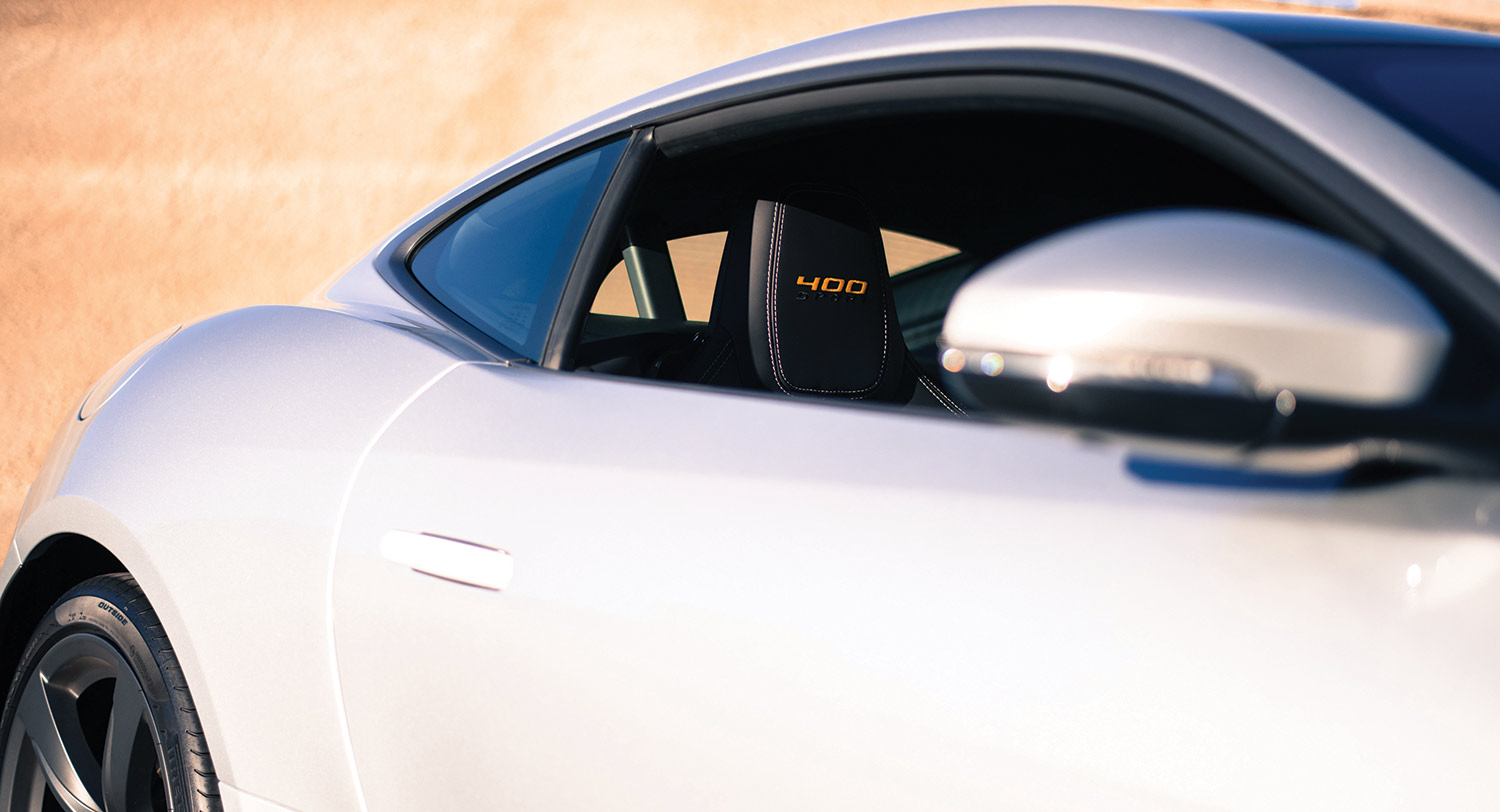 Interior space and comfort are fine for the class, benefitting from the formidable 80-inch width (the Cadillac Escalade is 79.5 inches wide, the Porsche 911 is 74) and there are the tucked-away storage areas for sunglasses, phones (full hookups in the console for charging and integration with the nav/entertainment systems) plus two cup holders. The coupe's trunk is good for weekend trips, a usable 14.4 cu ft, halved in the convertible to 7.3 cu ft with the wind in your hair also adding an additional 44 lbs of curb weight. I like the size of the large-ish steering wheel and its race-flavored flat bottom. I like the driver-centric cabin, which puts nearly everything at hand for the pilot and only an "oh s**t bar," glove box button and seat/window controls on the passenger side. The paddle shifters are very responsive but you'll really have to want to use them because the 8-speed ZF automatic transmission is so good that someone could call it "flawless" and they wouldn't start many arguments. No manual option in the 400, but if you live in a traffic-prone region like I do (Southern California) then you probably shouldn't care, and the ZF is great anyway.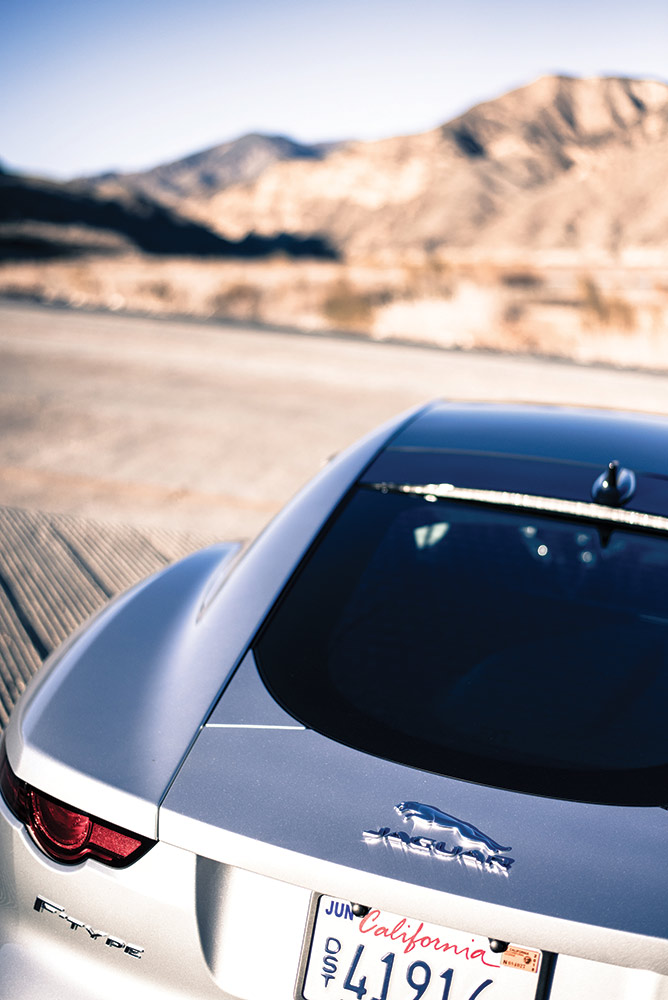 There's the sophisticated and effective save-your-a$$ traction system and "Configurable Dynamics" (Jag parlance) driving modes that take you from smooth cruise to aggressive track outing with the flip of a console switch. You can also adjust individual setup parameters (e.g. steering response, engine behavior) via the fine 8-inch console touch screen, part of the "InControl Touch" system. Swipe and pinch like a smartphone to control navigation, entertainment, ambient lighting and a lot more. There are Jaguar-specific apps available that connect your phone to the car for all kinds of functions and a new feature called ReRun that lays driving data like speed, lateral acceleration, gear selection, throttle position and more over footage from a paired GoPro camera so you can show your friends that you weren't going as fast as you thought you were. (Actually I'd love to use this on a track.) The screen also controls the excellent Meridian 10-speaker audio system (there's a 12-speaker option available), it displays a good backup camera view and can show info related to optional Reverse Traffic Detection and Park Assist features. Braking is great, with new stock 380mm fronts and 376mm rears with "400" badging or optional yellow 398/380mm carbon ceramics, and why not for anyone who plans on throwing the 400 around a track. There are three roofs available: the standard aluminum, a panoramic glass and a pricey-ish, lighter carbon fiber option as well if you need it—plus the well-insulated soft-top convertible for the roof-averse. We like the standard spoiler, which deploys at speed, but there's a fixed spoiler available, too, if you're counting milligrams. The headlights are adaptive LEDs that change beam shape based on speed, and there's all kinds of less-visible tech as well that doesn't get in the way.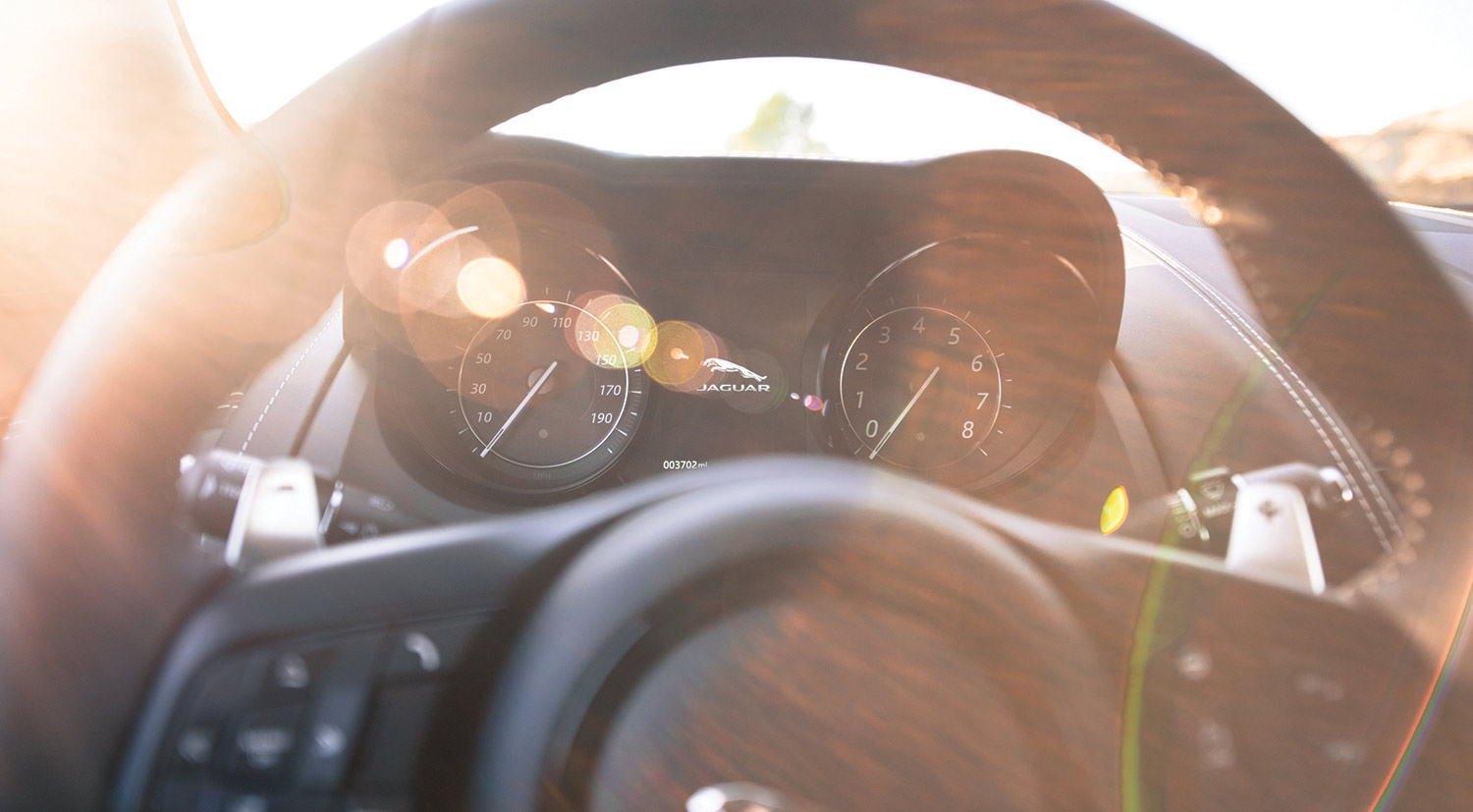 As for appearance, there are only three color options: white, black and silver (Jaguar has fancier names for those). I like this. The 400 Sport isn't a "red" car to me, and if I'm going to stick with my idea that it's perhaps the best current representation of the marque, then I'm good with the monochromatic limitations. Should they have added British Racing Green to the palette, which would have looked nice with the yellow "400" badging? Dunno. In any case, the only real choices with the 400 are convertible or coupe and rear-wheel drive or all-wheel drive. Beyond that and a few options, as I mentioned, it's rather complete.
Mileage is a claimed 19/27mpg, and that seems about right so long as you don't make your daily commute in "dynamic mode" or take the twisty scenic route everywhere. But you'll want to take the twisty scenic route, and that's rather the point of this particular F-Type I think. Evaluating the 400 while driving it, focusing on the car, I was impressed at every turn, loved the handling, didn't find any real faults, and so on. But it wasn't until I stopped thinking about it, when I felt like getting out of the house, grabbed the key off the counter one evening and headed for the mountains, that the joy of the F-Type really hit me. It wasn't in front of me and it wasn't behind me; it wasn't something carrying me or floating me along. I wasn't fighting it, I couldn't ignore it, but I didn't have to think about it. It was just right there with me, its glorious engine note roaring in through the open windows and mixing with the laughter and the perfect calm in my head as we drove off into the last blinding burst of a brilliant sunset and turned the end of an otherwise unremarkable day into something quite beautiful.