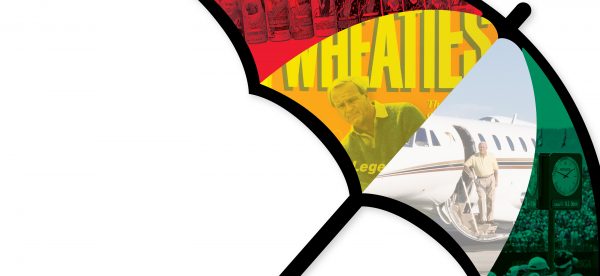 In Business with Arnold Palmer
On course, on camera or at a boardroom table, Arnold Palmer was the very picture of success. No wonder so many brands enjoyed his company…
Columnist Erma Bombeck once wrote, "When I stand before God at the end of my life, I would hope that I would not have a single bit of talent left, and could say, 'I used everything you gave me.'"
If Arnold Palmer didn't use everything he had, it's only because he ran out of time. One of the best golfers in history and an accomplished pilot whose business interests stretched across a diverse array of global markets, it is tough to find his peer in recent memory. Rather, he seems more suited to the company of polymaths like Thomas Jefferson, the architect and horticulturalist who became President, and Benjamin Franklin, another Founding Father and diplomat who led scientific research on electricity, invented an efficient stove, wrote books, helped to create the University of Pennsylvania, worked as a postmaster and invented bifocals, among other accomplishments.
Similarly, any one of Palmer's parallel lives would have yielded a successful lifelong career; and within his business world alone there are numerous entities that would singularly stand as a substantial life's work. Those include his role in building IMG (originally International Management Group), one of the world's premiere sports and talent agencies; his work with the ubiquitous Arnold Palmer drinks brand and AriZona Beverages; Arnold Palmer Design Company, responsible for the design of more than 300 courses worldwide; his association with Callaway golf clubs and E-Z-GO Golf Carts; his work in founding Golf Channel; his global apparel brands; his work with Cessna; and of course his longtime role as pitchman for an array of top companies and brands, including Rolex, Hertz, Cadillac, MasterCard, Sears and so many others. Over 52 years as a professional golfer, Forbes estimates that Palmer won $3.6 million as a player. And yet off course, by the time he died, the magazine puts his lifetime earnings at $875 million—a figure indicative not just of Palmer's business acumen and endless drive, but of his appeal as a person and a celebrity, which was undeniable, if not unparalleled.
"It made selling the product a lot more exciting for us, the opportunity to have a legend behind the drink," says Don Vultaggio, the man who founded AriZona Beverages and who built the company into one of the top drinks providers in the world. "At events he would spend hours rehashing stories, and you don't realize the power of that until you're in the presence of a guy like that. You hear his stories you spend the next six months of your life talking about him."
Since 2002, Vultaggio and AriZona have sold billions of cans and bottles of Arnold Palmer Half & Half drinks, the mix of iced tea and lemonade that was named for Palmer after the golfer became associated with enjoying it so much.


"When we launched it, because of his recognition as a statesman on the golf side, we were first successful with buyers who were a lot of golfers, who recognized his career and all of his contributions to the game. But [the drink] quickly became popular with young people, teenagers. We didn't expect that right out of the box, we thought it would be an older crowd."
Today AriZona produces numerous variations of the Arnold Palmer, with a Lite version, a Natural Energy version, peach and mango flavors and more. "Billions," said Vultaggio. "We do half a billion [cans/bottles] a year with his face on it. At one point I was talking to Arnold about it, and we're doing the different cans and he was having a lot of fun with it. With every new can we were taking images from earlier and earlier in his career, and he said, 'if I keep this up, getting younger with all these cans, eventually we'll have one with me on it as a baby with my thumb in my mouth!'
"He was really involved. And when somebody was so involved with his brand and with his charity organization and with all of the things he's doing, it's a big loss. I got a call from my son when Arnie passed away. I was in a restaurant, and it was like a family member had died. That's the way I felt. The good news is that Arnie left behind [his daughter] Amy and a great organization to carry on [Arnie's Army Charitable Foundation]. They'll be fine, and we'll keep his wonderful tradition going."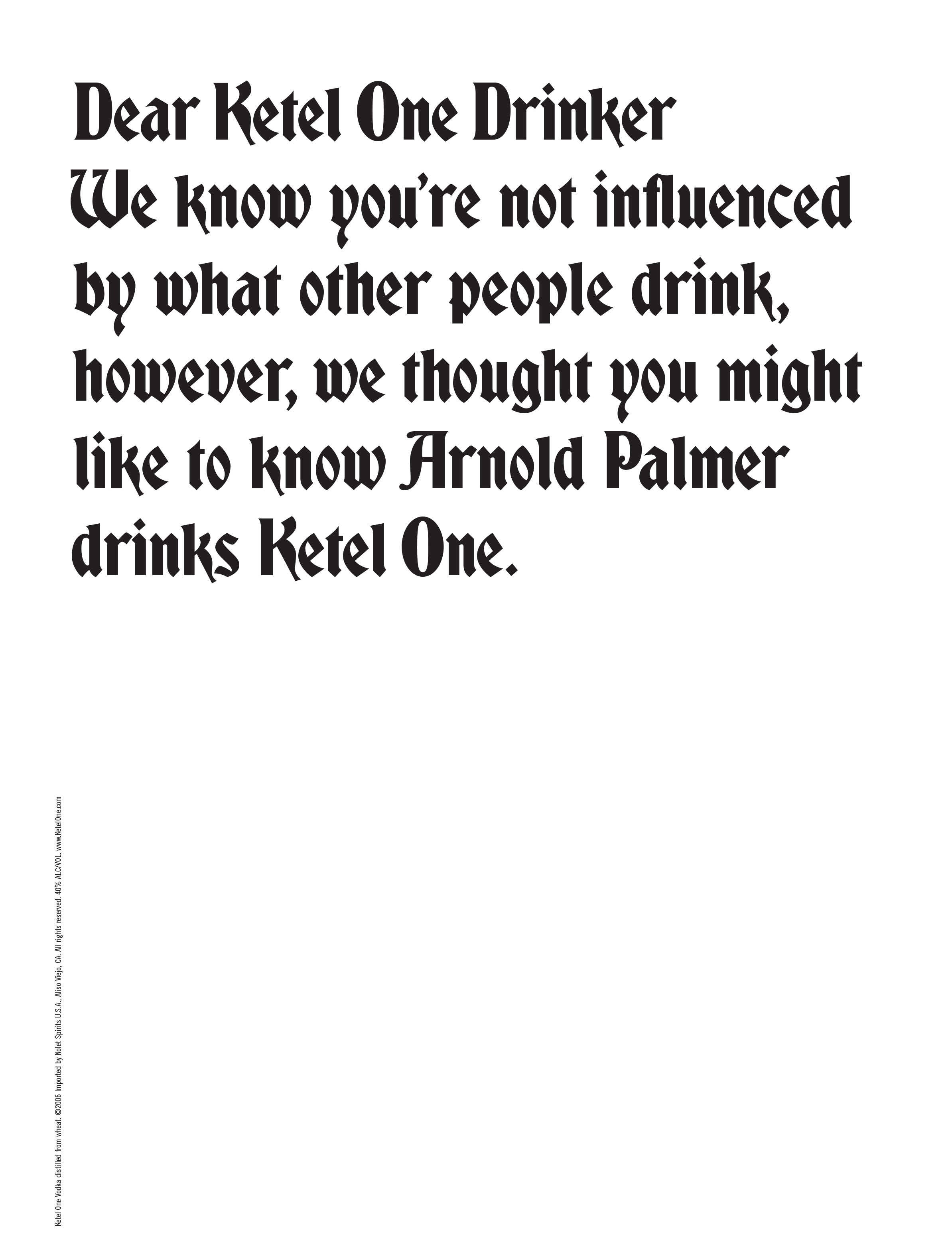 Another beverage with which Palmer will be long associated is Ketel One Vodka, the premium spirit brand founded in Schiedam, Holland, by the Nolet family—which still runs it—and Palmer's libation of choice. As a long-running popular ad had it, "We know you're not influenced by what other people drink, however, we thought you'd like to know Arnold Palmer drinks Ketel One." Arnie liked it on the rocks with a lemon wedge and could frequently be seen enjoying the same with friends at Bay Hill on sunny afternoons. At his memorial service in Latrobe this October, there's no telling how many of these were served.
"I discovered Ketel One Vodka a long time ago, so I was pleased to begin a partnership with them in November of 2003," Palmer said at one point. For the company's part, Ketel One was always happy to promote Palmer and the association, even featuring a "Palmer Pavilion" traveling museum at PGA TOUR events for a time.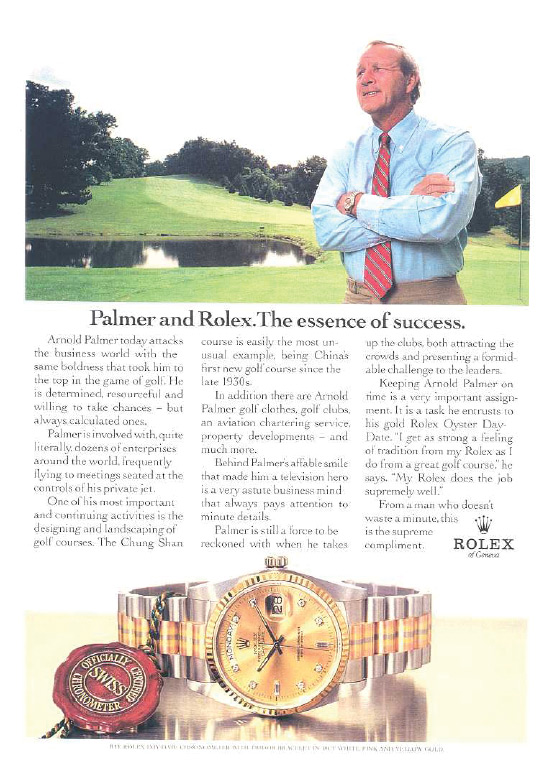 Top shelf in a different way, Rolex is one of the world's premiere brands and one of Palmer's longest professional relationships. Arnie was the first Rolex Golf Ambassador, officially coming together with the Swiss watchmaker in 1967 when the firm gifted him a Gold Oyster Perpetual (though originally he'd met then-Rolex chair Andre Heineger in 1961 in Japan). Over his lifetime Palmer owned a number of the superlative timepieces, including the Day-Date, the Datejust and the LV Submariner, to name but a few. In 2014, when Palmer was 84, Rolex extended the relationship by another 10 years, officially continuing its commitment to greatness and to the Palmer brand.
"Rolex has shared every second of my time for the last 54 years," Palmer said at one point, having before offered that, "My Association with Rolex has been one of the most fulfilling and compatible relationships I have had the privilege of enjoying in my lifetime. To be honest, there is far more to the relationship than I could ever tell you, and you know, my partnership with Rolex goes back for nearly 50 years. I have had the pleasure of getting to know a lot of people at Rolex very well, and to be able to count them among my friends, so I have great feelings for Rolex. Not only have I learned a lot from the company, but Rolex has done so many great things over the years that have been of tangible benefit to golf as a sport."
The respect was certainly mutual, as Rolex expressed in a statement following Mr. Palmer's death this September: "Rolex and Arnold Palmer maintained a privileged and warm relationship for nearly 50 years, working side by side to develop the game as it opened up to the world. He was an exceptional friend, a true sportsman and a real gentleman," said Bertrand Gros, Chairman of Rolex. "We are forever grateful for the standard of excellence he set."
IMG and More
Palmer's high standards complemented a number of top-tier brands, and he came to many of them via his longtime attorney and agent Mark McCormack, with whom he began working in 1959 and with whom he went on to build IMG. The story has it that Palmer and McCormack had a lifelong relationship built on a handshake deal, and that's true. But in fact they'd begun working together before IMG was even an idea, when McCormack was managing a portfolio of other golfers as well, including Gene Littler, Bob Toski, Julius Boros, Dow Finsterwald, Doug Ford, Billy Casper, Ernie Vossler, and Art Wall, among others. As GOLF magazine reported in May of 2016, and as told in Matthew Futterman's book Players: The Story of Sports and Money and the Visionaries Who Fought to Create a Revolution, McCormack and Palmer kept talking throughout 1958 and 1959:
"He would tell me about all the business he was creating for all the golfers he had signed up," Palmer said. "It was him and this public relations guy from Carling, the beer company. They had Littler and Ford and eight or nine or ten other players. He asked me again and again, and I kept saying no. I had my wife. She was running my office. I wasn't looking for anyone. I was fine doing my own thing."


McCormack re-approached Palmer late in 1959 about managing his day-to-day business career, and as reported the golfer threw down an ultimatum:
"I said if you want to do this, then you go and get rid of all those other players and represent me exclusively," Palmer said. "He said he would think about it and get back to me."
Eventually, McCormack came around: "He said he had given everyone else up and was ready to go with just me," Palmer said. "I said that was terrific. He said he would draw up a contract. I said, 'No you won't.' He said, 'I'm a lawyer, that's what I do. My business is doing contracts.' I said, 'I don't really care what you do as a lawyer. What you're going to do is you're going to tell me what you're going to do for me, and I'll tell you what I'm going to do for you, and then we'll shake hands and go ahead and do what we said.'"
And there it was. IMG went on to become one of the world's leading agencies, with Palmer as its first client. He received a stake in the firm and neither party ever looked back.
On the heels of the IMG association, Palmer created Arnold Palmer Enterprises, Inc., in 1961, putting his operations under a single umbrella. Later, in 1984, Arnold Palmer Golf Management was created to run course and club operations in line with Palmer's high standards.
APGM-managed venues—including the Walt Disney courses and PGA National—have operated under Century Golf Partners since 2005, which runs over 100 leading courses and clubs across the country.
"Arnold's values, manners and style set the example for how to treat others and conduct yourself professionally," says Century's CEO, Jim Hinckley. "At APGM we aspire to maintain a culture that honors his accomplishments, respects his principles and reveres his legacy."
Driving Force
McCormack and Palmer partnered on more than just IMG. The attorney was instrumental in organizing Palmer's aircraft purchases, and he even went in with him on Arnie's first car dealership—for Cadillac, naturally. Palmer and McCormack, along with Detroit's "Cadillac King" Don Massey, bought Arnold Palmer Cadillac in 1974 in Charlotte, North Carolina. A few years later he opened a Buick-Cadillac operation in his hometown of Latrobe, Pennsylvania: Arnold Palmer Motors, which still exists. According to a September 28, 2016 story in Autoweek, there were GM dealerships in California and Kentucky and Ford places in South Carolina and Latrobe, and all did relatively well. Palmer apparently sold most of those operations in the 1990s, but according to Autoweek he was an involved owner who genuinely enjoyed the business:
"He would beam when people started talking about the auto industry," said Ron Paluzzi, general manager at Arnold Palmer Motors in Latrobe, according to the article. "He really loved the industry. It was something he was really proud of."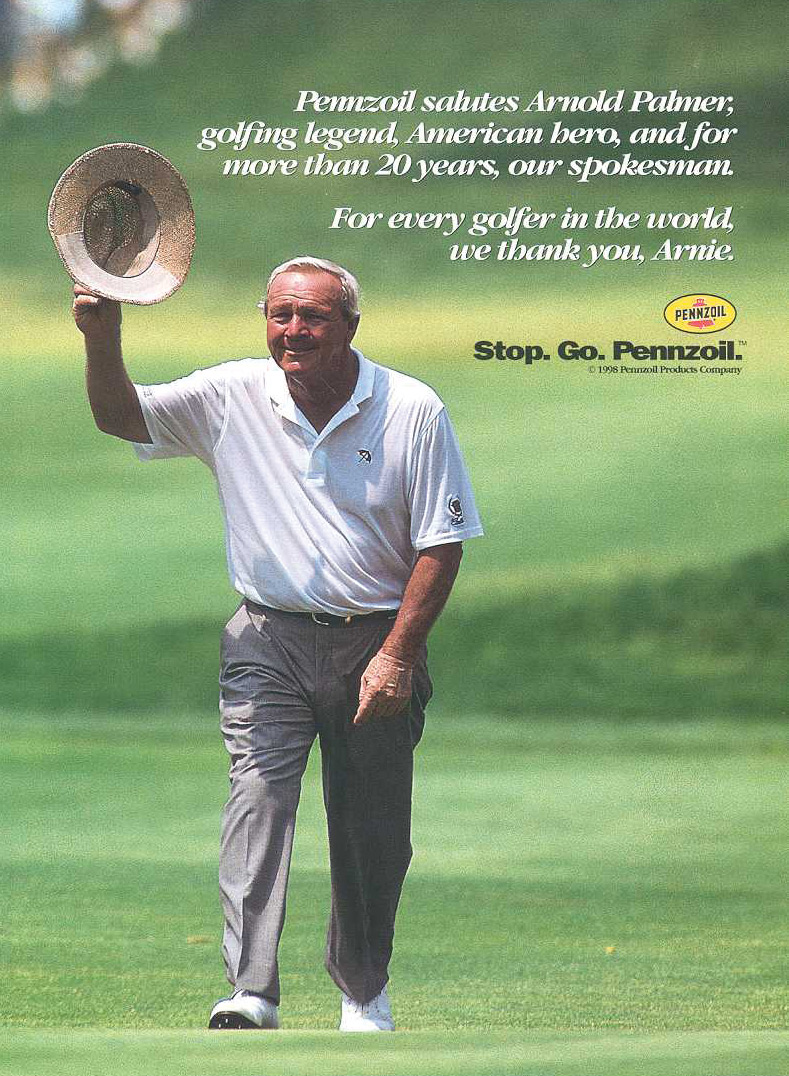 Palmer famously drove Cadillacs for much of his life, of course, and appeared in ads for them, including a television commercial in 1974 in which he appears playing tennis).
When he wasn't pitching people to own top-tier automobiles, he was inviting drivers to rent them through Hertz. For more than three decades Palmer pitched the company, the world's largest general use car rental brand, appearing in television ads with O.J. Simpson in his better days and by himself in plenty of print and radio spots as well. In 2014, to celebrate the 30th anniversary of the relationship, Hertz donated $30,000 to the Arnold Palmer Hospital for Children along with renewing its associate sponsorship of the Arnold Palmer Invitational Presented by MasterCard.
"Hertz has long been one of my most treasured associations and I am delighted to know that the company will be with us for years to come," Palmer said at the time. "Hertz has been a vital supporter of the tournament from its early years and I enjoyed my personal involvement with Hertz in advertising and promotional roles back then as well."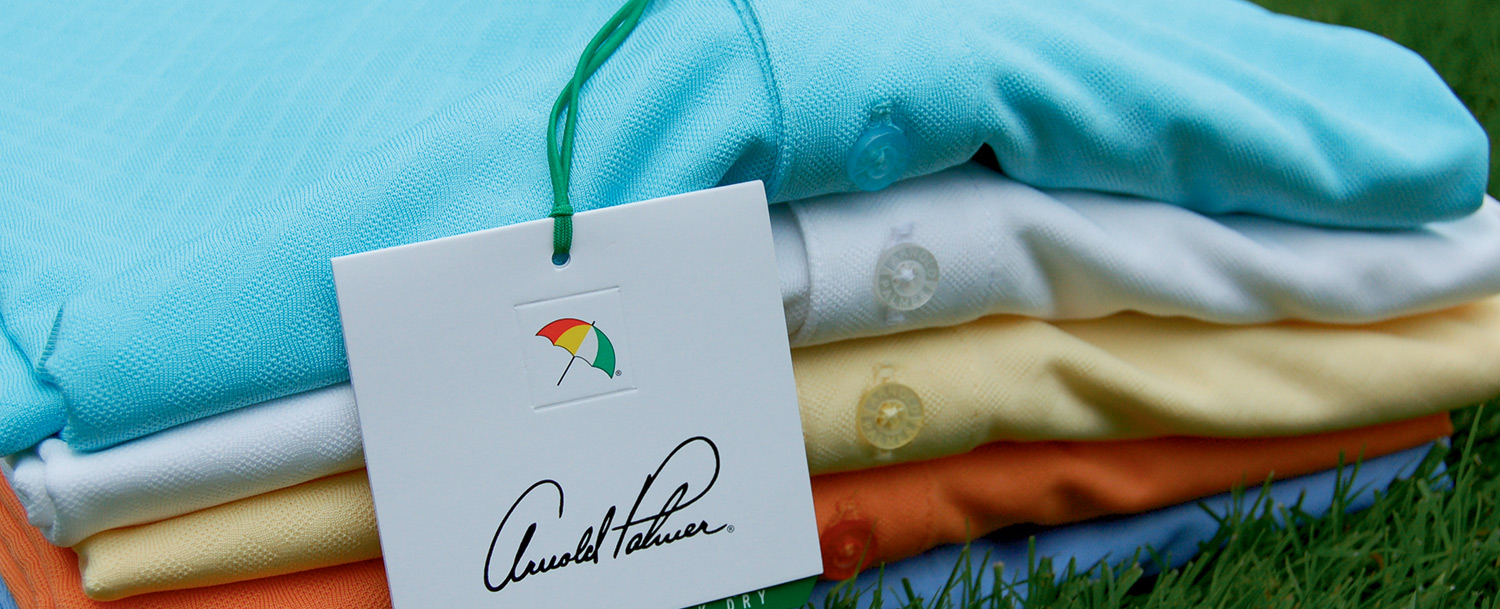 Another firm that worked with Palmer on the tournament side is Insperity, the Texas-based HR firm founded by Paul Sarvadi that streamlines operations at more than 100,000 client companies with more than 2 million employees.
As Insperity's Executive Vice President of Sales and Marketing Jay Mincks told Kingdom this year, Palmer was the perfect spokesperson for the firm because of their shared dedication to integrity and solid character.
"We're entrusted by hundreds of thousands of people to take care of their employees, their training and benefits; that's a precious responsibility," Mincks said. "You have to have the integrity in doing what you say you're going to do—integrity and trust have to be hallmarks of your company and your performance.
"A large percentage of business owners are Baby Boomers, they grew up seeing these golfers in their prime, they're their heroes. And with Arnold Palmer as our spokesperson, that brought all of that on board and took it to the next level for us."
Beyond the sampling of brands mentioned here, Palmer was associated with marques such as Penzoil, Rayovac batteries, Paine Webber, Xarelto, Johnston & Murphy shoes and so many more. Further afield, Forbes reported that there are nearly 500 Arnold Palmer-branded stores across Asia selling footwear and apparel. With those, Golf Channel, his tournament at Bay Hill, billions of cans and bottles of his drink continuing to be ever popular, more than 300 Arnold Palmer-designed golf courses across 23 countries, and with all of the other brand associations in place, Palmer's legacy as a businessman is secure if for no other reason than that he will continue to generate income for years to come despite no longer being with us.