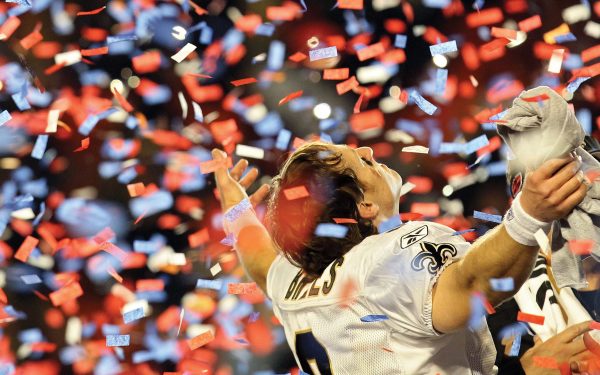 Drew Brees – Who Dat!
Few people know the thrill of winning a Super Bowl. Fewer still know what it's like to bring victory home to a city in need of some good news. Drew Brees did just that, and became one of New Orleans' favorite sons. Mike Andrews wonders how the quarterback finds time for golf…
The American home of gumbo, Zydeco and Mardi Gras isn't tough to reach from Austin, Texas—get on Interstate 10 and drive east for 500 miles—but it's a whole world away in terms of what you see when you step off the bus. Drew Brees was born in Dallas but grew up in Austin surrounded by the city's mix of plain speaking, clean-shaven Texans in requisite hats and boots and its laid-back liberal student and artist contingent, which dominates downtown and lake area with chilled-out bars and hi-octane nightlife. It was good preparation for his current home of New Orleans, which attracts one of the country's most eclectic mixes of cultures and personalities. However Brees found the Big Easy when he moved there in 2006, there was a moment this winter when he knew it was the happiest place on Earth. On February 7 in Miami Gardens, Florida, four years after Hurricane Katrina devastated the city, the New Orleans Saints beat the Indianapolis Colts 31–17 to win Super Bowl XLIV. Brees, the game's MVP, knew the Saints had done something important.
"Oh we knew," he told reporters at The Honda Classic, where he was playing golf paired with Jack Nicklaus, just a month after the Super Bowl.
"We knew we were playing for much more than ourselves and our team and our organization. We were playing for a city."
New Orleans made it to the NFC Championship Game in 2006 but ultimately lost a Super Bowl bid to Chicago. Failed attempts to get back to the top in 2007 and 2008 were "heartbreaking," Brees said at the Classic, but "we always knew that if we just stayed the course, we would have the support of our fans. And that gave us strength over the years."
Athlete
Brees' awareness and "there's no 'I' in team" attitude are characteristic of the man, who, like many Texans, was raised to love football. Drew's grandfather Ray Akins coached high school football in Texas, while his uncle Marty Akins was the starting quarterback for the University of Texas during the Earl Campbell era. It has been reported that Brees was named for Drew Pearson, a wideout for the Dallas Cowboys in the 1970s and '80s, but his amazing arm put him in the quarterback position. In 1995, as a junior at Austin's Westlake High School, he earned the starting QB position for the school's Chapparals, also known as "The Chaps." The following year, on a team with future NFL players Dominique Rhodes and Seth McKinney, Brees led the Chaps to the school's only perfect 16–0 season and a 5A Division II State Championship. Named 5A Offensive Player of the Year, Brees also lettered in basketball and baseball.
When he hit college, his game didn't slow down at all. At Indiana's Purdue University, Brees was twice named as a Heisman finalist. The Big Ten Player of the Year in 1998 eventually led the Boilermakers to a Big Ten Championship and a Rose Bowl appearance in 2000 (the school's first since 1967). That year, he won the Maxwell Award as the nation's top collegiate player, was named Academic All-American Player of the Year and earned the National Football Foundation's post-graduate scholarship. When Brees graduated (with a Bachelor's degree in Industrial Management from the prestigious Krannert School of Management) there was never a question that he was headed for the NFL—the mystery was where he'd end up.
The San Diego Chargers were coming off a terrible season when Drew stepped up in the draft. They'd gone 1–15 and owned the first pick in each round. Their first pick was Landainian Tomlinson; their second was Drew Brees. The two had met at a Heisman banquet and were reportedly happy to have the chance to play together. While Drew slotted in behind veteran QB Doug Flutie, he was able to pick up an amazing amount of information in his first year. It was a good bit of schooling, because when new coach Marty Schottenheimer arrived in 2002, he gave Drew the starting job.
The Chargers won the first four games that season but ended up 8–8; respectable but not exceptional. In 2004 they improved dramatically, going 12–4 and making the playoffs. They didn't survive the post-season, but even worse things were on the horizon. The following year the Chargers didn't even reach the playoffs, and the season ended with a bad injury to Drew's shoulder. Trying to recover a fumble, he got hit hard. His right labrum was torn and his rotator cuff was damaged. Surgery went well, but the injury ended up as a bargaining chip in contract negotiations with the Chargers, and Drew went looking elsewhere.
With most teams a bit wary of the recently injured QB, a struggling New Orleans signed him in March of 2006. Whatever initial concerns Saints fans may have had, Brees soon put all fears to rest. Playing with standouts like Deuce McAllister and Reggie Bush, the team's record over the last four years has been outstanding, culminating in the Super Bowl victory earlier this year. With the amount of talent on the Saints, and Brees' tremendous work ethic, the victory wasn't necessarily surprising—but that didn't make it any less thrilling.
"It's something you obviously dream about," Brees said at the Honda Classic. "Nine years in the NFL it took to have a shot at winning the Super Bowl and now that we won it, I guess it took a week or two to kind of sink in. But certainly it's just one of those things that's a dream come true."
Golfer
His football prowess is obvious, and his early talent for baseball and basketball well known, so it should come as no surprise that the guy can play a little golf as well.
"Obviously I love the game of golf," he said at the Classic in March. "I try to do a little bit in the off season. Unfortunately I haven't had a chance to play a round of golf since last June. That's what happens when you go and play in the Super Bowl in February—but I'll take that every year."
At one point, Brees was on a three handicap, but admits that his schedule over the last year might have bumped that number up a bit. With the NFL season over, though, he's likely been working on his game.
"My goal is just to get better, a little bit better each year," Drew said at the Classic. "I make solid contact and I hit it pretty well. But my short game could be my nemesis at times, consistency, putting in and around the green. As long as I can keep it in the short grass and not be too concerned with this—and more so just my consistency and accuracy—I think that's the key."
There are differences between his day job and golf, obviously, but Brees said that one of the big challenges playing on course comes down to pure environment. Paired with Nicklaus at the Honda Classic, and playing in a foursome with Dan Marino and Kenny G, Brees said any nerves he was experiencing might have been due to the fact that he wasn't wearing a helmet and facing a huge defensive line.
"It's outside your element, outside your comfort zone a little bit, especially if you haven't played—you don't have as much confidence in that three-foot putt as you do on a third down pass."
In the end, though, he said that when it comes to golf, nerves, skill and even score don't always matter. He thinks Nicklaus beat him by three strokes, but he's not sure because, he said, no one kept score.
"I love the game of golf; I really enjoy playing it, and I think it's about the guys you're playing with. Having a chance to play with Jack Nicklaus, Dan Marino and Kenny G, it's a great honor."
Humanitarian
The Honda Classic isn't the only tournament Drew played in this year. He hosted the Cox Celebrity Championship in San Diego this May, which benefited his Brees Dream Foundation. Brees founded the group with his wife Brittany in 2003 with a mission to advance research in the fight against cancer and to provide care, education and opportunities for children in need. Since it started, the Brees Dream Foundation has raised more than $5 million, which has gone to the New Orleans, West Lafayette/Purdue and San Diego communities. Cancer research and patient care, projects to rebuild schools, parks and playgrounds and athletic fields, and other initiatives have all been served by the Foundation, which is on track to be helping more than ever this year. It's just another example of Brees' winning spirit, which—despite his incredible personal abilities—ultimately is all about teamwork. As he said of his impact and the impact of the Saints' Super Bowl victory on the people of New Orleans as they were recovering from Katrina:
"Here's the thing, you know: We needed the city as much as you might say that they were needing the Saints and needing us as a team to be successful. We just leaned on each other for the last four years, and we had so much support from them that, in the end, there wasn't extra pressure on us."
To learn more about Drew, or to help the Brees Dream Foundation, visit drewbrees.com