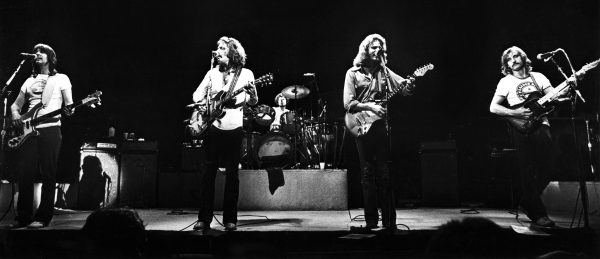 Eagles and Birdies: Don Felder
Don Felder grew up in Florida with Stephen Stills, Tom Petty and a host of other talented musicians, then switched coasts to become a rock icon himself. Now he's playing tons of golf, touring with his new band and looking forward to meeting Arnold Palmer again.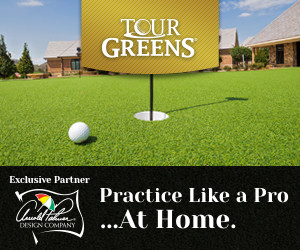 Consider Paul Trow his latest groupie…
here's only one place to meet Don Felder for the first time: That's right… a hotel. But the hotel on this occasion was nowhere near California, his natural habitat. Mind you, the erstwhile frontman, songwriter and lead guitarist of The Eagles wasn't complaining. Far from it, he was completely at home—at the Home of Golf.
As we chatted like old friends in the somewhat po-faced foyer of the luxurious Old Course Hotel at St Andrews, I yearned for a jukebox to belt out his most famous composition, Hotel California. Despite the ambiguity of the song's meaning and mood, and the fact that the hotel in question was far removed from our sybaritic setting, it's undeniably feelgood music… and Felder is very much a feelgood guy.
He's also a pretty keen golfer, hence the crossing of our paths a mere stone's throw from the infamous Road Hole.
The occasion was his annual pilgrimage to the east coast of Scotland to play in the Dunhill Links Championship, arguably the world's outstanding pro-am tournament.
His first remark when we sat down was an unusual invitation to a reporter: "Misquote me if necessary!" What he actually said was, "I'm happy as long as you edit it to make me sound articulate and remotely intelligent!" Did I hear right? After a lifetime of grappling with incoherent streams of (un)consciousness under severe instructions not to change a word, this was definitely a breath of fresh air. But it wasn't necessary; Felder was both articulate and intelligent, and neither attribute needed any massaging by this humble scribe.
Naturally, the first question to ask a man who has packed stadiums all over the world for four decades was how he managed to find the time, and the nerve, to take up a game that is devilishly difficult to learn and which still is seen in many circles as a bastion of unhip conservatism?
"I first got involved in golf in Miami when I was on tour with The Eagles around 1975-76," he recalls. "We went there a lot. One week we chartered a boat and the sea was so rough that one of the guys went green around the gills. So we said, 'let's do something different, let's go play golf.'
"Three of us went out, rented clubs, wore jeans and sneakers, took a load of alcohol with us, and we had a wonderful time. We had so much fun we did it again the next weekend. After going home to LA we carried on playing, and Bill Szymczyk [who was producing The Eagles' albums at the time] started hitting the ball further than 200 yards. So I started taking lessons because I certainly wasn't going to be outdriven by him.
"As time went by, I fell in love with the game—and I got quite good at it at one point. It's a game that suits people who are individuals. You have to rely on your own skills and talents. Musicians are like that. You can relate to it and you need coordination.
"My lowest handicap was 6.5, back in 2002-03, but I'm off 15 now because I don't get to play so much because of work."
The debonair Felder, now 66 though far from a bald Eagle, performs up to 75 shows a year with his current combo, the Don Felder Band. Towards the end of 2012 they released the album, Road to Forever, the lead single from which, Fall from the Grace of Love, reached No.4 in the Classic Rock chart. "It's definitely classic rock, Eagles-style," he says, "and we'll soon be going on a long tour worldwide, including the UK, Canada and many other countries."
The story of Felder's Eagles-style can be traced to his infancy in Gainesville, Florida, the city of his birth. Entranced by watching Elvis Presley perform live on The Ed Sullivan Show, he acquired a guitar when he was just 10 years old. Aged 15, he started his first band, The Continentals, with, among others, a college drop-out named Stephen Stills. Bernie Leadon, later a founding member of The Eagles, eventually replaced Stills, and in Gainesville High School's 1966 yearbook the band is pictured next to a fellow student's outfit: Tom Petty and The Epics.
Felder joined The Eagles and moved to the West Coast in 1974 only for Leadon to leave less than a year later. Mind you, the replacement wasn't a bad draft pick—Joe Walsh—and thus was spawned one of rock's most successful lead guitar duos. After Felder split with the band in 1980, he went on to enjoy a successful solo and session career. But when he regrouped with his old buddies for a one-off concert in 1994, in the blink of an eye he was lured back into the nest for a further seven years.
Alas, the experience ended unhappily and it's well documented that Felder fell out spectacularly with fellow band members Don Henley and Glenn Frey. Indeed, he really only purged himself of the residual ill-feeling through the 2008 publication of his side of the story, Heaven and Hell: My Life in the Eagles (1974–2001).
Whilst he wouldn't necessarily credit golf with restoring his sanity as much as the love and support of his second wife, Kathrin, it was at least a means of letting off steam. Famously for another rock idol of similar vintage—Alice Cooper—finding golf is generally acknowledged to have made the difference between the healthy, enduring life he lives today and the premature, chemically-induced demise that otherwise awaited him the best part of 30 years ago.
"I've played a lot with Alice Cooper over the years," Felder says. "He might go to watch a movie or go to a mall once in a while, but he plays golf every day.
He was close to a 3-handicap when I last played with him and he turns up with a different set of antique clubs every time. Huey Lewis is another luminary of our industry who I've spent a fair of amount of time with golfing.
"I worked hard on golf when I was on the road with The Eagles, but I've also taken lessons for many years from a pro called Coleman Gibson who is now based at Westlake Golf Center [a short drive west of Los Angeles].
"My home course is Lakeside in LA, a club for scoundrels if you ask me. W.C. Fields and Frank Sinatra were members once upon a time. You see [Sylvester] Stallone, [Joe] Pesci and [Samuel L.] Jackson there as well, but the guy I play the most with is Don Johnson. He was the villain in Tin Cup, as I keep reminding him. It's right across the street from Warner Brothers and Universal Studios. I love it, it's a pretention-free environment. I live about 30 minutes' drive from there.
"I have four sons from my previous marriage [he was married to Susan for 29 years until 2000], one's an investment advisor, another's in insurance. They play golf, it's a great family sport. You can't do better in California than play golf." But then again maybe you can, especially as he's just played his favorite course of all, one that inspires awe and affection in almost equal measures.
"I've played countless times in front of 100,000 people with a Gibson guitar in my hands [usually either a Les Paul or EDS-1275] and never felt nervous," he says. "But put me on the 1st tee of the Old Course and my hands start shaking. Typically, though, you get used to it after a while.
"The first year I came here [St Andrews], I didn't come as an invited guest of Dunhill. Harold Riley [the celebrated artist and protégé of 'Matchstick Man' L.S. Lowry] asked me to come because a cricketer had pulled out at short notice. I played in a 4-ball with Lee Westwood—it was the year he won [2003]—and he holed his second shot for an albatross [on the 9th at Kingsbarns]. Lee was partnering his manager Chubby Chandler while my professional partner was an English guy called Anthony Wall. It couldn't get any better than that!
"My ambition the first time was to play the Old Course for all 18 holes without going in a bunker. I think Tiger did that for all 72 holes in the 2000 [British] Open. I thought I'd achieved that, for sure. Then I got to the Road Hole and messed up. But I've been coming here when I can ever since. The people I've met at this tournament have been fantastic, and not just the pros. It's a delightful experience and now it feels like a family reunion. I look forward to it every year, like Christmas in September.
"Even though I play a lot of charity and showbiz events, it's still a dream come true—it's the Home of Golf right here. Of all the things I do during the year this is the week I block out in my diary; you can't book me for anything else.
"I've played in Scotland a lot and some of the golf scenery here is truly sensational. Back in the '70s, when I was a beginner at golf, we stayed just outside Glasgow at Turnberry and in the morning I opened the curtains of my hotel room and what did I see? It was that incredible island out in the sea [the Ailsa Craig]. Wow!"
Another Wow! factor in Felder's golfing life has been his acquaintance with Arnold Palmer in their mutual pursuit of one of life's genuinely good causes. "I've had the pleasure of meeting Mr. Palmer loads of times, usually at LA prostate cancer events.
"One of my proudest possessions is a photograph I have of him standing on the stage holding my guitar. Of course, I asked him to hold it so I could take the picture, though I'm not sure he knew that was my intention at the time."
And thus it was that a King accepted an offer he couldn't refuse from a Don.