Flying high: Arnold Palmer the pilot
Arnold Palmer's longtime friend and former Cessna CEO Russ Meyer summed it up: "[Arnie] didn't just like to fly, he loved to fly. And the faster the speed and the higher the altitude, the better he liked it."
A legendary golfer and successful businessman, Palmer easily could have pursued a career as a pilot had he chosen to do so. His skills in the cockpit were as often lauded as they were displayed, perhaps most obviously in 1976 during a record-setting around-the-world flight at the controls of a Learjet 36 [see sidebar: Record Flight]. From the day in 1956 when he walked into the airport in Latrobe, Pennsylvania, to ask about flying lessons, to January 31, 2011, the day he let his pilot's license expire, Palmer built a reputation as a fearless—but safe—man in the air, earning the respect of fellow airmen even as he thrilled audiences on the ground with his golf. Here, then, is a look at Palmer's life above the fairways, up in the clouds where he went so far, so fast, so well.
"He was not just a pilot, he was an outstanding pilot," said Meyer, a National Aviation Hall of Fame member, speaking at Palmer's memorial service on October 4, 2016. "In aviation we describe the really special pilots as 'having good hands,' and I can assure you that Arnie's hands were just as comfortable on the controls of an aircraft as the grip of a golf club."
Palmer learned to fly in 1956, walking into a hangar at the Latrobe Airport at the age of 28 and asking pilot Babe Krinock for flying lessons. Krinock charged $3 an hour for instruction in a Cessna 172 and, as he told Kingdom some years ago, he was surprised to learn that his latest student was a professional golfer.
"I didn't know there was such a thing," he said. "And I never dreamed back then that they'd one day name the airport after him. He was a great student, absolutely fearless."
The airport was indeed named for Palmer, in 1999, and a statue of the golfer by noted sculptor Zenos Frudakis stands out front. Now with an extended runway that stretches 8,224 feet and which accommodates flights from Spirit Airlines, large private jets and others, it wasn't always thus, and its more modest dimensions highlighted (and perhaps sharpened) Palmer's skills.


"Long before they constructed that beautiful new runway at Arnold Palmer Airport," Meyer said, "he operated his business jets in and out of a narrow 4,000-foot strip that had no control tower, minimal snow removal, no precision landing system and a pretty good size tree on the final approach… So, depending on the weather it could be a little challenging sometimes, but not for Arnie. He used that short runway for years."
Palmer's jet of choice since 1996 was the top-of-the-line Cessna Citation X, the fastest civilian aircraft with a top speed of Mach .92, nearly the speed of sound. Before that he owned a range of aircraft, many of them Cessnas, but he flew far more than he owned. By the time he hung up his wings at the age of 81, he'd logged nearly 20,000 flight hours. By comparison, former USAF pilot Capt. "Sully" Sullenberger had roughly the same number of hours when he landed U.S. Airways 1549 in the "Miracle on the Hudson." Sully was 58 when that happened, but he was an Air Force Academy graduate who'd spent his entire adult life as a professional pilot.
An honorary Blue Angel and Thunderbird, Palmer flew a number of military fighter aircraft including the F15 and F16; he piloted a Boeing 747, tried numerous business planes and even flew helicopters for a while (though friends talked him out of pursuing those).
"If it had wings and an engine, Arnie would give it a try," said Meyer.
If it was a passion for Palmer, it was also a means to an end, allowing the golfer to engage with his profession and to expand his business opportunities while living where he chose.
"Shortly after he earned his private pilot's license back in the late 50s, he put his golf clubs in the back seat of a Cessna 172, flew solo to Akron to play an exhibition and was back home for dinner. That was it for Arnie," said Meyer. "It was not only fun, but he recognized that flying his own aircraft would enable him to pursue both his golf and business careers and still live in Latrobe."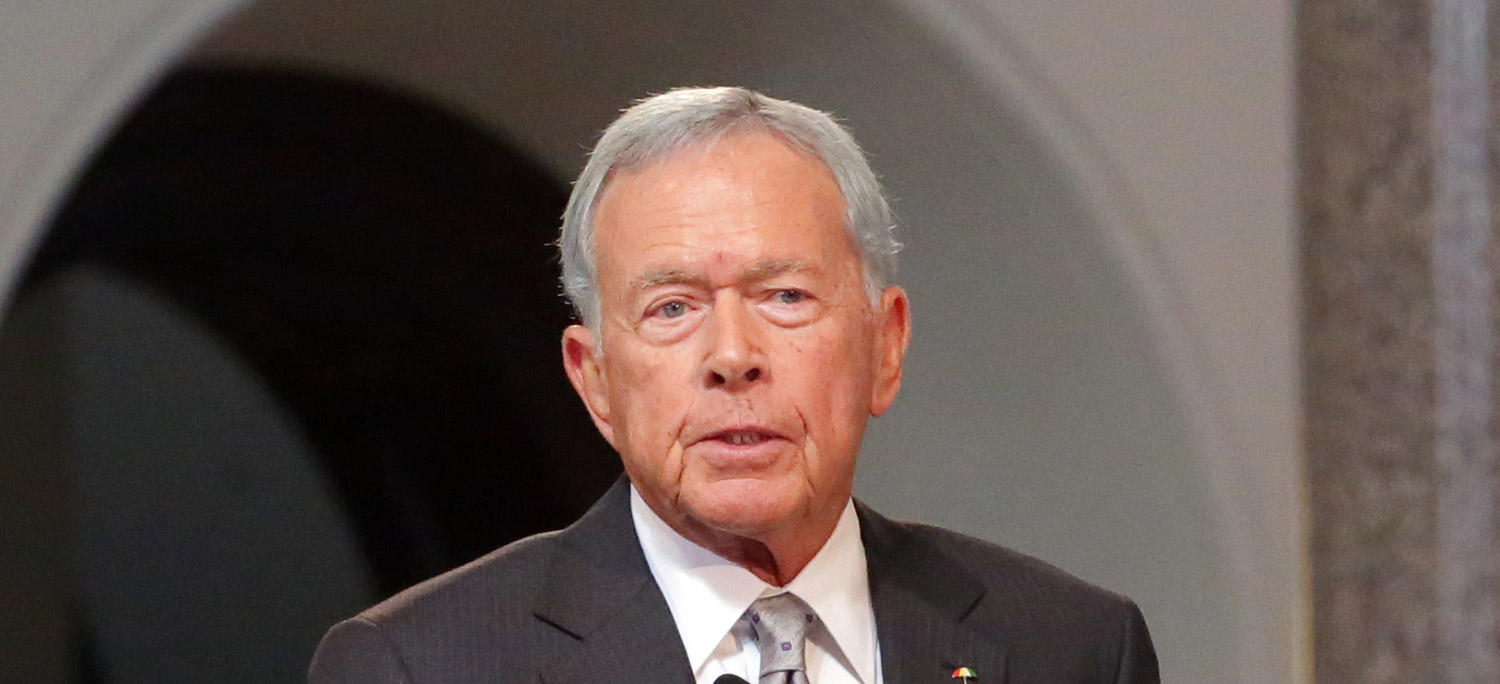 Flying also meant that Palmer didn't have to endure the long nights on the road between tournaments. His status as a pilot was well known on tour—something which Palmer occasionally emphasized.
"It was not unusual for Arnie to announce either his arrival or his departure with a low pass over the golf course," Meyer said. "He might have taken a modest liberty with altitude and speed restrictions but he never did so at the compromise of safety."
In terms of helping other golfers get from place to place, Meyer said, "Any of his fellow professionals who had the courage to accept a ride to the next tournament with Arnie learned very quickly the wisdom of tightening the seatbelt before takeoff."
One such fellow professional was longtime rival and friend Jack Nicklaus, who recounted a particularly memorable flight with Palmer while speaking at the October memorial.
"In some ways Arnold approached his golf much like his flying," said Nicklaus. "He was passionate, loved to go fast, and he had a fearlessness about him. I remember a day in the 1960s, Arnold and I went out to Seagraves, Texas, a little town in West Texas, to play an exhibition. He'd picked up me up in his Aero Commander; it was one of those windswept days in West Texas. In the Aero Commander we were just bouncing all over the sky. To me, I felt like a piece of paper in a tornado, and I'm holding on for dear life, scared to death. It was like a roller coaster coming off the tracks. I looked over at Arnold—he was laughing, and it was like he was sitting in the front of a roller coaster enjoying every moment. I did not enjoy that flight!"
Had Palmer's father not been a golf pro, had the young man from Latrobe not grown up on a golf course and had he never found the game, it is entirely likely that Arnold Palmer would have found a career in the air. Legendary for his "good hands" both on and off course, and with a love of the sky only a pilot can understand, Palmer's flight potential extended all the way to the stars, as Meyer opined at the service: "probably a fighter pilot, maybe even an astronaut, and who knows: he might have been inducted in the aviation hall of fame rather than the golf hall of fame."
"Flying has been one of the great things in my life," Palmer once said. "It's taken me to the far corners of the world. I met thousands of people I otherwise wouldn't have met. And I even got to play a little golf along the way."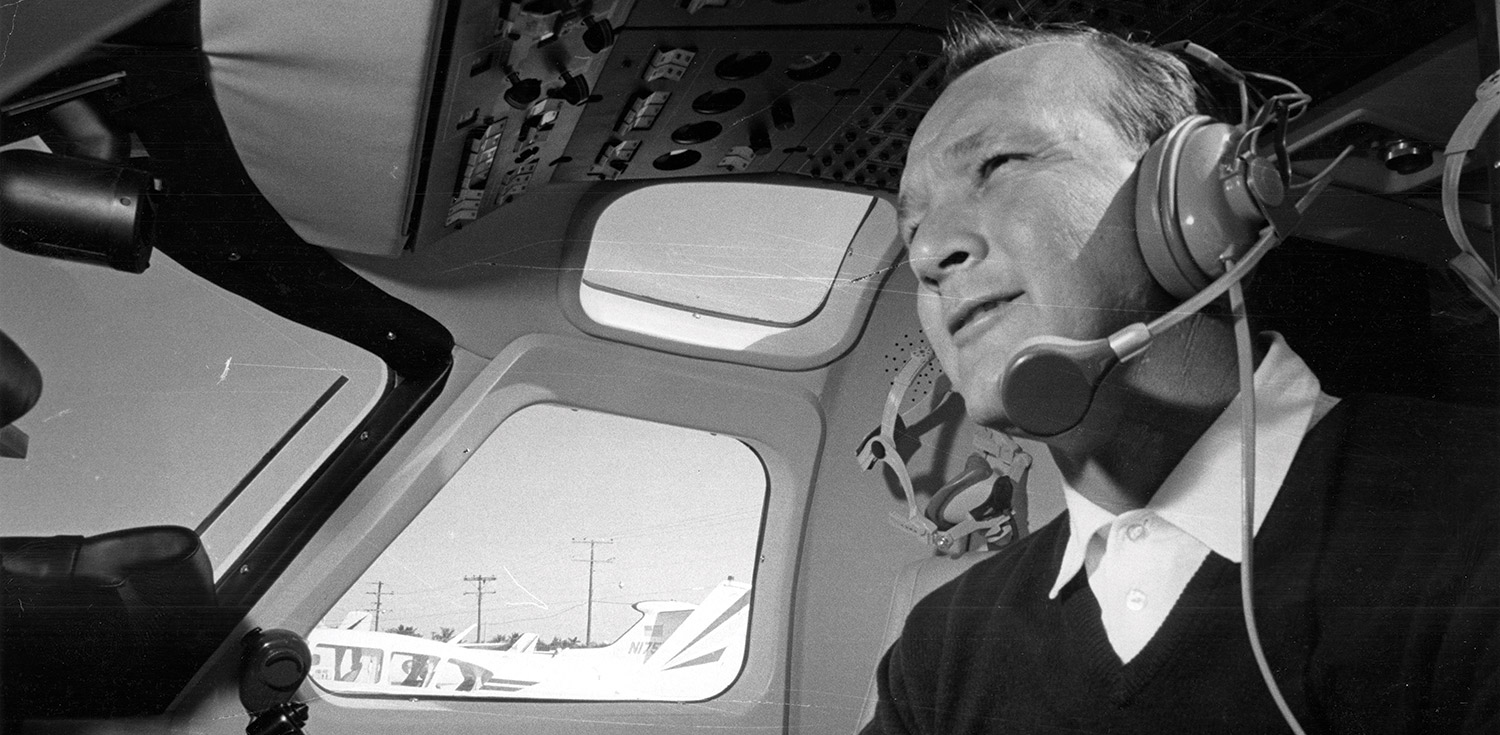 Record Flight
In 1976, the same year the Concorde left Heathrow on the first-ever supersonic commercial flight, Arnold Palmer and three others set an around-the-world flight record in a Learjet 36. The record, for a specific class of business jet, still stands today.
Along with the Concorde's operational debut, this was the year that Steve Jobs and Steve Wozniak built the first Apple computer, the Space Shuttle Enterprise was unveiled, and two separate Viking missions successfully landed on Mars. Bicentennial fever was in full swing, and Palmer's plane—named "Freedom's Way USA" with the number 200 Yankee (N200Y)—was set to take the celebration around the world.
Palmer, with co-pilots James E. Bir and Lewis L. "Bill" Purkey and aviation writer Robert Serling (brother of Twilight Zone creator Rod Serling), left Denver, Colorado, on May 17, heading to Boston for the first stop of their trip. From there the plan was to stop in Paris, but headwinds forced the crew to redirect to Glamorgan, Wales, to grab more fuel. Paris came after Wales, then it was Tehran, Iran; Colombo, Sri Lanka; Jakarta, Indonesia; Manila, Philippines; Wake Island; and Honolulu, Hawaii, before returning to Denver. In Sri Lanka, "They met me at the plane with an elephant," Palmer told the press later, "and I rode into town for the golf awards and then back." Out of Manila the challenge was to beat Typhoon Olga, which moved in just as the crew left. In Hawaii, island girls offered flowered leis and the golf star demonstrated his swing on the tarmac before taking off for the last leg of the journey. When the foursome arrived back in Denver on May 19, it had taken them 57 hours, 25 minutes and 42 seconds to make the journey, a record that still stands today for that class of jet. In 2010 a Swiss crew tried to beat it, but fell short by more than half an hour.
Timeline
1956
Palmer walks into a hangar at his hometown's Latrobe Airport and asks Babe Krinock for flying lessons. He takes his first solo flight after only eight hours of training, and soon earns his pilot's license. The legacy begins.
1961
Palmer buys his first plane, a 1961 Aero Commander 500.
1963
A second plane purchase, a 1963 560F Commander. The light twin-engine aircraft was designed in the 1940s by the Aero Design and Engineering Company, which eventually became the Aero Commander division of Rockwell. A Commander similar to Palmer's holds the status of smallest Air Force One ever, shuttling Palmer's friend President Dwight Eisenhower around between 1956 and 1960. That particular AF1 was the first to sport the now standard blue-and-white color design.
1966
Palmer buys his first jet, a Jet Commander. A May 1966 Flight magazine advertised the plane as "The only business jet in the world in which everybody rides first-class."
June 12, 1966
On the eve of the U.S. Open, The New York Sunday News profiles Palmer, offering: "When Arnold Palmer pilots his $750,000 plane into San Francisco this week, he will neither be showing off nor throwing his money away foolishly. Doesn't every corporate giant have its own executive-type twin-engine jet? Arnold Palmer Inc. has become big business the likes of which professional sports have never seen."
Sept 10, 1966
For the first time in his life, Palmer's plane is flown without him or his knowledge—pilot Darrell Brown flies it to Gettysburg to pick up President Dwight Eisenhower for a surprise visit. "I was oblivious to it all," Palmer says, "until I answered the door and found General Eisenhower standing there with an overnight bag. 'Say, you wouldn't have room to put up an old man for the night, would you?' One of the nicest weekends of my life followed. It was the thrill of a lifetime."
1968
Palmer purchases a Lear 24. Capable of clipping along at a brisk 565 mph at 45,000 ft fully loaded, this luxury class business jet was one of the most popular of its day—and remained so. At least 200 were still in use as of 2001. A top flight all around, the 1976 version boasted an extended ceiling to 51,000 feet, the highest at the time for civilian aviation.
Nov 25, 1966
A last-minute withdrawal from the inaugural Heritage Classic on Hilton Head Island leaves promoters scrambling to fill a high-profile slot. They call Palmer who says he'll play, but only if he can fly his plane to the still-under-construction airport. They agree. Five days later Palmer flies out with the first place trophy and a check for $20,000. The victory ends a 20-month winless streak.
Sept 13, 1966
Palmer spends the day at and above Scott Air Force Base in Illinois where he takes controls of the C-9 Nightingale, the C-141 Starlifter and is entertained by General Jack Catton and staff, who pepper him with questions about golf as he peppers back with questions about aviation.
1976
Palmer sets a record (still standing) by circumnavigating the globe in a Lear 36 in 57 hours, 25 minutes and 42 seconds.  "I did it for the thrill, and it became a motivation to get a new airplane, which was promised when I finished it," Palmer told Kingdom some years ago. "That part of the deal, as it turns out, didn't come through. Every five hours there was a new challenge. Whether it was a typhoon or making it to the next destination with enough fuel. The challenges never stopped." During a stop in Sri Lanka he paused to go for a ride—on an elephant. "I did," he said. "They met me at the plane with the elephant and I rode into town for the golf awards and then back… It was a busy 55 minutes in Sri Lanka."
1980s
In the mid 1980s, Palmer went vertical with a Hughes MD500E helicopter. Lee Lauderback, Arnie's chief pilot at the time, said the whirlybird was ideal for quick course-to-course transport because Palmer could land where he played. A civilian version of a military observation helicopter, the MD500E is capable of approximately 175mph and has a range of roughly 267 miles.
Jan 13, 1988
Palmer tells Directions, the Cessna Citation magazine, that he never would have been able to accomplish all he's accomplished without the wings. "I started flying in 1956," Palmer said. "An airplane helped me keep up with my golf schedule and my family life, and see that business obligations were taken care of. Now, my airplane is part of my existence and a great diversion."
1996
Cessna receives official certification for its new Citation X, a mid-sized aircraft that immediately becomes the fastest production business jet. The company announces its plans to deliver its first one to Arnold Palmer.
Feb 23, 2002
Palmer takes possession of the latest model of the Citation X, the 176, and compliments makers at Cessna for improving the performance of what was already the fastest business-class jet in the skies. "It has almost all of the gadgetry you could ever want, but it's still a small enough airplane that you can get a real good feel for it—and it goes real fast! I fly the Citation X from Latrobe to Europe nonstop almost every year. Heck, if the bathroom's far away, I'll fly my Citation X."
Nov 17, 2003
Pilot Journal, a magazine for aficionados of elite planes and high adventure, writes, "Palmer, 74, is to professional golf what Charles Lindbergh is to flying: With his engaging personality and go-for-broke style of play, he took the game to new heights of popularity."
Oct 13, 2005
Palmer logs his 250th hour in the left seat of his Citation X jet, a position and number significant to pilots in that it allows the 76-year-old pilot to stay current with FAA regulations. He tells reporters: "If my airplane goes, I'm flying—either in the left seat or the right seat. And 250 is a lot of hours and a lot of miles when you're flying as fast as we do."
July 12, 2010
On this day The National Business Aviation Association (NBAA) announced that Arnold Palmer, the legendary golfer and esteemed businessman who serves as a voice for the No Plane No Gain advocacy campaign, will receive the 2010 NBAA Meritorious Service to Aviation Award. The Meritorious Service to Aviation Award is NBAA's most distinguished honor, presented annually to an individual who, by virtue of a lifetime of personal dedication, has made significant, identifiable contributions that have materially advanced aviation interests. Palmer explained why he felt compelled to lend his voice to the No Plane No Gain program: "I know the value of business airplanes," he said. "I know what they have done for me and my companies. I know how important they are to my hometown. And I know how important they are to this country."
Jan 31, 2011
Palmer, 81, flies his Citation X from Palm Springs to Orlando in his last flight as pilot, with longtime friend and Chief Pilot Pete Luster by his side. Palmer's license expired the same day and he elected not to have it renewed, capping his career with just shy of 20,000 hours in the cockpit.
Oct 4, 2016
Pete Luster flies N1AP through the skies over Latrobe, ripping through the air as Palmer's family and friends, who are assembled at Saint Vincent College for a memorial honoring the legendary golfer and pilot, gaze skyward. The plane makes a low pass at high speed over the crowd before turning sharply, climbing and disappearing into the clouds.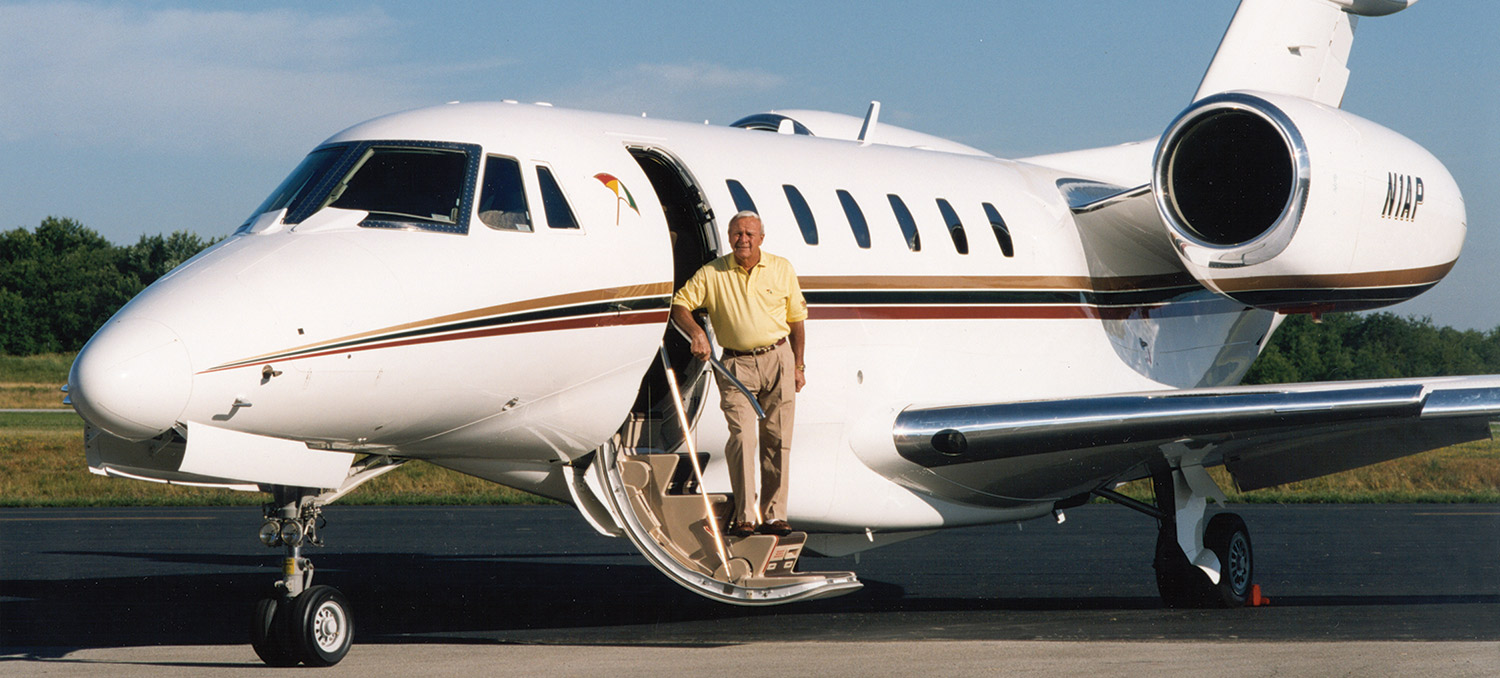 N1AP – Arnold Palmer's Citation X
Delivered to Palmer in June, 1996
"November 1 Alpha Papa," after Palmer's initials
Top Speed: Mach .92 (approx. 700mph)
Range: 3,070 nautical miles
LA to NY: just under four hours
NY to London: just under six hours
Wings: swept back 37˚ to decrease drag and increase efficiency
Baggage compartment: heated and pressurized
Available communications and electronics: state-of-the-art
A chariot fit for a king, and so it was.